What Is Operational CRM? Definition & 13 Examples of Software Tools & Systems
The importance of operational CRM cannot be overlooked. Together with analytical and collaborative platforms, CRM for operations completes the holy trinity of customer relationship management.
Generally speaking, there are three main types of CRM software: analytical CRM, collaborative CRM, and operational CRM. 
Featured CRM sponsors for your Business
i
Analytical CRM is all about data—storing it, processing it, and making it useful with insights into business processes. CRM applications in this category work behind the scenes with your sales, finance, and marketing data, driving better customer retention and acquisition and rationalized data management. 
Collaborative CRM is built for facilitating communication between team members. Assigning tasks, keeping tabs on who is handling what, and allowing you to share lead and contact information between team members. 
CRM operations, which we focus on in this article, is the most broadly featured of the three (more so than analytical CRM and collaborative CRM). CRM applications in this genre streamline business operations, centralizing customer interactions, sales, and marketing processes, and service and support efforts in one place. 
What is operational CRM? Our definition 
To define operational CRM software, we focus on streamlining customer interactions with sales and marketing. Operational CRM also provides service automation, in other words, the ability to handle tasks more efficiently and with fewer steps (i.e. less work). The operational CRM meaning is a catch-all term.
Read on to find out the operational CRM full meaning and how this type of software works.
How does operational customer relationship management work?
So now we know what operational CRM is, but how does it work to fulfill its customer-facing and customer-supporting roles? 
To begin with the basics: this is one of the types of CRM (like most CRM software) that is generally cloud-based, software as a service (SaaS). This allows you to access all your business data and participate in business processes from any device you happen to find yourself using (mobile apps are now standard issue for most vendors). Proprietary, or on-site CRM solutions, are also available if you prefer to host all your data within your business's own servers. 
Operational CRM provides an interface for your team to interact with one another, and for your team in customer-facing roles to interact with external parties in-app. You can organize teams and set tasks to increase visibility and organizational transparency. Most operational CRM allow you to set privacy permissions on viewing specific, sensitive data on sales reports, meeting notes, and so on. Integrations with social media, email clients like Gmail and Microsoft Outlook, and other digital tools allow data to flow into the centralized platform. 
When all your information flows into the same source and is processed in-house, everything gets faster, more accurate, and generally just...better. You can eliminate skipping between different digital tools, email clients, and websites, shooting off emails to co-workers, and so on.
Benefits of operational CRM tools
The reason businesses use this software is that it invariably brings two concrete benefits: more sales and more loyal customers. Operational CRM applications include tools for every branch of a business and every role in an organization.
A CRM system takes the edge off customer-facing interactions with easy access to relevant data. Your service becomes more fluid and effective and your business is made more agile as key information is put at the fingertips of all relevant team members. Instead of flipping back and forth between a bunch of spreadsheets and forwarded emails, you can run your customer relationships out of one box.
Supported by customer data and a productivity-boosting user interface, all business processes are coaxed towards better practice. Existing customers are retained, and higher conversions on new leads are obtained.
It's all enough to make you leave behind your cluttered but comfy Google Drive, and embrace a slicker, more lucrative future.
Components of an operational CRM system
Marketing automation interprets data and helps develop offers that are tailored to specific clients. When a customer fills out an online contact form, spends time on a specific website section, or leaves a blog comment, that information goes into an organized database.
When someone gets in touch asking for information about a certain item, marketing automation can automatically start targeting them with relevant ads.
Timing is everything, but it's hard to communicate with clients at just the right moment, in just the right way every time.
Things have gotten easier, however, with the advent of event-based (trigger) marketing, which allows you to send out accurately targeted, personalized emails to customers and would-be customers. Trigger marketing is a proven way of boosting sales and building brand awareness and brings the additional benefit of freeing up time and brainpower for more creative work.
Meanwhile, people are increasingly picky, and these days they want complex things to be spelled out as simply and as fast as possible. Product configuration lets you do that, by offering customers the ability to choose the specific product type and options they want in the course of a sales interaction. Anticipating customer requests and speeding up the sales process makes your company look very chivalrous indeed.
Sales force automation helps your team's daily hustle by sorting information and improving workflow.
Quotation management lets you generate quick quotes and keep track of those already in play.
Lead management and contact management gives you easy access to information on who's who in relation to your business, and who they're connected to in general.  
Opportunity management lets you see when potential sales develop, giving you time to respond and capitalize. Proposal management keeps track of projects and quotes, letters, contracts, and, well, whatever else can be called proposals. Accounts management lets you keep track of specific client information in one location, with activity, pending deals, and associated contacts, as well as payments.
So now, let's explore the best CRM applications on our list!
What is the best operational CRM software? 13 great examples of operational CRM
Now that you've ingested enough intel as to the benefits and uses of operational CRM systems, it's time to compare the best examples of operational CRM tools. These top 13 CRM softwares are compared for pros, cons and pricing, and if they offer a free version.
1. Salesforce (Best operational CRM tool overall)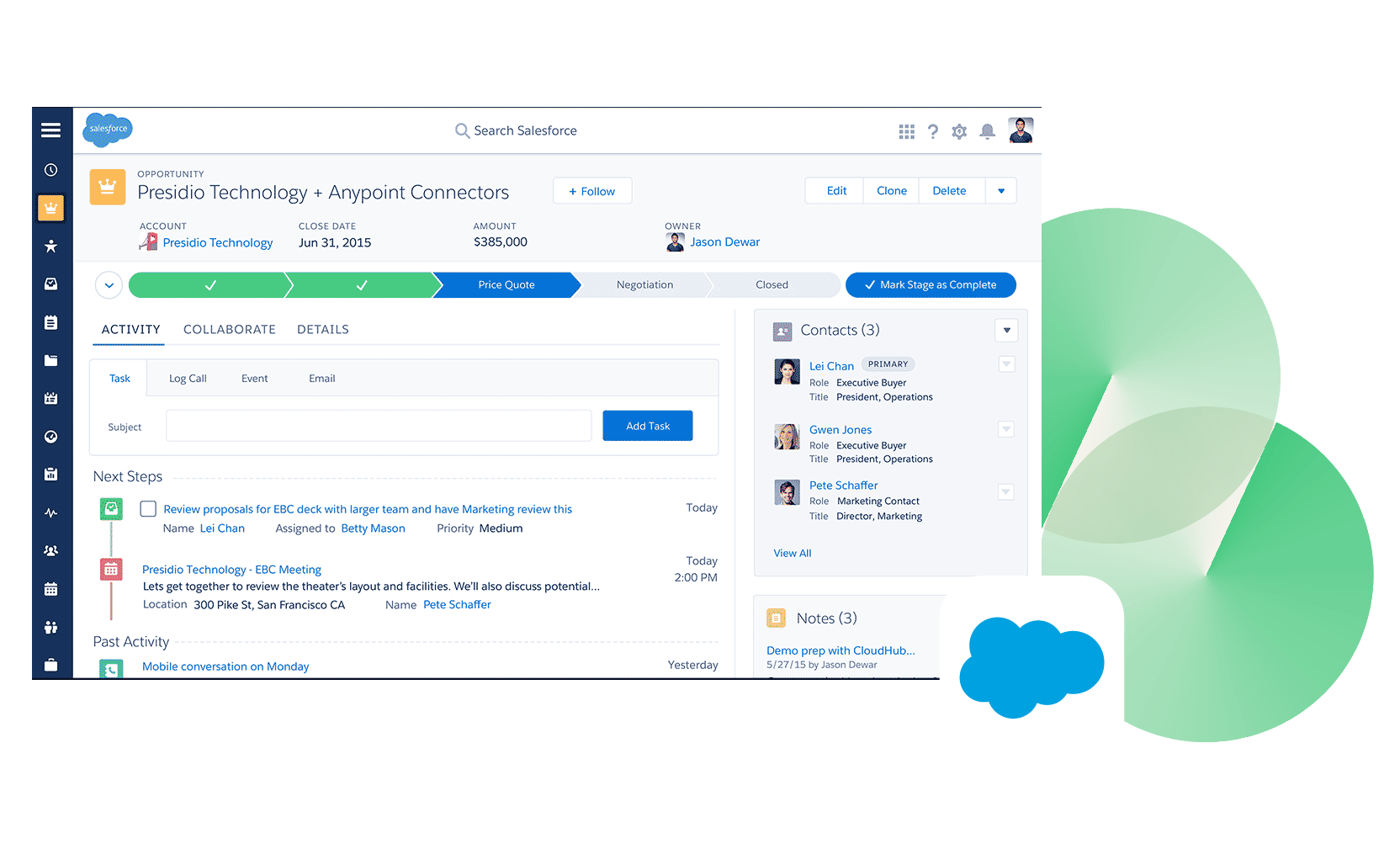 Salesforce, an industry giant, provides a full-fledged operational CRM with tools for sales processes and collaborative work. It also offers integrations aplenty. 
Pros:
Sales managers and sales teams will be able to construct sophisticated tasks management systems. Advanced automation provides for a dramatic drop in the need for manual data entry, and takes tedious low-stakes decision making out of the everyday. Operations planning will benefit from centralized contact and sales information and having a "single source of truth" for data.
Cons:
There's a learning curve, which is in part addressed by Salesforce's comprehensive, well-developed 'Trailhead' online lessons. There's no offline functionality. In addition, Salesforce's customer service/help desk is not always the most responsive, perhaps having something to do with the company's massive size and personnel shuffles.
Pricing:
Essentials plan for all-in-one sales and support is $25 per user/per month, billed annually.

Professional plan offering a complete CRM for any size team is $75 per user/per month, billed annually.

Enterprise plan offering deeply customizable sales CRM for your business is $150 per user/per month, billed annually.

Unlimited plan for "unlimited CRM power and support" is $300 per user/per month, billed 
Visit salesforce.com
2. Agile CRM (Top operational CRM tool for project management)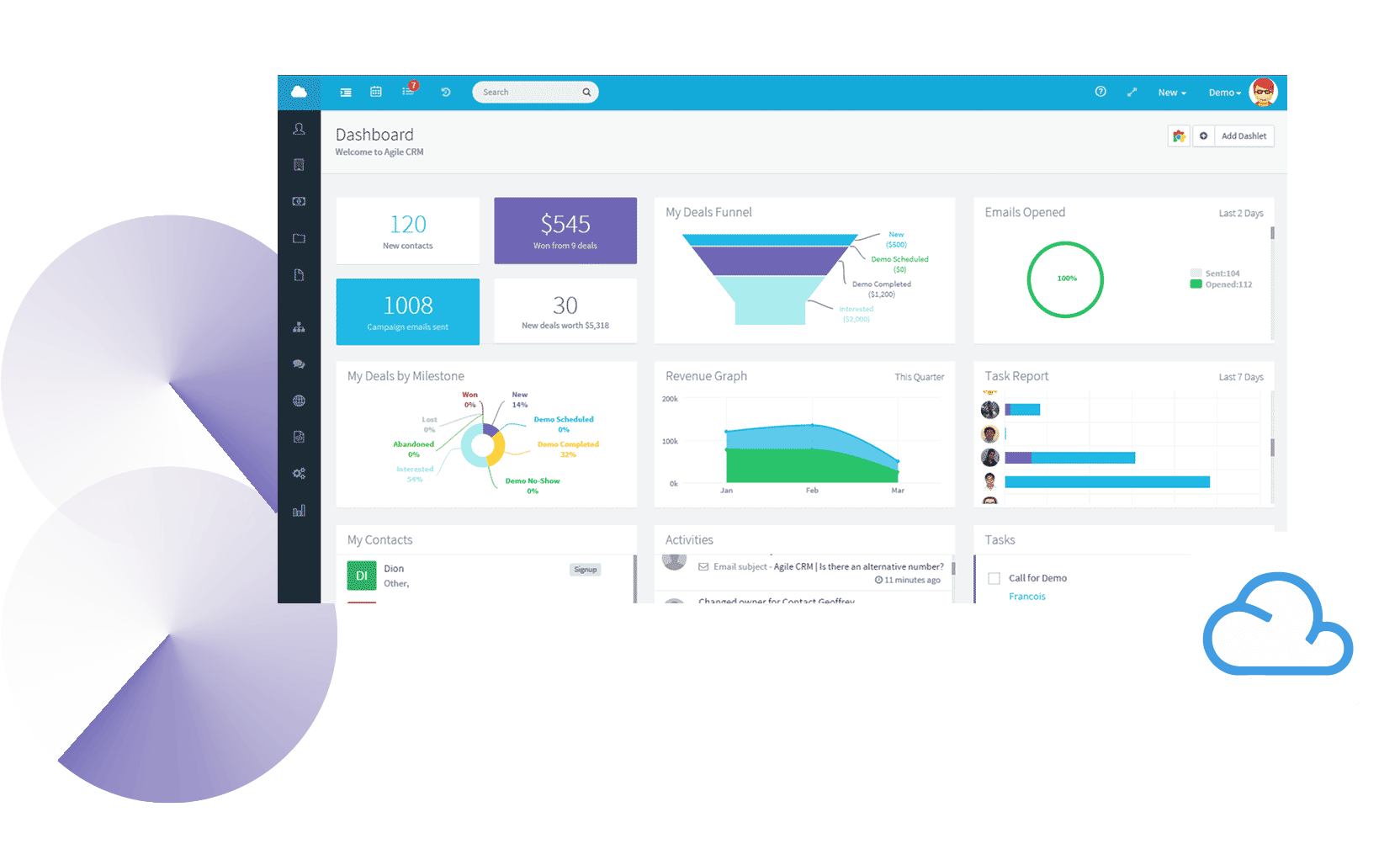 All-in-one business platform that provides management of operational tasks like project management, contact view, reporting, support/service, and timeline features.  
Pros:
Customer ticketing feature for support teams is well-built, comprising feedback forms, help desk, and knowledge database. Built-in telephony features (which integrate with RingCentral and Twilio) for in-depth conversation tracking.
Cons:
Price jump between Starter and Regular plans is very large indeed, which could be a stumbling block for businesses who plan to scale with this tool. Customizability options are limited.
Pricing: 
Agile CRM has a free version for up to 10 users.

Starter version is $9.99 per user/per month, billed annually.

Regular version is $39.99 per user/per month, billed annually.

Enterprise version is $64.99 per user/per month, billed annually.
Visit agilecrm.com
3. HubSpot CRM (Best free operational CRM system)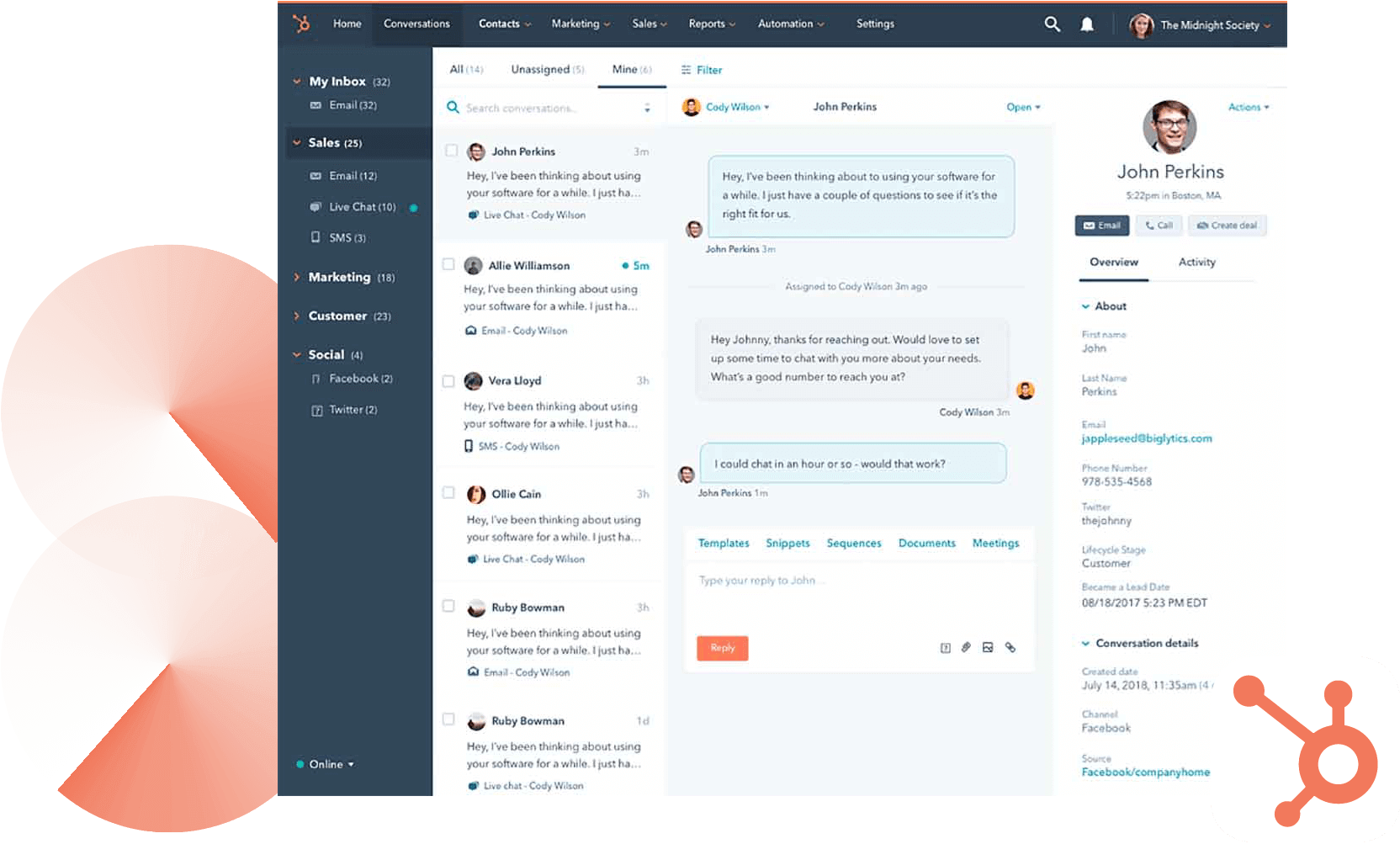 HubSpot's CRM is free and provides many bread-and-butter operational features. These include: inbound marketing, project management, and workflow tools. The platform works with G Suite and Microsoft Office and has tons of Zapier integrations with apps like Slack, Facebook Lead Ads, and Google Sheets. 
Pros:
Track leads and assign them to sales reps, centralize your record of customer interactions across various channels like email, social media, chat, website, and more. To get more out of this primary operational functionality, you can buy one of HubSpot's add-on plans for marketing (Marketing Hub), sales (Sales Hub), service (Service Hub), or comprehensive growth (Growth Suite), which add a wealth of features including: reporting, AI, and advanced automation.
Cons:
HubSpot's customizability is limited. It's free CRM is full-featured, yet basic, meaning you'll likely want to get a paid add-on. When you do that, you'll find the entry-level plans are probably priced slightly high for many small businesses. 
Pricing: 
HubSpot CRM offers a free plan.

Starter CRM Suite starts at $45 per month, billed annually.

Professional CRM Suite starts at $1,600 per month, billed annually.

Enterprise CRM Suite starts at $4,000 per month, billed annually.
Visit hubspot.com
4. Zoho (Good operational CRM application for small business)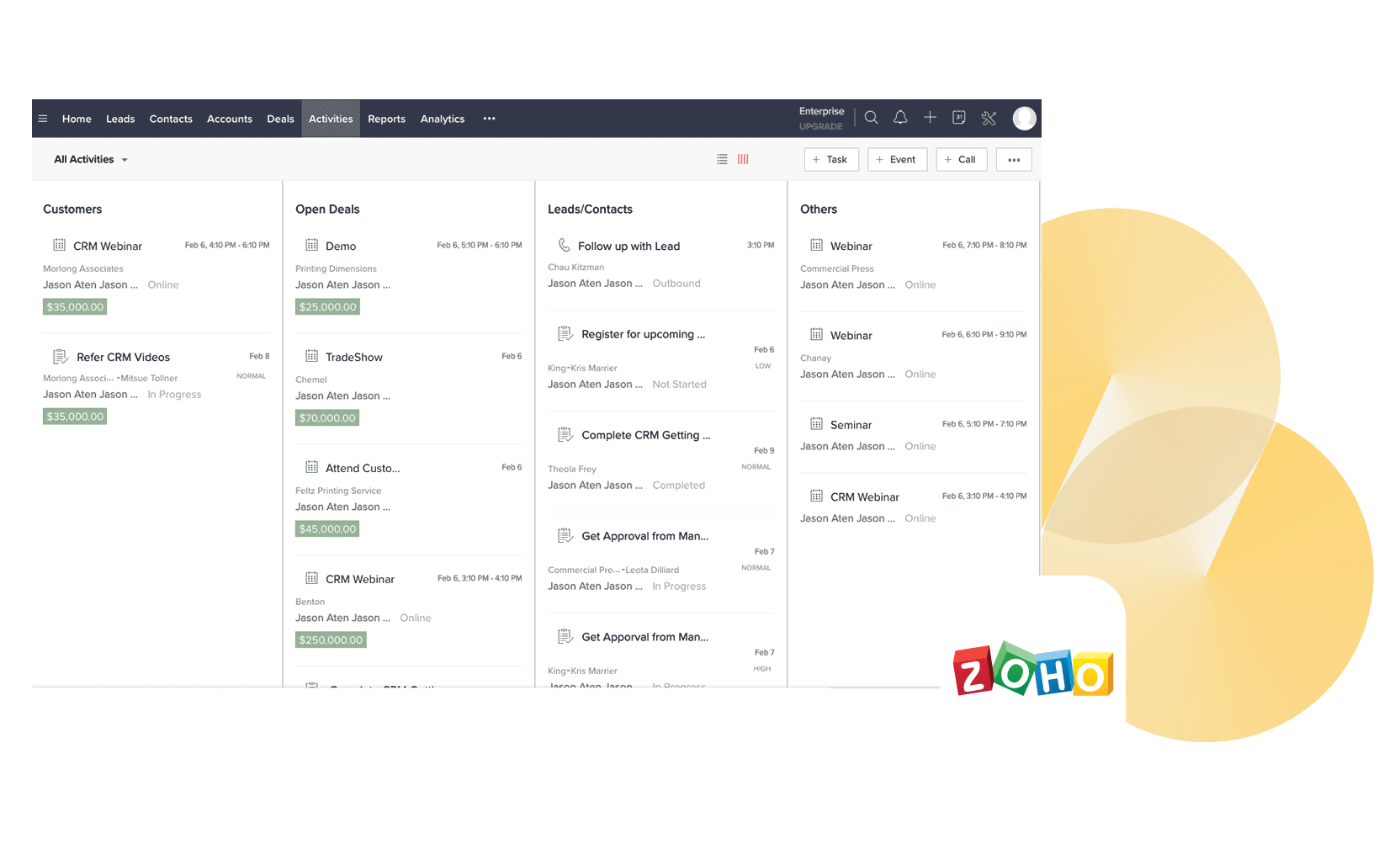 Zoho's operational CRM is small business-targeted, with an intuitive UI, customizable modules, social media listening tools, and easy automation. Integrates with Facebook, Google+, and Twitter.
Pros:
Set up workflows for repeat positive results, and rationalize everyday tasks. Sales forecasting and KPI tracking are included in the paid versions of Zoho, while the top-tier Enterprise plan provides stage-by-stage sales funnel tracking, custom data comparisons that allow you to segment teams, users, and regions according to a variety of attributes.
Cons:
Zoho offers extra features as add-on modules, which are priced atop CRM plans. This can shoot up usage costs quickly as you expand the scope of your app usage over time. Lack of individual email tracking and lead notifications can be an issue if long term, one-on-one engagement is key to your business. 
Pricing: 
Zoho CRM offers a free version.

Standard plan is $14 per user/per month, billed annually.

Professional is $23 per user/per month, billed annually.

Enterprise version is $40 per user/per month, billed annually.

Ultimate is $52 per user/per month, billed annually.
Visit zoho.com/crm
5. Really Simple Systems (Good operational CRM software for startups)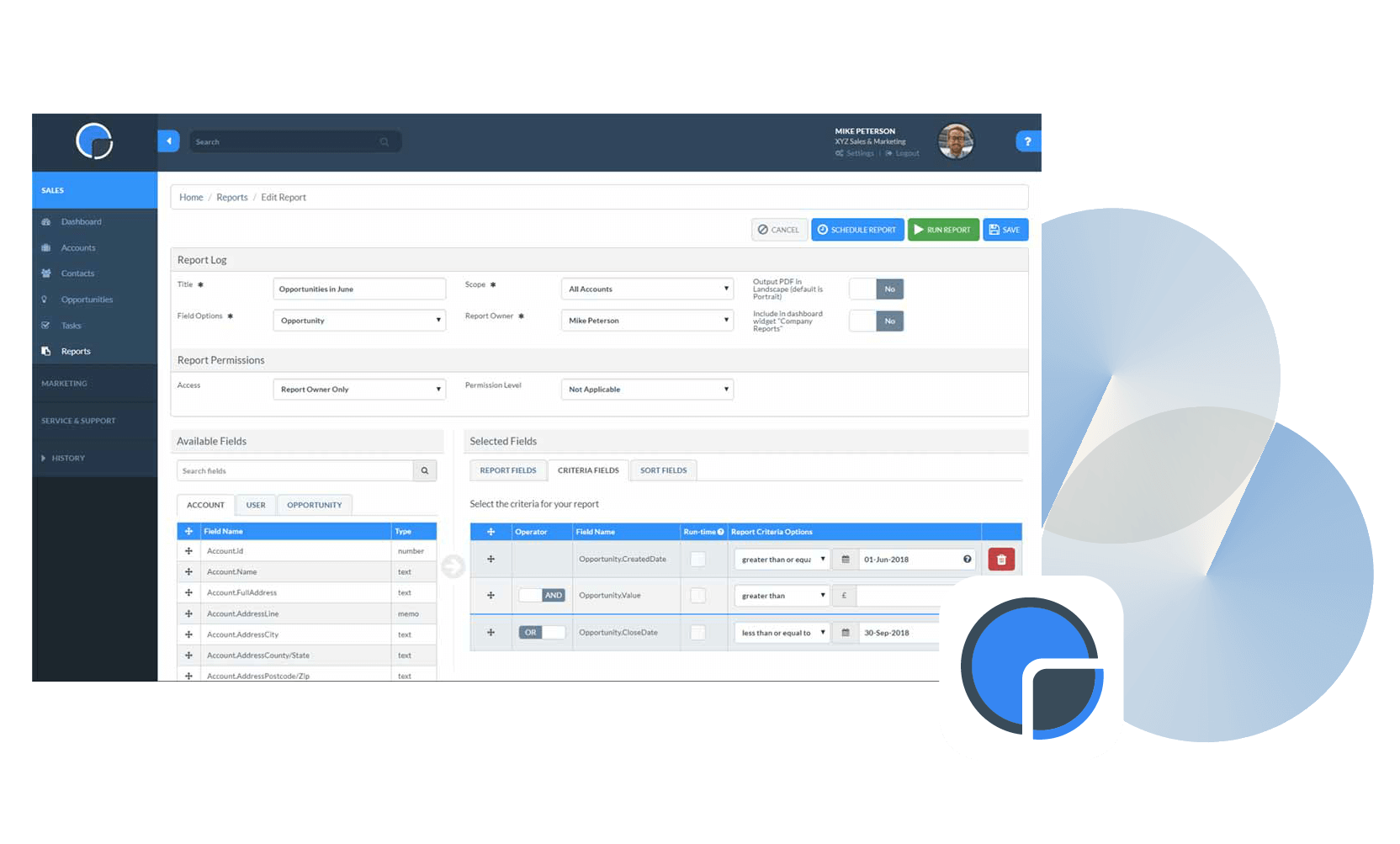 Simple yet sophisticated. An easy-to-use CRM with marketing automation, contact management for clients, vendors, suppliers, and leads. Features sales force automation and customer satisfaction-inducing customer service tools.
Pros:
Really Simple Systems also offers advanced data security and encryption (traits that make this CRM a favorite of government and financial organizations).
Cons:
Generating a report is a bit more complex than it probably needs to be. Email templates for marketing campaigns are a little basic. Outlook users won't be able to trigger active reminders in their inbox.
Pricing:
Really Simple Systems offers a free version.

Starter plan is $17 per user/per month, billed annually.

Professional is $33 per user/per month, billed annually.

Enterprise version is $50 per user/per month, billed annually.
Visit reallysimplesystems.com
6. Accelo (Top operational CRM system for sales teams)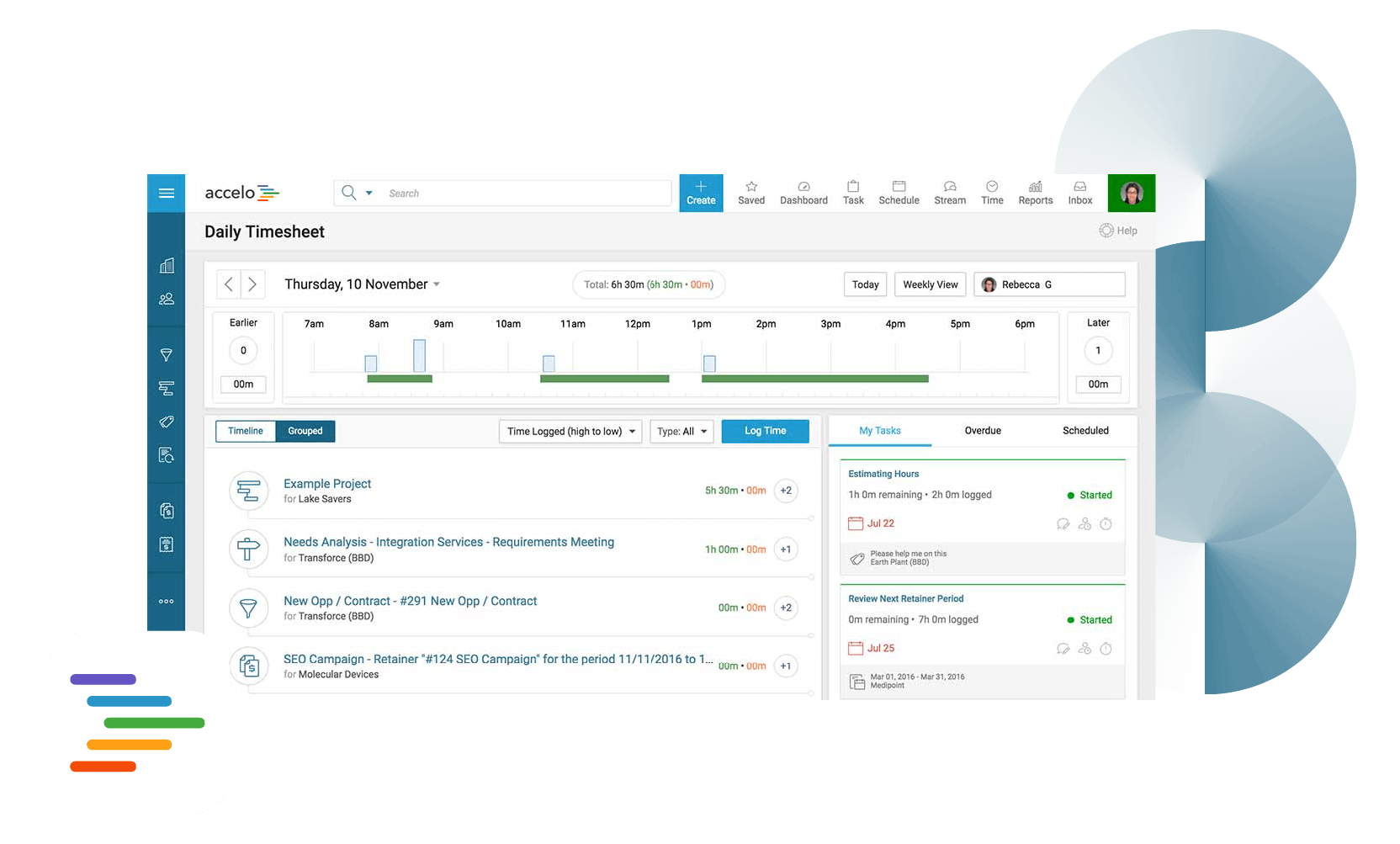 Accelo offers several cloud-based, automation-rich operational CRM products for "accelerating" your business. Built to bring small businesses away from fragmented point solutions, the vendor provides four plans targeted at different business processes: Sales, Projects, Service, and Retainers (i.e. ongoing services and products, as well as the "ServOps" (service operation software) comprehensive package. 
Pros:
ServOps packs in everything you might ever need to oversee business: project management, invoicing, client management, automatic time tracking, email tracking, team scheduling, prospecting and more. The platform integrates with accounting software (including Intuit Quickbooks). If for whatever reason you decide to stop using the platform, you can export 100% of your data, which is a nice touch. 
Cons:
Pricing is somewhat 'premium' if you're looking for comprehensive features, i.e. the ServOps platform. 
Pricing:
Accelo Plus plan is $24 per user/per month.

Accelo Premium plan is $39 per user/per month.
Visit accelo.com
7. Pipedrive (Great operational CRM tool for email integration)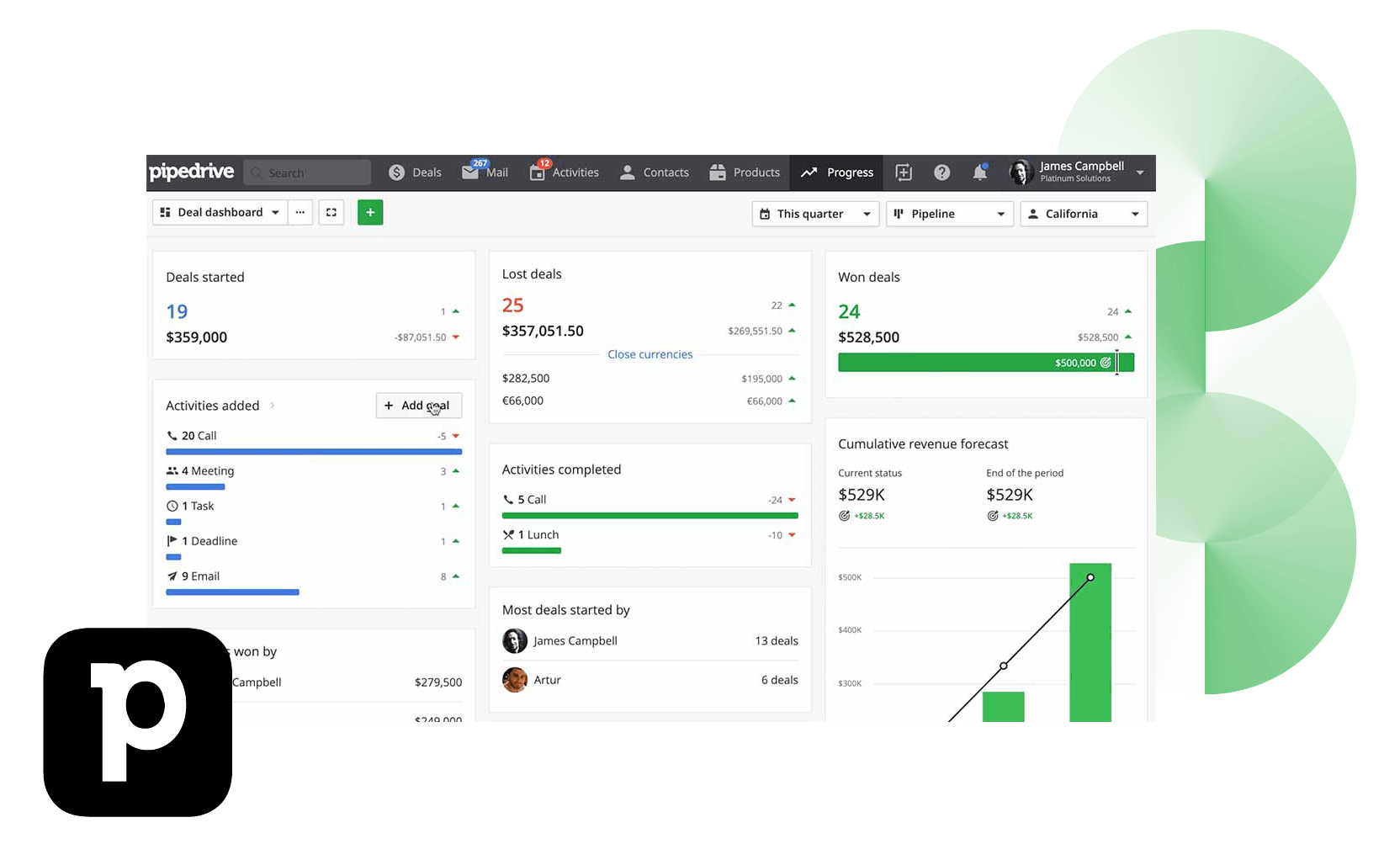 Pipedrive is an operational CRM with a special focus on all-things-pipeline. Apart from highly customizable pipeline management tools, Pipedrive offers contact management and lead tracking, sales activity monitoring, and information sync across channels. 
Pros:
Full email sync allows you to check messages in-app from whichever email provider you use. Gmail integration (appearing as a sidebar app) makes it easy to add contacts from email, make notes, and schedule sales tasks. 
Cons:
Lacks an internal emailing platform, meaning you'll need to use Mailchimp integration. Pipedrive Dealbot integration with Slack notifies you when a deal is found, won, or lost, but the notification easily gets lost in the flood of text that characterizes a normal team Slack convo. 
Pricing:  
The Essential plan is $14.90 per user/per month, billed annually.

The Advanced plan is $24.90 per user/per month, billed annually.

The Professional plan is $49.90 per user/per month, billed annually.

The Power plan is $64.90 per user/per month, billed annually.

The Enterprise plan is $99.00 per user/per month, billed annually.
Visit pipedrive.com
8. Bitrix24 (Good operational CRM application for team collaboration)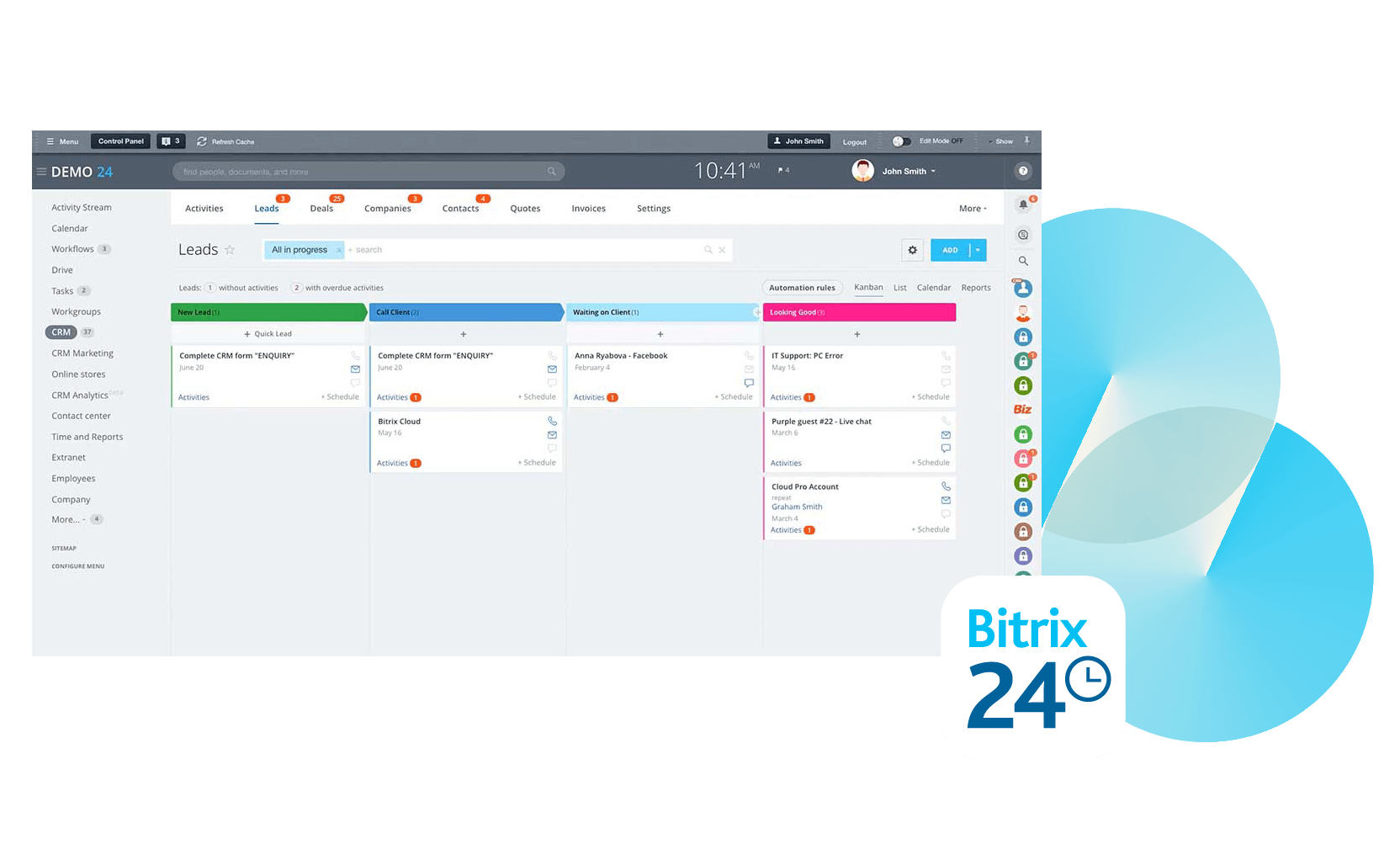 Comprehensive CRM that tackles everyday operations, from sales to marketing campaigns and team collaboration. Allows you to create unlimited work and user groups, set up an HR help desk, and centralize storage of documents. 
Pros:
Make phone calls in-app to any landline or mobile. Click on an email and transform it into a task, calendar event, or discussion topic. The free version of Bitrix24 is generously full-featured and is the most popular free CRM in the world (when evaluated by the number of users). 
Cons:
Bitrix's UI is somewhat cluttered, which means app navigation is not the most intuitive. Moderate learning curve and limitations in terms of customization/configurability could be a problem for small businesses.
Pricing:
Bitrix24 offers a free plan.

Basic plan starts at $39 per month, billed annually.

Standard plan starts at $76 per month, billed annually.

Professional plan starts at $152 per month, billed annually.
Visit bitrix24.com
9. Capsule (Great operational CRM software for ease-of-use)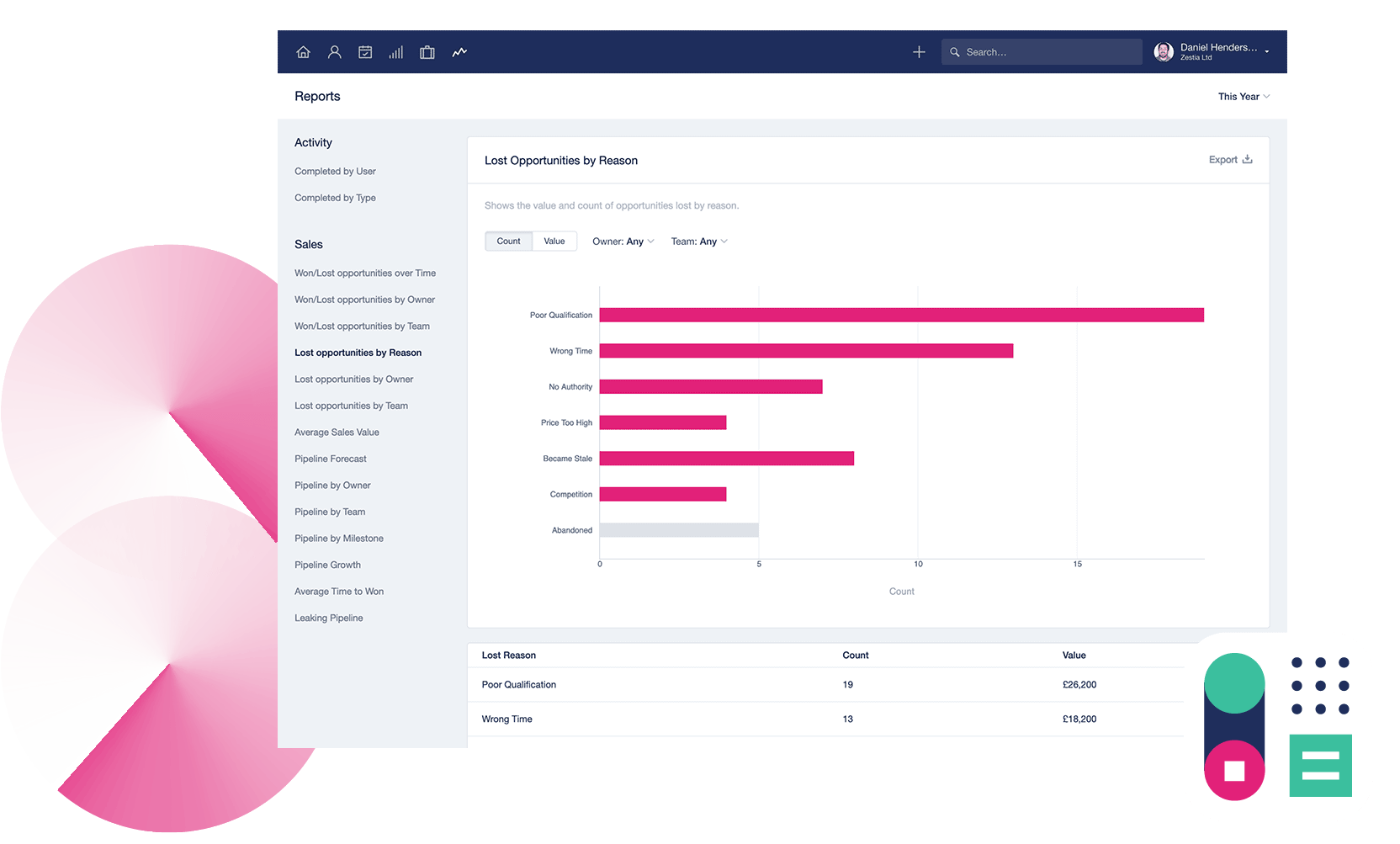 A CRM with a Clean UI and super-low learning curve, focused on making everyday better. Capsule does operational tasks like bid and lead tracking, proposals, and team management very well.
Pros: 
It allows you to add and find key information from a variety of sources, importing contacts from CSV spreadsheets and databases, Gmail, and Outlook messages. A professional version of the app adds robust Zapier, G Suite, Zendesk, Twitter, and Mailchimp integrations for finding leads and capturing information in one place. 
Cons: 
If you want to track and auto-generate contacts from emails, you have to remember to BCC them to your Dropbox. It's easy to forget this extra (erroneous) step.
Pricing:  
Capsule offers a free version for up to 2 users. 

Professional version is priced at $18 per user/per month.

Teams version is priced at $36 per user/per month. 

Enterprise version is priced at $54 per user/per month. 
Visit capsulecrm.com
10. Keap (Top operational CRM system for marketing automation)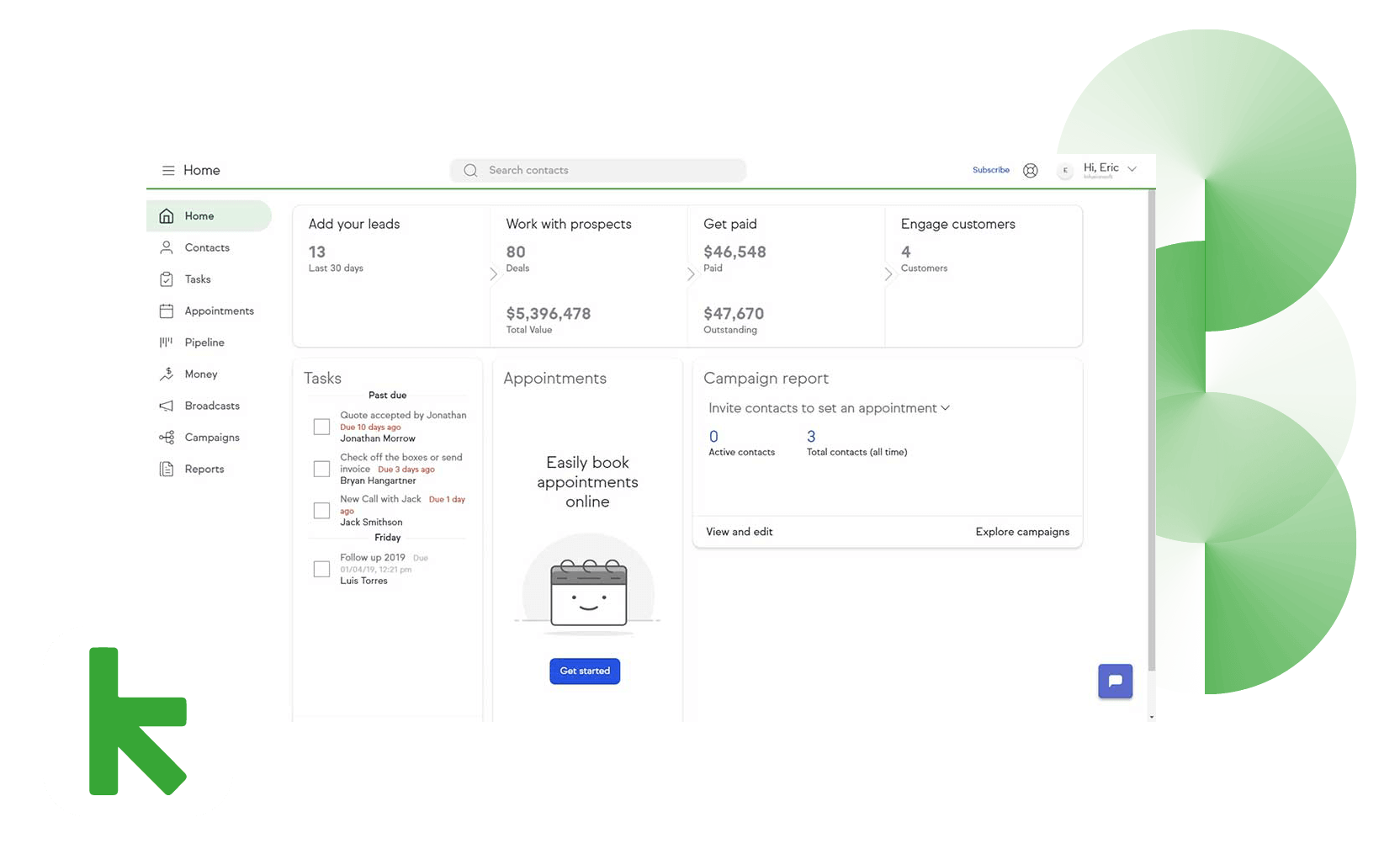 Keap is a small, solo, and home business-targeted operational CRM with sales pipeline, contact management, and sales process management.
Pros:
The app makes it easy to build repeatable sales processes,  build campaigns and automate sales and marketing. The drag-and-drop interface makes it super easy to build custom automations (for example, you can use triggers to initiate specific email marketing campaigns for specific types of leads). Contact lists can be imported from spreadsheets and scanned business cards, other CRMs, and custom forms on your webpage.
Cons:
Keap has many features, and you may not need to use all of them. This is an issue because the vendor's pricing tiers are fairly inflexible, with the entry-level plan already being relatively high (you can't opt-out of certain features and get a lower price).
Pricing: 
Keap Pro starts at $129 per month, billed annually.

Keap Max starts at $199 per month, billed annually.
A free trial is available.
Visit keap.com
11. Less Annoying CRM (Good operational CRM tool for contact management)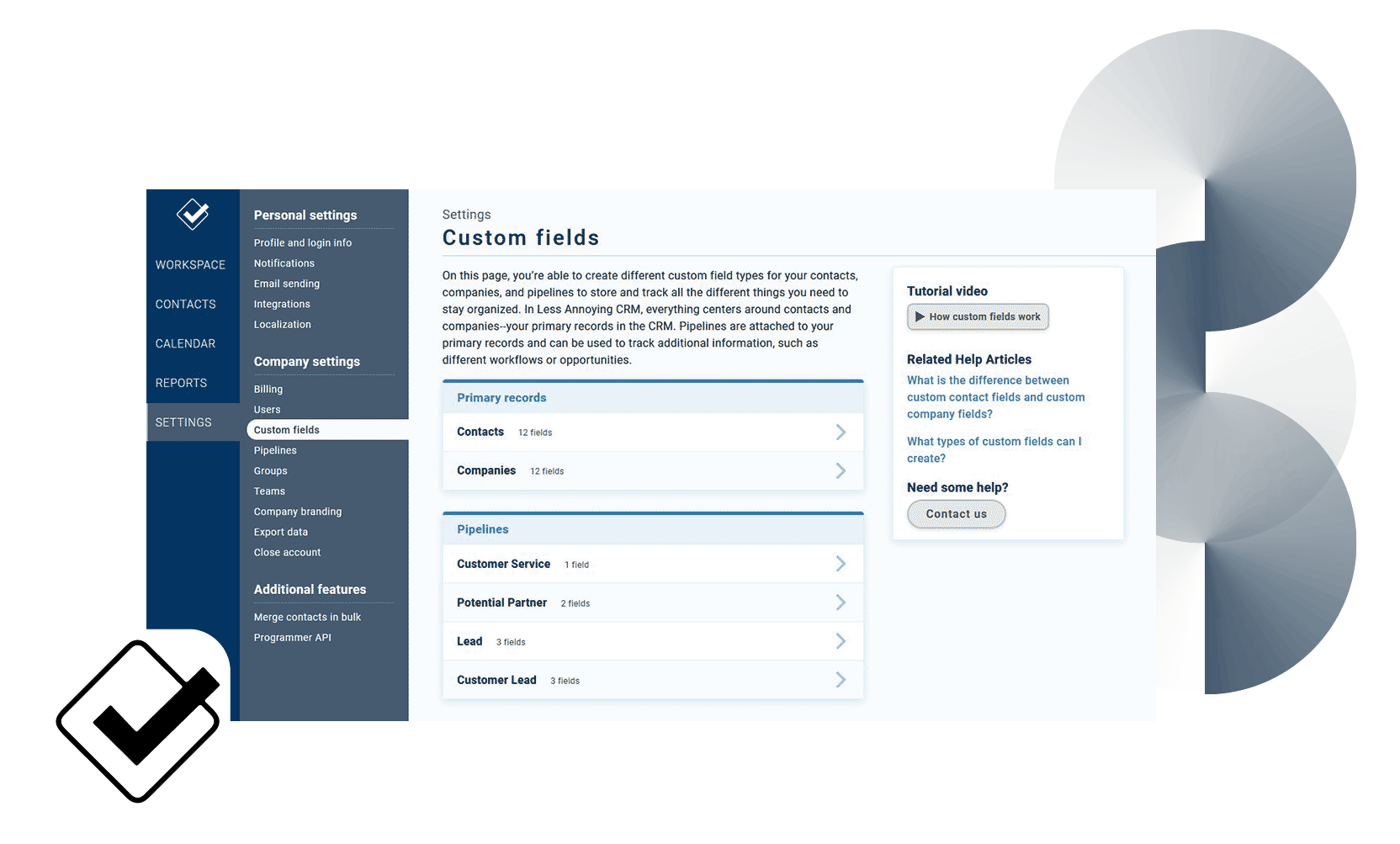 Affordable and one of the best CRM for small business with pipeline management, lead tracking, collaboration, and follow-up notifications.
Pros:
Effective sales force automation, and many vendor-designed integrations with apps including Mailchimp, Google Calendar, and Google Contacts. Third-party integrations are available for many, many others. 
Cons:
50,000 contacts is the maximum you can input into the CRM before it starts lagging. App notifications are sent via SMS or email, rather than in the app itself.
Pricing:
Less Annoying CRM is $15 per user/per month.
Visit lessannoyingcrm.com
12. SuiteCRM (Best open source operational CRM application)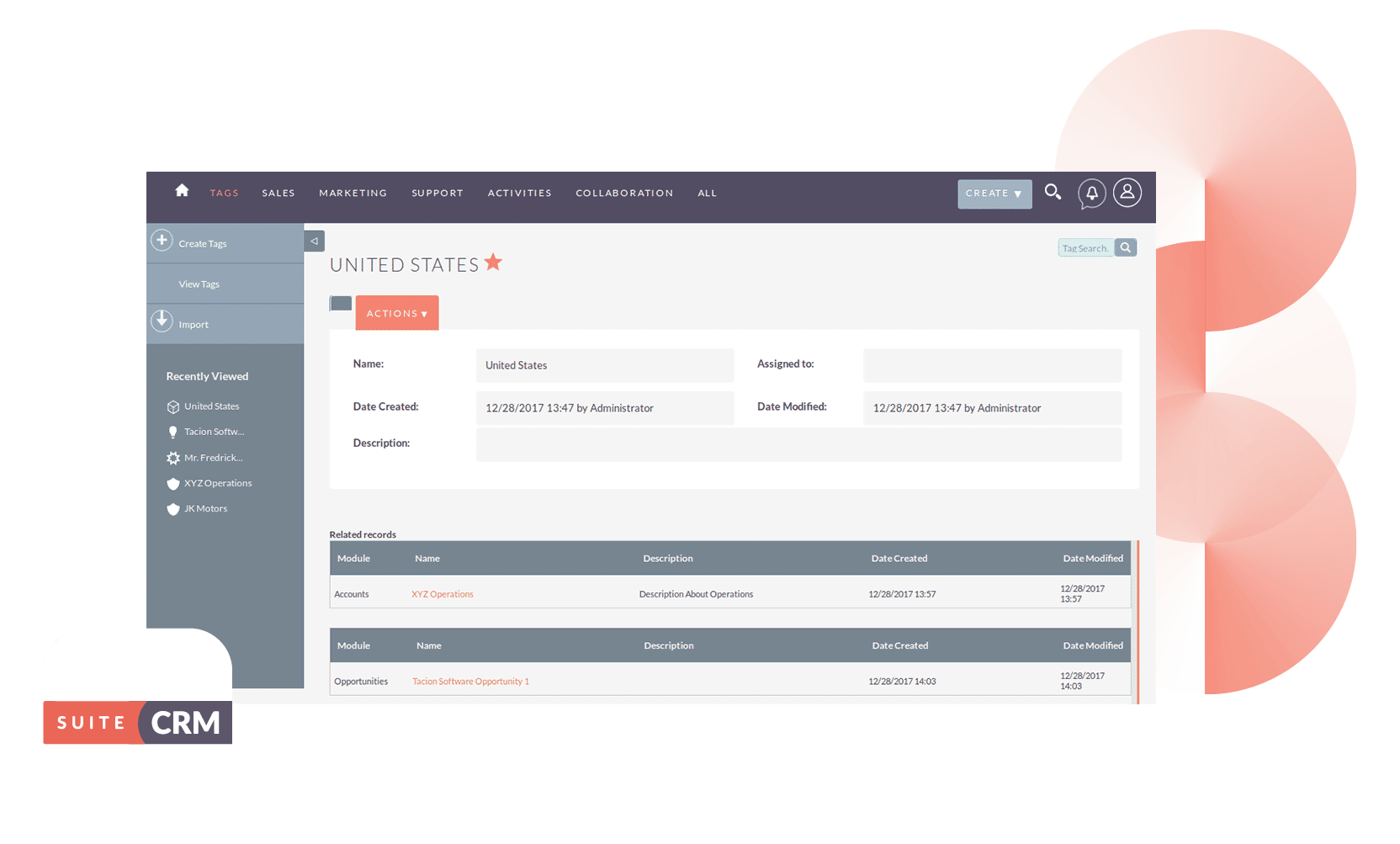 SuiteCRM is a full-fledged open source CRM that covers operational features, like streamlining activities across all customer touchpoints and building best practice work processes. 
Pros:
Capture leads and manage opportunities, and break free of information silos by making your data and business activities visible across teams. A low learning curve and short setup time make it one of the most popular CRM open source software out there. Custom layout, module, and relationship development tools will appeal to developers, who can tailor the platform to suit specialized operational needs. 
Cons:
Supported by SuiteCRM community, which means if you have any issues, support response time is going to be highly variable. Learning curve is higher than a lot of proprietary (i.e. not open source) CRMs.
Pricing:
SuiteCRM: OnDemand is priced in British Pounds (£), contact the vendor for exact prices in your local currency.
Visit suitecrm.com
13. Insightly (Great operational CRM software with business intelligence)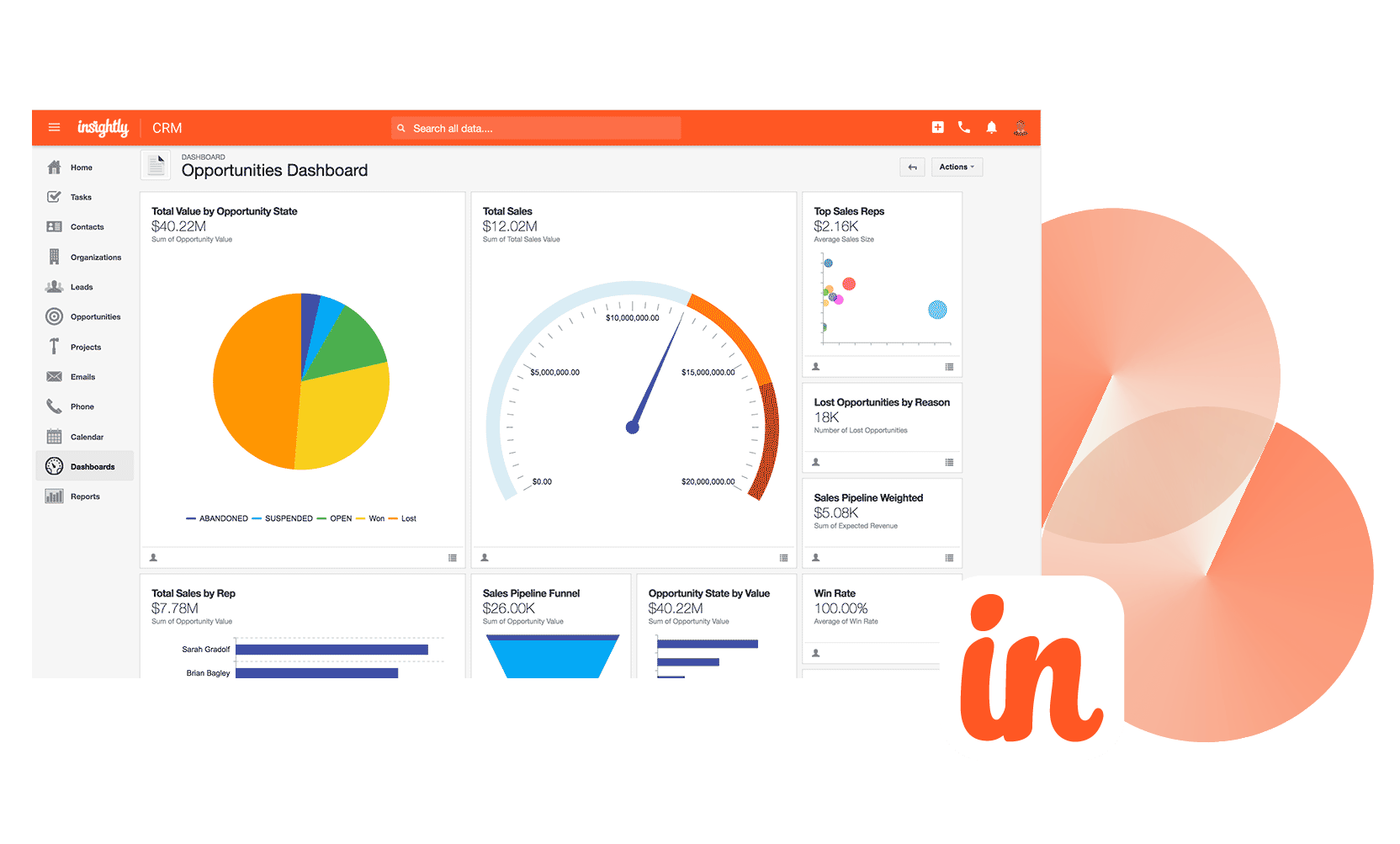 Smooth pipeline integration between various CRM features, including contact management and customer data, tracking sales leads, and task assignment.
Pros: 
Insightly integrates with both G Suite and Microsoft Office 365. Offers Business Intelligence (BI) features that compile historical and real-time data within the CRM platform, crunching numbers to help you make better decisions. 
Cons: 
Insightly's cap on custom fields for contacts is 25, which may be limiting for some businesses. The UI totally "does the job," but is somewhat dated, which could be a stumbling block for full-team adoption. 
Pricing: 
Insightly offers a free plan for up to two users.

Plus plan is $29 per user/per month, billed annually.

Professional plan is $49 per user/per month, billed annually.

Enterprise plan is $99 per user/per month, billed annually.
Visit insightly.com
What is the best operational CRM tool for me? Our key takeaways
This list of operational CRM systems, softwares and tools is by no means exhaustive. It's no surprise to see such big names like Salesforce and HubSpot atop the list, but maybe there are some new names here you ought to check out too?
In the end it's all about relationships, whether they be with customers, leads, your internal team, or anyone else surrounding your business. Operational CRM, backed by data and analytics, can give you an edge in collaborative, sales, and marketing processes, making all your business processes better.