Accelo: A Special ServOps Unit on a Mission to Run Your Business
Designed to "accelerate" growth for your business, operations automation platform, Accelo houses all your operations tools under one roof.
The company's logo gives it all away—inspired by a Gantt chart, the five colored bars, at varying degrees of length, represent not only the app's ability to show an overview of progress but also the SaaS company's five product solutions: sales, project management, service, retainers, and their speciality, ServOps.

Accelo may be inspired by the popular bar chart system but the Accelo solution is more like a Gantt chart on steroids, giving companies a set of operations tools—payments and invoicing, CRM, service, and project management—that all work together as a whole.
From agency to SaaS
In 2011, the Accelo platform was launched after a design agency hung up their boots and moved into the SaaS market instead. Realizing their product didn't fit into any one software category, Accelo created their own: service operations automations, or servops. It's a category built to serve the service business economy.
Once they found their sure-footing in the SaaS market, they examined their principles. Clocking "acceleration" as a strong company value, the brand morphed into Accelo—reflecting the freshly rebranded company's intent to create a platform that would accelerate growth and provide operations solutions for likeminded agencies and service businesses.
The company believes they can solve real problems and increase staff efficiency and client satisfaction by focusing on the challenges faced by real people, rather than technology; their sales, project and service automation software is particularly attuned to those needs.
With Accelo, the proof is in the pudding. The SaaS understands that the service industry has unique needs in contrast to traditional goods industries because the company has experienced it first hand. As Juan Parra, Accelo's head of marketing, explains:
"Accelo [is] a brand about the user and not about the product."
The Accelo solution: ServOps, aka the premium platter
The total, all-encompassing Accelo suite contains around 24 features, and each feature contains several tools. On a larger scale, Accelo groups these features into five packages, or "solutions":
Sales

Projects

Service

Retainers

ServOps
ServOps is the complete package, including all four solutions, and represents the company's premium platter on the menu—a bit of everything, including that specialty ribeye cut. Think of ServOps as the special operations unit for all your CRM and operations needs.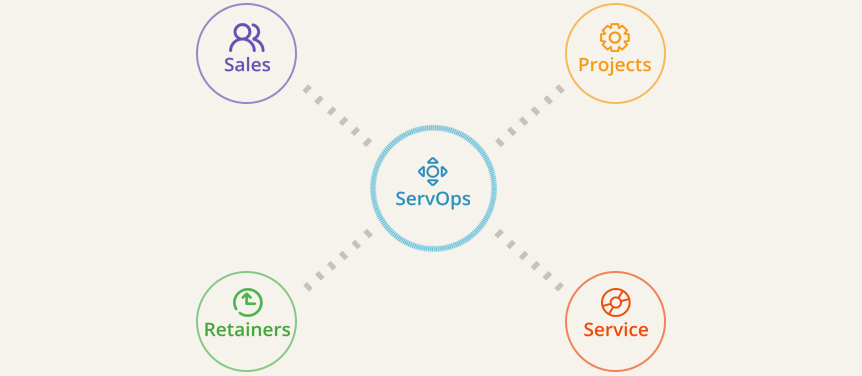 Not sure if your company needs to send its team on a special ServOps mission just yet? No worries, Accelo has got you covered. Each individual package solution includes a handful of the total 24 features and their subset tools, and of course, there is some overlap (for example, both the sales and the service package have the "team inbox" tool).  
Plus, each solution comes with the option of upgrading to a premium version, which offers even more tools. The Accelo solution accelerates growth organically, every step of your company's journey.
Some key features to digest:
The sales tool begins with a client records feature, which includes all relevant data, the history of all engagements with the client, and everything related to upcoming and ongoing projects.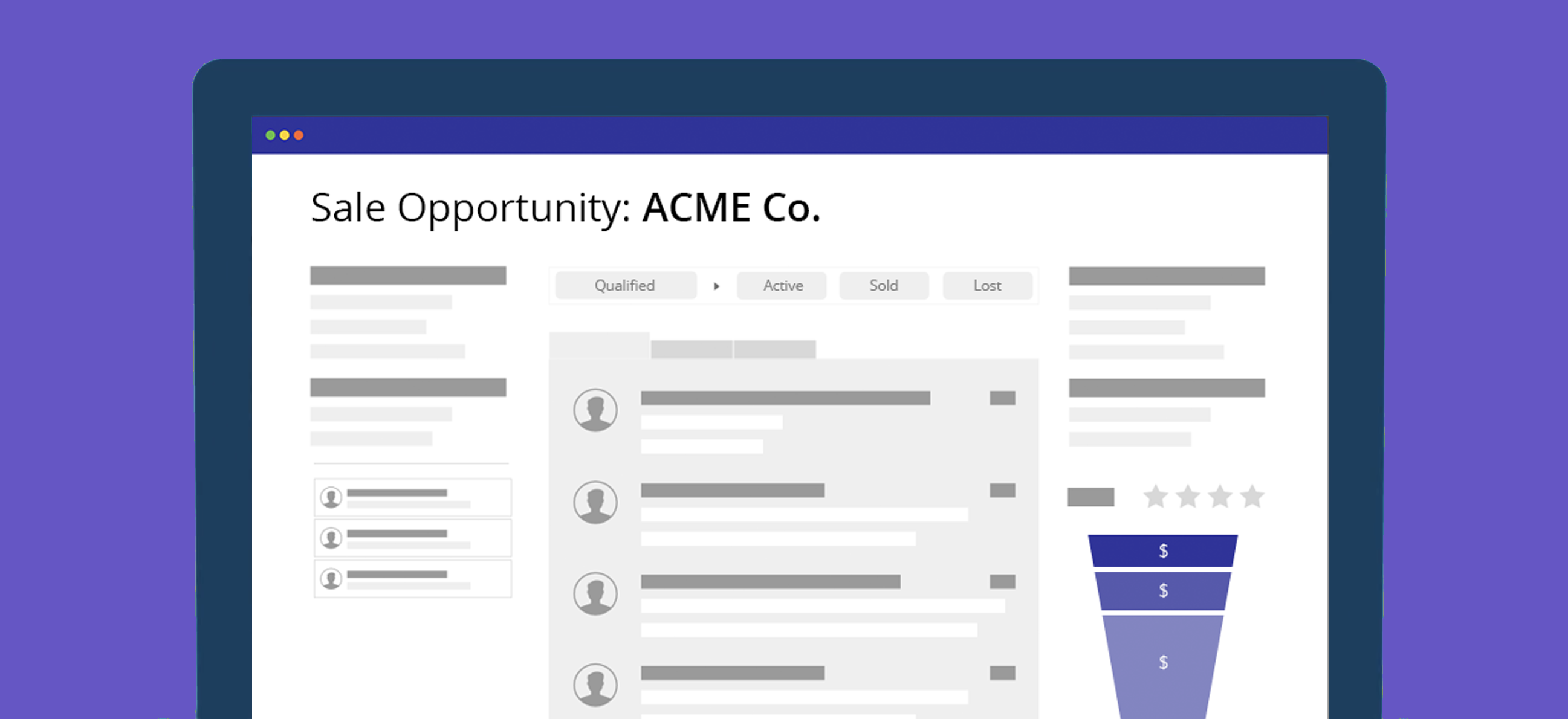 There's the previously mentioned team inbox feature which streamlines collaboration between staff in pursuing new leads or working through contracts, all the while keeping track of time spent on each lead or job.
The quote feature is customizable so that what the company sees might not be identical to what the client sees (things like rates and hours). One can also publish a quote directly to the client through an Accelo portal.
With the premium sales solution, one gets extras like team scheduling and automated notifications.
Projects are all about flexible and dynamic planning. Using overview dashboards and project templates, it helps monitor the actual development of a project against the initial plans, watching out for divergences in things like budgets and deadlines.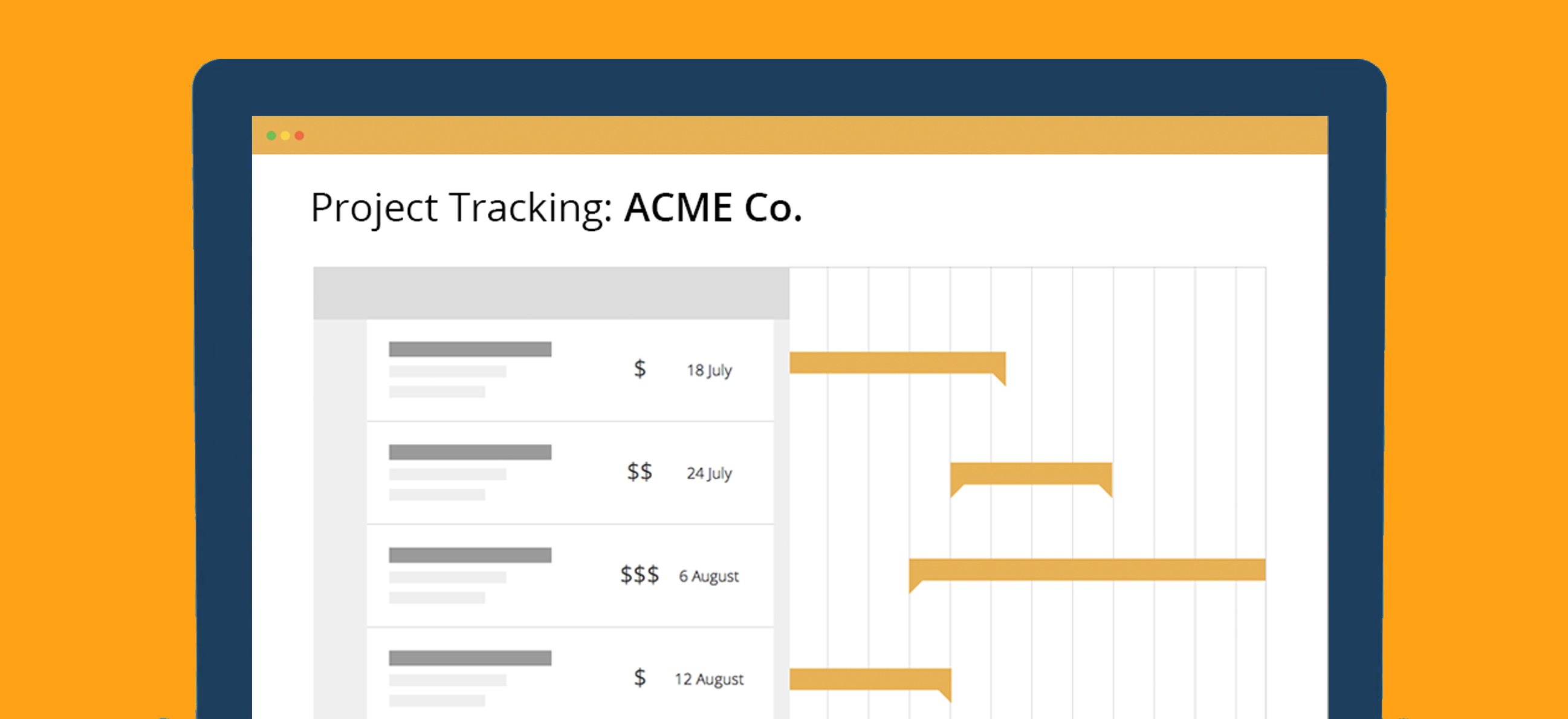 Collaboration, which began in sales, continues during the life cycle of a project. Managers can assign tasks, and team members can easily reach out for help on any task. Also, all related materials (attachments and documents) are stored centrally for everyone to use.
The projects premium package includes an automation and processes feature, which takes care of things like follow-up communications with clients, or sending auto alerts to team members.
Making sure clients who have reported a problem get the best help is key for the service industry where long-term and ongoing relationships are foundational.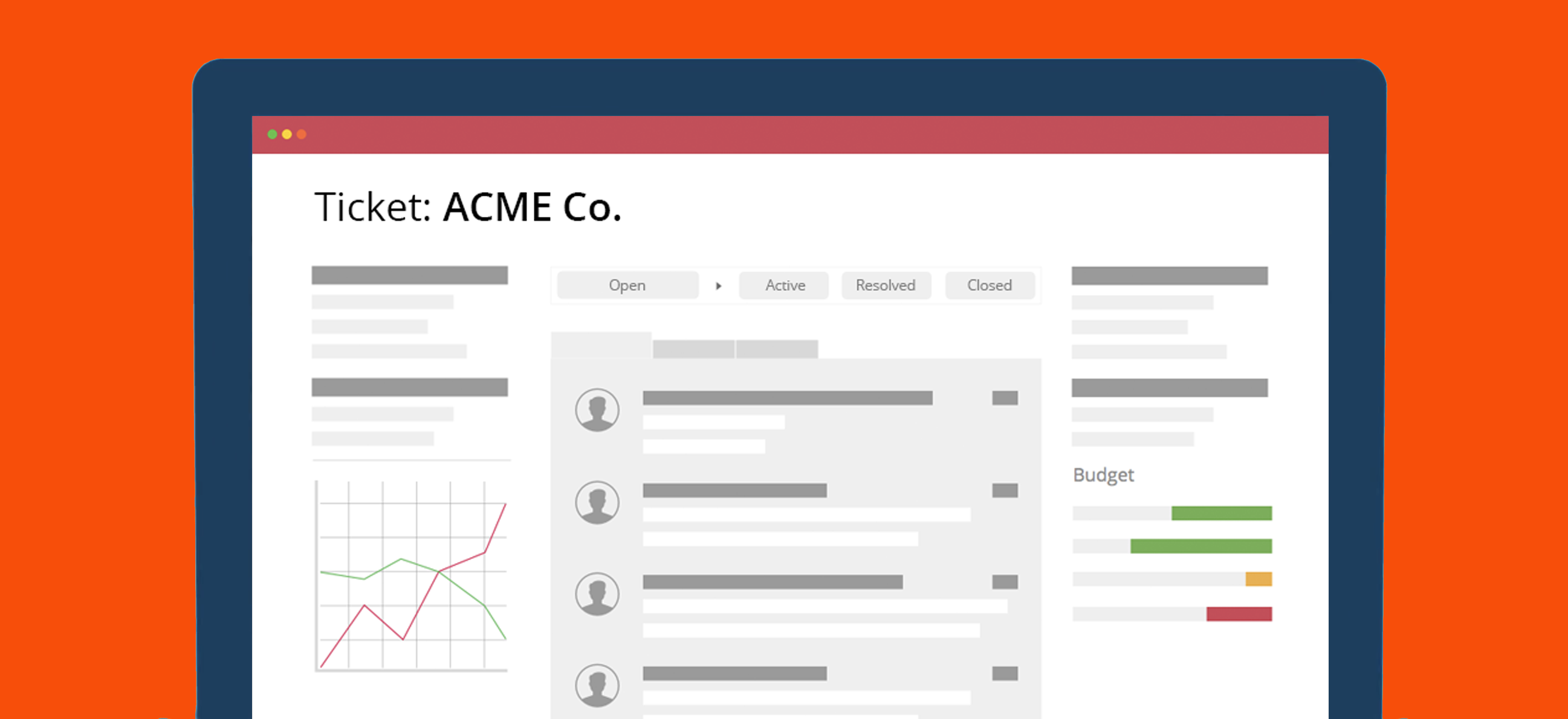 For this, the service solution of Accelo has a great reporting dashboard which helps keep track in a clear visual way of all open tickets. An interesting feature of the dashboard is the way it sends up red flags when a problem may arise, like an issue which has escaped being assigned, or a ticket that is being neglected.
Of course, any ongoing customer service means more data collected for a contact's file, which is why the service solution includes the client database. What's more, client's can also get access to their files and the status of their tickets through Accelo's client portal.
Here's a term that's not so often found alongside more typical ones like "sales" and "service." "Retainers" refers more specifically to the business practice of what happens when a job is done (and in service economies, jobs are not always necessarily once-and-for-all done).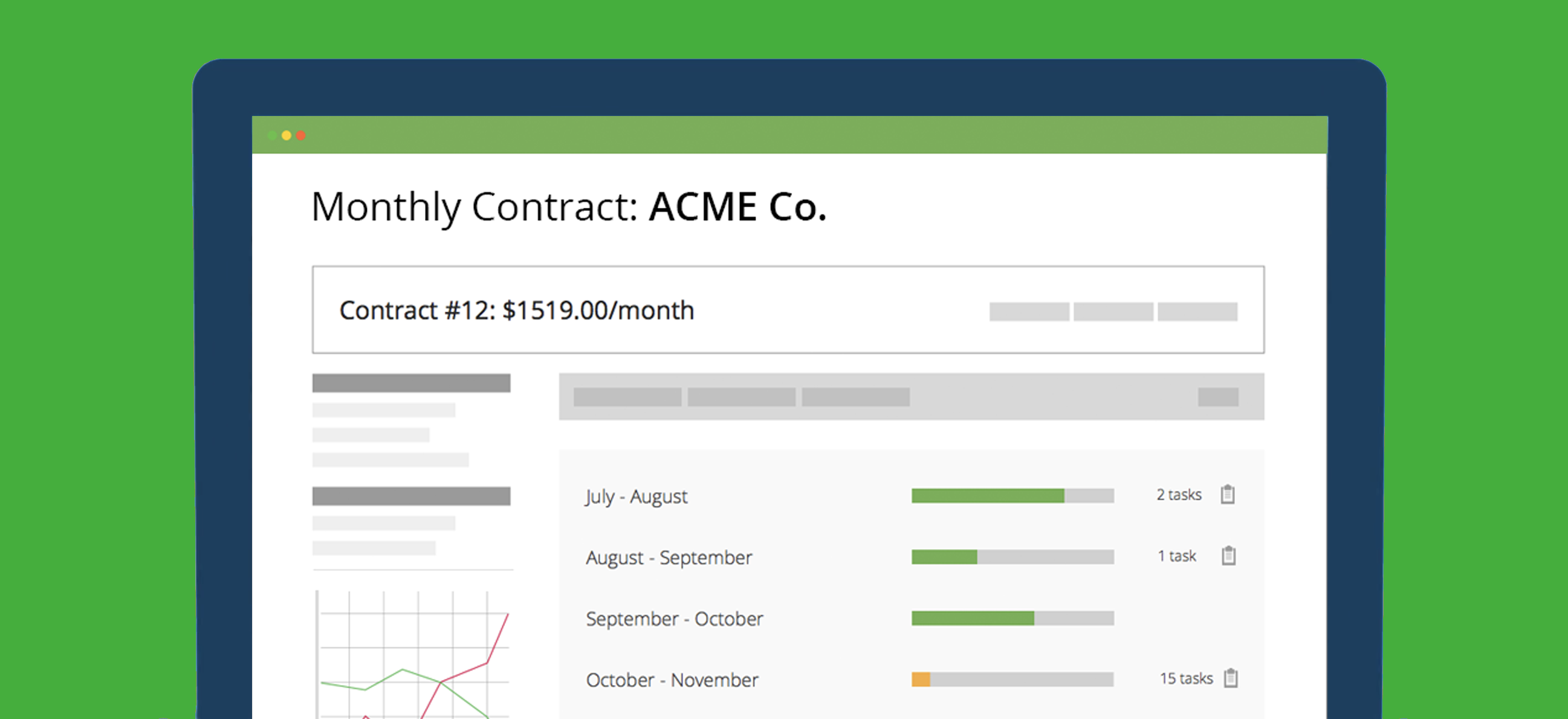 The retainers feature is all about recurring jobs or repeating a job with some slight changes. In other words, maintaining an ongoing relationship.  
The custom retainers feature is central here. It helps with auto-renewing certain aspects of a job, even if there are new modifications. It also simplifies the process whereby certain factors "roll over" from one job to the next, like unused billed hours.
Service and operations automation 
The US has largely moved away from a goods-manufacturing economy to be predominantly one of service (see this shift according to the US Bureau of Labor Statistics), while for many other well-developed and on-the-rise economies, service is becoming increasingly vital (as this Deloitte article demonstrates).  

Accelo recognizes, "the professional services sector has been largely left behind as technology has reshaped the way businesses are run and managed."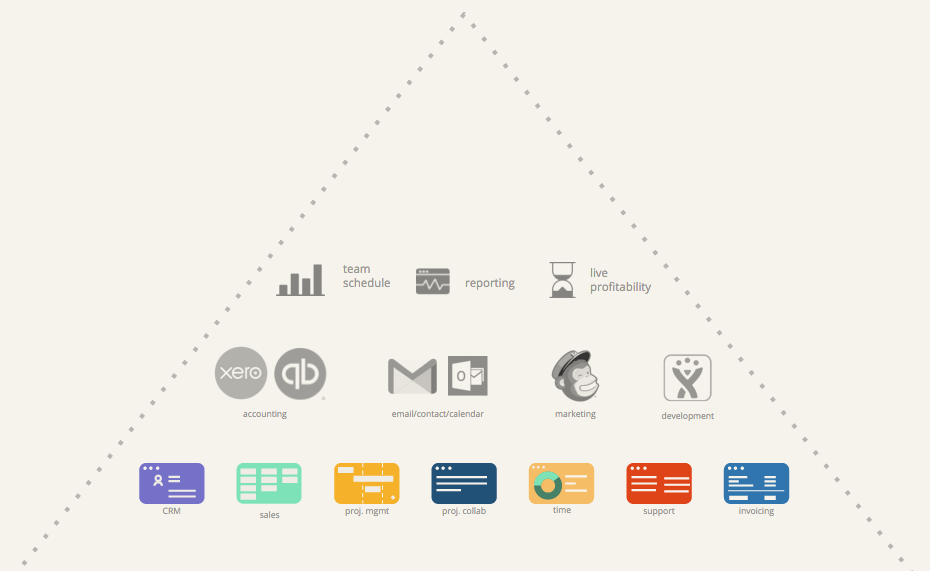 Unlike the goods and manufacturing industries—which have broader logistical organizations that include supply, warehousing, production, transportation, etc—companies in the service sector are often smaller. That means less staff, less immovable property and capital assets, and shorter, less complex supply chains.

For small to medium-sized service businesses and design agencies, time is invaluable. Every minute spent parkouring between different software programs means another minute wasted. Luckily, "Accelo was built to bridge the gap between the Frankenstein of multiple tools and the hairy monster of enterprise systems."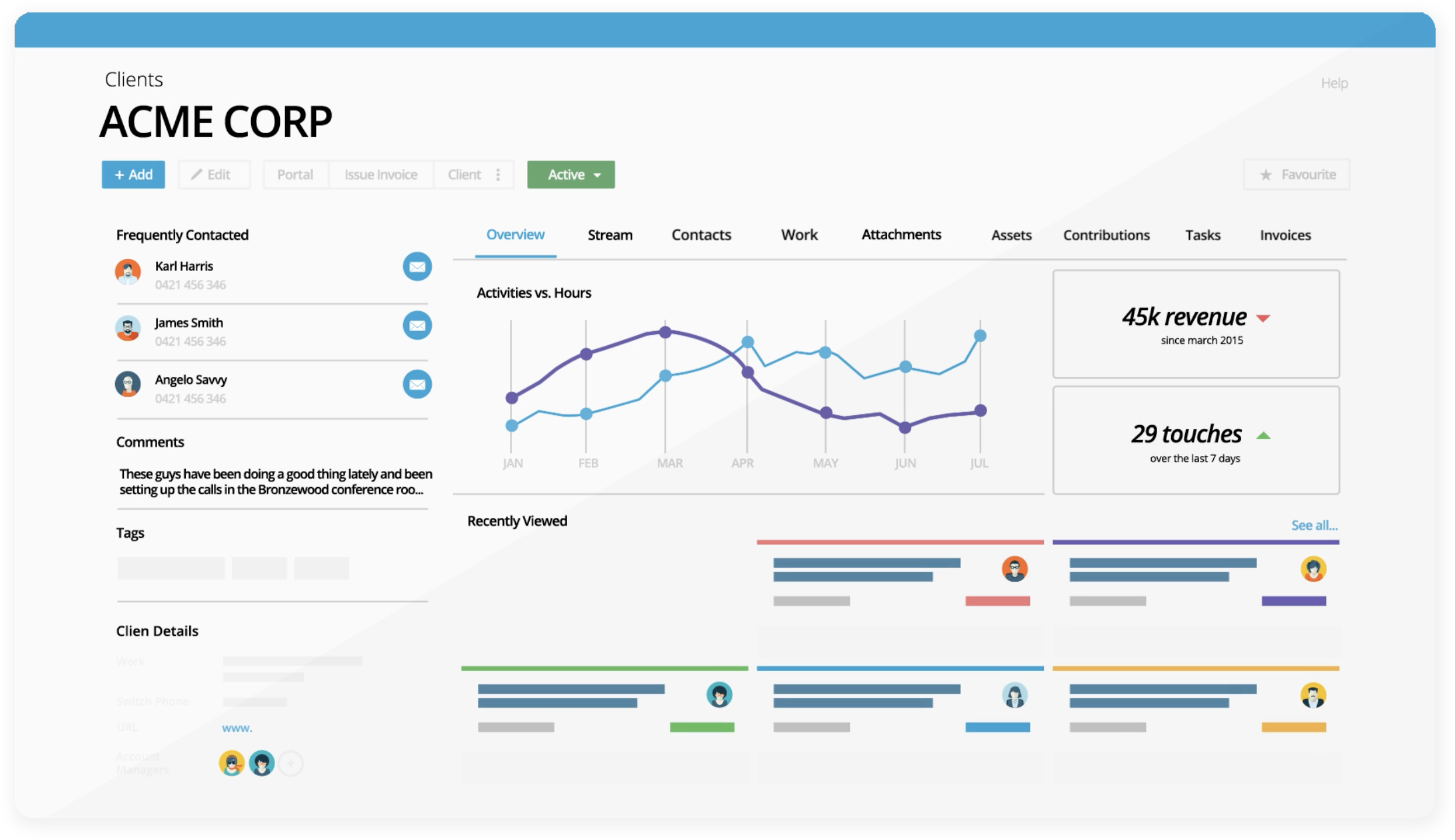 The cost and value of a service-first approach
An important facet of Accelo's philosophy is keeping its operation automation solution affordable for SMEs.
As mentioned above, the ServOps solution is the most comprehensive package and begins at $34 (per user/per month, billed annually) and then there's the ServOps premium which has got absolutely everything for $69 (per user/per month, billed annually).
For those looking to hone in on something specific, the individual solutions are each $16 and $34 for the regular and premium respectively (per user/per month, billed annually).
Because businesses in the service industry can be much more diverse in terms of company size and structure, the individual solutions might initially be more attractive to potential Accelo clients, especially ones still growing.
More importantly, no longer do service businesses need to figure out how to best apply advancements in CRM and other operations automation software to their models. Accelo has done the work for them.