To open source or not to open source, that is the question. Well, it is if you're trying to choose a CRM for your business at least.
Open source CRM software and its proprietary competitors each have their pros and cons in terms of costs, complexity, upkeep, and overall user-friendliness.
Featured CRM sponsors for your Business
i
Which one should you get to make your work life easier? What is the best customer relationship management software for your company? The answer, as usual, can be somewhat complicated, but we break it all down for you.
What is open source CRM?
When an app is "open source," this means its 'source code' (i.e. the code that makes the program run) is publicly available. This source code may be distributed, modified, and redistributed by users according to their needs. The idea is that, if any and all developers can peek under the hood and tweak the way the program works, the app will become more useful and error-free over time.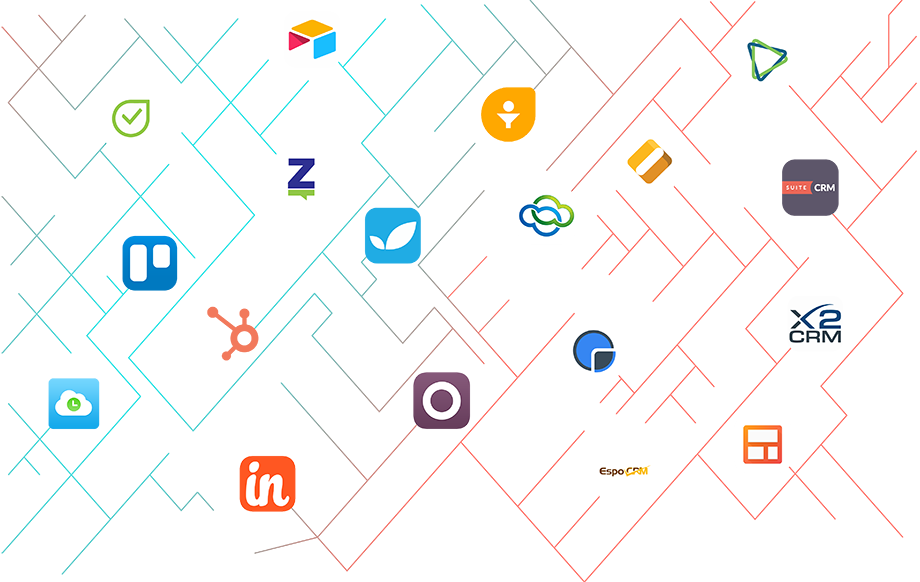 Developers get together on Github or other platforms to fix bugs, add features, or change existent ones. Companies can hire out developers to modify the open source CRM tool of their choice, and get a platform that meets their hyper-specific needs. 
Open source CRM solutions usually run on Linux (as opposed to the usual Mac/Windows support) and often combine freely available software like Apache web server and PHP. Any software that operates under an Open Source Initiative and holds an OSI-compliant license can be integrated into a CRM platform and used for commercial purposes.
Open source customer relationship management offers all the useful features of a proprietary CRM like customer support, pipeline management, market automation, and contact management, however, there are significant differences between the two types to consider. We explain it all here. 
Difference between open source code vs. proprietary software
Think of it this way: Proprietary software is a closed system, a boxed up, finalized product. You download it for free, or buy a subscription, then set it up for your needs. No assembly required (aka. you can skip hiring in-house developers).
This is a 'full stack' category of CRM—generally designed for the big picture, which means they can cover basic needs across the board, right out of the box.
Meanwhile, an open source platform's source code is available to the public for use and further development and modification. The expectation is that you'll want to take the existent product and tweak things here and there to calibrate it towards your specific workflow needs. In most cases, open source code is already well developed, and customization solutions have been streamlined for speed and ease.
Many small and medium-sized businesses go open source. Others choose closed source, proprietary software.
Both types do sales, service, marketing, project management, and every other CRM-y thing you can imagine and usually come with mobile apps that let you work on-the-go. Qualitatively speaking, there's not a massive difference between the two.
The choice is really all down to what kind of CRM applications you need, and how much time you're willing to invest in getting your system up and running.
The advantages of open source CRM
Some may find great appeal in the open source movement that surrounds CRM. With its sense of reciprocal community and freedom to innovate, contributing to open source can feel like you're hacking the system, or simply producing something original (rather than just buying Salesforce or Microsoft Dynamics and calling it a day). Others might find open source software development to be a time-consuming foray down the rabbit hole that distracts from the primary business.
One advantage of open source, however, is that these CRM systems tend to offer more robust integrations. You can also build the exact integration you want without any vendor restrictions. If you're concerned about flexibility and scalability over time, open source definitely has the advantage.
Another very pragmatic reason for using open source tools is its cost—they're free or affordably priced (generally speaking) and are less likely to have time-based commitments to software licenses. If you signed up for a year with a proprietary CRM but decided it wasn't right seven months in, you'd be eating some fairly rich costs. That wouldn't happen with most open source tools.
Out of the box vs ready-to-go
When it comes to ease of implementation, however, proprietary CRMs have the alpha. The task of adapting an open source solution to your purposes is not to be taken lightly.
While both genres of software are functional out of the box, proprietary software is ready-to-go after the initial set-up. Open source business tools are usually going to require developer hours, as well as a very considered implementation plan to make them worth the time invested.
If you choose an open source platform, it's important to make sure it has a strong, active community of developers. Updates, bug fixes, and the like all have to be taken care of by the developer community surrounding the platform.
As far as names in the field, SugarCRM was historically the most well-known open source CRM. Their Community Edition project spanned 14 years and resulted in a ton of spin-off projects. Yes indeed, those two sentences are past tense for a reason—the platform quietly stopped being open source in early 2018.
But its legacy lives on! Vtiger and SuiteCRM, for example, are proud children of SugarCRM's original open source code, birthed and set off into the wilds in 2004 and 2013 respectively. We take a look at each plus 14 more great open source or free options. 
8 best open source CRM Software 2023
SuiteCRM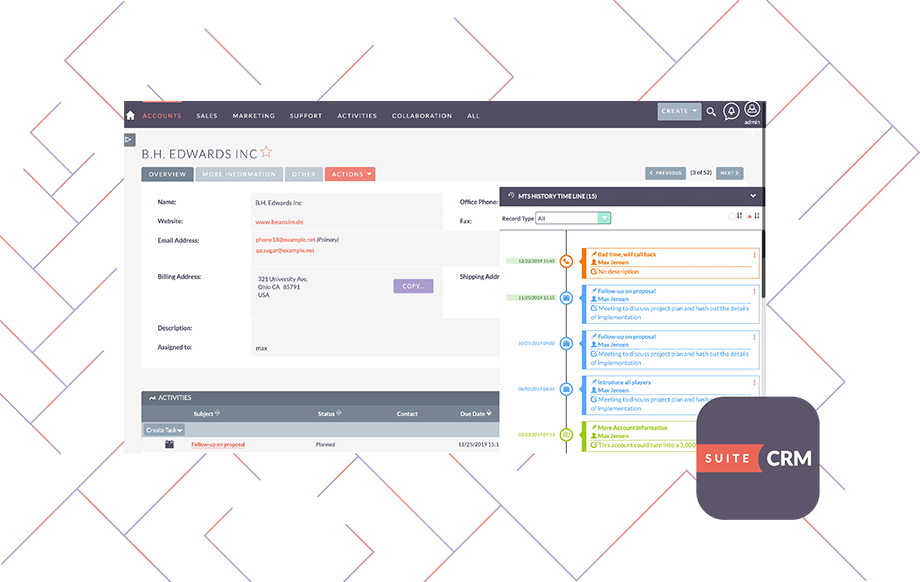 Benefits:
SuiteCRM handles sales, service, and marketing, with custom module, layout, and relationship development tools that will please your IT department too (if you have one). This CRM has also got a real-time dashboard, meaning as data streams in, new figures offer broader insights into things like pipeline metrics, open project statuses, and cash flow.  
Endless modular customizability and add-ons mean you can use it for applications, simple or complex. It also works on every operating system under the sun: Windows, OS/X, Ubuntu, Android, iOS—you name it.
With a low learning curve and easy set-up, it's definitely one of the most approachable open source systems on the scene. It's also one of the most popular.
Drawbacks:
Helpdesk support can be slow, as it is community-based. There's also a moderate learning curve, and the free open source version's integrations and features aren't as developed as in paid versions. SuiteCRM doesn't integrate with ERP software, so if you're looking for holistic business process integration, it may not be the right choice.
Pricing for SuiteCRM: OnDemand:
Pure SuiteCRM is free. 

Starter plan (recommended for 1-10 users) is $123 (billed as £95) per month, billed annually.

Business plan (recommended for 5-50 users) is $430 (billed as £332.50) per month, billed annually.

Premium plan (recommended for 10-150 users) is $614 (billed as £475) per month, billed annually.
A 30-day free trial is available for all SuiteCRM: OnDemand hosted solution plans.
Odoo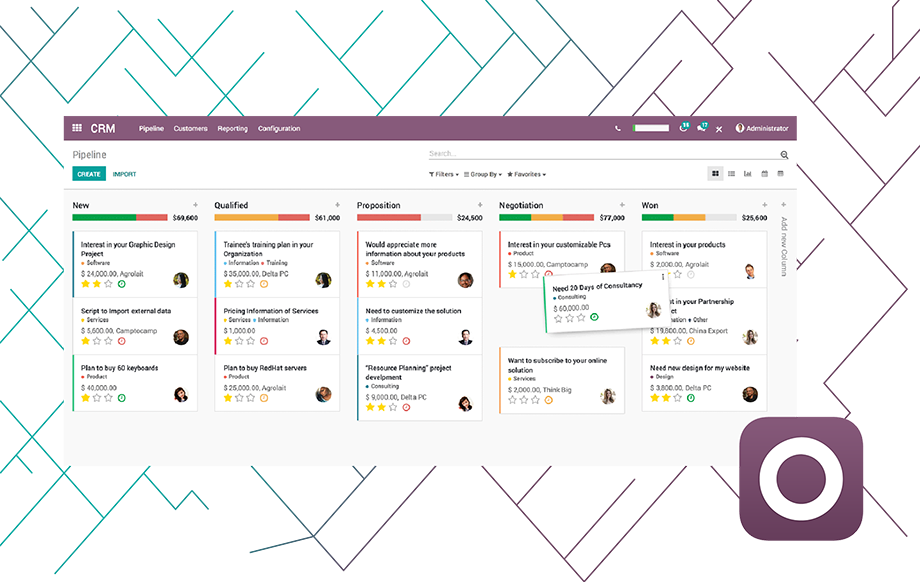 Benefits:
Odoo is all about 'extensible architecture,' with a modular design that lets you mix and match different features. The open source Community Edition of Odoo CRM plugs into the 10,000+ apps in the vendor's orbit, which are configured to integrate with one another seamlessly.
If you're in retail, restaurants, or other brick-and-mortar enterprises, you may be interested to know Odoo has a very useful point of sale app. Working with other Odoo apps, point of sale data can easily flow into your inventory management, email marketing, and sales operations.
Drawbacks:
The open source version of Odoo CRM has a significant learning curve, and you'll have to pay special attention to setting it up and implementing it to prevent headaches later. The invoicing tool is a bit more complicated than necessary (you have to create a quote, followed by an order in order to generate an invoice), and reporting options are limited. Customer support is dependent on app community members.
Pricing:
Open source CRM is free. Paid add-ons available.
OroCRM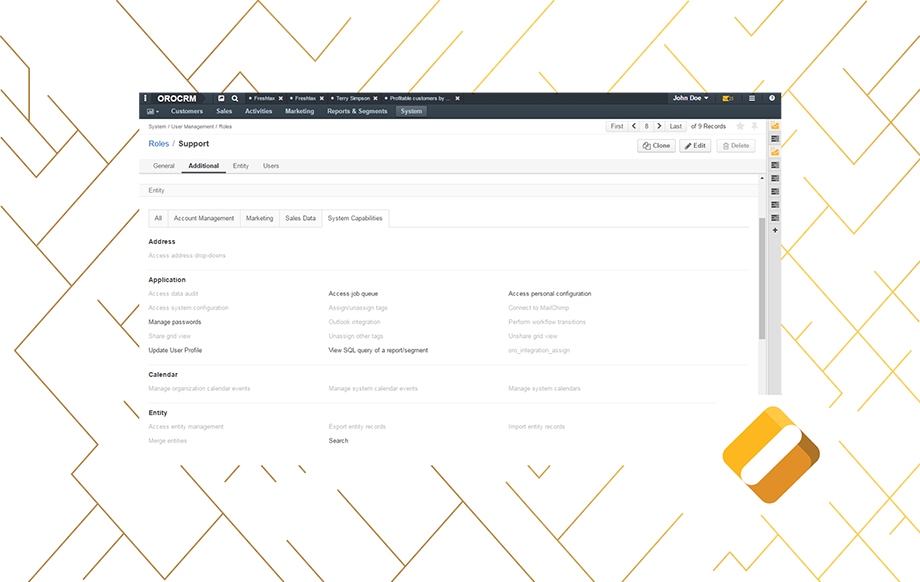 Benefits:
OroCRM has a reputation as the most flexible open source CRM. It's based on the Symfony2 PHP framework for web development, which is widely used and well-liked. That means that lots of open source developers find it easy to understand Oro's code and create new customizations, making it relatively easy and cost-effective to modify the platform to your needs.
Easy integrations with Zendesk, MailChimp, and many other clutch apps are a nice touch too.
Drawbacks:
If you're managing ecommerce, you might need a developer to customize the app in order to fulfill helpdesk / customer support functions. There is also no localization (Oro is only available in English). 
Pricing:
Open source edition is free.

Contact vendor for Enterprise Edition access.
X2CRM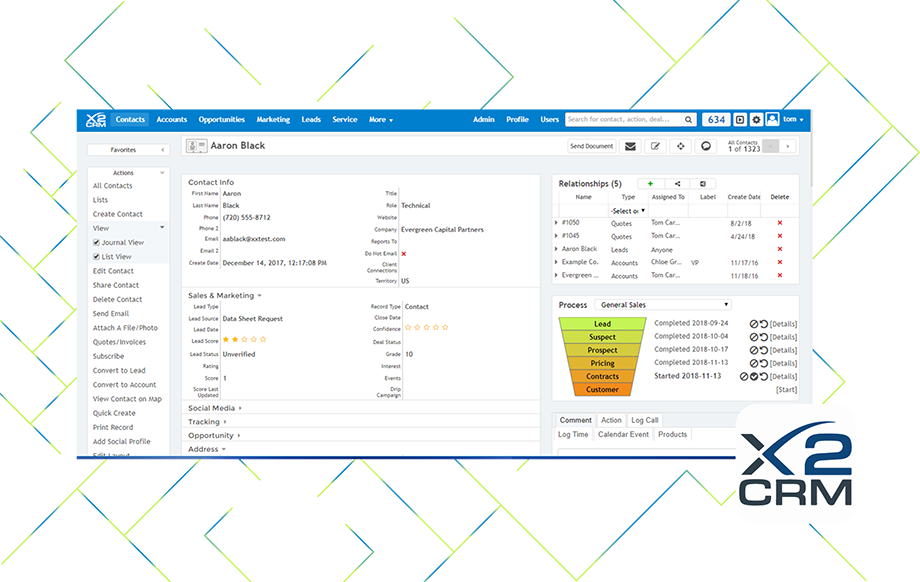 Benefits:
X2CRM has an open source edition, which generously shares code through GitHub, SourceForge and Bitnami, thus encouraging anyone and everyone to customize it for their own purposes. The software can be downloaded right onto a webserver, but you can also get help when downloading it as part of a full stack version.
This open source edition employs many of the core modules from the general (non-open source) X2CRM platform, which is more geared toward larger enterprises rather than lean startups. 
Lighter operations can take advantage of X2CRM Open Source's tools for marketing campaigns and pipeline and funnel management. There are email modules that include open email tracking and a feature to design workflow visualizations. X2CRM also has Android and iOS apps.
Drawbacks:
X2CRM is an up-and-coming platform and not the most widely used, so you may find it tricky to get the support you need through its small-ish community.
Pricing: 
Open source version is free. 

Paid custom configuration and development solutions also available.
Vtiger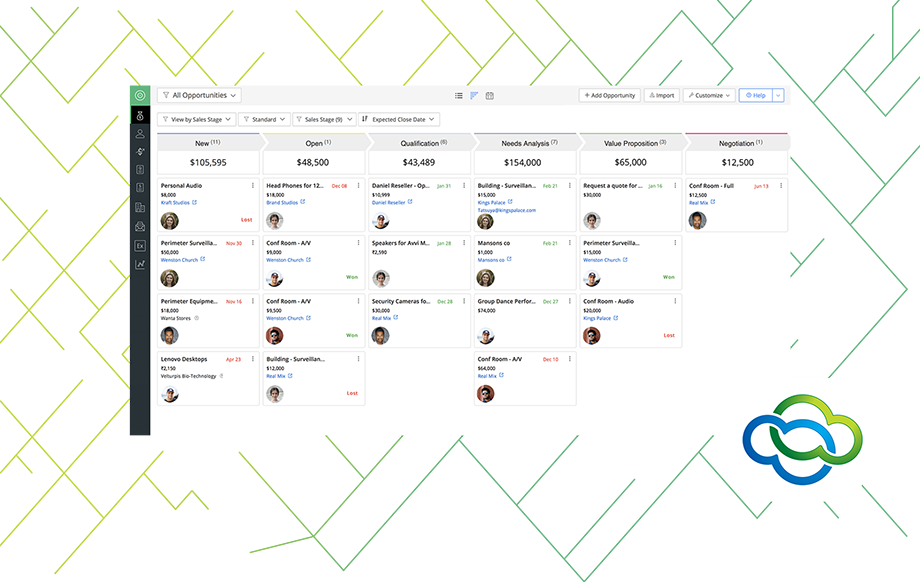 Benefits:
Vtiger CRM Open Source covers the breadth of customer relationship management features you know and love. You can use it to run marketing campaigns and keep track of leads, customers, and opportunities, handling the sales cycle and daily workflows. Reporting and analytics features are included, and it has a Gmail extension, which is super handy for referencing CRM data and info while emailing.
As you scale up your usage, you can check out the market for add-ons for greater features. It's the #1 most downloaded Open Source CRM on SourceForge (with 4.5 million+ downloads), so it has a big community of users and developers behind it.
Drawbacks:
Vtiger's reporting features are somewhat lightweight in open source when compared to its paid version. Navigation between features sometimes feels a bit clunky, and the Google Sheets integration isn't the best. Vtiger also has a moderate learning curve, so it will take time to train your team to implement the platform effectively.
Pricing:
Free, with paid add-ons available.
EspoCRM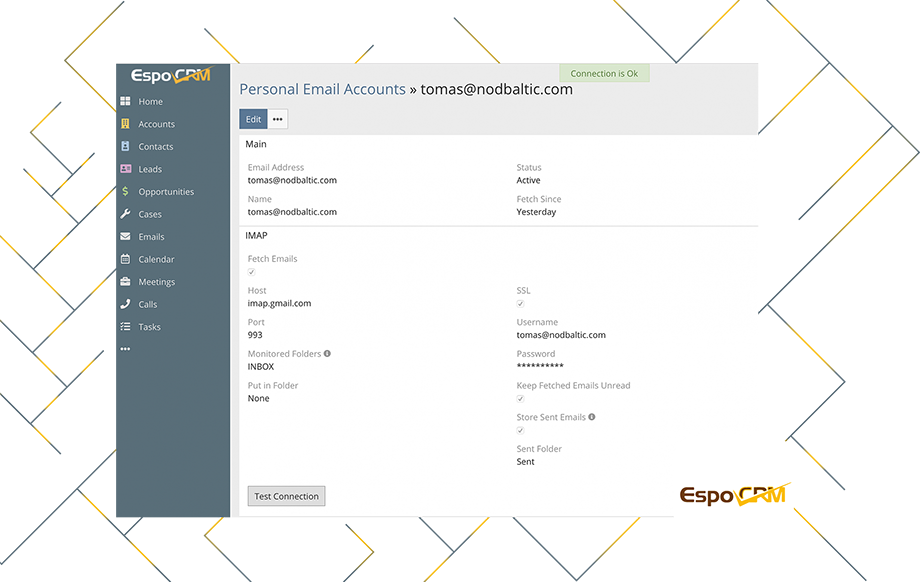 Benefits:
EspoCRM offers full-featured sales automation for leads and tracking for opportunities, accounts, and contacts. It also keeps tabs on contacts by defining relationships and relating them to multiple accounts. EspoCRM's social stream allows you to track activities and "follow"  specific records that are relevant to your work. 
Drawbacks:
Time spent implementing the open source solution on-premise and paying for developers, data hosting, etc. may negate some of the financial benefits of getting the software free. Also, there aren't many integrations with other apps.
Pricing:
Self-hosted (on-premise) solution is free.

Cloud-hosted solution pricing in consultation with vendor.
A one-month free trial is available for the cloud-hosted solution. Credit card not required.
CiviCRM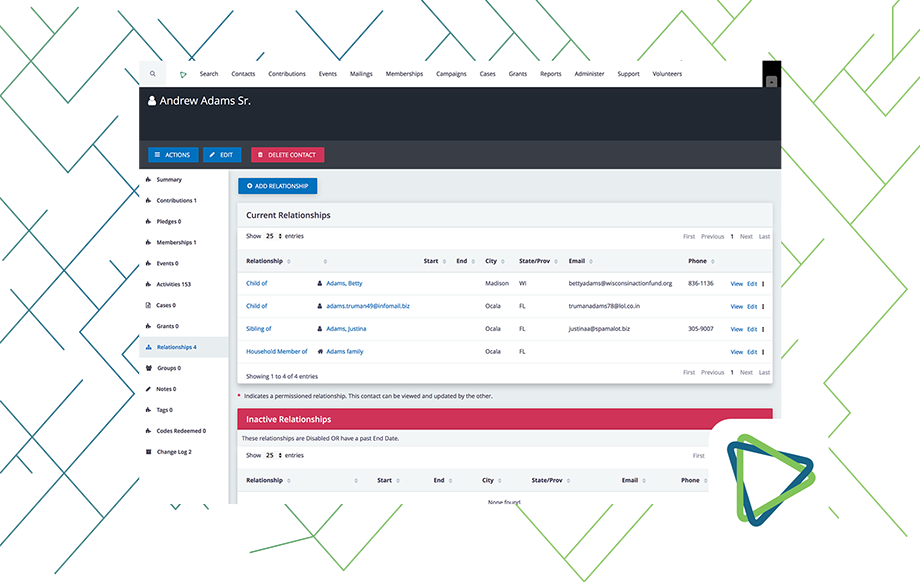 Benefits:
CiviCRM is a completely free open source CRM targeted at non-profits, associations, and civic sector organizations. User-friendly and designed to be adapted towards a wide range of uses, CiviCRM provides full-fledged CRM features like contact management, accounting integration, case management, and email marketing.
Drawbacks:
You will likely need help installing and tailoring the solution for your organization's needs. It's not designed for sales, so you may find it doesn't meet your business requirements or requires too much investment in time and money to customize. It should be noted, the UI is also somewhat out-of-date.
Pricing:
Looking for a free option?
If you're considering open source purely for the sake of minimizing expenses, you may want to check out the free version of the following all-in-one (proprietary) CRMs.
Freshsales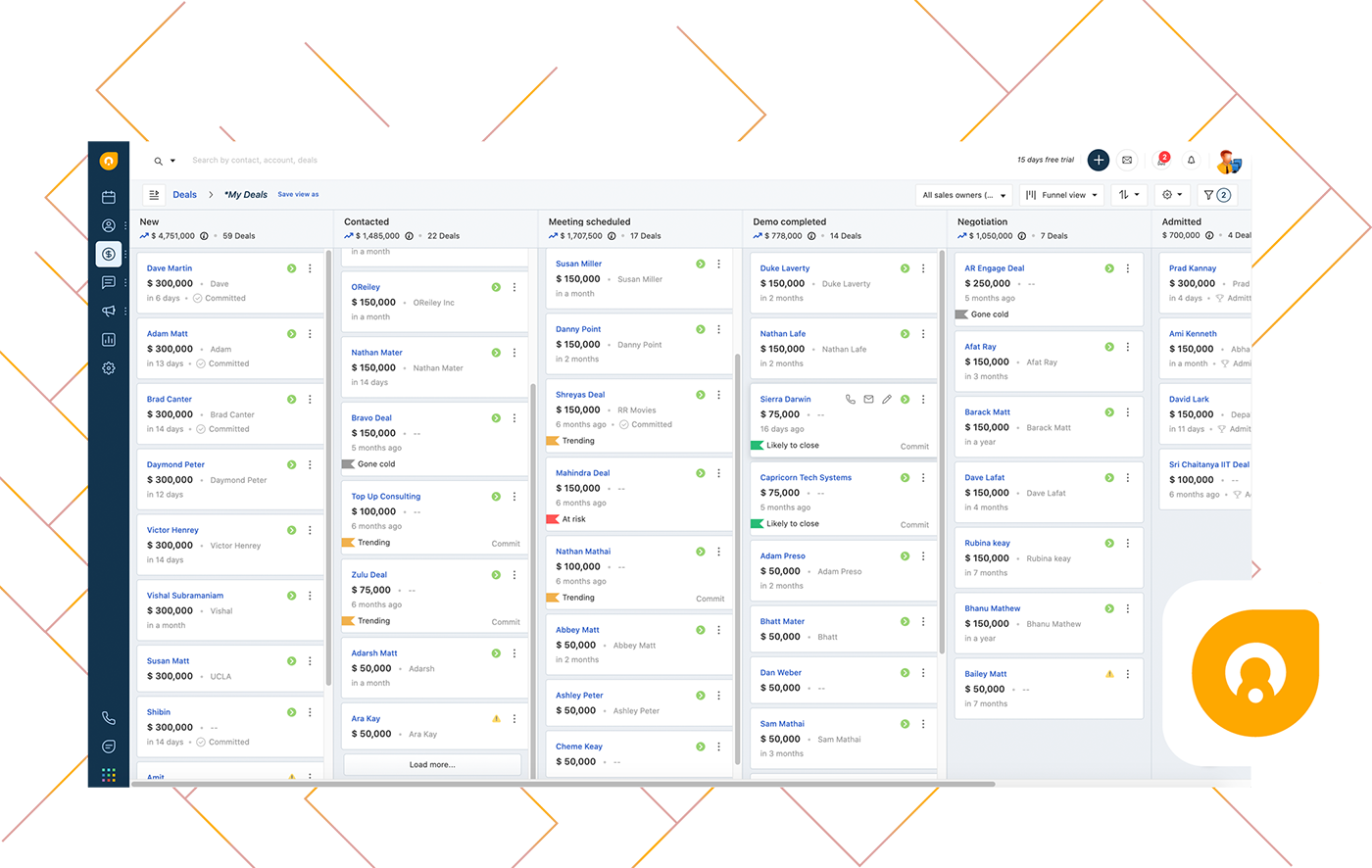 Benefits:
Freshsales is a full-fledged sales force automation solution for sales teams. It provides everything a salesperson needs to— attract quality leads, engage in contextual conversations, drive deals with AI-powered insights, and nurture customer relationships. 
With built-in email, phone, chat, and telephony, Freshsales empowers sales teams with more time for selling by automating the sales process and increases efficiency and productivity in their daily activities. With Freddy AI, salespeople can get insights into the best deals to go after and what actions to take and predict revenue with sales forecasting. Businesses can take the next step forward towards powerful pipeline management with Freshsales. Also, the option to use native CPQ makes generating and sharing quotes and other vital sales assets hassle-free. 
Drawbacks:
Like many vendors, some of the better features are reserved for premium packages. Among these for Freshworks CRM are time-based workflows, some chatbot tools and advanced metric reporting. But overall, the free and basic plans are a decent place to start, and you can always upgrade.
Pricing:
There is a Free Forever Startup plan

Growth plan is $15 per user/month billed annually

Pro plan is $39 per user/month billed annually

Enterprise plan is $69 per user/month billed annually
HubSpot CRM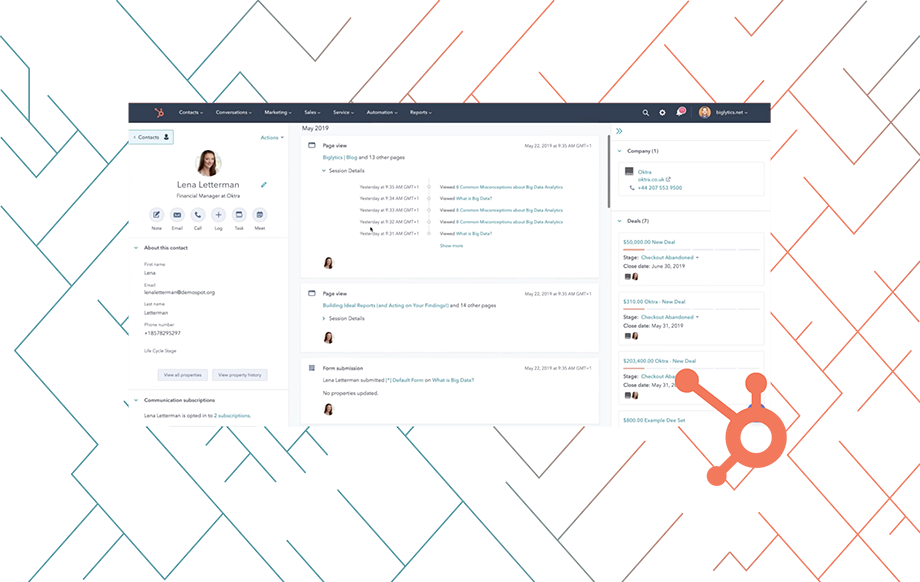 Benefits:
HubSpot is a massive company, and played a big part in ushering in the rise of inbound marketing. Their free version automates menial tasks, manages lead management, and allows for a database of one million contacts. It also allows unlimited users and unlimited storage.
Some advantages to HubSpot are firstly their large wealth of training videos to help speed up adoption. Also, because of their sheer enormity, they have a pretty great reputation for personalized customer service, which is a big point in its favor vs. many open source solutions. 
Drawbacks:
Some negatives include limited syncing between contact and deal data, a weak search function, and the inability to log email attachments into the contact record. Also, as you may have surmised, you may well need to dish out money on add-on modules to get the most out of the free version.
Pricing: 
HubSpot CRM is free.

Marketing Hub, Sales Hub, and Service Hub add-on packages are $50 each per user/per month, billed monthly.

HubSpot CMS starts at $300 per month, billed monthly. 

All-inclusive Starter Growth Suite starts at $113 per user/per month, billed monthly.
Really Simple Systems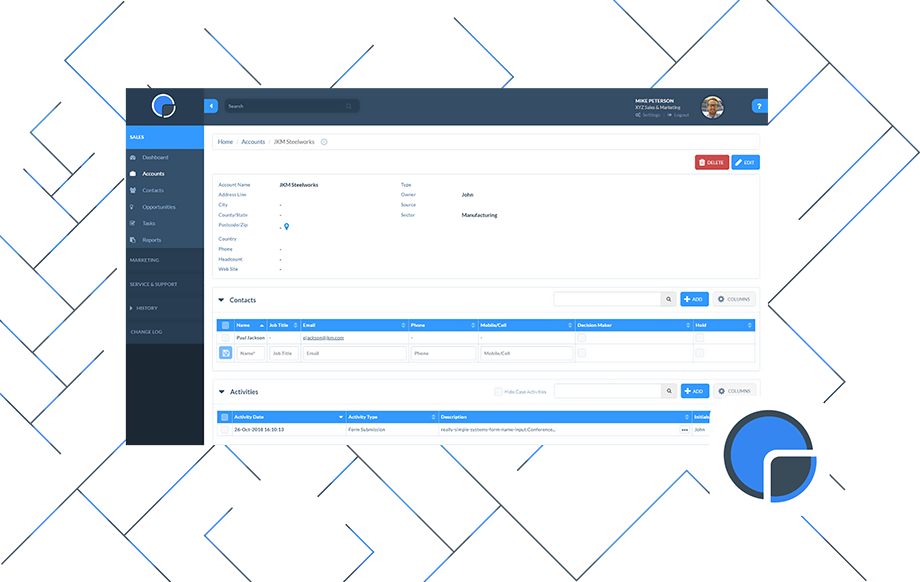 Benefits:
Really Simple Systems (RSS) is an easy-to-use, yet effective marketing automation, sales and service platform designed specifically for B2B. They offer a free version of their software for up to two users, which includes many of the core features of the paid product, including sales automation and customer service. It gives you unlimited contacts and 100 MB of document storage.
RSS contact management updates info and related tasks in real-time for clients, vendors, and suppliers. This is very useful for coordinating remote teams.
Drawbacks:
RSS doesn't offer a lot of third-party integrations. Customization features are somewhat limited, and may not accommodate niche businesses, nonprofits, or non-traditional CRM applications (then again, it is designed for B2B). While serviceable, the mobile app is not the most user-friendly one out there.
Pricing:
Free version for up to two users.

Starter plan is $17 per user/per month, billed annually.

Professional plan is $33 per user/per month, billed annually. 

Enterprise plan is $50 per user/per month, billed annually.
Trello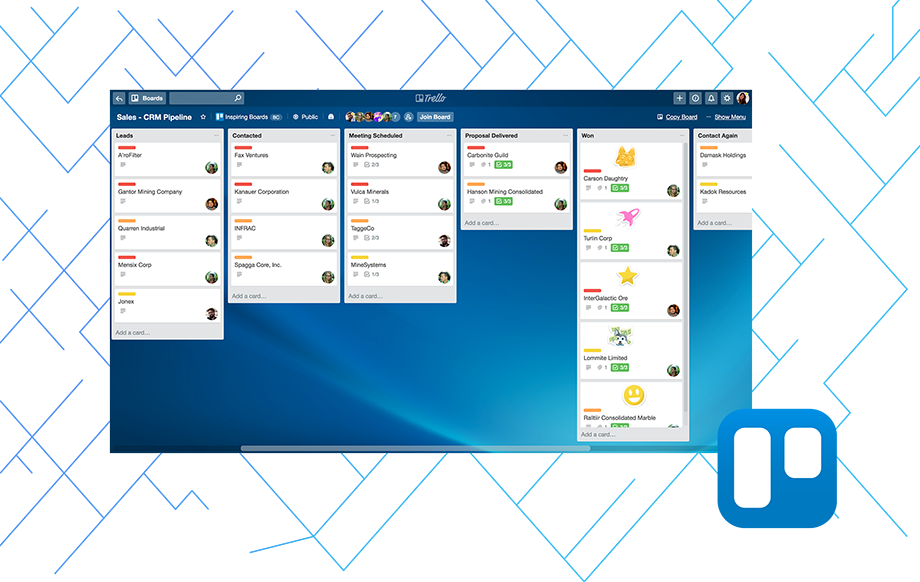 Benefits:
A non-traditional CRM option with a simple and effective Kanban-view project management app that can work as a lightweight CRM. Very low learning curve and easy to use across mobile and web apps. The free version, although limited, may be sufficient for small business team collaboration and simple business processes.
Drawbacks:
Kanban view can become confusing as the complexity of your project increases. Limited file attachment size in the free version can be an issue with video files, Powerpoints, heftier PDFs, etc.
Pricing:
Free version available, with limited features. 

Business Class plan is $9.99 per user/per month billed annually, and $12.50 per user/per month billed monthly. 

Enterprise plan is $20.83 per user/per month billed annually (price variable, figure given for 100 users). 
Airtable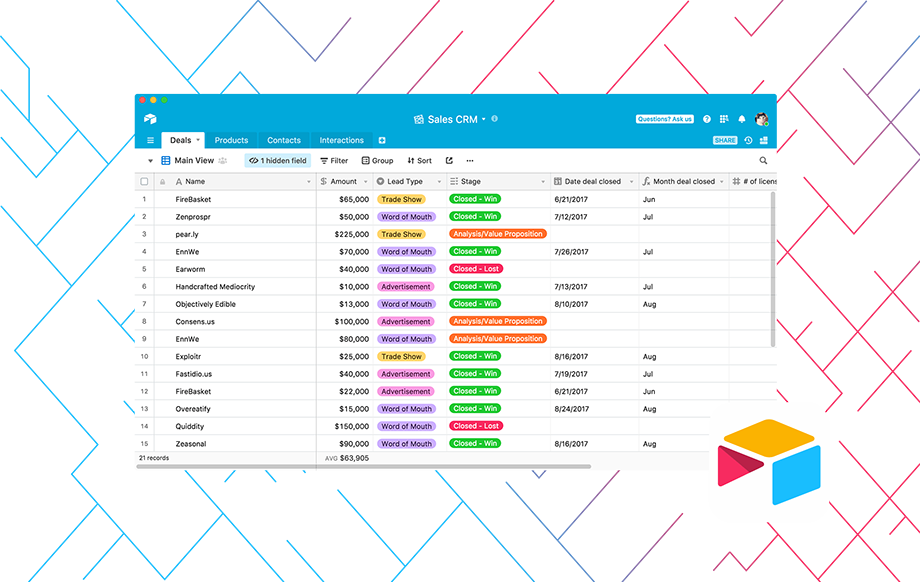 Benefits:
Airtable is a non-traditional, lightweight CRM with pleasing aesthetics as one of its main selling points. 
The workflow management database aims to re-invent spreadsheets, letting users quickly link and interpret data from different sets. Users can play with design to tailor data sorting to their needs via customization. It's easy and straightforward to import and export data as a CSV as well. 
Drawbacks:
Airtable is indeed a "lightweight" CRM, so for more complex task management (i.e. with sub-tasks), you may find the platform is not ideal. 
Pricing:
Free version provides essential features.

Plus version is $10 per user/per month, billed annually.

Pro version is $20 per user/per month, billed annually.

Enterprise version pricing is in consultation with vendor.
Streak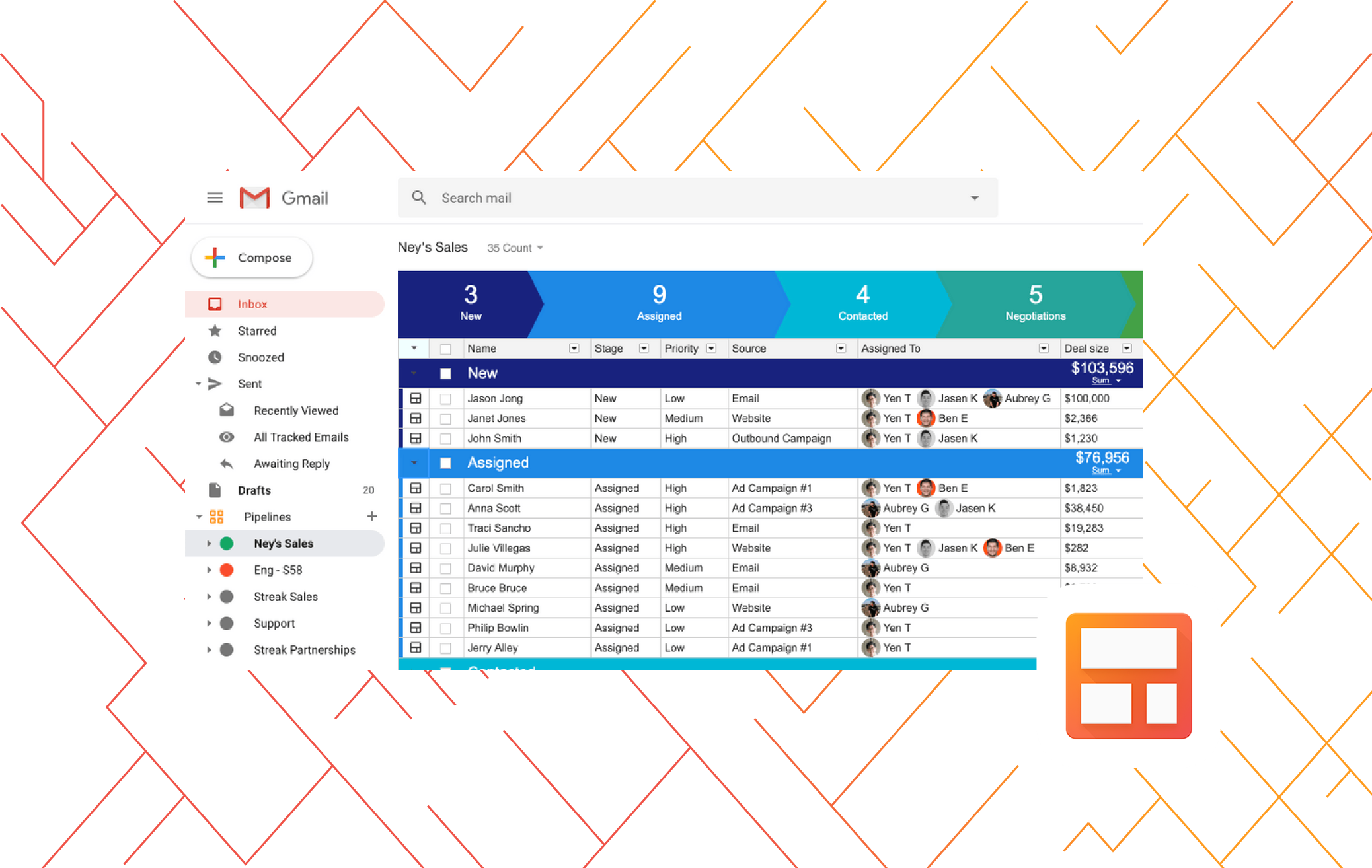 Benefits:
Streak is a fully integrated Gmail CRM that lives in your inbox. Based in a familiar environment, the app streamlines CRM adoption for new users.
The free version of the app is mainly for personal use and includes basic CRM tools and full email features. The email templates feature is an excellent way of sending out a high volume of personalized emails. You can also manage leads and sales with unlimited pipelines. Make notes in-app for centralized record keeping, track data on your correspondence with contacts, and check whether leads have opened your emails or not.
Drawbacks:
Since Streak runs as a browser extension, every time you change devices, you'll have to download it again. It's a relatively lightweight CRM solution and may not be up to the task if you deal with relatively complex business processes.
Pricing:
Personal version is free for individual users.

Professional plan is $49 per user/per month, billed annually.

Enterprise plan is $129 per user/per month, billed annually. 
Bitrix24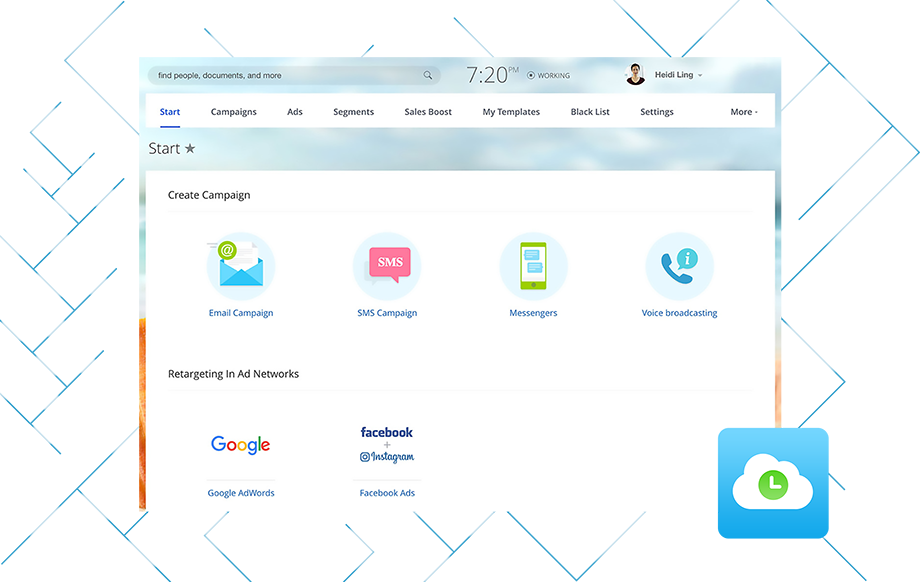 Benefits:
The cloud version of Bitrix24 is free for up to 12 users and offers 5GB of data storage space. It has largely the same features as the paid version, albeit presented in a scaled-down form. All told, it's a pretty generous gratis product offering.
The Bitrix24 CRM provides all the necessary features via a clean UI (with a particularly nice Kanban view), like pipeline management, reporting, and sales tracking. The app's communication kit encompasses voice, chat, email, and video—so you can always reach a contact on the best channel. 
Drawbacks:
Bitrix24's UI doesn't always offer the most intuitive navigation, and the app can slow down from time to time. There's a moderate learning curve and the customizability features may not be sufficient for niche business applications.
Pricing:
Free starter business tool suite for up to 12 users.

CRM+ plan for up to 6 users is $55 per user/per month billed annually, and $69 per user/per month billed monthly. 

Project+ plan for up to 24 users is $55 per user/per month billed annually, and $69 per user/per month billed monthly.

Standard plan for up to 50 users is $79 per user/per month billed annually, and $99 per user/per month 

Professional plan is $159 per user/per month billed annually, and $199 per user/per month for an unlimited number of users. 
The prices above are for the cloud-based version. On-premise solutions are also available.
Insightly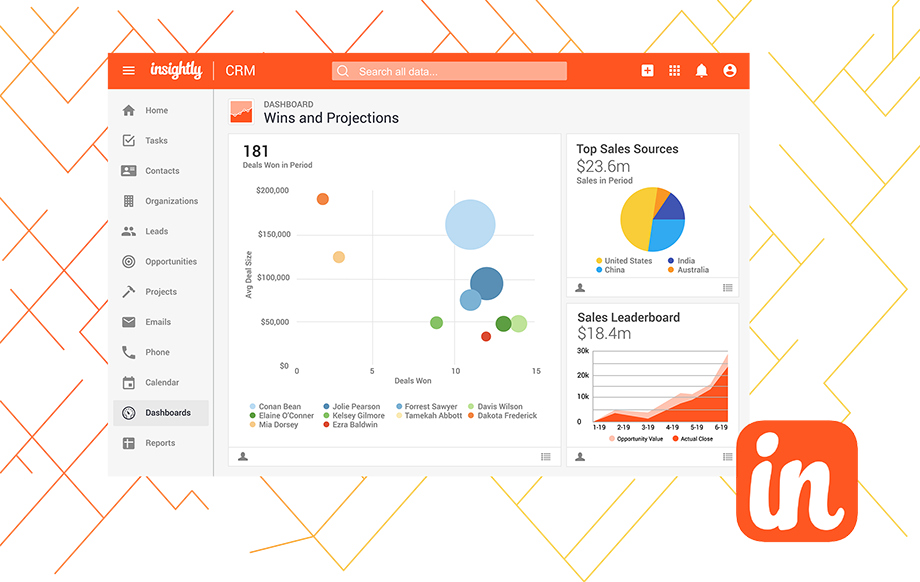 Benefits:
Insightly's free version is not very well advertised (hidden at the bottom of their pricing page), so consider this a semi-insider tip. The unpaid version features a clean user interface, with project, contact, and customer management and pipeline features to keep your sales process humming.
The software provides native integration with G Suite and Microsoft 365, as well as Mailchimp and many others. Training videos are available to explain features in a straightforward way, easing the learning curve.
Drawbacks:
Insightly's free version is limited to up to two users. The free version also lacks a data backup system, sets daily caps for mass emailing, and limits how many custom fields can be added for each record. More useful lead assignment modules are only available in the paid plans.
Pricing: 
No-frills plan for up to 2 users is free.

Plus is $29 per user/per month, billed annually. 

Professional is $49 per user/per month, billed annually.

Enterprise is $99 per user/per month, billed annually. 
A 14-day free trial is available for the Plus and Professional plans. 
Apptivo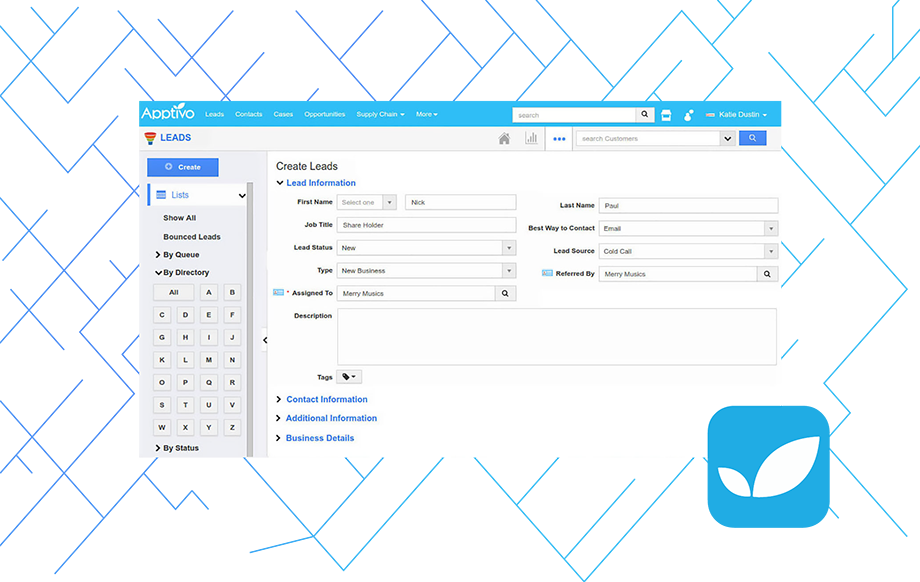 Benefits:
Apptivo provides a flexible suite of apps focused on customizability. Their starter version is free, and offers many of the core tools from their full kit and 500 MBs of storage. The number of users is capped at three. 
The contact app allows you to import data from emails and websites, so you can populate your contact and lead data with minimal manual entry. Project management apps in the Apptivo universe offer individual and team organization, while the Cases app automates customer inquiries by turning emails into tickets with a service-level agreement.
Drawbacks:
The free version of Apptivo doesn't support third-party integrations. Sometimes it runs a bit slow, and the user interface, while fit for its purposes, is not necessarily the most intuitive. 
Pricing:
Starter plan is free for up to three users. 

Premium plan is $8 per user/per month, billed annually.

Ultimate plan is $20 per user/per month, billed annually.
Flowlu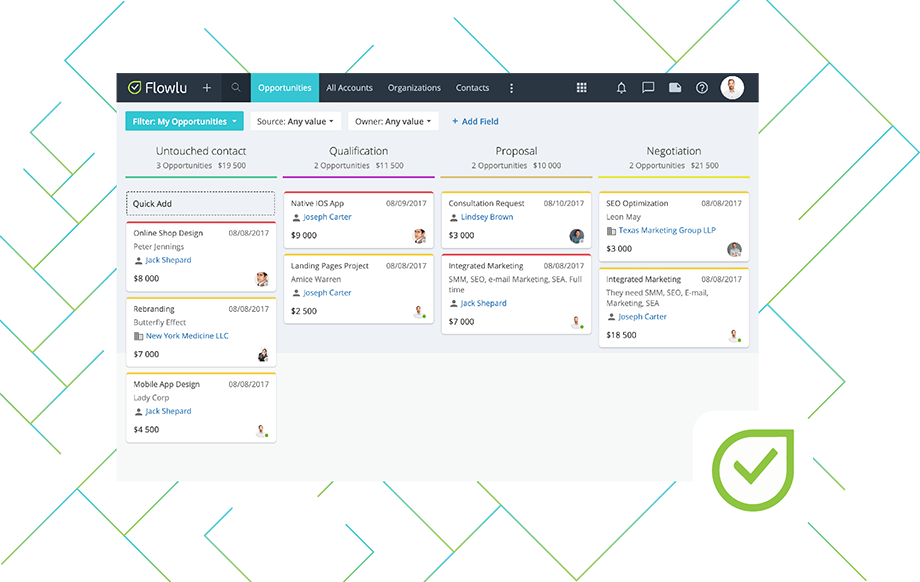 Benefits:
Handle project management and build a knowledge base in one place. Create personalized invoices with CRM data auto-inserted into each invoice. Build web forms to generate leads and invite customers to upcoming surveys and events in-app. Free version for 2 users offers 1 TB of storage data. 
Drawbacks:
Financial reporting features may not be deep enough, depending on your business. Task filter function is a bit clunky. Collaboration tools are not advanced.
Pricing:
Free for up to two users. 

Team plan is $29 for all users/per month billed annually, and $39 for all users/per month billed monthly.

Business plan is $59 for all users/per month billed annually, and $74 for all users/per month billed monthly. 

Professional plan is $119 for all users/per month billed annually, and $149 for all users/per month billed monthly. 

Enterprise plan is $239 for all users/per month billed annually, and $299 for all users/per month billed monthly. 
Socially open
While all CRMs—both open source and proprietary—started out as tools for sales teams and later extended that reach to give marketing and support some helping hands, nowadays its social media teams that are the latest to enjoy the added perks of these platforms. 
And so it should be, as so much advertising goes on in that coveted social space.
Some CRM features for social media managers and teams include tools to unify all social channels into a single overview, the ability to pre-compose and schedule posts, provide analytics on reach and engagement, aggregate all incoming communication via all social channels into one dashboard, and even offer constantly-updated suggestions on what to post, when, and how frequently. 
Some examples of open source CRMs working closely in social media spaces are Vtiger, which integrates with Twitter, where you can tweet or upload a 3MB pic to Twitter directly from your CRM. SuiteCRM integrates with other apps to do things like, finding out which social media networks your leads are most active on.
The name of the game is interoperability
Thankfully, softwares don't come into this world in isolation building garrisons around their code. 
A big advantage to many platforms is flexibility, specifically in the form of their API (application programming interface). This is sort of like the instructions from one set of code to another that allows two programs to work alongside, or on top of one another. 
There are different standards of API, with RESTful API (or sometimes just REST) being somewhat of a gold standard, especially with open source CRM. Since the idea of open source is to never close the gates on new developments—no matter where they come from—many API builders count on the freedom and flexibility of RESTful API.
All of the above-discussed open source CRMs take advantage of RESTful API.
Are you an open source CRM type?
Depending on your skillset and what you want to achieve with a CRM, open source might appeal to you more than a free or paid closed source one.  
If you're running a small business and looking for very specific features, opting for open source CRM software could indeed be the way forward. But if your business is doing something more 'normal' in a well-defined market, needs more complex tools, and/or demands highly responsive product support, it might be better to go with a feature-rich proprietary tool that was built to address your needs.
Thankfully, if you're on the fence, it's easy enough to download a free open source program and explore.
Happy hunting.