Open source or proprietary software? This question is huge when it comes to customer relationship management. To learn about the best open source CRM, check out this article of the top 10 platforms, where we review and compare the top software options currently available. You'll also learn the pros and cons of open source CRM systems. In general. 
Featured CRM sponsors for your Business
i
So, let's get started!
Open source CRM comparison chart (top 10 highest rated)
| | | | |
| --- | --- | --- | --- |
| Product | Best for | Pricing | Website |
| SuiteCRM | Best open source CRM overall | $118 per month | |
| Odoo | Best add-on features for an open source CRM | free | |
| OroCRM | Top open source PHP CRM | free | |
| X2CRM | Great open source CRM for marketing campaigns | free | |
| Vtiger | Best free open source CRM | $30 per user/month billed annually | |
| EspoCRM | Top open source CRM for sales lifecycle management | free | |
| CiviCRM | Best open source CRM for nonprofits | free | |
| ConcourseSuite CRM | Great open source CRM for enterprise businesses | free | |
| Axelor CRM | Good open source CRM for Gmail or Outlook integration | Contact vendor | |
| Crust CRM | Great open source CRM for ease of use | Contact vendor | |
What is an open source CRM system?
An open source app means its source code is publicly available. This is the code that makes the program run. This source code may be modified and shared by users according to their needs. The idea is that, if any and all developers can tweak the program, the app will become more useful over time. Developers get together on Github or other platforms to fix bugs. They add features or change existing ones. Companies hire out developers to modify the open source CRM tool of their choice. This is how they get a platform that meets their specific needs. 
Do you know what is CRM? If so, then feel free to continue reading. If not, we advise you to familiarize yourself with the basics first.
Open source CRM systems usually run on Linux. This is as opposed to the usual Mac/Windows support. They use freely available software like Apache web server and PHP. Any software that operates under an Open Source Initiative and holds an OSI-compliant license can be integrated into a CRM platform. 
Open source customer relationship management offers all the useful features of a proprietary CRM. These include customer support, pipeline management, market automation, and contact management. However, there are significant differences between the two types to consider. We explain it all here. 
Open CRM source code systems vs proprietary software
Proprietary software is a closed system. It's a product locked up in a black box. You download it for free or buy a subscription. Then you set it up for your needs. There is no assembly required. You can skip hiring in-house developers. This is a 'full stack' category of CRM. It's designed for the big picture. They can cover basic needs across the board, right out of the box.
An open source customer management system's source code is open. It's available to the public for use and modification. You can take the product and tweak things here and there towards your specific needs. In most cases, open source code is already well developed. Customization solutions have been streamlined for speed and ease.
Small and medium-sized businesses go open source. Others choose closed source, proprietary software. Both types do sales, service, marketing, project management, and every other CRM thing you can imagine. They usually come with mobile apps that let you work on-the-go. Qualitatively speaking, there's not a massive difference between the two. The choice is really all down to what kind of CRM applications you need, and how much time you're willing to invest in getting your system up and running.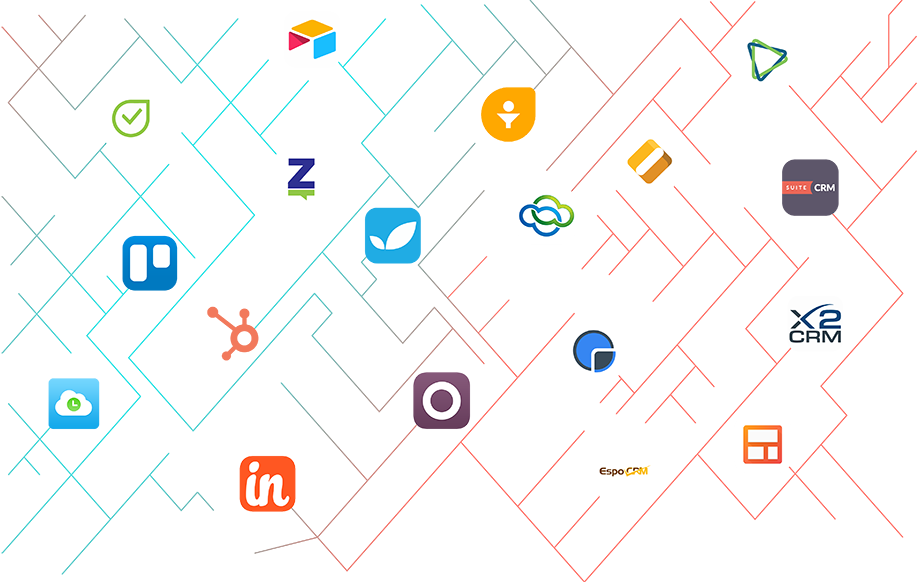 The advantages of open source CRM software
There is a clear appeal in the open source movement that surrounds CRM. With its sense of community and freedom to innovate, contributing to open source can feel like you're producing something original. Others might find open source software development to be time-consuming. It might be a distraction from your primary business.
One advantage of open source is that these CRM systems have more robust integrations and plugins. You can build the exact integration you want without any vendor restrictions. If you're concerned about flexibility and scalability over time, open source has the advantage. Another very pragmatic reason for using open source tools is its cost. They're free or affordably priced. They are less likely to have time-based commitments to software licenses. If you signed up for a year with a proprietary CRM but decided it wasn't right some months in, you'd likely still pay for the year. That wouldn't happen with most open source tools.
 
Out of the box vs ready-to-go
While both kinds of software are functional out of the box, proprietary software is ready-to-go after the initial set-up. Open source business tools are usually going to require developer hours. Open source CRM systems also require a bigger implementation plan to make them worth the time invested.
If you choose an open source platform, it's important to make sure it has a strong, active community of developers. Updates, bug fixes, and the like all have to be taken care of by the developer community surrounding the platform.
What are the best open source CRMs? Here's our top 10 list:
Now that you got your education in open source versus proprietary software, it's time to break down the best platforms. These include the best free open source CRMs and some top paid CRMs that are open source. As a bonus we even give a few tips for non open source but free or very affordable CRM options.
1. SuiteCRM (Best open source CRM overall)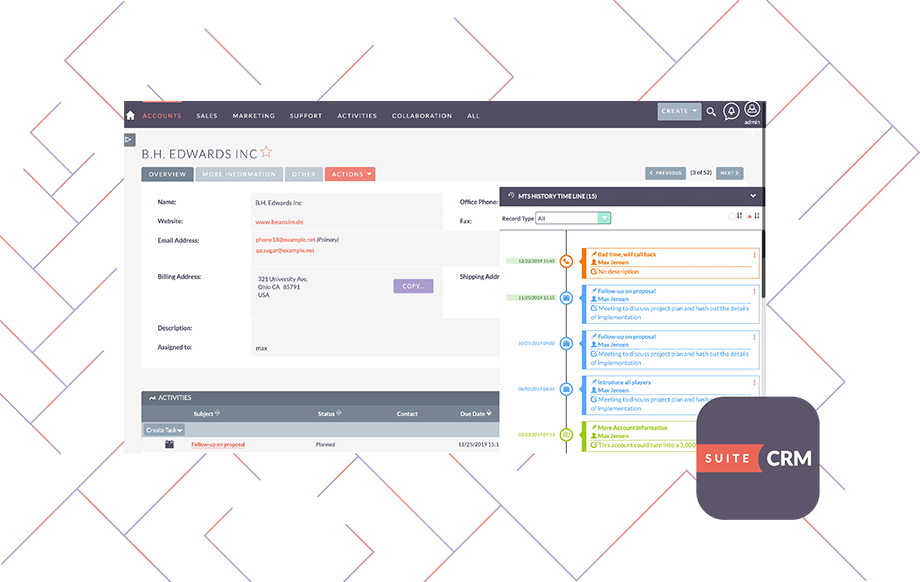 SuiteCRM is one of the most popular customer relationship management systems that is open source. The company is based in the UK. They have over 4.5 million users.
Pros:
SuiteCRM handles sales, service, and marketing. It's got custom module, layout, and relationship development tools for IT departments. This CRM has a real-time dashboard. As data streams in, new figures offer broader insights. It's great for pipeline metrics, open project statuses, and cash flow. There are lots of modular customizability and add-ons. It also works on every operating system: Windows, OS/X, Ubuntu, Android, iOS, Apache, Linux.
Cons:
Helpdesk support can be slow. The free open source version's integrations and features aren't as developed as in paid versions. SuiteCRM doesn't integrate with ERP software. 
Pricing:
SuiteCRM is a free CRM. 

SuiteCRM OnDemand Starter plan is £95 per month, billed annually.

Business plan is £332.50 per month, billed annually.

Premium plan is £475 per month, billed annually.

SuiteCRM OnDemand has a 30-day free trial.
Visit SuiteCRM
 
2. Odoo (Best add-on features for an open source CRM)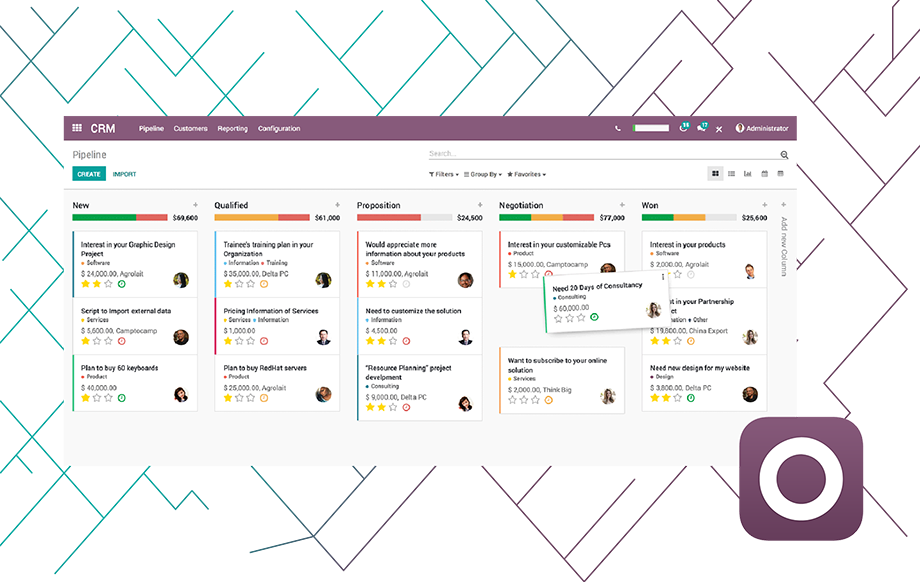 Odoo is a leading open source CRM solution. The company has won many awards. It has an active member community. Members contribute new to the platform for new functionalities.
Pros:
Odoo is all about extensible architecture. The modular design lets you mix and match different features. The open source Community Edition of Odoo CRM plugs into the 10,000+ apps. These integrate with one another seamlessly. The basic contact management works great. Odoo is good for retail, restaurants, or other brick-and-mortar enterprises. Point of sale data can flow into inventory management, email marketing, and sales operations.
Cons:
The open source version of Odoo CRM has a significant learning curve. You have to pay attention to setting it up. The invoicing tool is complicated. Reporting options are limited. Customer support depends on community members.
Pricing:
Odoo Open Source CRM is free.

Add-ons are paid.
Visit Odoo
 
3. OroCRM (Top open source PHP CRM)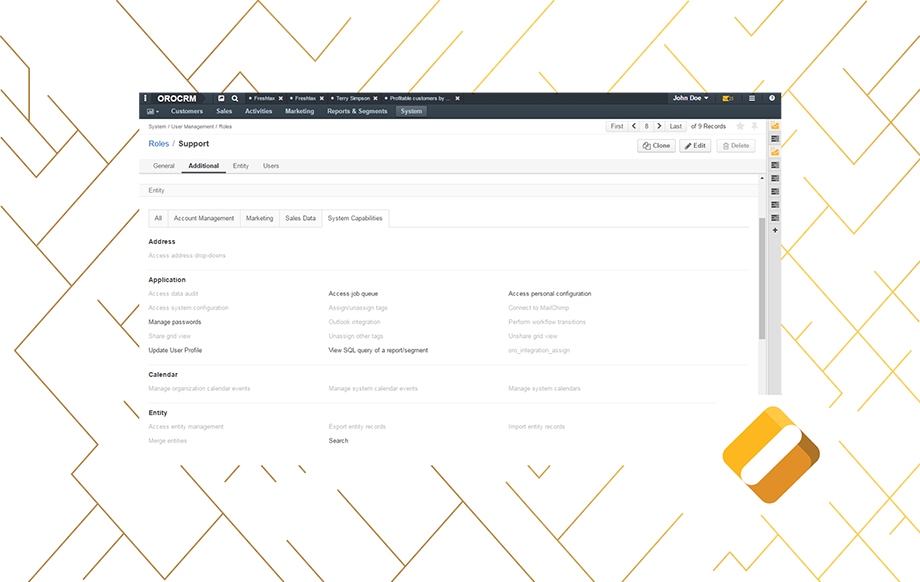 The Oro company is a B2B ecommerce platform. They have been around since 2012. OroCRM is one of the main products.
Pros:
OroCRM is a flexible set of open source CRM tools. It's based on the Symfony2 PHP framework for web development. Lots of open source developers find it easy to understand Oro's code. Good API for integrations with Zendesk, MailChimp, and many other apps. As a CRM application it helps small businesses scale up. There's also MySQL support.
Cons:
You might need a developer for customizations. Especially if you do ecommerce. The helpdesk and customer support functionality could be better. Oro is only available in English. 
Pricing:
OroCRM Community is free.

Contact vendor for Enterprise pricing.
Visit OroCRM
 
4. X2CRM (Great open source CRM for marketing campaigns)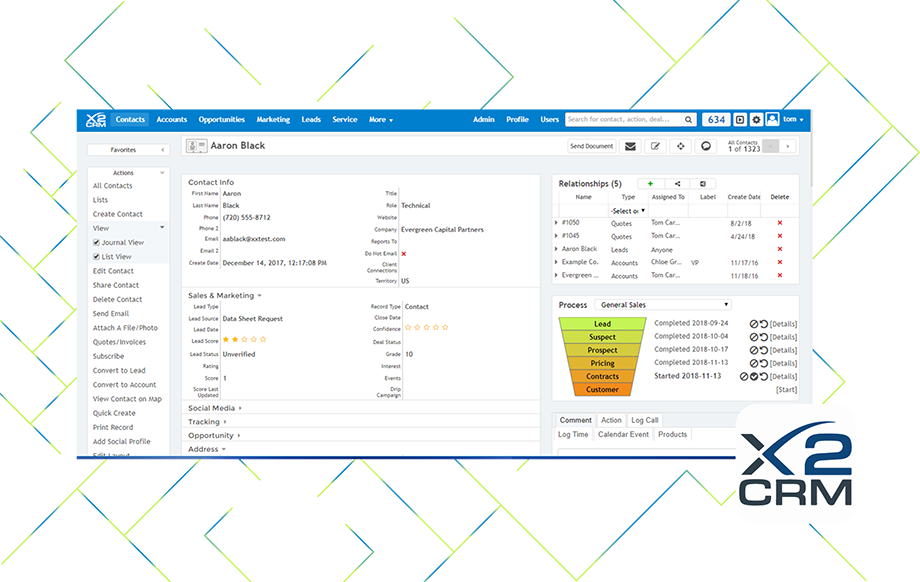 X2CRM launched in 2011. It's a CRM that focuses on customer engagement. They have solutions for sales, marketing and service.
Pros:
X2CRM has an open source edition. It shares code through GitHub. You can also get help when downloading it as part of a full stack version. X2CRM Open Source's tools are good for marketing campaigns. It also does pipeline management and lead management. There are email modules that include open email tracking. You get to design workflows and do marketing automation. X2CRM has mobile apps for Android and iOS.
Cons:
X2CRM is not the most widely used. You may find it tricky to get the support you need. That's because the community is still growing.
Pricing:
X2CRM open source version is free.

Paid versions are also available.
Visit X2CRM
 
5. Vtiger CRM (Best free open source CRM)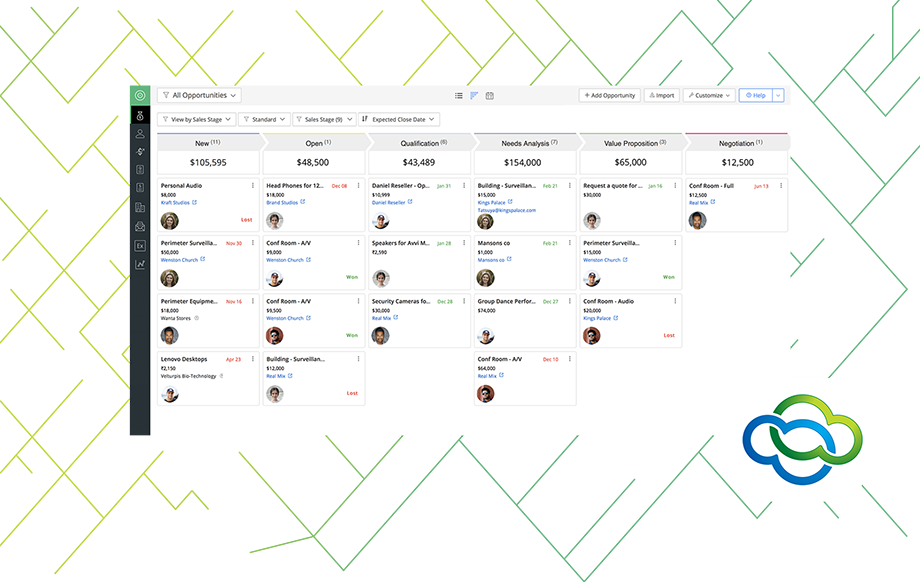 Vtiger got started in 2004. They have offices in San Francisco and India. This CRM platform is aimed at small and medium sized businesses. It's certainly one of the best free open source CRM systems.
Pros:
Vtiger CRM Open Source covers most customer relationship management features. You can use it to run marketing campaigns. Keep track of leads, customers, and opportunities. Reporting and analytics features are included. There is a good market for add-ons for greater features. It has a big community of users and developers behind it.
Cons:
Vtiger's reporting features are lightweight. Navigation between features feels a bit clunky. This CRM system takes time to learn.
Pricing:
Vtiger open source CRM is free.

There are paid add-ons.
Visit Vtiger
 
6. EspoCRM (Top open source CRM for sales lifecycle management)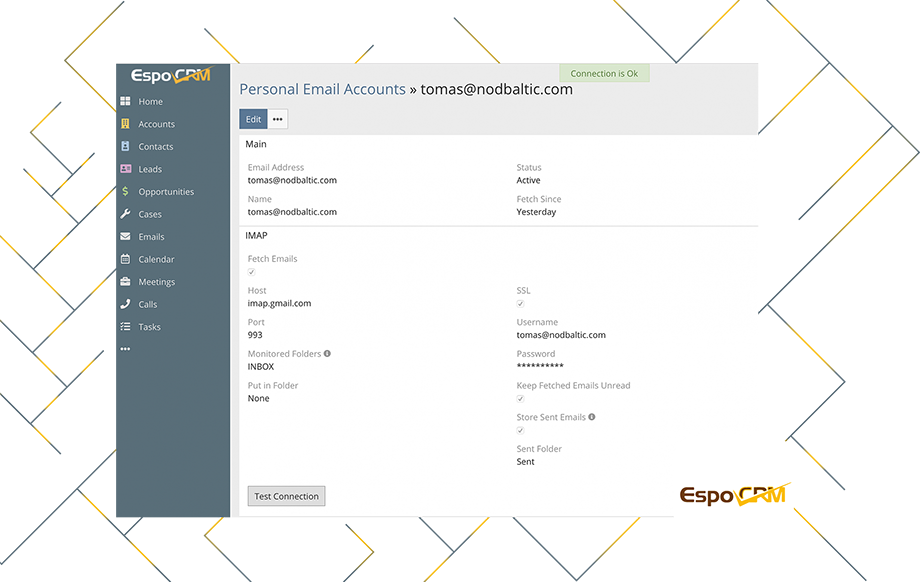 Espo is a free CRM that is self hosted. There is also a cloud CRM option. It's great for ecommerce and call centers.
Pros:
EspoCRM offers sales automation for leads and tracking for opportunities. The sales pipeline and lifecycle tools are robust. It keeps tabs on contacts by defining relationships across multiple accounts. EspoCRM has a social media stream functionality. It lets you track activities that are relevant to your work. 
Cons:
EspoCRM takes time to implement. Also, there aren't many integrations with other apps.
Pricing:
Espo CRM is free when self-hosted.

Contact vendor for cloud solutions

A one-month free trial is available for the cloud-hosted solution.
Visit EspoCRM
 
7. CiviCRM (Best open source CRM for nonprofits)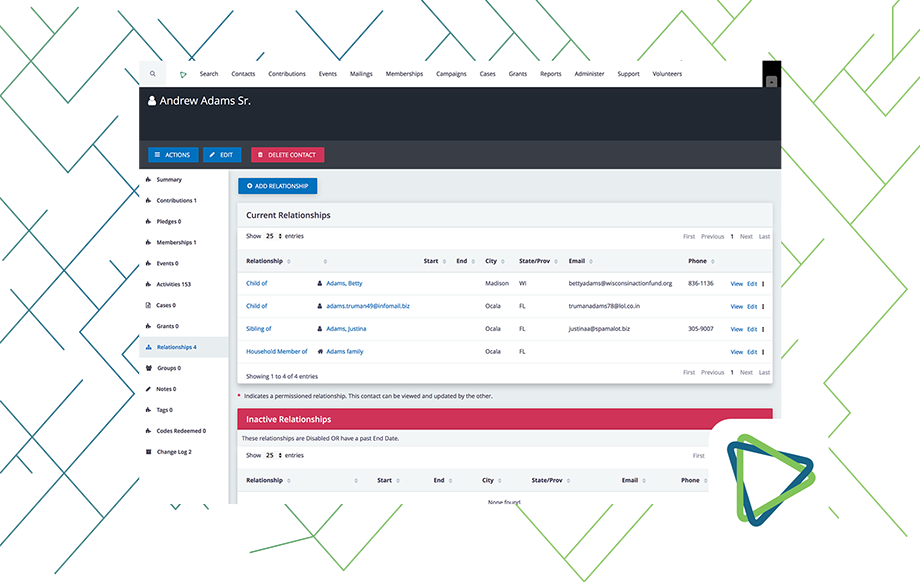 CiviCRM is for nonprofits. This is a community product. Not for making money.
Pros:
CiviCRM is a free open source customer relationship management software. It is very user-friendly. It can be adapted towards a wide range of uses. CiviCRM provides CRM features like contact management, accounting integration, case management, and email marketing. There is also WordPress integration. 
Cons:
It's not designed for sales processes. You may find it doesn't meet your business requirements. The UI is also out-of-date.
Pricing:
Visit CiviCRM
 
8. ConcourseSuite CRM (Great open source CRM for enterprise businesses)
ConcourseSuite is an all-in-one CRM. It is open source. This set of CRM tools is geared for enterprises.
Pros:
With ConcourseSuite CRM you cover lots of the business process. It has tools for sales force automation, marketing and customer service. Watch leads and opportunities move down the lifecycle. There is also enterprise document management. This is a good CRM system for large teams. 
Cons:
There is a free open source version. But there are also paid versions. These tend to have more features. The look and feel is a bit dull.
Pricing:
The open source ConcourseSuite CRM is free.

There is a paid version with a free trial.
Visit ConcourseSuite CRM
 
9. Axelor CRM (Good open source CRM for Gmail or Outlook integration)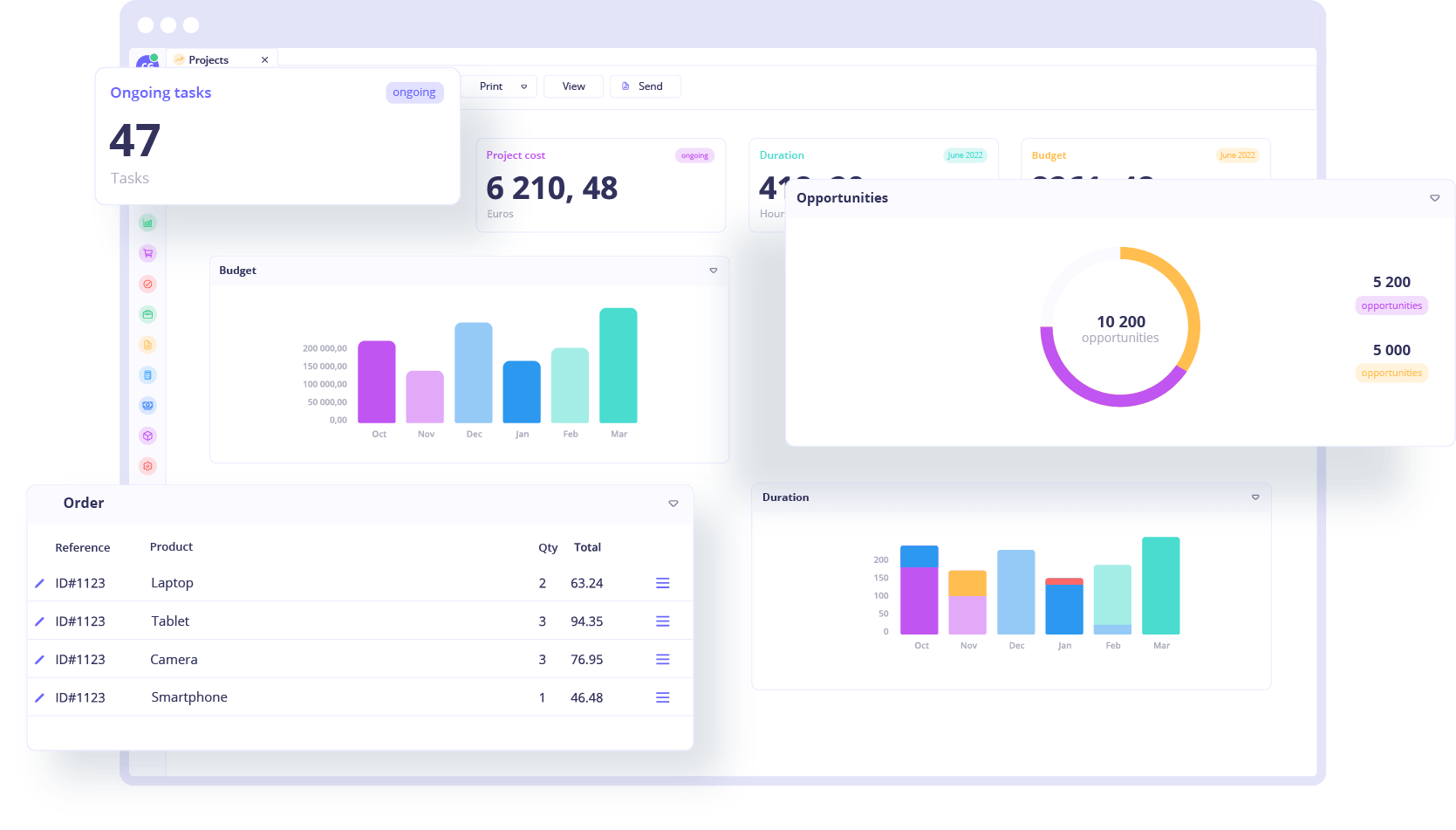 Axelor was founded in 2005. They are HQ'd in France and also have offices in India. The company makes CRM, ERP and BPM software. It has a lively open source community.
Pros:
The main thing about Axelor CRM is its agility. It works well with other Axelor apps like BPM. The code is light but powerful. Devs have an easy time customizing it. A solid Kanban view manages your pipelines. There are workflows to automate simple tasks. You also get mobile versions. You can connect Axelor to other apps like Gmail via Zapier.
Cons:
Axelor has many apps: from contracts to project management to expense management. This means you might feel stuck in Axelor's system. It's not really restrictive, though. Also there is no web browser version. 
Pricing:
Visit Axelor CRM
 
10. Crust CRM (Great open source CRM for ease of use)