Salesmate: Reach Targets and Stay Organized
It's no secret that building and supporting efficient sales teams can be one of the most significant challenges any business has to overcome. Without a clearly defined sales process, even the most promising deals can slip away due to disorganization.
While you may hire highly talented and experienced salespeople, it is just as important to provide them with tools that maximize their talent output.
Salesmate.io, an intelligent CRM platform, helps sales teams streamline their operations so they can better focus their efforts and close more deals. As the software automates several parts of the workflow, salespeople can spend more time engaging potential customers instead of managing data.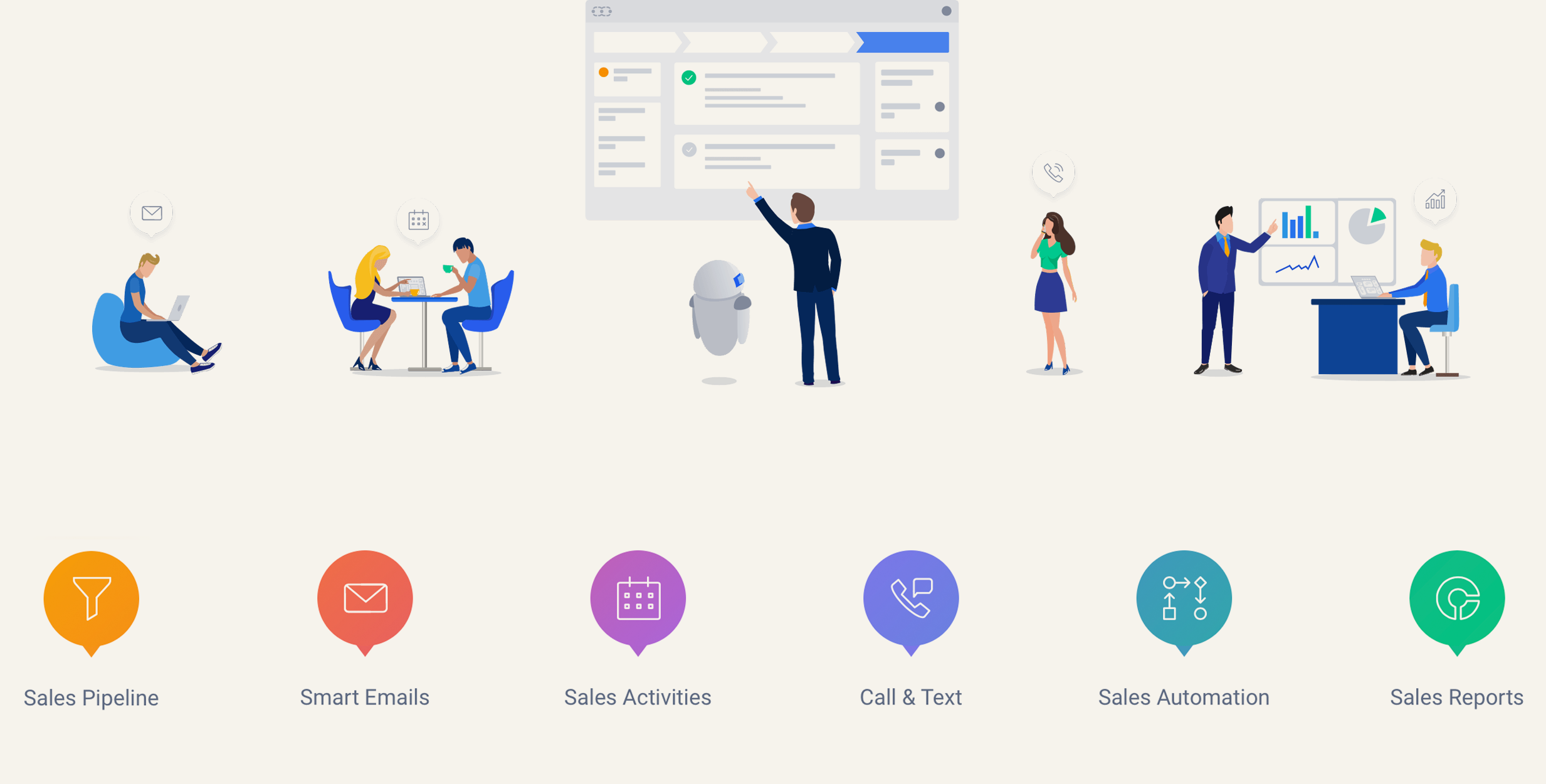 The Salesmate feature-rich solution: Drop the word disorganized from your sales dictionary
With pipeline monitoring, activity and email tracking, contact management, and sales automation features, Salesmate helps you stay organized. The platforms expansive set of features for sales, productivity, and visibility help companies target customers at an individual level while generating new sales and reinforcing existing relationships.

Pipeline Management
The sales pipeline visually depicts all your leads and customers in an organized manner so that any information regarding any specific individual or organization is available at all times. Efficient pipeline management helps your teams become more organized and ensures constant revenue growth.
Salesmate provides a pipeline board that you can easily customize to fit your unique sales process. The solution always provides an up-to-the-minute picture that allows you to visualize all of your deals across different stages of the buying cycle. You can filter leads, drag and drop them from one stage to another, or plan next actions directly from the board view.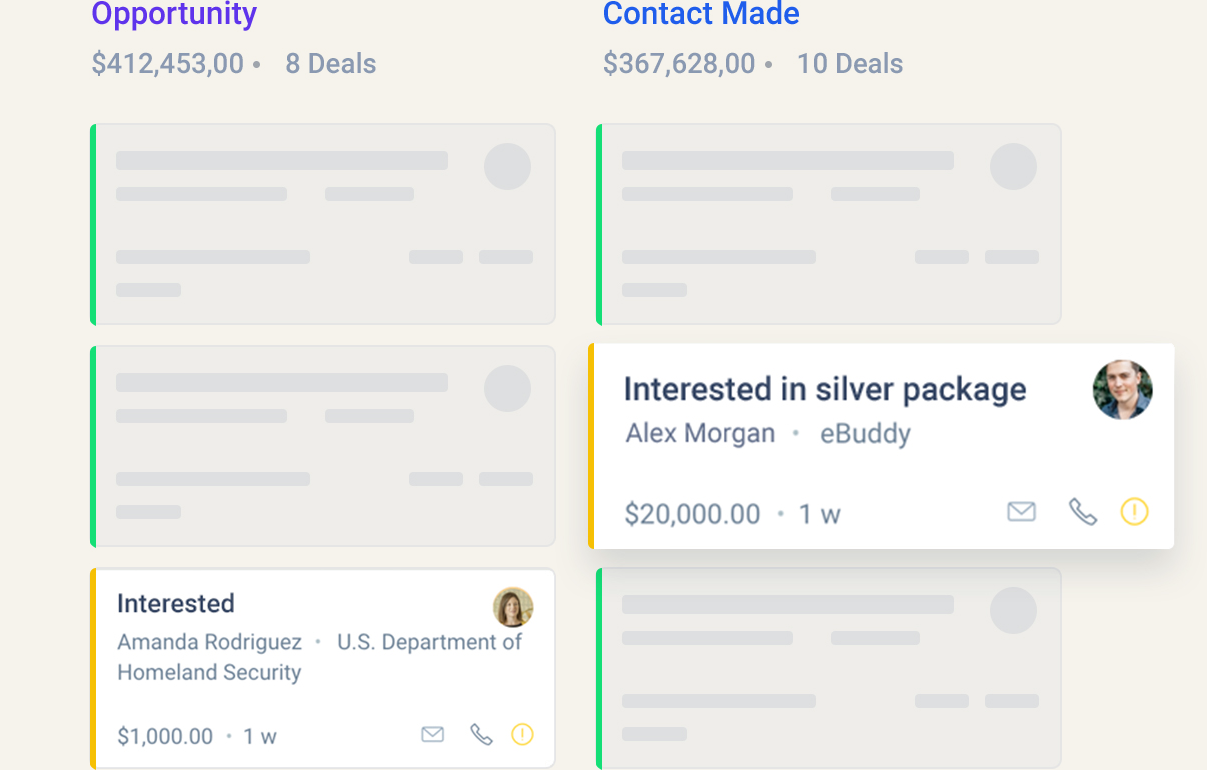 The board reveals the leads that have activities overdue or no events scheduled at all, ensuring that your team does not lose a perfectly good deal due to inaction. You can automate the creation of follow-up tasks or calls when a lead reaches a particular stage of the pipeline or set reminders for specific deals.
This simple view helps you stay focused on your sales goals and analyze your employees' performances. It keeps your salespeople stay on the same page as their leads and assists them in guiding these potential customers along the pipeline until they are converted into regular customers.
Activity Tracking
Salesmate lets you plan and track your meetings, calls, emails, and demos for every contact. You can create personalized sales to-do lists and delegate work to team members by assigning activities as deals are created and updated. For example, you can ask accounting to create an invoice as soon as you win a particular deal.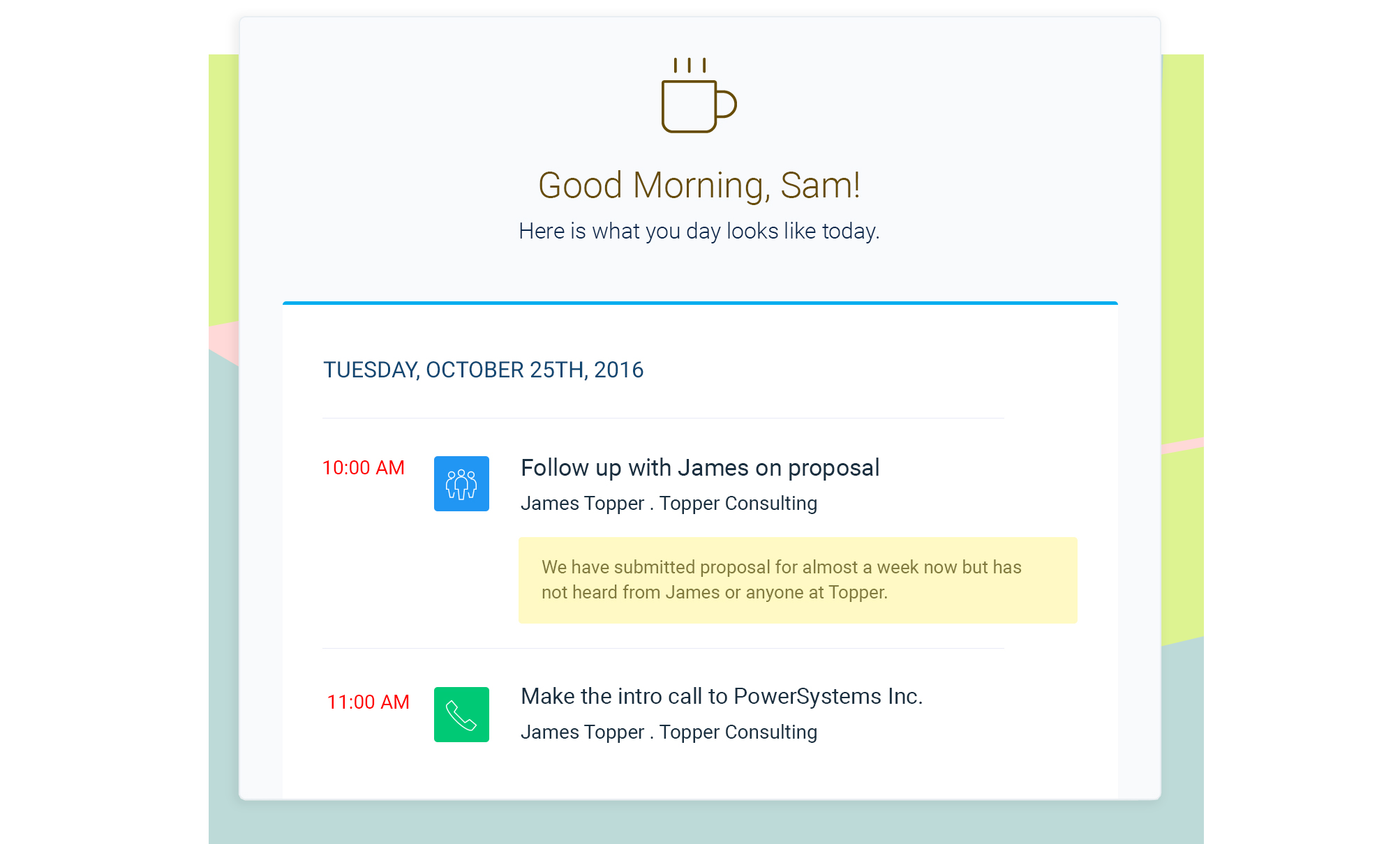 Salesmate sends you instant notifications when new sales activities are assigned to you, or when your employees start taking action on specific tasks you have delegated. If you are using the mobile version, you will get push notifications on your Android or iOS device.
The solution allows you to create recurring activities to ensure you never miss these repeating events. For instance, you can set up a reminder to file your expenses every month.
Whether you schedule tasks within Salesmate or from a calendar application like Google Calendar, Salesmate automatically syncs all events with your mobile, web, and desktop calendars.
Email Tracking
Salesmate automatically tracks and organizes all email conversations for each lead and customer.
You get notified when a prospect opens your email, clicks on links, or downloads the content, which allows you to send a perfect follow-up while their interest is high. Reaching out at the right time, when potential customers are still thinking of you, results in more emails opened, meetings landed, and deals closed.
By tracking emails, you can identify and prioritize the most engaged contacts. Email open rates help you understand which lines and topics work best with your customers, and clicks inform you of the popularity of sent content. This information enables you to create messages that will invite potential customers to act and result in more closed deals.
Salesmate groups all emails from the same conversation in a single thread, ensuring that you find all the information you need in one place and never lose track of the context.
The solution also provides customizable email templates for each stage of the pipeline, allowing you to send automated yet personalized emails to thousands of customers quickly. You can build a library for your whole team to use in just a few clicks.
The platform even offers email template insights (such as open rates and the number of clicks) that help you measure the performance of each template in real-time and enhance them for higher engagement.
Built-in Calling
Salesmate comes with a built-in phone system that allows you to stay in touch with your contacts via call and text messages to ensure seamless communication.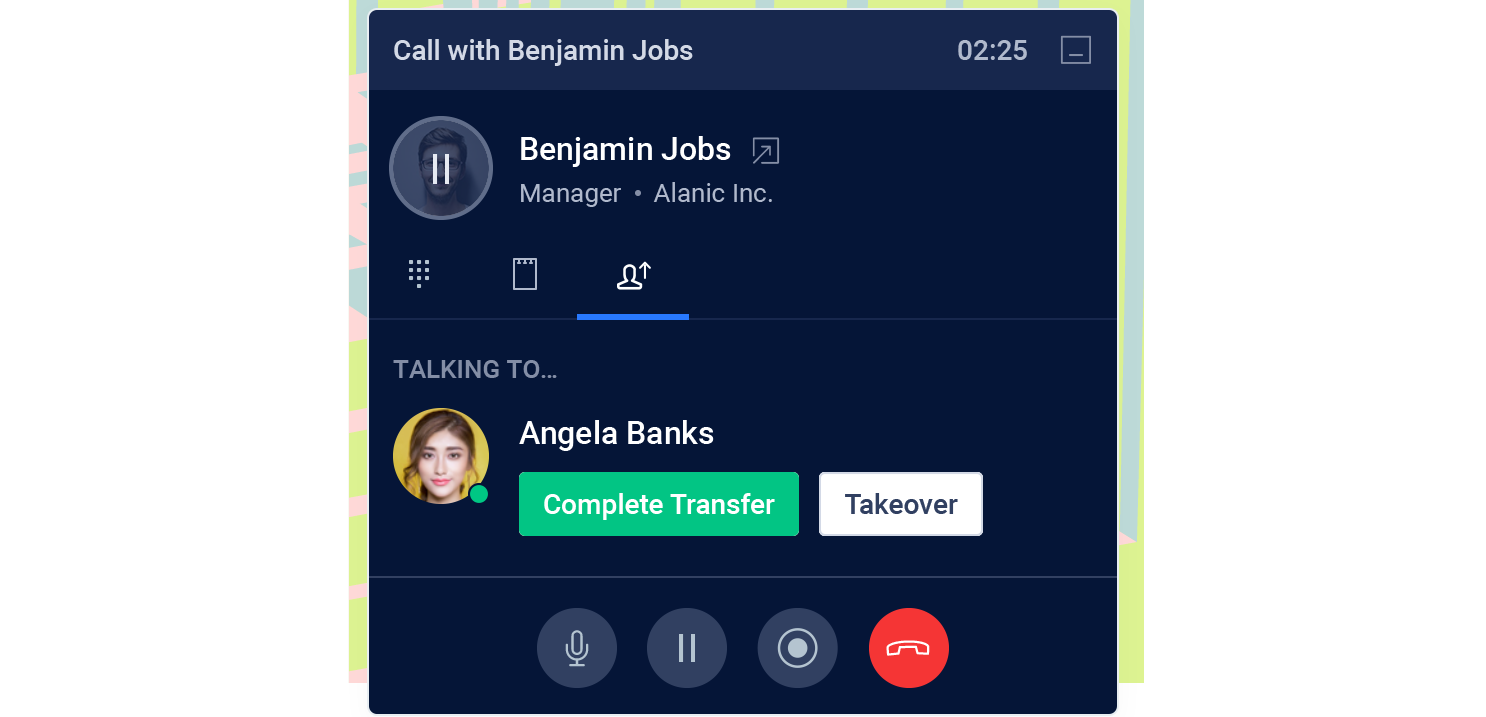 The web-based service efficiently handles calls, voicemails, and messages for your company using Voice over Internet Protocol (VoIP) technology. Salespeople can contact any person located in any specific area code using virtual phone numbers. They can make calls directly from their laptop or smart devices.
With this system, you can stop juggling between your CRM platform and other phone applications. Salesmate automatically logs all incoming and outgoing calls for you as activities.
The solution provides call reports to give you insights into your sales teams' performance. You can find out how many calls a salesperson has made, total conversation time, and the outcomes of these communications. This data also enables you to identify sales opportunities, spot new trends, and optimize your sales calls to generate more revenue.
If clients have dialed the wrong wrong department number, a Cold Call Transfer feature helps you quickly guide them to the right person.
If you are unable to solve a customer's query, you can keep them on hold with their permission and transfer the call to an experienced colleague using the Warm Call Transfer function. These features help ensure you never lose business opportunities.
Google CRM
Salesmate integrates with G Suite to help you manage your tasks more effectively and increase productivity. You can close deals faster by bringing all of your Google apps into one CRM.
Since most salespeople are already familiar with G Suite, the Salesmate Google integration means there's no learning curve or unnecessary tab-switching. Email, and all the other important details are accessible directly from Salesmate.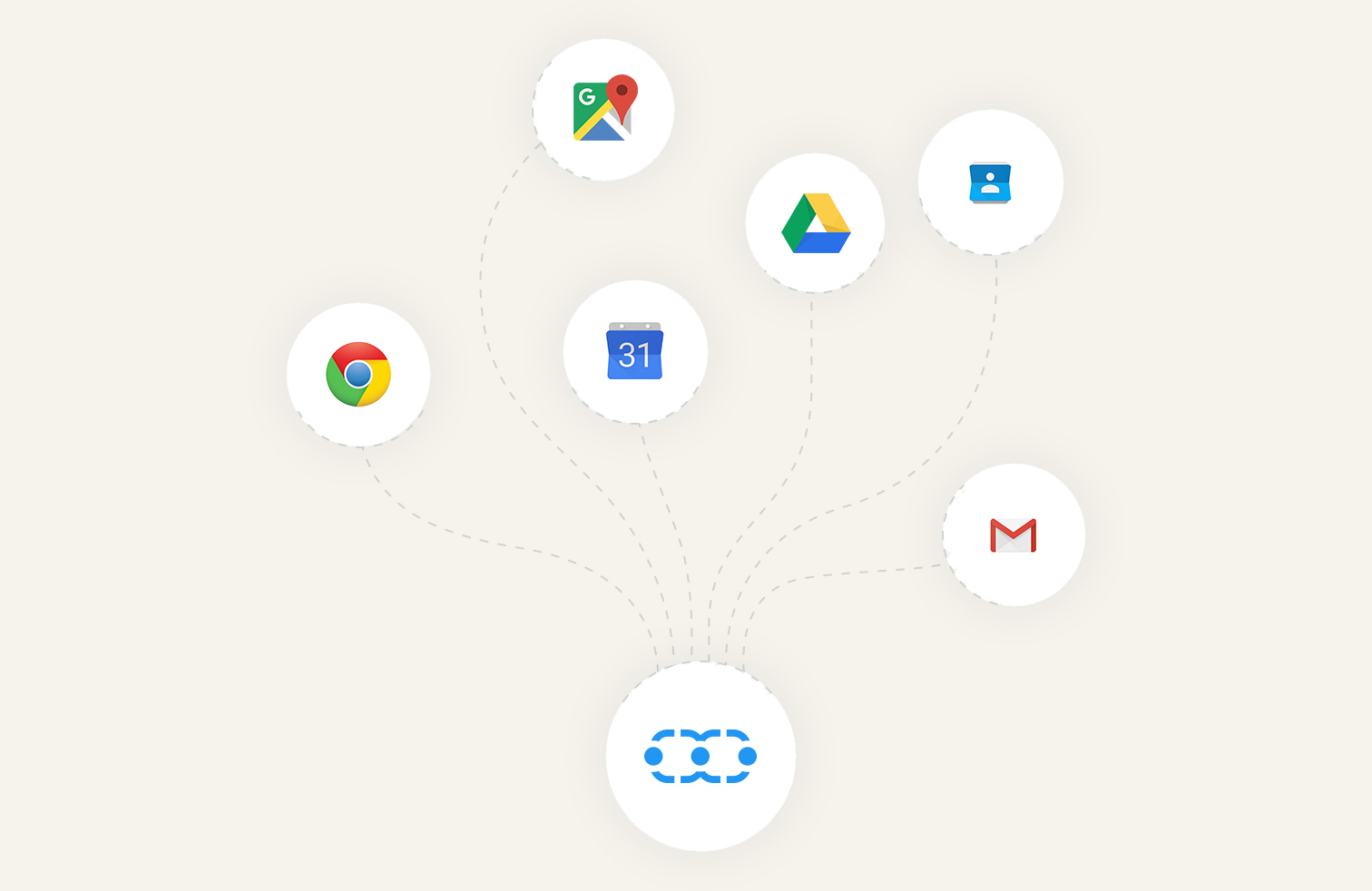 Simplicity and automation
Launched in 2016, Salesmate is the brainchild of RapidOps Inc, a digital product development company.
Finding that traditional CRM systems mostly worked as data entry tools, CEO Samir Motwani had the idea of developing an intuitive, user-friendly solution that would reduce unnecessary manual labor.
In an interview with Software Suggest, Motwani explained that Salesmate tries to differentiate itself from competitors by focusing on simplicity and automation. This approach has already helped businesses of all sizes to organize and improve their workflows and boost productivity.
Over the last year, the platform has won several awards for ease of use and best value. Satisfied customers describe Salesmate as a very user-friendly and easily customizable tool. Reach targets faster
Time and efficiency are critical factors in sales. Teams require a time-saving, efficient solution that has a simple interface and that can easily sync with the applications they are already using.
By allowing salespeople to streamline workflows, automate processes, track opportunities, and connect with G Suite apps, Salesmate reduces execution time and increases overall productivity.