Don't Drop the Ball: Keep in Touch With FollowUp Personal CRM
CRM software has evolved into a powerful tool for sales teams to organize, track and stay on top of leads and customers. As more people see the power of CRM, Personal CRM systems are on the rise to help individuals do the same thing.
FollowUp Personal CRM is one such personal CRM, specifically a "Contact Relationship Management" system that helps you keep in touch with the people who are most important to you.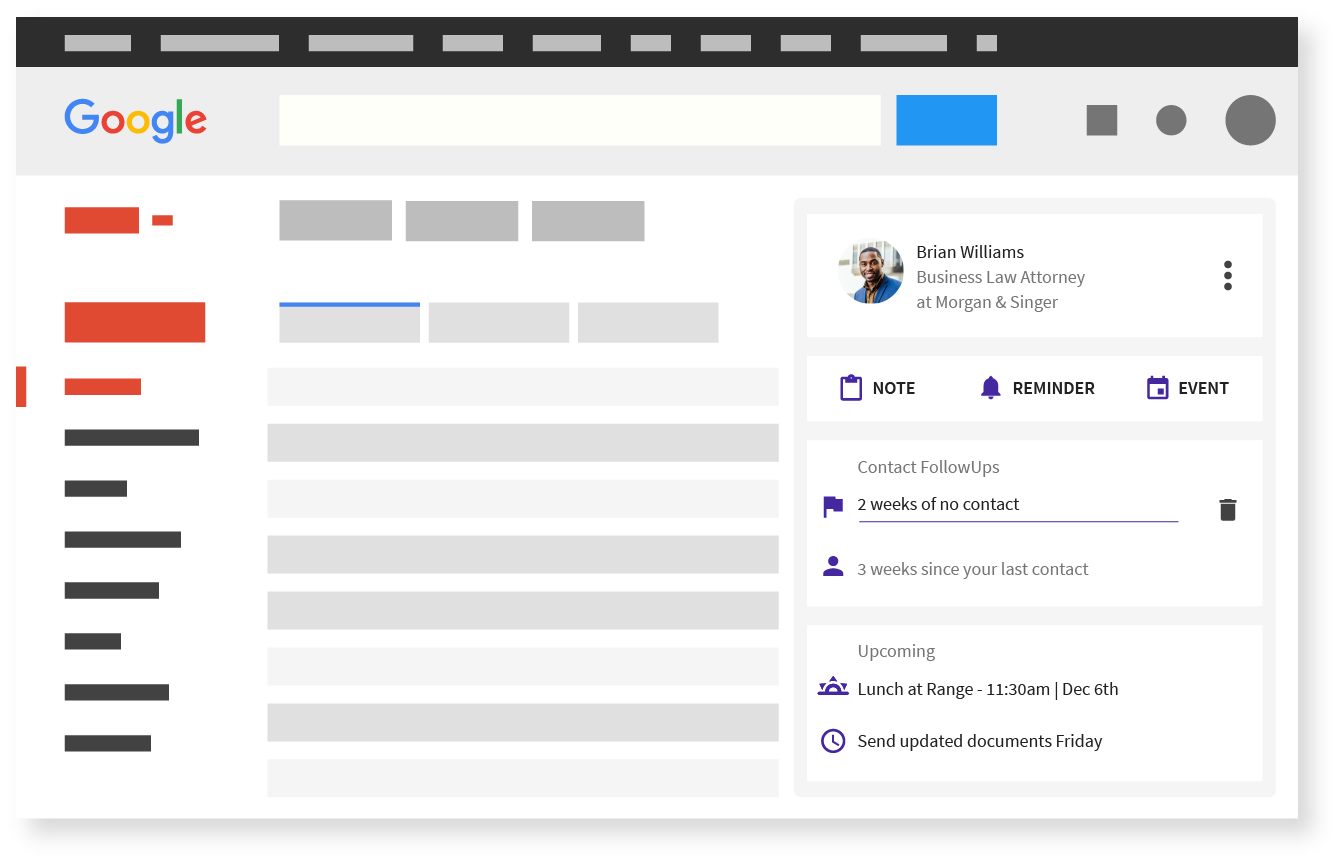 Image credit: FollowUp
Keep in touch with a few clicks
FollowUp Personal CRM is an intuitive tool to strengthen your relationships and ensure that you keep in touch with your contact list. Unlike a sales-based CRM, it focuses solely on your contacts, not your customers.
Let's assume you're someone who meets a lot of people. In that case, the information you have about them is likely scattered across many different platforms like emails, your phone, fridge Post-it notes, Evernote, Google Docs, LinkedIn, etc. And while our app usages vary and change over the years, our email providers often stay the same.
An inbox can tell quite a bit about someone's work and personal life. Having all that information in one place can be extremely helpful.
That's what FollowUp Personal CRM recognized, building a CRM that centralizes your contacts in Gmail, so that you can set reminders, write notes, schedule events, view conversation history and filter through your network with just a few clicks.
Built inside Gmail, FollowUp can sync all of your contacts and stay on top of your networks as you communicate in real time.
All great things but not even the best part about the system.
Follow up
The key (and patented) feature of the system is FollowUps, which alert you if you haven't spoken with a contact for a period. The intent behind followups is to prevent you from falling out of touch with an important connection.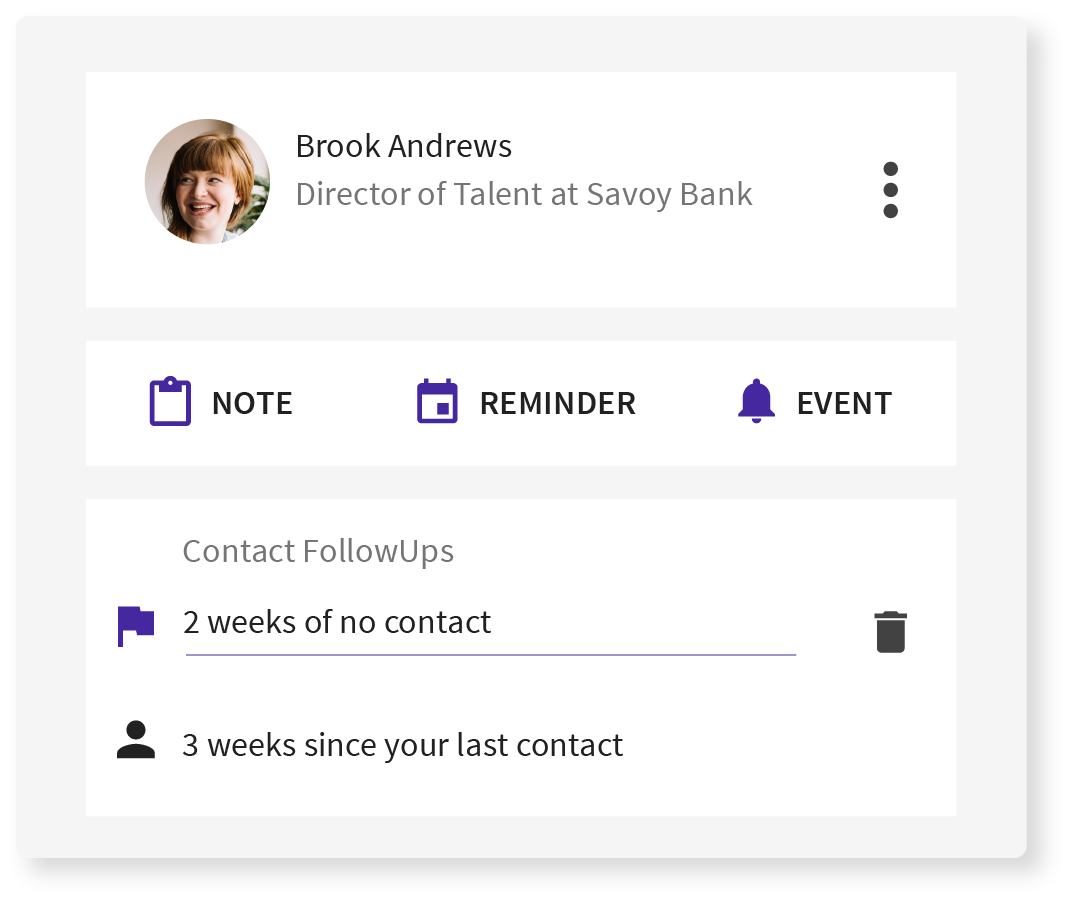 Image credit: FollowUp
The feature enables you to first organize and prioritize people by how often you want to communicate with them. Once you've set those parameters, it will ensure that no matter how busy you are, you don't neglect those important contacts and connections.
For example, if you forget to send an email during a follow-up period, you will receive an email reminder to reach out. A simple, yet essential reminder system. 
Context is key
Another great feature of FollowUp Personal CRM is contact notes. This particular feature exists to help you sustain and cultivate meaningful relationships by adding additional context to your contacts.
Image credit: Hacker Noon
In particular, the contact notes feature creates a relationship timeline you can always have at your fingertips. For example, you can dive deep into your relationship with each contact's profile and add important details about how you met, projects you're working on, matching star signs, anything your heart desires.  
Other features
By aggregating your most recent conversations, the last time you spoke with a contact and any unique contact information, FollowUp CRM provides you with all the information you need to network.
You can also filter and search for contacts by any tags you set. For example, if you have location and event tags set, you can email everyone under a specific tag with the click of a button.
You can also schedule events directly from Gmail, auto syncing directly to your Gmail calendar.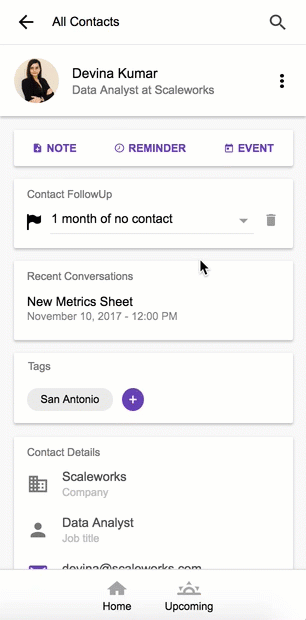 Image credit: Hacker Noon
Don't drop the ball with people
Having an extensive social and professional network makes it near impossible to remember who and when to connect with people. And frankly, not all contacts are created equal — some require more attention than others.
The key way to stay in touch with people, whether for personal or professional reasons, is by regularly following up. Getting into a consistent habit strengthens relationships, opens up opportunities, and keeps us at the top of our contacts' minds — kind of like that Christmas song stuck in your head in July (except hopefully less annoying).