Contacts+: Where Personal Meets Professional
Cleaning up the who's who
Contacts+ is the all-syncing, no-nonsense personal relationship management app that treats your personal network with as much care and attention as your professional one.
The people behind this app know you've got to network to get work. Except, what good is excessively building up your personal and customer database, if you can't keep your address book current and clean?
Contacts+ takes on the tasks of updating and organizing all your contacts, leaving you with more time to build stronger relationships.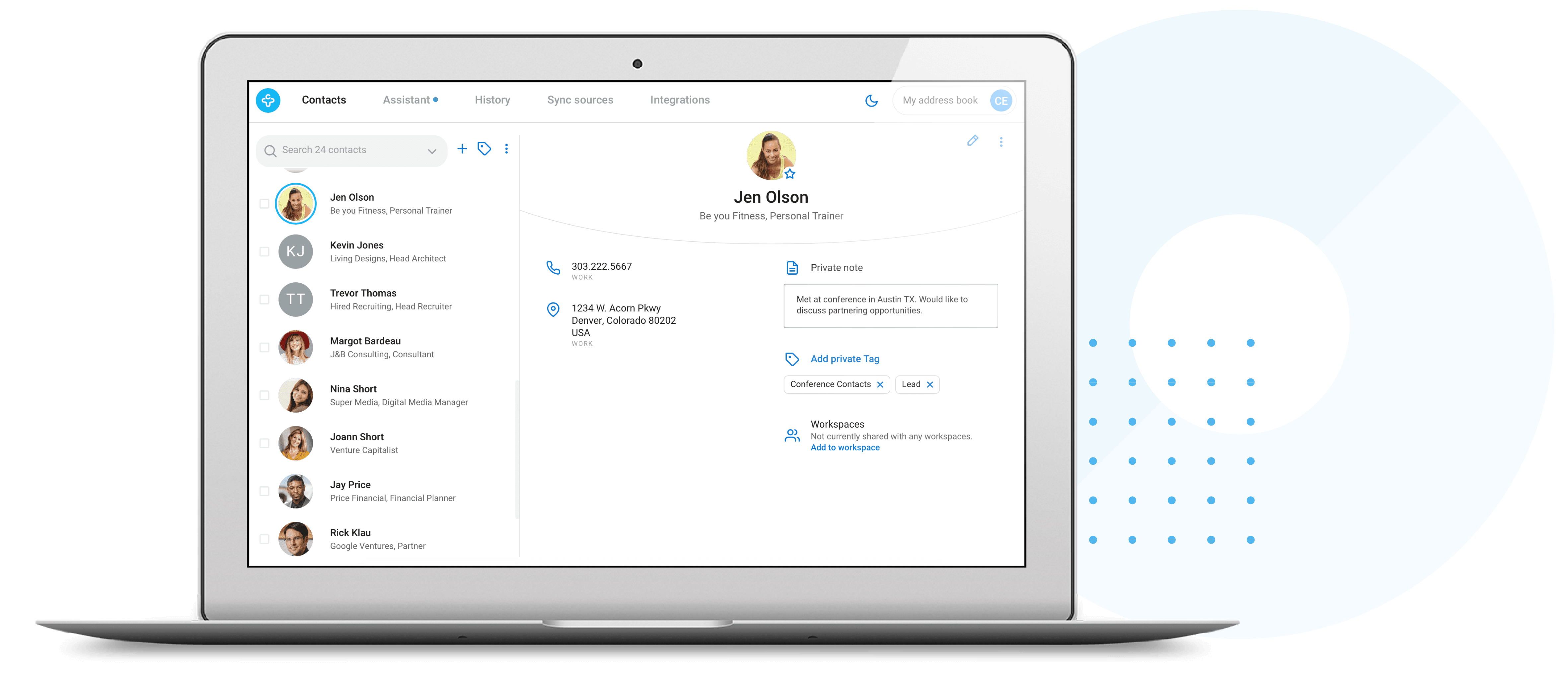 Contacts+ casts a wide net
The first thing about Contacts+ is its cross-platform, multi-account-syncing flexibility. No small potatoes when putting disparate and haphazardly entered data into a neat singular system.
It syncs from Google and Gmail accounts, Apple Mail and iCloud accounts, plus Microsoft Outlook, Exchange and Office 365 accounts.
To use Contacts+ on your desktop, it works directly within any web browser. There's an extension from the Chrome Webstore for Gmail. There are also downloadable versions for Mac and Windows.
Finally, what good is an app that you can't take everywhere and use right out of your pocket? Contacts+ is mobile too, ready for iOS or Android.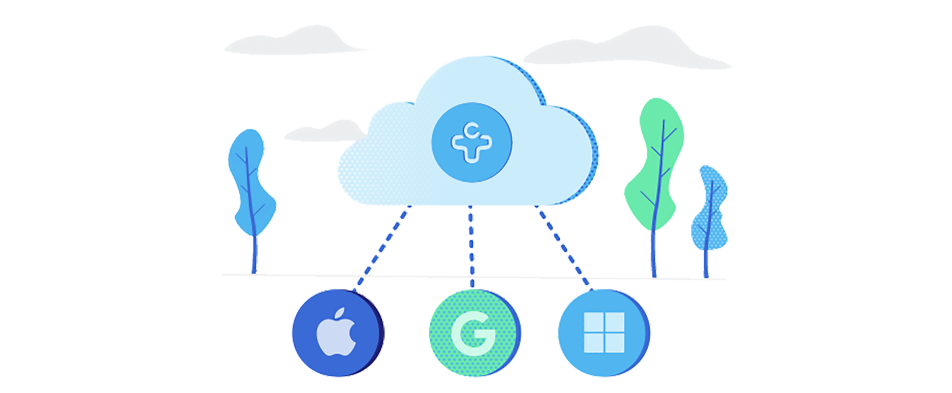 Merging and de-duplifying
Once Contacts+ has been given access to everything, it'll scan through the details to look for duplicate contacts. 
Obvious duplications will be auto-merged, though if by chance they are wrongly merged, there's an easy undo. Less obvious ones will be flagged as possible duplications for you to make the final merge call. Manual merging is always an option.  
Contacts
You can add notes to each contact card, and group contacts using tags. If your contacts are on social media (which of course most are), you'll see a Twitter, Facebook or LinkedIn icon on each card that will link to each contact's profiles. 
The web module lets you create Google Calendar events to invite your contacts which also automates birthday reminders for every contact.
Especially useful, Contacts+ has a search feature that gets downright granular through contact info, using Boolean parameters like AND, NOT and OR. This is useful for times you may be looking to narrow down a list of contacts who are in the pharmaceutical industry AND are in sales, or you want to find contacts in Illinois who are NOT in a company with less than 100 people.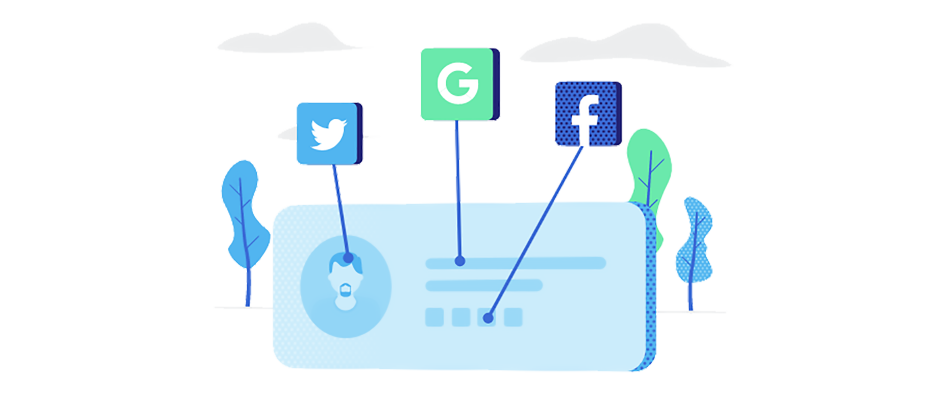 Updates 
Contacts+ automatically updates your contacts' information by scanning hundreds of public websites, social networks, other users of their software, and more sources. Just make sure there's an email associated with their profile. 
You see all the updates and approve them in one shot, or drill down on each contact to see their specific changes and decide if you want to uncheck anything.
Cleanup
There's a feature called "cleanup" that's pretty neat (pardon the wordplay). 
It analyzes your contacts and suggests things that you should manually fix or possibly delete. For example, emails that may be out-of-use, URLs that are invalid, or contacts with little or no information that you've barely ever checked.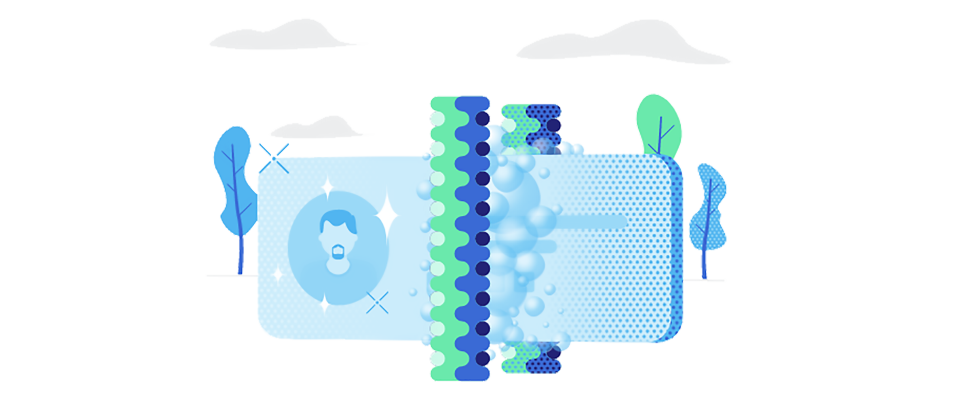 Teamwork
It's one thing to be productive in isolation, but team efficiency and productivity require a bit more technological assistance.
Setting up teams means creating shared workspaces. Every member decides which of their private contacts they want to include in a teams' shared workspace. You decide which of your private notes should also be shared.
If you see a contact in a team's workspace that you don't know, there's a "known by" option to find out which teammate added them. You can also add contacts from the shared workspace into your private contacts list.
Changes made to a contact in a shared workspace will not automatically be made in the contact's info in your private list. Of course, if you want those changes, you just hit the update button.
Because of the simple separation of your private and team contact lists, this could be a pretty useful tool for freelancers and contractors having a separate workspace for each client.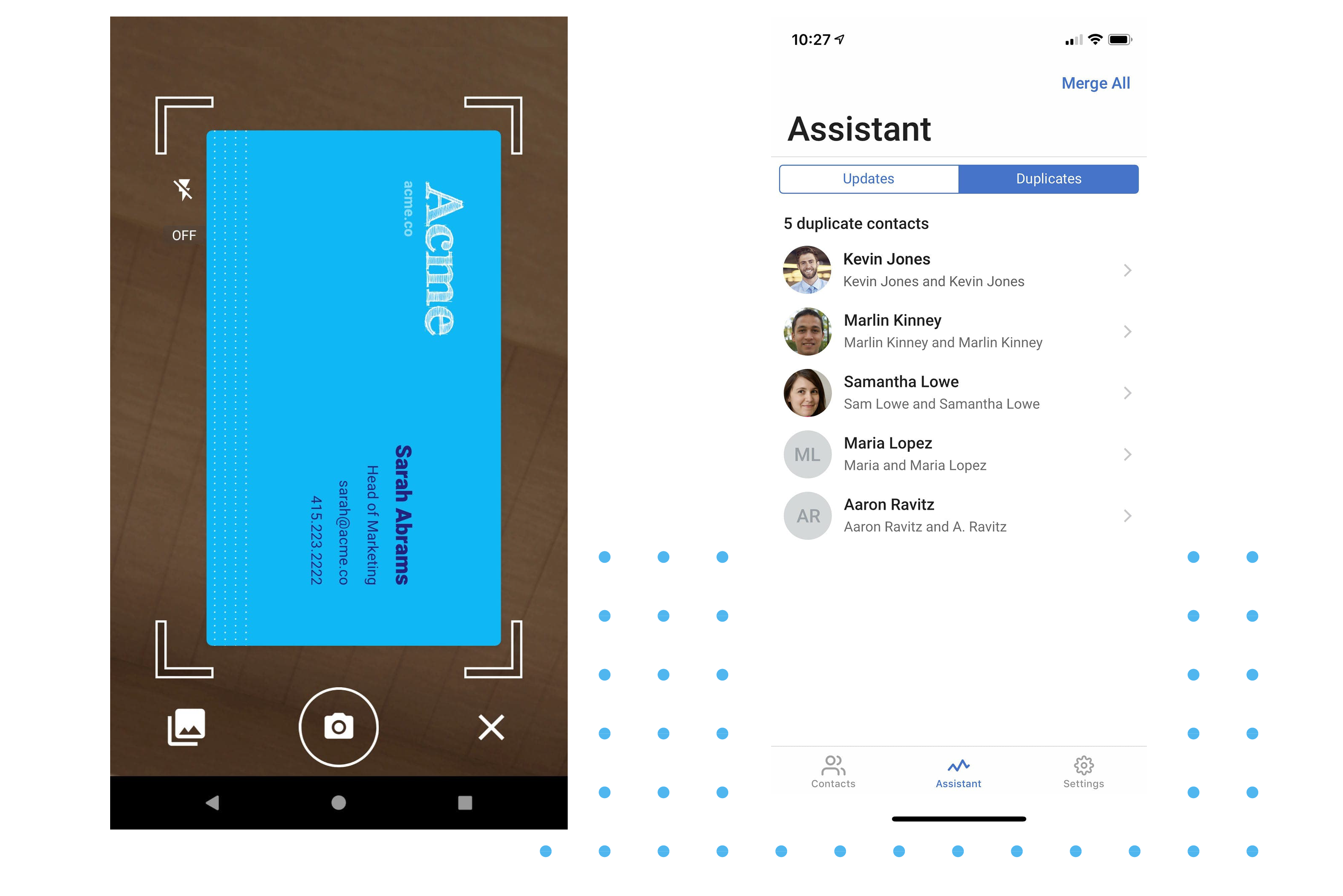 Business card scanner
The pros of this tool are the result of a collaboration between humans and machines.
Available in the mobile version, this feature allows you to snap a pic, which gets zapped over to the Contacts+ transcription team. They'll write up and double-check the details to avoid any mistakes. Then, all the info gets zapped back to your Contacts+ list.
Integrations
When it comes to CRM, Contacts+ can merge your database with some of the other main platforms out there, like HubSpot, Mailchimp and Salesforce.
As for using Contacts+ with other sorts of business tools, they're building up a solid collection of interoperable buddies. 
Some good examples are Slack chatbot to get your contacts inside Slack; PieSync, which helps merge data from two cloud apps; and Zapier, the software connector and work Automator.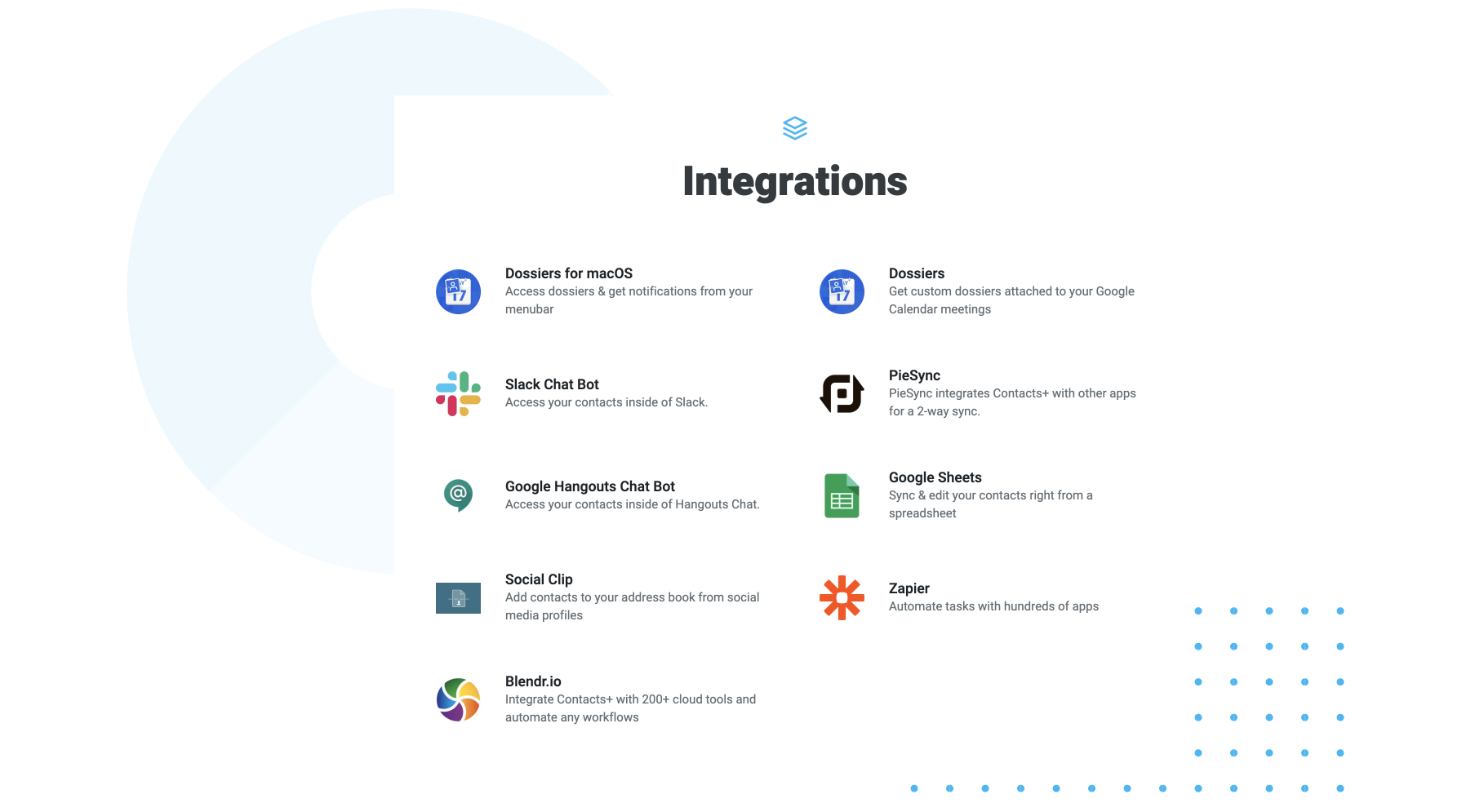 Pricing
Small teams and startups can get going for $14.99 per user per month, while a solo user can get a package at $9.99 per month. The solo user does not have shared workspace features.
Contacts+ has a premium package. It's for the serious business operation looking to leverage the full organizational power of personal/customer relationship management. 
Among its many selling points, perhaps the most important one is that all your update activity gets stored in the Contacts+ cloud for six months, so any changes you need to review or go back to can be made hassle-free. 
For those who might just want a taste, the company offers two-week free trials on the small-business plan, as well as a free-but-limited version for single users.
To each their own app
In September 2018, Contacts+ was purchased by FullContact, a high-end, enterprise-level data solutions platform that specializes in helping brands connect with greater audiences. 
The idea behind the acquisition was simple: Everything and everyone on FullContact App would get migrated over to Contacts+. 
This way, FullContact the brand would stay focused on large companies and complex identity graphing, while Contacts+ is now nailing the crucial basics of CRM. That's good thinking when designing a useful info-tool for teams, SMEs, and individuals—both for professional and personal use.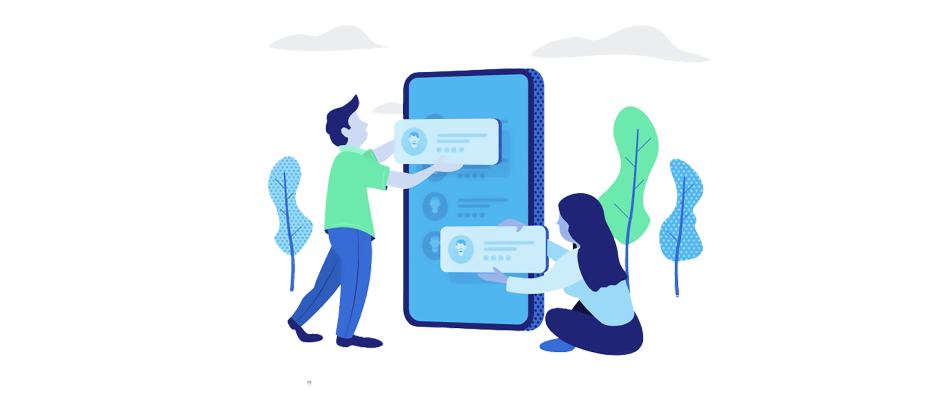 Clear list, clear mind 
For those who have had many generations of smartphones, you know the huge amount of totally random contacts that can be accumulated in your address book, not to mention the dozens of "mikes." 
Contacts+ helps you merge the necessary and purge the unnecessary. 
More than just an address book, Contacts+ shows its utility from the ground up: from basic personal contact management, up to better customer relationships. When your list-territories are clear, so is your path to better connections.