Cloze: Smart Contact-Sorting for Personal and Pro Use
You gotta network to get work
In the world of business and beyond, your schmooze factor ought never to be turned all the way down. Every new handshake or phone number swap has the potential to be a new best friend or a lucrative business partner. 
Nowadays, the line between personal and professional networks is blurrier than a Midwest highway drive in January.
Relationship management app, Cloze fits right into this new niche. It's somewhere between a highly sophisticated address book for personal use and a super-lightweight CRM for business. 
Using Cloze can turn one's messy personal collection of buds, BFFs, and mates into a neatly-organized network of peers. Conversely, Cloze can help you maintain a personal touch when managing your work colleagues, partners, and business associates.
Ultimately, Cloze focuses more on finding the most important connections in your network to ensure you never lose touch or miss a chance to deepen that relationship.
Cloze background
Cloze is a versatile contact organizer, an AI-powered personal assistant, and a multi-communication dashboard. This marks a bit of an evolution from its nascent days.
Back in 2012, when Cloze was first launched in Boston by founders Alex Coté and Dan Foody (currently CMO and CEO respectively), it's original purpose was a dedicated email "inbox analyzing expert" for iOS.
The first iteration of Cloze went through all your email conversations, analyzed them, and scored each contact based on several criteria like dormancy, frequency, and responsiveness.
It also grouped all your contacts into nifty categories like "key people" or those with whom you're "losing touch" with (now renamed "keep in touch").
While this was novel, useful and even fun to use, Coté and Foody weren't satisfied with leaving it at that. 
While several features have carried over into the current version of the relationship management app, in the last few years Cloze has become so much more: an all-in-one dashboard loaded with tools and features for the single user or team.
Cloze currently
First steps
You can use Cloze in its web browser or on mobile, with the ability to sign up through Google, Facebook or email. After that, Cloze does a hard rummage through your email, calendar, phone, documents, Facebook, Twitter, LinkedIn, and even Evernote. Then it's ready to go.
It'll gather all your contacts, communications, notes and documents into one place, fill in some details, de-duplicate others, and then analyze the data. 
Right off the bat, it reorders everyone from all your various contact lists by who is most important to you. It does this with learning algorithms that measure a variety of factors like frequency and responsiveness.
Things to do, people to see
Other useful sorting setups include qualifiers like when you first met, last spoke, and at what date your relationship entered radio silence. Based on these characteristics and others, the algorithms send you reminders to make sure your top relationships never get too chilly.
If any of your contacts update their email signatures—say by changing their contact info, or maybe their title or company—Cloze's crawling code catches the edit and updates your files. 
Cloze's contact list covers a lot of basic CRM tools. With each contact, you see a list of all your past engagements across every channel. You can add to-do lists, and store uploaded files in each contact, and send anyone an email right there in the Cloze app. 
The agenda mode is sort of like a calendar and scheduler, showing you all upcoming tasks and meetings, and readily displaying all the head's up intel you need before each one. Their AI understands action phrases used in communications, like "Let's meet up next week," and auto-creates events for you on the agenda.  
Reaching out
When it comes to emails, Cloze notifies you when someone's opened your letter and reminds you to reach out if they still haven't. 
The platform also offers an email scheduler that's more than basic, one feature being the ability to create blast emails with personalized fields that Cloze auto-fills in for you. 
And when it comes to using the phone, Cloze has great call logging.
Teamwork
You can set up a special list of contacts that make up your team, so a bunch of you can file incoming communications. 
This section provides features that give you an overview of who said what when and to whom among all the members. You can assign tasks to coworkers, or even designate contacts as the main responsibility of specific colleagues. 
To keep your team on the ball and always ready-to-go, you can see team leadership stats like who's killing it and how much time everyone is spending on certain tasks.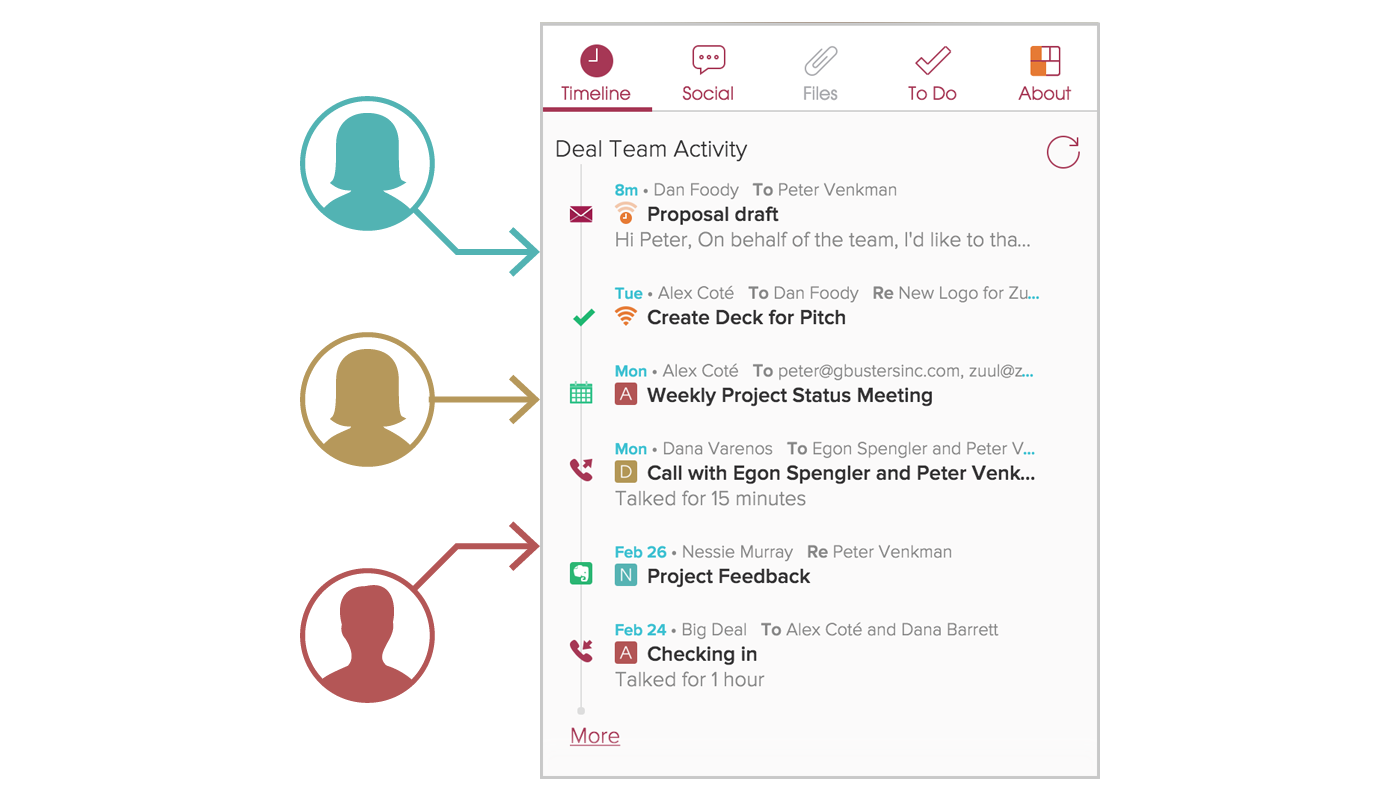 Serious business
If you're using Cloze for the business side of things, it offers a pipeline feature where moving leads towards conversions also feeds into your analytics reports, showing you how many contacts are at each stage in a given time.
On the other end, Cloze groups all your professional contacts by company, and with that knowledge, it creates whole company profiles.
There is also an automatic lead generator tool that creates leads out of new incoming emails and notifies you whenever a fresh file has been opened. This could be mighty useful after an email blast campaign or landing page sign-up sheet. 
Fees and freebies
Cloze offers pricing plans equipped for both personal or more professional use. You can also sign up for a free version and use Cloze like a lightweight contact and email management app.
The Pro plan is priced at $17 per month each (billed annually), a reasonable sum for additional AI-powered functions.
Cloze also offers three plans for business: Silver at $21, Gold at $29 and Platinum at $42, all per user/per month, billed annually. These plans are where you get real team collaborative features, analytics, lead generators, and business app integrations. Cloze also connects with Zapier for further integrations. 
Digging up "relationship gold"
Cloze describes their platform as the "no-work way to see everything about your contacts in one place," referring to how simple the app is to use and how much dull-clicking, sorting and data entry it takes over for you. 
What Cloze essentially does is mine your vast territory of connections and relationships for all the many spread-out bits of data you'd otherwise miss. 
"Information is really spread all over the place, on emails, on social media, in CRM systems, in phone calls, in notes," explains Coté to TechCrunch, going on to figuratively pose, "how do you get it all together?"
One place to start might be to let Cloze help you dig up all the existing "relationship gold," allowing the most important information and connections to shine.