Airtable Transforms Spreadsheets Into Powerful Versatile Tools
What is Airtable?
At first glance, Airtable is a spreadsheet. Is it another version of Microsoft Excel? Or Google Sheets? Or Google sheets crm template? No. Airtable is an excellent alternative to those big-company spreadsheet apps. Because it does way more.
On top of that, it's actually beautiful to look at and fun to use.
The company hails from San Francisco. The CEO, Howie Liu, came from Salesforce as a product manager. "Straightforward like a spreadsheet" is how Liu and his team describe their platform. But with the power of a database. 
What is the difference?
Spreadsheets vs. databases
Spreadsheets aim to be simple. They store data points in cells down columns and across rows. They make for easy sorting and searching. Spreadsheets are good for organizing lists of things in categories and subcategories. 
Databases are more powerful. You might think of them as 3D spreadsheets. This means that one spreadsheet can serve as a table in a larger database. This is what "relational database" means. You can relate a lot more data and organize it in many more ways than a simple spreadsheet. These relations between data and tables offer insights too deep for spreadsheets to handle. 
Best of both worlds
Airtable takes the best of both worlds. It's as easy and intuitive as a spreadsheet, but as powerful as a database. And it does not stop there. 
Airtable is a flexible platform that serves many business needs. It can be CRM, a project management tool, or a collaboration tool for startups and small businesses.
How to use Airtable
The basics of data and records
The basics of Airtable are pretty straightforward. You approach it like a spreadsheet to begin. To add data records, you import them from CSV or XML files. You can also connect, copy, or de-duplicate records with a simple click of the mouse.
You can also add dynamic fields. These include checkboxes and drop-down menus. If you need to insert big chunks of text, Airtable makes sure the cells stay neat. You can drag and drop file attachments, which will then display a thumbnail. It also allows for links to both the web and to other Airtable records. Even barcodes can get in there.
Collaboration
As for collaboration, Airtable is very handy. Many people can work together on an Airtable project. It's all in the cloud, so anyone can access it any time from any device. 
And if someone adds a new record or edits any data, everyone else on the team can get a real-time update.
Airtable Features 
Airtable's features begin with the combined power of simple spreadsheets and insightful databases. But it does so much more. It's a great solution for many business needs.
Multiple views
With Airtable, you are not limited to the basic spreadsheet format. Airtable gives you options, and each has its advantages.
The grid view is closest to a basic spreadsheet. But with Airtable, it is not one big expanse of rows and columns. You can group sections of the table based on certain factors. So if you use it for task management, you can see all your tasks in groups. For example, you can group them by deadline, or by priority, or by who on a team is doing the task.
From there, you can switch to calendar view. This takes all the records from the grid and plots them on a calendar based on any date information in the record.
A kanban view works like a whiteboard with columns relating to stages. Each task starts in a column and progresses to the next. For example, your kanban columns can be: 
Assigned task > In progress > Checked > Complete
Finally, there is a gallery view. This is great when dealing with visual records. For example, if you use Airtable to organize a product list or menu items. You can then further sort and filter by keywords.
Blocks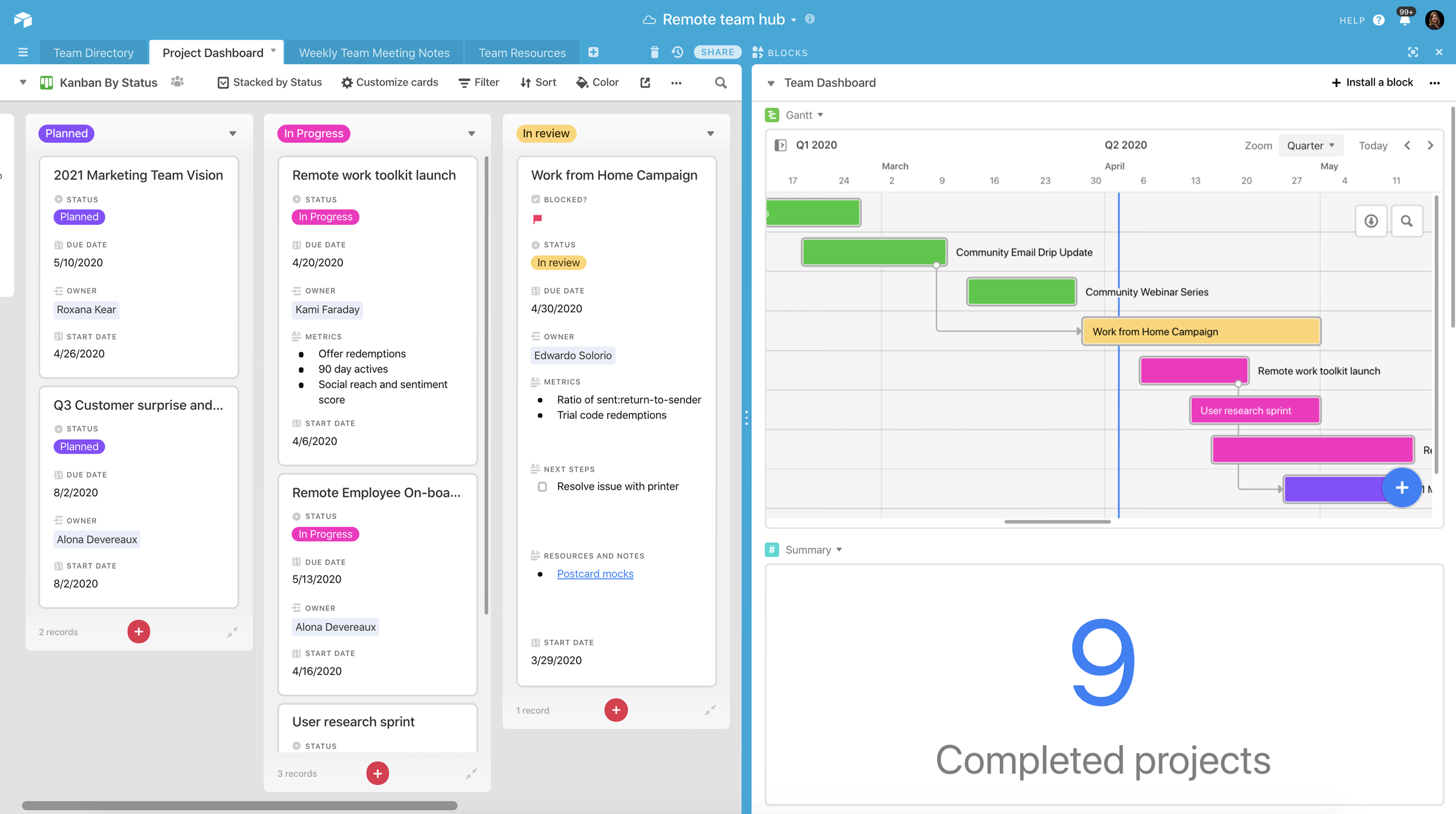 Blocks are the name Airtable gives to workflow processes. These are a series of steps that progress from one to the next based on event triggers. It sort of works like a flowchart. 
For example, when you are planning a marketing campaign. You might say the first step is to design an email campaign, then mail it out. When someone responds to the email, the next step might notify a salesperson, so they can do a follow-up.
With Airtable Blocks, you create and save the workflows with visual editors. For example, a Gannt chart. There are many other apps and tools you can use here. These include maps, bar lines and scatter charts, time trackers, and countdowns.
CRM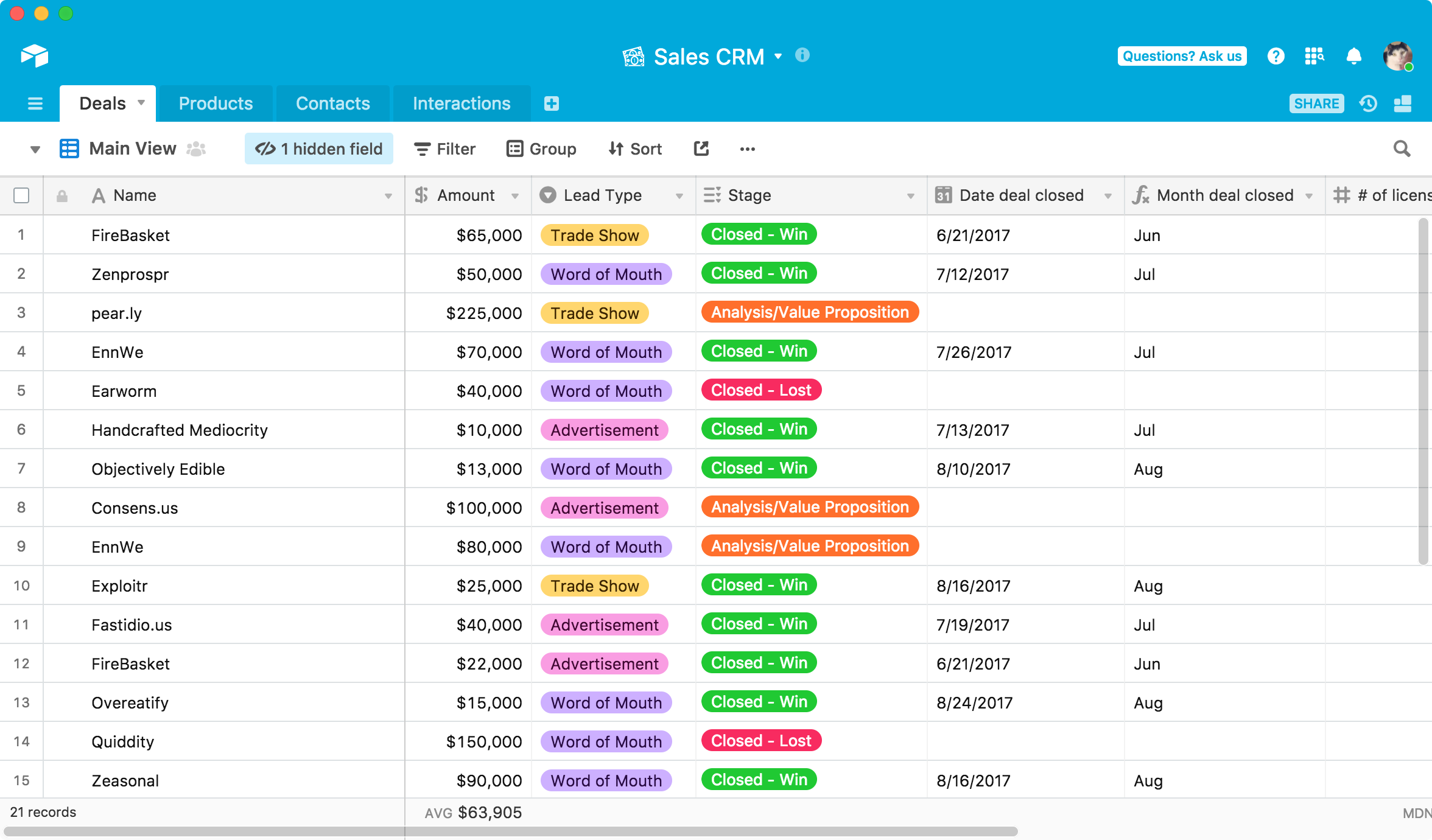 Airtable doesn't advertise itself outright as a CRM. But there are CRM templates. With these, you can turn Airtable into a great CRM tool. It works well for sharing data among teams.
Airtable offers CRM templates for a variety of departments or purposes. There is CRM for sales, CRM for PR, Dealflow CRM, and even personal CRM.
You import your contact and customer list into Airtable with their import tools. Then you can link contacts in one Airtable record to deals or projects in others. Storing files and documents in the contact database is also user friendly.
Mobile
Airtable offers a mobile app for both Android and iOS. It's a native mobile app, so it looks great on a small screen and is easy to use.
You can do almost anything on the mobile app that you can do using desktop. And of course, any updates you or your team make using the mobile app gets synced to the cloud. This makes sure everyone remains on the same page in real-time.
Best Airtable examples
There are countless amazing use-cases for Airtable. Their template library is a great place to get ideas of its many uses. Here are just some examples.
There's a sales pipeline Airtable template. You can sort by individual deal, or group them by sales rep. It comes with fields for priority, stage, forecast value, and expected completion date.
A project tracking template is like the sales pipeline one. It also allows you to add images and documents. With it, you get a task management tool. It's also helpful to assign project tasks among the team and keep track of who is doing what.
Event planning templates are good for both professional and personal use. It can include features to manage payments to outsourced third parties. You can also use geolocations. These manage where events take place and help plan transportation.
The uses cases of Airtable for creative people are many. It's a great personal tool for plotting out a novel or researching a nonfiction work of writing. There are even film production templates. These help coordinate larger crews of people, each with different tasks and schedules.
One thing to note on the art world and Airtable is this: Artsy, the global art catalog and marketplace, uses Airtable. Their database needs are huge and heavily visual. A perfect job for Airtable. 
What is the difference between Airtable and Excel?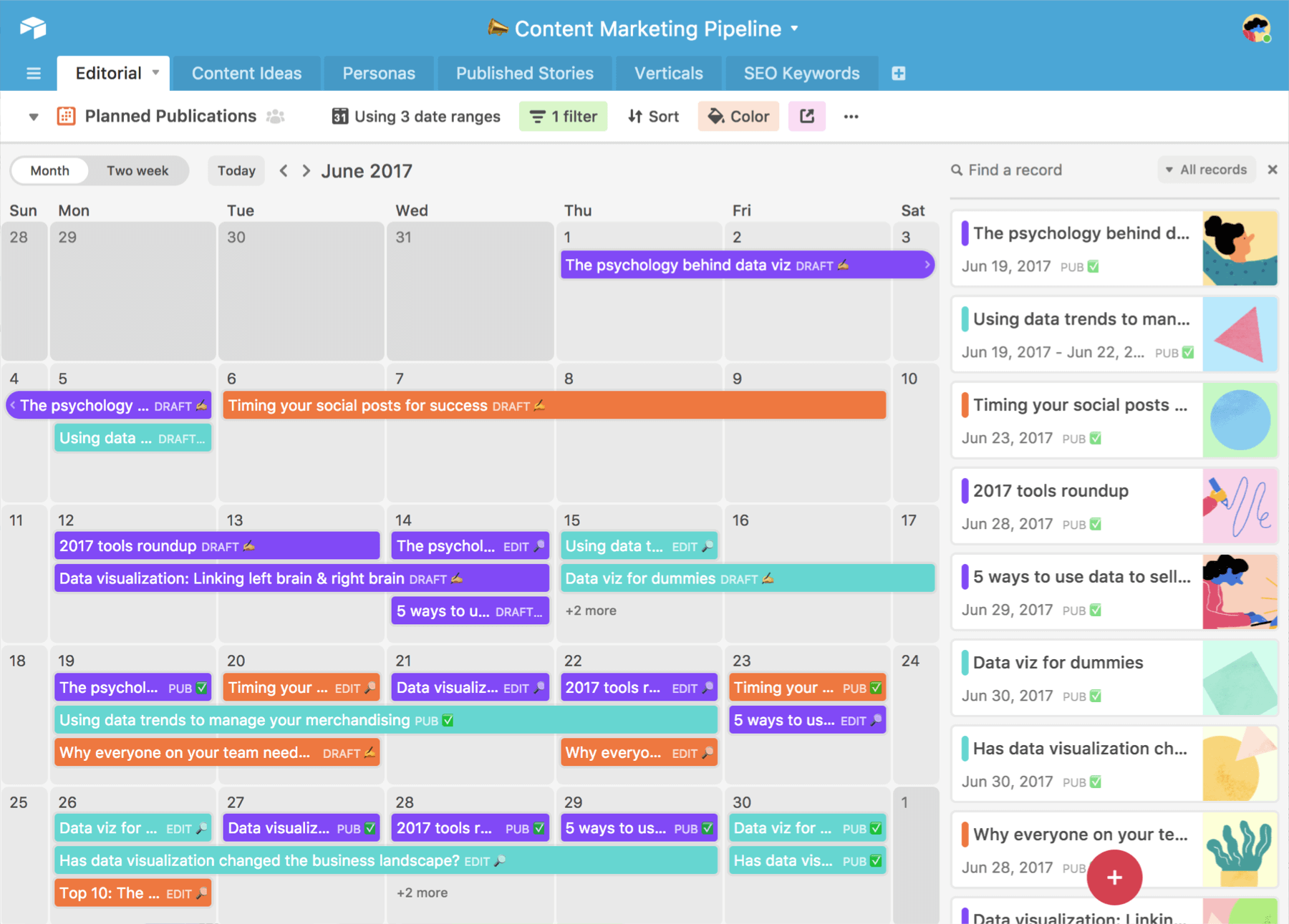 Excel is a traditional spreadsheet. You can only limit data connections and formulas within single tables.
Airtable lets you do that. But it also gives you database functions. You can link data between tables. There are also many more formula possibilities.
A big difference between Excel and Airtable is the selection of views. Excel has no calendars or kanbans.
Airtable can be a CRM. This means you get some standard CRM tools like notifications and workflow processes. Excel would be a poor substitute here.
Another notable difference is this. Every Airtable file you create provides its own Airtable API. This is for developers to create plugins and other add-ons. You can't do this with Excel. There also aren't any integrations for Excel. As for Airtable's integrations, read on.
Integrations
Using Zapier, Workato, Integromat, or Automate.io, you can connect Airtable to any SaaS you need. Your data is shareable across platforms and always kept in real-time sync.
You can connect any email you use, or use the dedicated Gmail connection and other Google G Suite apps. 
For social media, you get Twitter, Facebook, Instagram, Tumblr, and LinkedIn. 
Other productivity apps include Asana and Trello, which do project management. 
There is Slack for group communication. MailChimp for email lists, Stripe for payments, and Zendesk for customer support.
Airtable urges its users to make new app integration suggestions. They'll even notify you when your suggestions become available.
Pricing
Airtable offers a free plan. You can make as many new Airtable Bases as you want. Airtable Base is their word for files. But you don't get Airtable Blocks with the free plan. Your revision history is also limited to two weeks.
The next two paid plans go for $10 and $20 per user per month billed annually. Only the $20 plan gets you Airtable Blocks.
Finally, there is an Enterprise plan. For prices, contact Airtable.com.
Airtable does not have a free trial.
Conclusion
Everyone and every business needs to make the occasional list. Lists become spreadsheets and those may turn into databases.
With Airtable, you're getting the utmost power of database organization. On top of that, you can plan your schedule, manage your CRM needs, coordinate with your team, and track projects and deals. And you get to do it all on a cool-looking interface that's simple and intuitive to use. 
Finally, once you explore Airtable's templates and use-cases, you may discover new areas of your personal life or business which are ripe for some neat Airtable overhauls.