Hotjar: Find Your Hottest Growth Opportunities
If a website lacks engagement or a user can't locate what they're looking for before you can count to ten, then bet on that user clicking away.
To know if your web and mobile site is designed to meet visitors' needs readily, you need to understand how online behavior differs for users who abandon versus those who purchase, and what customers' words reveal about their actions. Address these issues, and you multiply your opportunities for growth.
Hotjar, a combined analysis and feedback platform, helps you track user behavior on your website and gain direct insights to improve customer experience and conversion rate.
Driving growth through customer experience
Early-stage startups which need to grow significantly in a short time usually rely on a "growth team" to develop low-cost, creative strategies for acquiring and retaining customers.
Founder and CEO David Darmanin has an interesting view on the whole "growth hacking" process.
Darmanin sees growth hacking as a strategic mistake. He thinks that everyone in a company, not just members of a specific team, should care about growth. For Darmanin, having a so-called specialized "growth team" equates to telling other employees in the company that they do not need to focus on growth.
Without a full-rounded toolbox, a specifically growth-focused team could run the risk of experimenting on the wrong things and eventually harming the business.
While driving growth is critical for any business, it should never be done at the expense of positive customer experience.
For this reason, Darmanin decided to create "The Hotjar Experience Team." Members of this team work on promoting growth, but they never forget to do so while caring about the user experience.  
Perhaps this method towards growth is what makes Hotjar so appealing to company's looking to improve customer experience, optimize engagement, and prevent churn.
Unlike other behavioral analytics solutions—in addition to heat maps, browser recordings, form analytics, and conversion funnels—Hotjar provides user feedback tools like polls and surveys to help companies gain direct customer insights and make profitable decisions.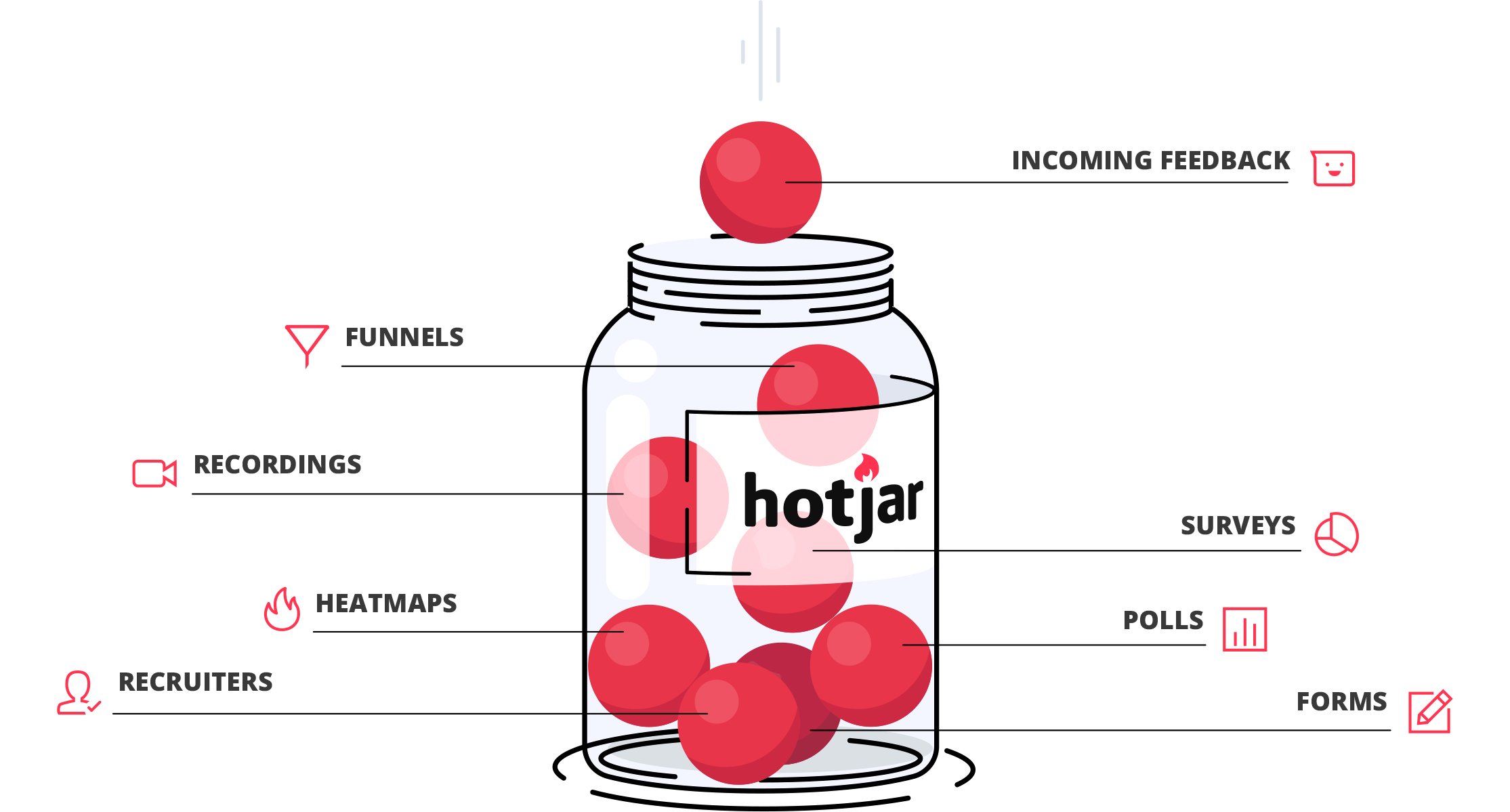 One platform, two main purposes
Several users consider the access to both analytics and customer feedback on a single platform as the software's main highlight. Before Hotjar came along, companies needed to use different services to obtain all of these functionalities.
For example, several companies had to use Clicktale for mouse and click tracking, Crazy Egg for heatmaps, MixPanel for automated data capture and analysis, Qualaroo for polls, and so on.
Employing many different platforms increases the complexity and cost of any optimization strategy. Hotjar further eases this issue by offering deep integrations with CRM systems, e-commerce, and content management system (CMS), and other data tools.
But in any case, what is it exactly that makes Hotjar's own features so great?
Analytics features
Heatmaps, an essential function of any analysis solution, is probably Hotjar's most used feature.
It offers a visual representation of user engagement across your website that can be split by clicks, taps, and scrolling behavior, allowing you to see every area users interact with on your pages.

You can quickly identify high and low-interest points on your site and uncover usability issues in page design. For instance, you can see the average drop-off point on your blog posts or where you should add hyperlinks to make navigation smoother.
This increased insight helps you implement layout and design changes to optimize your site, enhance customer experience, and maximize conversions.
Heatmap tracking also provides information on where to put call-to-action (CTA) buttons to get as many clicks as possible. For example, you might discover inserting a CTA button at the end of your blog articles will help invite readers to look at more posts.
How does Hotjar compare to competitors like Crazy Egg, that offer very similar heatmapping tools? While the two solutions produce comparable reports, Hotjar's maps provide more information.
Unlike Crazy Egg, Hotjar shows mouse cursor movements in addition to clicks. You can also see the number of time users have clicked in the same areas by hovering over the map. To obtain this data in Crazy Egg, you need to access from a different view.
Visitor recordings
Hotjar was one of the first analytics platforms to offer visitor recordings, a function that captures the screen of user sessions to let you see, in real time, how they interact with elements on your pages.
Competitors like VWO, FullStory, and Crazy Egg have since added similar features to their solutions.
Visitor recordings show where visitors click and track their mouse movement. You can see where mobile site visitors touch their screens, plus how they scroll. It's also possible to tag records to follow customers who are navigating to a specific product section on your website.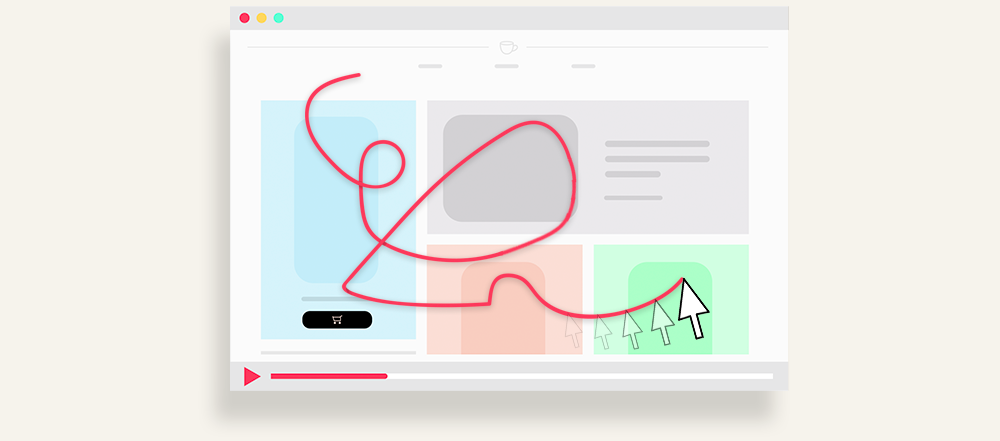 Seeing things from the user's perspective allows you to holistically understand your web experience. With visual feedback, you gain an easy way to truly understand what needs to improve; you can maximize engagement while also helping to refine different aspects of your pages.
Conversion Funnels
Hotjar also offers a funnel feature that allows you to set up and monitor visitor completion rates.
With the conversion funnel feature, you can identify drop-off rates between pages, see at which point of the funnel users are leaving, test new ideas and see how they did versus previous ones, plus improve engagement on specific pages.
This function can be especially useful for transactional sites, as it allows you to track customers through the whole purchase process and recognize the most significant drop off points in your funnel.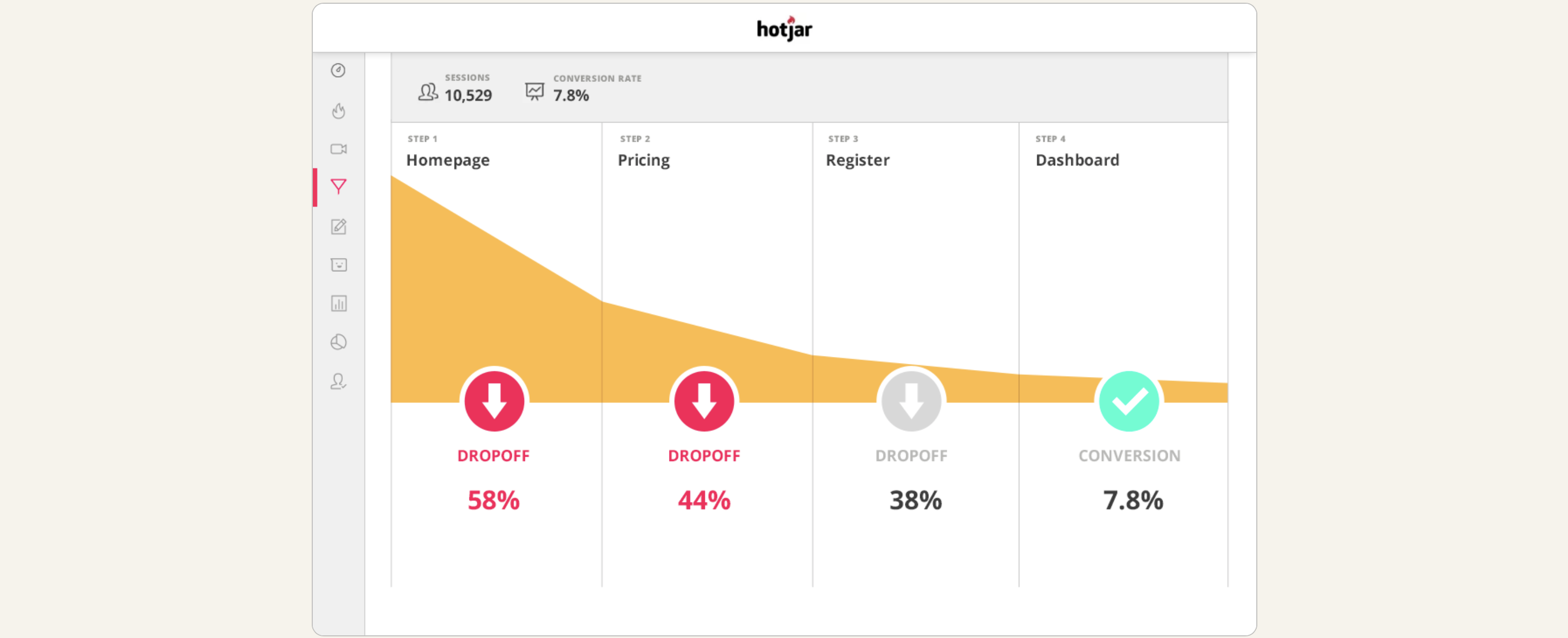 Form Analytics
Web forms can be critical for driving growth, as they allow you to learn more about customers, accept online payments, manage your email lists, and keep track of new users registering for accounts.
Hotjar's Form Analytics feature records user behavior with forms to report critical indicators such as drop-off rate, number of re-tries, conversion rate, and average time taken to fill out each field.
These metrics help you identify and understand the pain points required to decrease customer churn. For example, you might have to rephrase a particular question that causes people to abandon the form and leave the website.  
Feedback tools
Actions may speak louder than words, but receiving direct customer feedback certainly helps you better interpret their online behavior.
Improving your website's performance starts with understanding what your visitors want and what may be preventing them from their objectives.
Hotjar includes thorough feedback collection tools to help.
Polls
Feedback polls allow you to ask users why they do or do not take certain actions.
For example, if visitors do not sign up for your newsletter, or give up filling out your form, you can ask them directly what stands in the way.
You could, for instance, create a poll to ask users what is missing on your homepage. If some visitors reply that they cannot access the login box, you will be able to quickly rectify the issue.
You can target specific pages or give users on any page of your website the opportunity to participate in Hotjar polls.
Incoming Feedback
An Incoming Feedback feature places a widget or tab on your page, which users can click to leave comments and suggestions.
Incoming feedback provides you with instant information delivered in the form of dashboards and graphs, allowing you to quickly identify what people love and hate about your website, pinpoint issues, and find opportunities to increase conversions.
Surveys
Hotjar's Surveys feature allows you to design longer questionnaires to email to your customers for more in-depth feedback.
It's a great way of engaging with your email list on a regular basis and to gather user views on a variety of topics to see if your propositions match customers' expectations.
For example, a game developer can survey new customers to find out what most appeals to them about their website or if their customers play on any competitor sites.
Hotjar embraces a remote culture
Hotjar is not only renowned for its products but also its rousing success and corporate culture.
In only three years, the company has disrupted the website optimization and feedback market, going from a nine-month beta to a public business with $10 million Annual Recurring Revenue (ARR).
Darmanin credits part of this quick success to the fact that his team works remotely.  
When he initially built Hotjar in 2014, Darmanin knew he wanted to grow and flourish the company into a remote environment. He believed it would give the company the flexibility to find the best people in the world while also allowing Hotjar employees to live wherever they wished, control their schedule, and spend time with their friends and families at their leisure.
This belief system has quickly become a guiding principle in startup culture, impacting everything from the way companies manage projects to budget planning.
Hotjar has been able to grow and maintain a global culture of openness, trust, honest communication, and collaboration.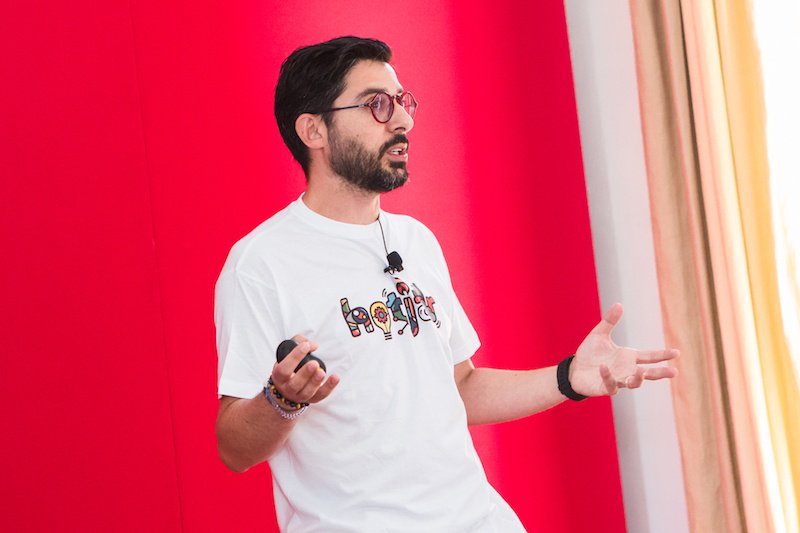 Image credit: Hotjar
Behind the scenes
Darmanin, who currently leads a team of 42 developers based out of 16 different countries, considers transparency as the key to success for Hotjar and its remote working culture.
Similar to the social media management platform, Buffer, team members at Hotjar know much more about their company than your average employee, including 100% of financial and performance data.
This kind of transparency leads to a different kind of team relationship. Darmanin believes employees should not be managed but rather led and shown the way.
People instinctively may not like being told what to do, but they do want to be trusted and given challenges.
"We hire amazing people that are self-driven and then we give them the tools and the resources to do amazing things," he explained in an interview with CodementorX last summer.
Hotjar has established a company-wide plan relying on a series of weekly discussions to allow each employee to be as autonomous as possible.
Hotjar has come up with strategies to avoid losing its core company values as it is growing.
For example, new employees receive a Kindle with unlimited download, a high-quality headset, plus an assigned mentor to suggest which books to read, or videos to watch, that may help for training purposes.
Hotjar also makes sure employees take their mental health seriously. As they manage their own schedule, they may tend to overwork themselves and burn out.
The company addresses this issue by encouraging team members to communicate through group chat to avoid feeling isolated. Every Wednesday, they use these conversations to discuss mental health, time management, and work-life balance.
Employees also travel twice a year to company meetups, which usually last a week. The company always chooses a fun destination where employees can participate in multiple activities and build memories together.
The last meeting took place on the Mediterranean island of Malta, where Hotjar has its headquarters.
While Hotjar has turned its remote culture into a thriving success, managing a distributed team comes with its difficulties.
Wanting to be as accountable and transparent as possible with customers, the company openly discusses its mistakes and the challenges it faces.
Hotjar managers regularly share details about their growth process and experiments through blog posts, explaining how they have been able to fix mistakes.
For example, last November, Lead Product Manager Stefan Scerri explained how the company had "killed its mobile app" and what he and his colleagues were planning to do to avoid encountering similar issues.
A new approach to website optimization
With its analytics features and thorough feedback collection tools, Hotjar helps you build a broad, data-backed understanding of what exactly people use your site for, how they use it, and why.
By allowing companies to create a complete, realistic picture of customer behavior, this combined approach, also apparent across other apps, has revolutionized the website analytics market.
Optimizely makes A/B testing and iterating websites easier. Unbounce un-bounces landing pages and boosts conversion rates with customer-centric data insights. Amplitude delivers behavioral analysis and insights to drive customer engagement.
Hotjar is one more piece of the puzzle—a very notable one.
Considering the startup's quick success, its atypical growth strategy, and its outstanding company culture, Hotjar has definitely got a molten hot heatmap going on of its own!