Freshworks #Failsforce: Hot Drama at Dreamforce 18, Day 1
Salesforce competitor, Freshworks, took to the sky above San Francisco on Tuesday, September 25th with a wedding crasher-style campaign so mischevious that Kevin, from Home Alone, could have planned it (minus all the unnecessary violence, of course).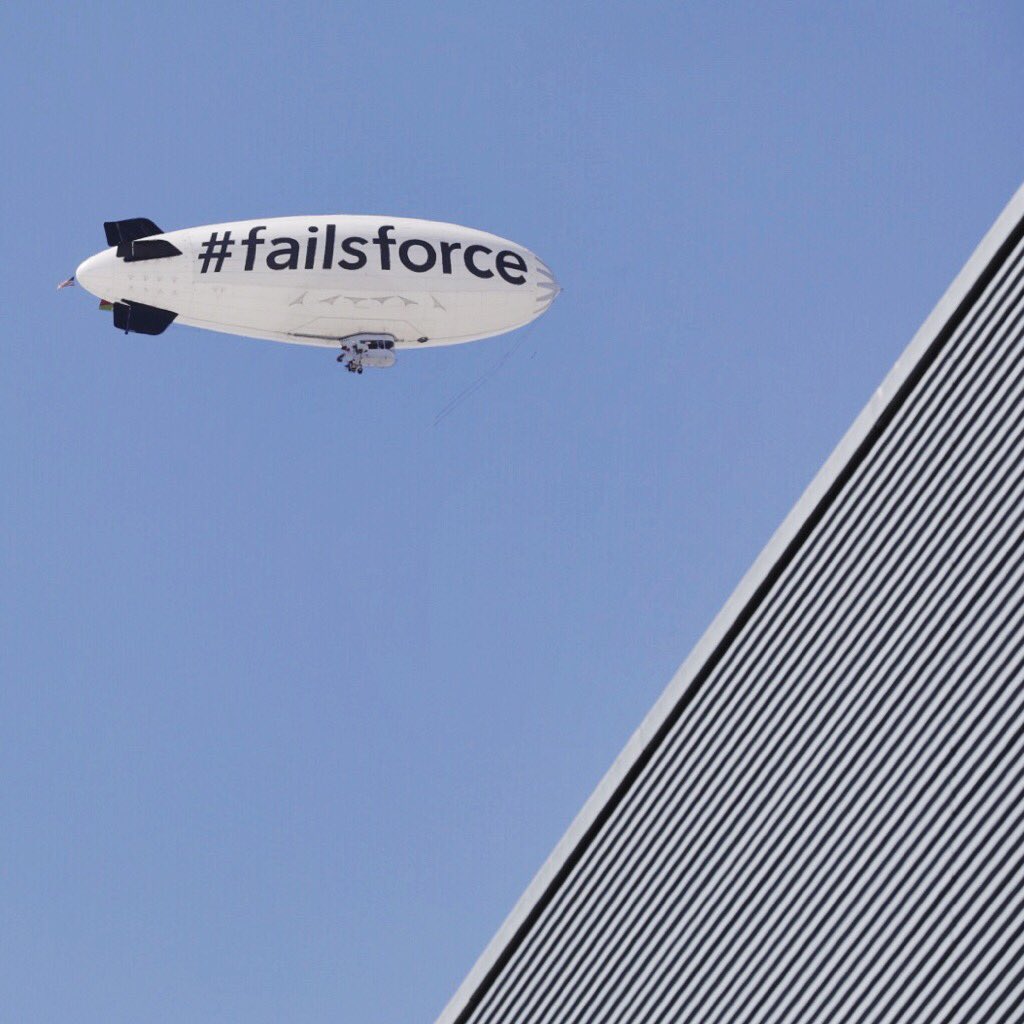 Image Credit: Twitter 
The customer relationship management company produced a massive blimp for the occasion, which reads #Failsforce loud and clear on one side and "Freshworks hit refresh" on the other.
And that's not all!
Apparently, a marching band will be present on Market Street in San Francisco to remind companies, confused pedestrians, and Joe Blow Salesforce customer that the industry giant isn't all that it's hyped up to be. Also, they're gonna hand out gift cards for smoothies!
Perhaps it's fitting that the marketing attack seems to have taken inspiration from Superbowl Sunday-style entertainment, as the #Failsforce campaign has no qualms when it comes to hitting its competitor.
No word yet whether Salesforce CEO Marc Benioff is planning a retaliatory strike from Salesforce Tower—maybe he could get a sky writer to spell out #notsoFreshWorks? 
David Thompson, chief marketing officer at Freshworks, claims the campaign cost between $500,000 and $1 million. Cheaper than a Super Bowl Sunday commercial slot but there's no penny pinching going on here either.
Times are changing, and it's time for companies to change too. Freshworks is here to facilitate riding the next wave of SaaS CRM.
The whole campaign targets SMBs who are sick of investing in CRMs that are expensive, decrease productivity and drain time and resources. Freshworks discovered that, in the next two years, 69 percent of small and medium sized business plan to replace their CRM solutions and 56 percent of general respondents plan to do the same. Freshworks is poised to take advantage of the shift, and offers an alternative premised on refreshingly simple customer engagement.
Freshworks will be hosting a live conference from the #Failsforce blimp during Dreamforce week with customers who have recently left other CRMs.
In addition to their presence in the sky, Freshworks will be taking over the streets of San Francisco with gathering spots designed to help conference-goers get away from the chaos of Dreamforce.