Teamwork Adds a CRM to Its Lineup
Teamwork CRM is the fifth product in the eponymous company's suite of web-based work management tools. It's ultimately designed to tie into all other Teamwork products: Teamwork (project management), Teamwork Desk (helpdesk), Teamwork Chat (team chat and collaboration), and Teamwork Spaces (content collaboration).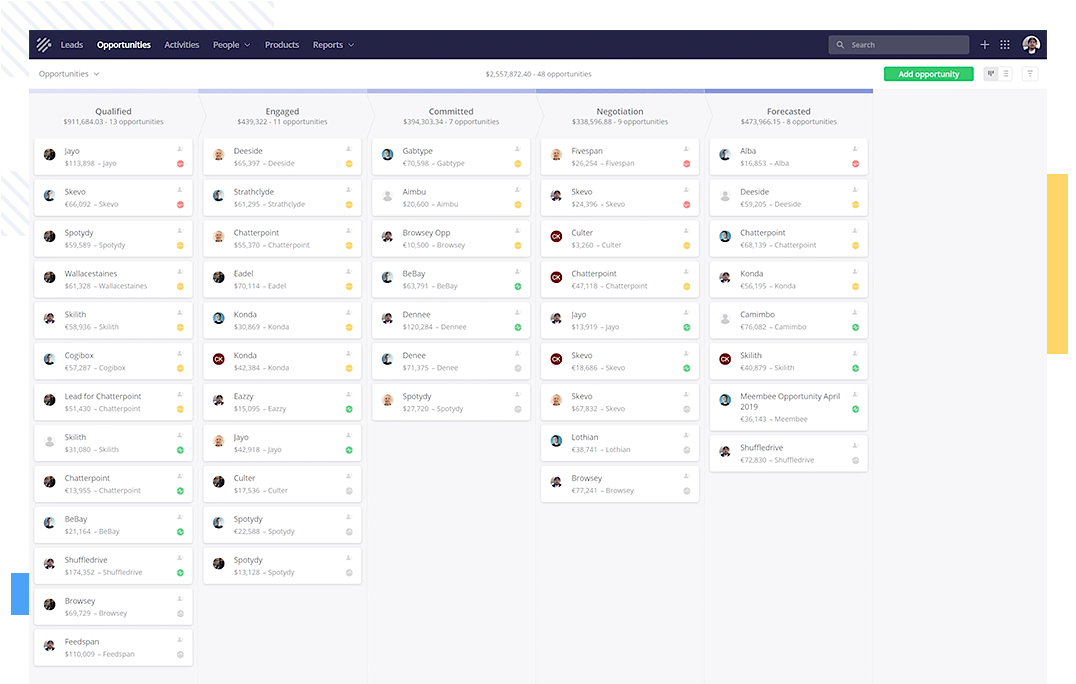 The company, headquartered in Ireland has been around since 2007. They've survived, grown, and adapted, skillfully surfing the last decade-plus of momentous change in the business productivity app market.
The release of Teamwork CRM in April 2019 is therefore not exactly surprising. CRM has become the fastest-growing type of productivity software. As CRMs become easier to use and implementation costs fall, more and more businesses are leaving behind their reactive, 'plugging-holes-with-chewing-gum' workflows, opting for 'proactive,' streamlined software that promises both order and growth.
So why not build a CRM in-house, so people who use (or want to use) Teamwork can easily jump into using this genre of digital tool? 
For years, Teamwork customers asked for a CRM and Teamwork listened. As founder and lead developer, Peter Coppinger so succinctly states, Teamwork CRM "was the product we needed to close the loop and make Teamwork the one platform your team needs to run your business."
Teamwork CRM's features
Customer feedback not only forced the hand of Teamwork's developers to build a CRM, but it also exerted a major influence on product features. The people had spoken: they wanted a tool that's simple, low-maintenance, and growth-orientated.   
Teamwork CRM focuses on five major things: pipeline management, sales activity management, sales reporting, forecasting, and contact management. 
Pipeline management
Teamwork makes your pipelines coherent by allowing you to visualize them end-to-end. You can build and manage multiple pipelines with custom sales stages, custom fields, and segments for different markets, teams, and sales processes. A super-simple Kanban board view helps you identify deals that are stuck and address general pain points, as well as spot the best opportunities.
Set custom sort and filter parameters, and automatically prioritize deals so you always follow-up on time. 
Detailed reporting features
By allowing you to split leads and opportunities into separate pipelines, Teamwork CRM simplifies the sales process and increases visibility on each step of the process. It also allows for more detailed granular reporting.
Sales reporting and forecasting tools allow you to sort by pipeline, date, and a range of custom filters like "match all" and "match any." 
You can also set up stage probability scores to generate realistic metrics for deals made. Once your reports and forecasts are done, quickly export your findings as an Excel file, with your selected display metrics and visualization(s) automatically replicated in the exported file. 
These features are boosted by integration with the Easy Insight cloud-based analytics tool. The integration automatically populates your Easy Insight reports with Teamwork CRM data, so you can make use of advanced business intelligence and analytics. Two-way sync ensures insights from one platform travel to the other as well.
Contact management
A contact management database ties together your network, from client to lead. Custom fields allow you to record and sort information specific to your niche business needs.
Contacts, companies, and users can all be exported from your contact record as CSV files. You can also sort and filter your data export. Export History retains a record of all your data exports, and CSV files you've generated remain downloadable for 30 days after you've created them.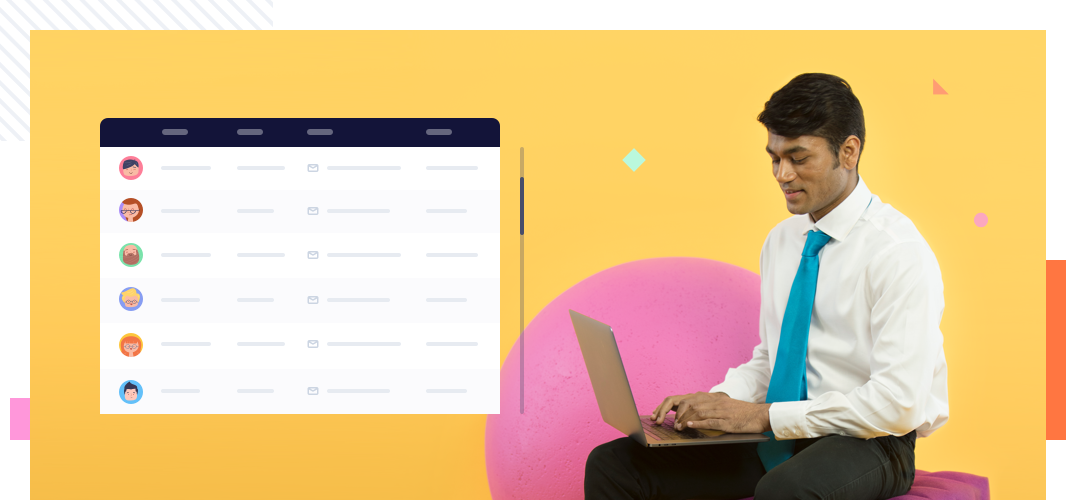 Teamwork CRM integration with Teamwork Projects
Teamwork recently rolled out closer integration between Teamwork (project management) and Teamwork CRM, allowing you to turn CRM leads and opportunities into project tasks. 
In the Teamwork project management tool, you can create new tasks from a CRM deal, or link a deal with a task you already created in Teamwork and assign it to team members, add comments, pick specific start/end dates and give it a priority level ranking. You can also de-link tasks from CRM deals if you need to, so your projects don't get borked if you need to link a task with a new or different deal.  
Gmail add-on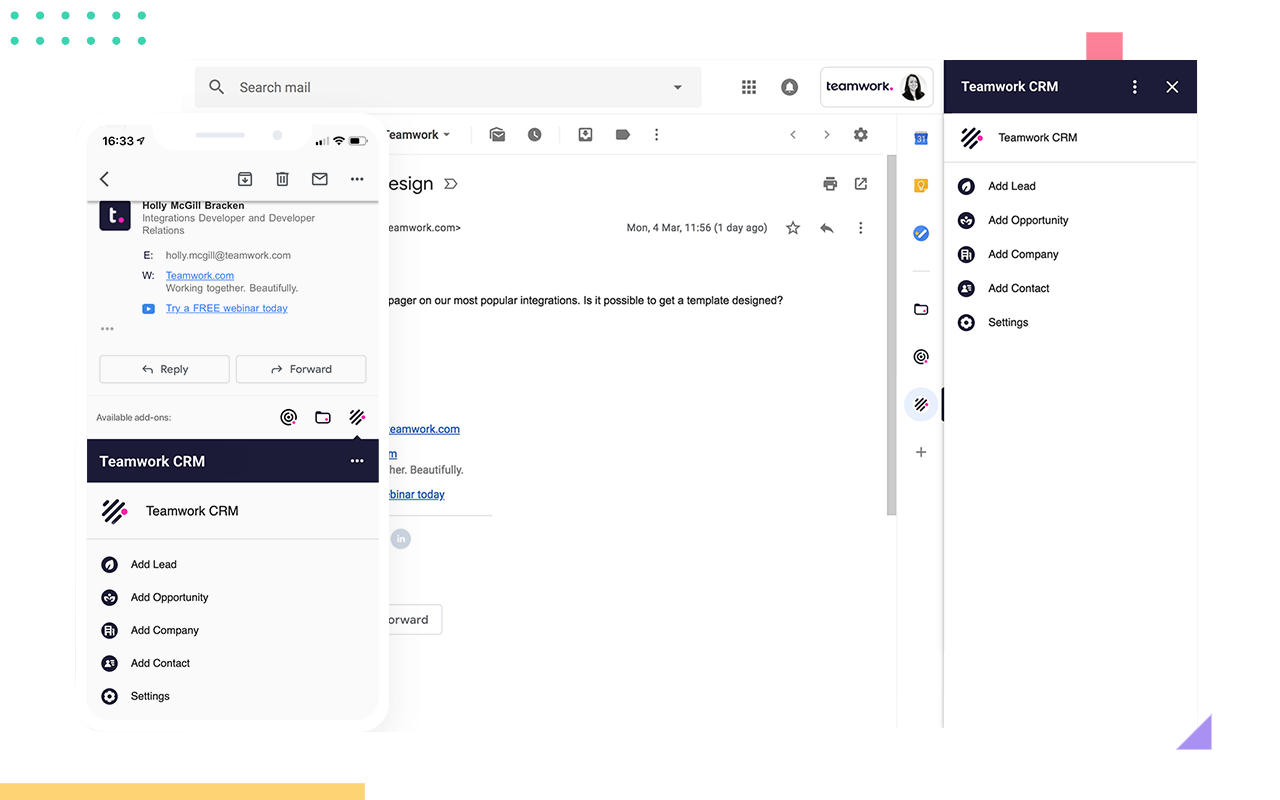 Thanks to a handy add-on, Teamwork CRM is also a Gmail CRM. You can add leads, opportunities, contacts, and companies from emails into your CRM.
It's pretty simple to use. Say you receive a new inquiry from someone about your company's product or service, just go to the Teamwork widget on the right-hand side of your inbox and click 'add lead.' After that, you can select what pipeline to add them to, including stage, source, contact info, company info, title and industry, and/or add a follow-up reminder. 
The Teamwork CRM Gmail add-on is available on the G Suite Marketplace.
The road ahead
With a large pre-existing user base across a range of work and project management tools, it makes a lot of sense for Teamwork to build their own CRM, offering their customers the 'missing link' needed to attain holistic business management. 
On a bigger picture level, Teamwork is following a trend of other work management platforms, like monday.com, who are throwing their hat into the CRM ring.
The company has a medium-term and long-term road map for its CRM, with Social CRM tools, sales force automation, email solution, and deeper integration with other Teamwork products being three major focus points. So while it's still early days for Teamwork CRM, the platform looks to have a promising future, backed by the company's consistent track record and attention to customer feedback.