Salesforce Beefs Up BI With Tableau Acquisition
Announced on June 10th, CRM powerhouse Salesforce has just sealed the deal to acquire the BI and analytics player Tableau.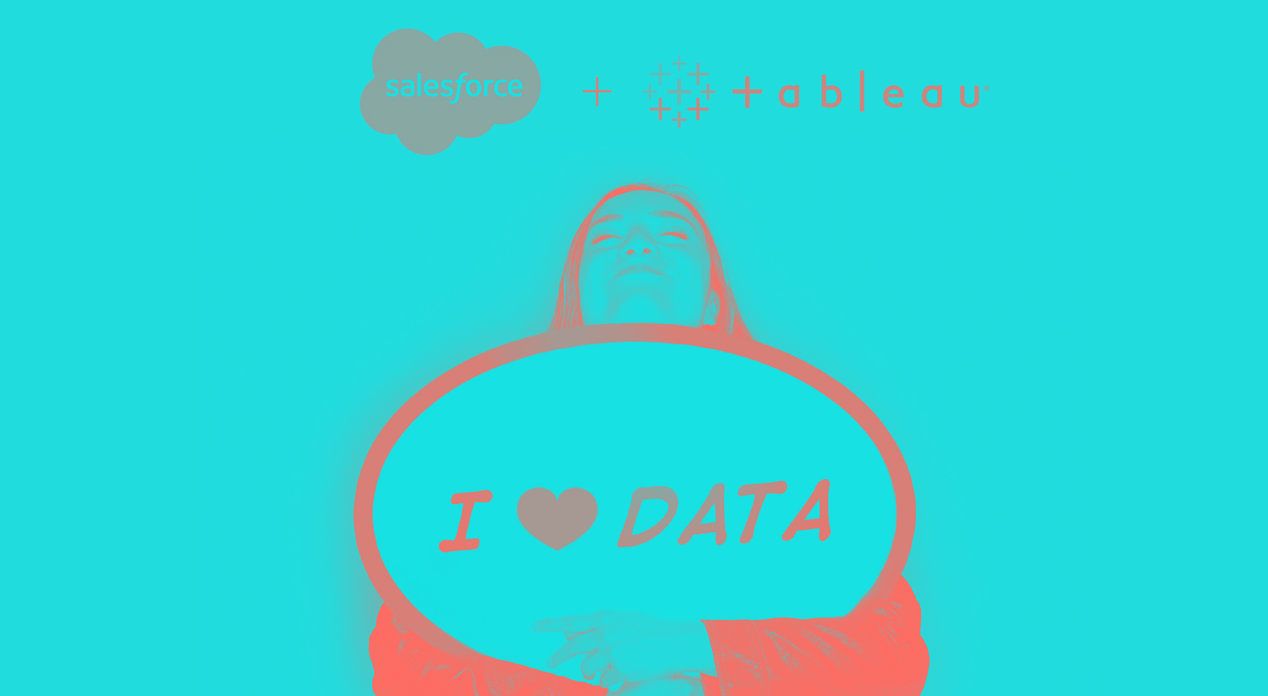 The acquisition cost a whopping $15.7 billion bucks, however, it's estimated that the inclusion of the BI platform will boost Salesforce's revenue up to $400 Million by the end of Spring 2020 (FY 2020).
Salesforce CEO Marc Benioff has been eyeing Tableau for some time. When talking with some of his major clients who were actively using most of Salesforce's products—like Sales Cloud, Marketing Cloud, and Service Cloud—he discovered that alongside these tools many of them considered Tableau a necessary addition for getting a smarter picture of their business. 
Of the acquisition, Benioff explains, "we could be satisfying a much bigger customer need. And that's ultimately [what] we want. We want to be able to come into the customer and have a completely strategic product line."
Tableau will maintain some independence, keeping their own leadership in place, as well as their Seattle headquarters (where, indeed, Salesforce is planning their own official second HQ).
Adam Selipsky, Tableau's CEO, makes the pledge in a formal conference call with the SEC: 
"What will not change as we move forward with Salesforce is our steadfast commitment to giving all of our customers unparalleled choice and flexibility and how they choose to connect to their data and how they deploy Tableau whether on premises, multiple public clouds or fully hosted analytic solutions." 
Salesforce just keeps growing
As a pioneering CRM platform, Salesforce began with a powerful system for organizing and keeping track of customers and clients, indeed, turning address books and spreadsheets into an intelligent science.
Since their origins in 1999 during the dot.com boom, Salesforce has added heaps of new tools to their services. 
There are the standard features for the 'Big Three': sales, marketing, and customer service, as well as plenty of other tools for everything from IT services, engagement monitoring, to ecommerce, and team collaboration tools.
A most intelligent coupling
So, what is Salesforce really getting with this acquisition? 
Perhaps one of the snuggest fits between these two companies' sets of features will be between Tableau's BI and Saleforce's Einstein tool, which applies AI to deliver predictions based on a company's typical modus operandi and customer data.
To quote the Salesforce press release: 
"With Tableau and Einstein together, Salesforce will deliver the most intelligent and intuitive analytics and visualization platform for every department and every user at any company."  
When the AI abilities of Einstein dovetail with the BI abilities of Tableau, the goal is that Salesforce will be able to leverage data to whole new levels, delivering increasingly accurate predictive feedback across the company, from sales, marketing, service and IT.
In addition to the AI/BI merger, Tableau comes to Salesforce with a whole extra trove of tools, detailed below. 
A quick tour of Tableau
Founded in 2003, Tableau's focus has always been data: prepping it, sorting through it, visualizing it, and sharing it. 
The platform is extremely versatile with countless controls, which at first glance may appear overly complex and intimidating to the uninitiated (try watching their intro video on mute without getting a smidge overwhelmed by all the visuals). Yet, Tableau's main mission is to democratize data analytics and business intelligence.
They achieve this by thinking about the human controller on the other end of the data—not a coder. Below are some of the features that work toward this goal.
Getting the data ready
Data preparation used to be a highly-specialized task, Tableau, however, offers tools to folks unschooled in code through features like Prep. Prep makes preparing, shaping and cleaning data something anyone can learn. Not having to rely on specialists means quicker insights.
As you prepare data with operations like 'filter', 'split', 'rename', 'pivot' and 'join', Tableau creates flows: visual representations of your actions. 
Sometimes, this can turn into repetitive drudgery, doing the same mouse movements over and over. To help this along, Tableau has a smart feature that lets the user employ "fuzzy clustering" to turn these repetitive operations into single-click actions.
These flows can also be scheduled to happen automatically as new data pours in. You can also easily publish and export flows, or share them through Tableau's server. 
Ask me anything
Another way the BI platform manages to democratize data analytics is by letting people use their own natural language when asking the platform to present results in the form of visuals.
What this means, is that while one could drag-n-drop a bunch of measures and metrics to drill down into the data and fine-tune the resulting charts and graphs, one could also simply select a broad data set and then 'ask' Tableau a question'. The feature, called Ask Data, can even suggest data sets based on your question.
Growing smarter together
The best BI results come from having access to the largest amount of data, although this trajectory always ran the risk of overwhelming us humble human interpreters with sheer Himalayan ranges of the stuff. Intelligent data analytics platforms have given us the gear to overcome this impasse.
So Tableau goes one step further: Not only is it excellent at deciphering how to use the data you provide it with, it offers as part of its package access to hundreds of sources of useful stats. You can access these databases through Tableau's cloud or, as they say, on-prem (locally).  
Now that Tableau's near 1 million "passionate data enthusiasts" can be folded into Salesforce's 1.4 million "trailblazers," we are seeing the creation of the largest community of dedicated digital business players.
And just like data, quantity can result in quality—it's the whole network effect of the more the merrier. Except, beneath the mounds of numbers, sophisticated systems are still needed to make sense of it all. 
This partnership is another step forward for Salesforce's journey towards achieving peak data analytics sophistication.