Stella Connect: Fast Feedback for Stellar Service
Tough tasks don't have to be thankless
If there's one department in a company that might need some extra love and appreciation from time to time, Stella Connect knows which department that is: service/support. These customer satisfaction soldiers are likely to have less job satisfaction, as well as less motivation than either sales or marketing. But why is this often the case?
Service agents have the least formal education for their profession, which means they probably didn't elect this type of career early on. Next, service hiring often casts the largest net, which means they likely earn the most modest incomes. Finally, dealing with unsatisfied customers is part of their job, which can be a strain on mental well-being.
So it's no wonder that customer service employee attrition is the highest, with some estimates suggesting most staff barely make it one whole year at a job. And on the company's side, the constant hiring and training of new support staff is costly, at about $15,000 per turnover.
Not only does a company waste money on these turnovers, but of course, the performance of a service team definitely impacts sales. A customer who gets great support will likely be a loyally-returning one; on the flip side, one who gets disappointing help might spread the word that the company is not worth one's precious bucks.
An incredibly simplistic formula might go something like this:
Happy service staff -> well-performing service staff = happy customers -> increased revenue
Stella Connect (by Stella Service) is a platform that enables real-time customer service feedback for both agents and team leaders to stay on top of performance quality.

The Stella Connect solution
Here's how it works. Firstly, each service agent sets up a profile, including a handsome headshot photo and a short bio. This humanizes the service team, which is no small deal when potentially-nonplussed customers need to know their problems are being taken seriously.
What the customer sees
When a customer contacts support, whether by phone, email or chat, a ticket is created via the company's CRM, which will track the interactions between the customer and the agent. That ticket number gets pinned to Stella's feedback platform thanks to integrations with platforms like Salesforce and Zendesk.
After the communication, the customer is prompted to rate the agent on a 5-star basis, then leave a comment. If the rating is good, the customer can pick a tag describing the agent as:
"efficient, empathetic, personable, friendly, knowledgeable, or above & beyond."
Then the customer suggests a reward for the agent: a coffee, lunch, or a gift card. Companies can also tie the rating-reward system to bonuses.
If the rating is bad, the customer is prompted to leave a comment and to pick how the interaction could be improved, with options tagged as:
"knowledge, professionalism, clarity, effort, friendliness, or other."  
Customers are also given the option to share their ratings and feedback directly to their Facebook or Twitter accounts.
What the agent sees
The Trends section of the dashboard displays all the stats related to the performance of each individual agent. This comes in handy when team leaders want to conduct 1:1 sit-downs with agents to review their work.
It shows stats like how many issues the agent took on within a period of time, the average star-rating for that duration, and how this average changed since a previous average.
Regarding tags related to negative comments, one can see, for example, how many times customers clicked on a tag like "friendliness" as a quality the agent seemed to lack, and this brings up every issue and comment associated with the customers who clicked that tag.
What the team leader sees
This is the Stream section of the dashboard, where all the feedback comes in a real-time feed of all agent performance for a manager to monitor. Managers can also get a notification to their desktop or mobile device as soon as a bad review comes in, so as to not waste a minute in making things right with that customer.
Some stats include ranking all the agents by current high and low star-ratings within a time frame, or by which agents had the biggest shift in their performance average.
Managers can also review stats based on channels—chat, phone, and email—to see which was getting the most traffic and their various success rates. Similarly, one can review the numbers related to issues with certain tags, for example, everything to do with shipping, billing, or IT bugs.
Game on
The final section of the three-tiered dashboard is the Leaderboard. This encourages positive competition among the agents by gamifying their performance. Stella believes this has the threefold benefits of motivating agents to raise the bar, promoting group cohesion, and making the workplace fun.
These leaderboards display the top-performing agents. They can be cast onto big screens across the office, and are updated automatically every hour or so. Finally, you can add sorting filters to display agents by date, team or channel.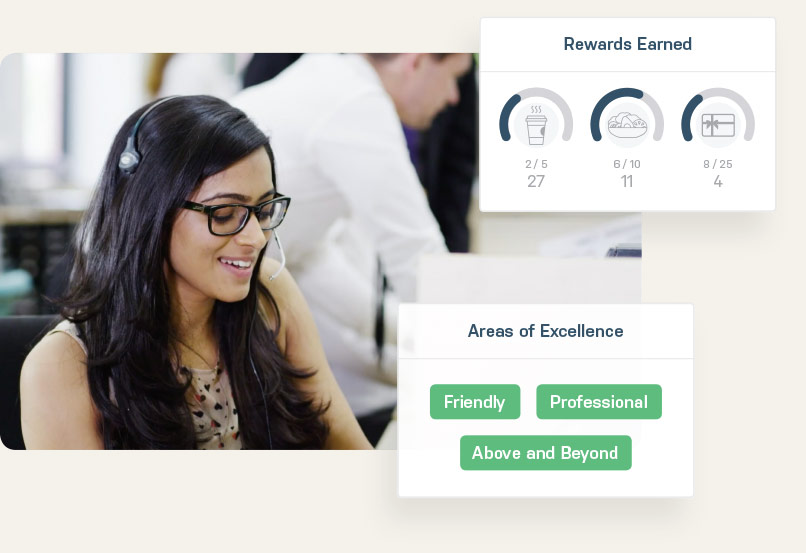 Formulas and scenarios
Stella Connect reinforces positive encouragement for well-performing staff, and efficiently identifies problems for immediate rectification. In both cases, the constant improvement of the quality of work (performance), and the quality of the working experience (job satisfaction) is the goal.
One example: Rosa is a stellar service agent, and her customers show their appreciation by high ratings and flattering comments. Milton, Rosa's manager, also sees this feedback and further boosts Rosa's confidence with encouragement and rewards.
He might also ask Rosa to help other agents who are falling behind, agents like...
Karl, who may be trying hard but nonetheless has been having problems: maybe he mumbles, maybe he sometimes gives the wrong answer, maybe he has a blasé tone of voice. Before these issues ossify into real problems, Milton the manager identifies the problem and works together with Karl to improve his performance, thereby keeping Karl on board and feeling motivated. If Rosa's achievements went unnoticed, she might just up and quit. If Karl's shortcomings weren't addressed and became an impassable problem, he'd be fired.
And what about Milton the manager? Without the help of a platform like Stella Connect, he might only be able to manage very modest-sized teams, which means either less service power for the company or the need to hire multiple costly team leaders.
Otherwise, Milton may just find himself over-burdened, stressed out, and in that case, would not make a very positive-encouraging team coach. If this is the case, expect that the cycle of unhappy service agents, bad performance and wasted dollars spirals towards insolvency.

Of course, one knee-jerk concern over feedback systems like Stella Connect may be that agents might experience extra stress at the possibility of negative feedback.
However, Stella Connect encourages agents and managers to see negative feedback as constructive criticism and an oppurtunity to improve, which motivates and drives self-correcting behavior.
With gamification features, tag descriptions, a reward system, and a generally positive mindset towards performance—at the end of the day, the magic of Stella Connect's team performance platform is in its ability to give true agency back to the agent.