Insightly Releases New Customization Feature
Insightly launched the latest version of its CRM platform. New dynamic customization features allow users to personalize the software based on the way their business works.
Insightly CRM is a lead management software designed to help businesses track contacts, communications, projects, sales and documents in a single interface. It integrates with Google, giving users access to applications like Google Calendar, Gmail and Google Docs. Insightly also connects with other popular tools like MailChimp, Evernote, Xero and Dropbox.
This CRM solution is intended to facilitate interactions with customers, improve collaboration within organizations and increase businesses' productivity.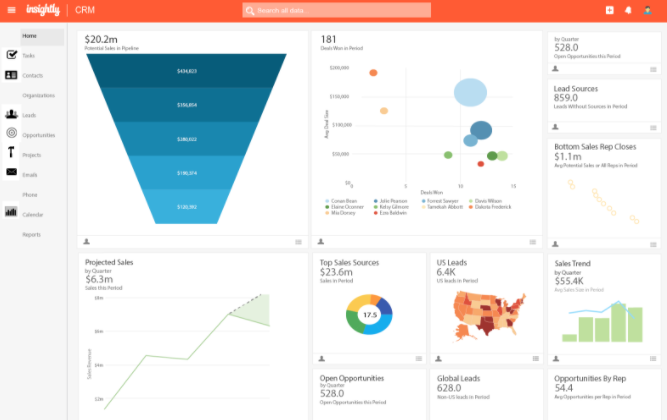 Image Credit :Insightly
The software's latest features are designed for enterprises that require greater flexibility in how they structure and access customer data. These new capabilities enable customized data capture, display and validation.
Insightly CRM comes with standard fields to represent and store contact data, such as name, email address and phone number. Users can also create their own specialized fields to add unique information, such as customer types, subscriptions, contract renewal dates and billing ID numbers.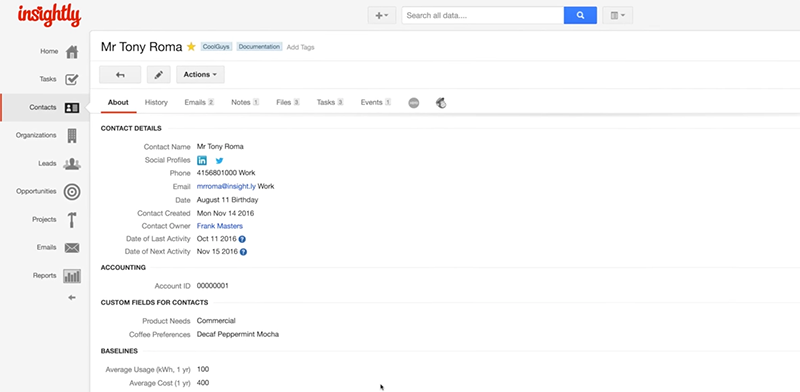 Image Credit :Compare Camp
The company introduced new custom field types that let enterprises gather even more personalized data. Users can now look for information that will help them determine what the best way of handling a customer is.
For example, a relationship-lookup field allows users to identify how customers interact with other businesses before and after they interact with theirs. The feature gives companies the opportunity to offer more targeted service.
Users can now design custom layouts for every screen within the software. They can change which fields appear on a record and the order they appear in.  By giving employees the ability to personalize and control what they see, Insightly provides them a friendly experience and breaks the image of complicated, hard to use CRM programs.


Image Credit : Insightly Help Center
By quickly generating screens that fit their specific needs, enterprises can focus entirely on their customers and opportunities and provide a better service.
A new drag and drop editor enables users to configure every page by adding, removing or editing different sections, which helps businesses ensure they show only the information users need to access based on their role. This feature is extremely beneficial for data accuracy and security.
Insightly CRM's latest version is mobile-friendly, allowing users to access critical data and take advantage of the new customization features on the go. The ability to have personalized, contextualized interactions with consumers both in and out of the office can be a great strategy to increase satisfaction and engagement.
By gathering and organizing data in a way that best fits users' needs, this new version helps businesses work more effectively, improving customer experience.
Founded in 2009, Insightly takes pride in being "the CRM for building lifelong relationships." The company currently serves over 25 000 businesses worldwide, across a broad range of industries. The San Francisco-based company is regarded as the number one CRM distributor for small and midsize enterprises.