Ring Ring, It's Redbooth Software Serving Up Project Management
Inspired by the iconic, crimson phone booths found throughout Great Britain, Redbooth evokes strong focus on communication and cooperation. With dedicated workspaces and a bunch of different commenting features—the workplace collaboration company promotes healthy communication between team members.

Redbooth's online project management and collaboration software (comprising web, iOS and Android apps) provides a single workspace where teams can communicate in real time, organize tasks, and keep projects on track. Redbooth's powerful time tracking, timeline overview, predictive task management, and video conferencing features are but a few reasons mega companies like Airbnb and Apple rely on the platform.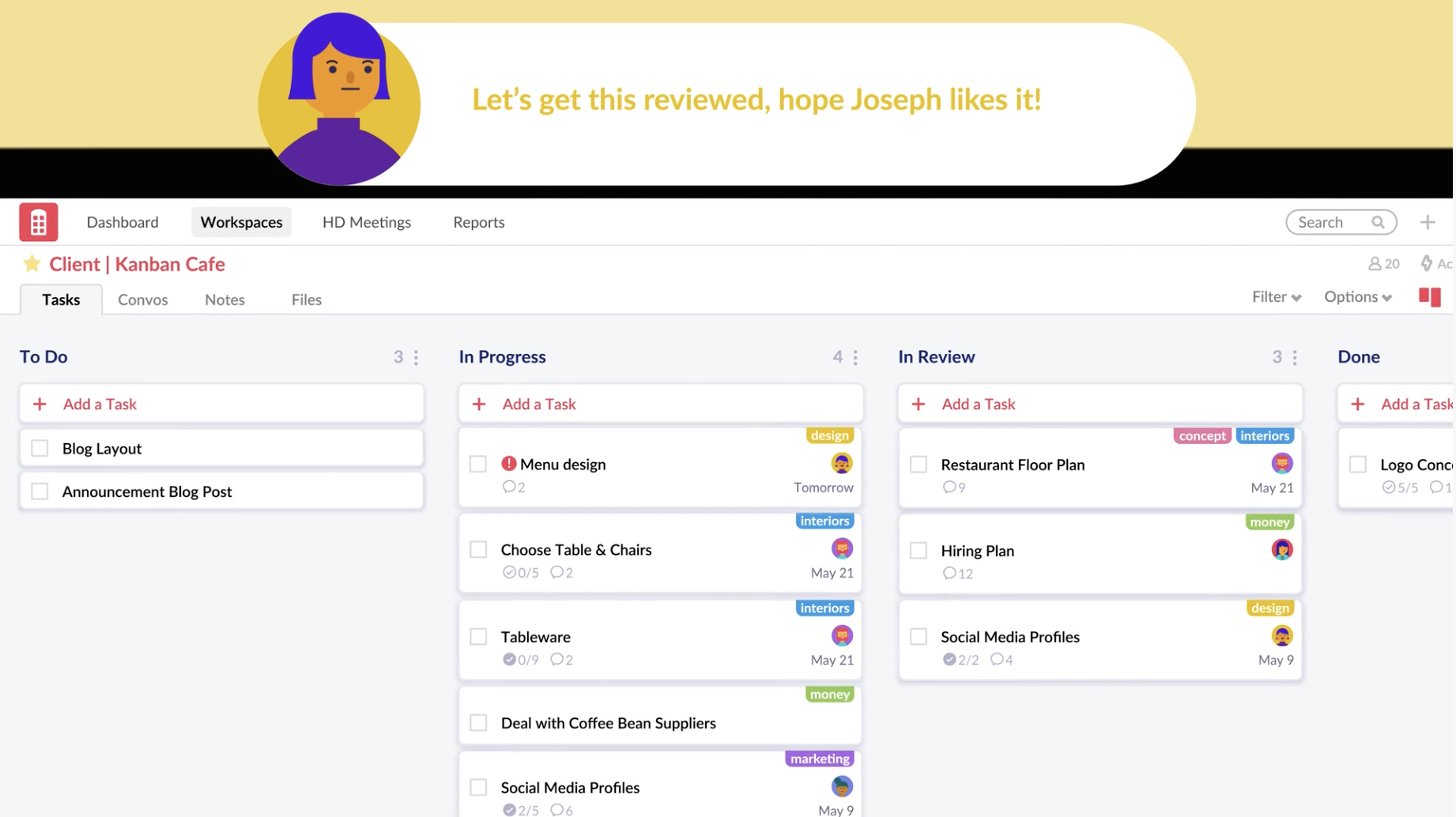 Image credit: Redbooth
Redbooth's simple and effective system
Redbooth uses a signature concept called Workspaces, which represent projects. Within each workspace, managers create task lists, assign one or more employees to each task, and set deadlines. Each user can comment and attach files to any task when needed.

Workspace display shows each task list appearing as a box on the screen. Within task administration boxes, users can initiate immediate communication with other team members through the group chat feature.

Once a manager defines and assigns a task, the designated user instantly gets a notification. Team members who have no assigned task can still access the workspace and receive alerts when there are updates.

By providing a straightforward system of delegating tasks and setting due dates, Redbooth supports accountability. Users can know precisely who is working on what at a glance. Defined task assignation promotes engagement and transparency.

With visual project timelines, dashboards, and easy drag and drop functionality, teams get a clearer view of how their projects are progressing.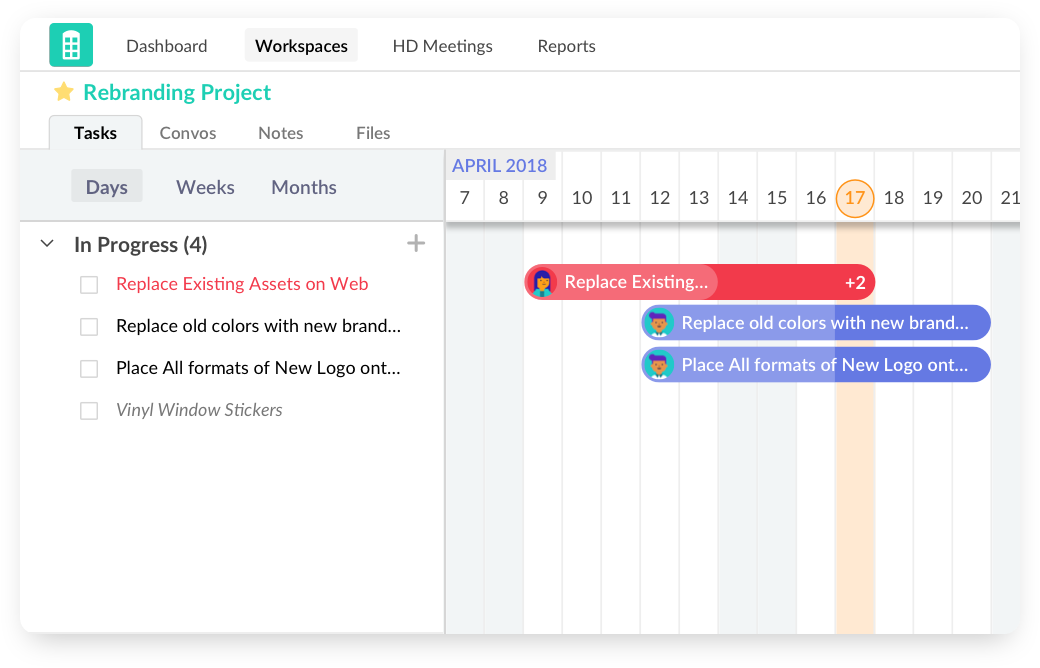 Image credit: Redbooth
The platform integrates with emails such as Gmail and Outlook, enabling users to capture requests and turn them into tasks quickly, without switching applications. The company has also invested in an impressive number of practical integrations with productivity apps like Google Drive, Slack, Dropbox, Evernote, Zapier, Okta, and Hubstaff.
Raising the workspace IQ 
Used by over 600,000 teams to work on more than 1.8 million projects, Redbooth's workspaces have already proved their worth. This past spring, the company decided to enter the smart market with the release of their new predictive task management feature. By utilizing machine-learning algorithms, the company analyzed their silo of task and project data to find patterns that would help reduce, or completely eliminate unnecessary efforts. 
That means the task and project management software can now predict the appropriate resources needed to assign a task and suggest a date of completion for each task. 
The new smart feature is followed by a number of updates to the platform including a redesign of workspaces that organizes project and task data side-by-side. The ability to search and sort through tasks is now also available, giving users a better picture of task status. And perhaps the biggest enhancement is the workspace activity feed, which comes in the form of a collapsible panel where users can see all workspace activity at once—such as invitations, task creation, and completion—plus the ability to communicate with teams via chat. 
New Timeline Overview 
While Timeline View was already a thing on Redbooth, the company recently released their Timeline Overview feature—a simple and intuitive way to visualize progress on multiple projects at once. The Timeline Overview represents a "powerful, flexible report for managing multiple workspaces from a single timeline." The Timeline View and Overview is Redbooth's version of Gantt charts, a visually pleasing and easy-to-read chart system that paints a clear picture of how projects are progressing. 
With Timeline Overview users can combine timelines from multiple workspaces, filter tasks by assignees, and plan work across several different projects. 
Now that's simple, clean and productive task and project management!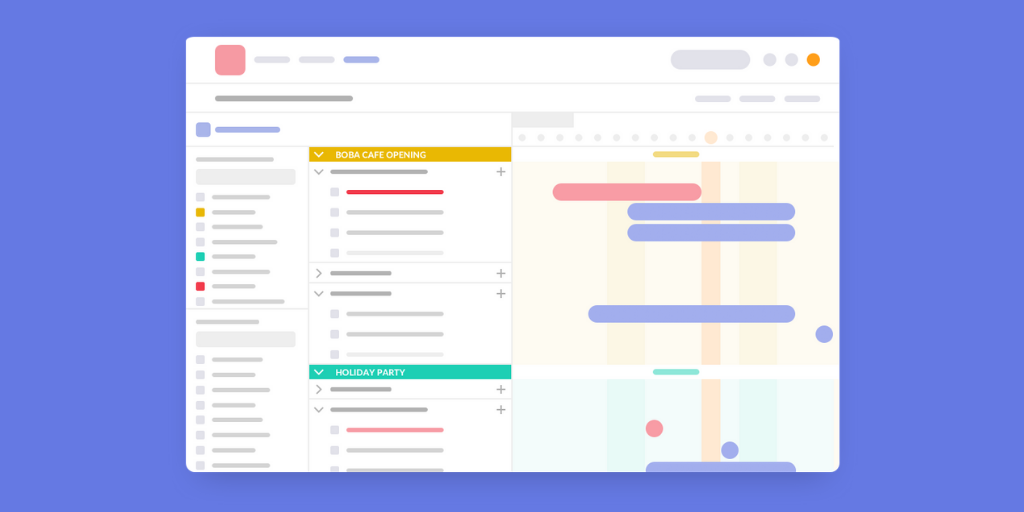 Image credit: Redbooth
Two main goals: speed and ease of use
Aiming to make work organization as easy as possible, young entrepreneur Pablo Villalba launched Redbooth in 2008 as Teambox. The platform started out as a simple project management solution geared toward small organizations.

After six successful years, the company underwent a significant rebranding.

"Activity has skyrocketed on the platform, and our users now need better tools to collaborate with more people — and across more projects as well," the Redbooth team explained on its blog in January 2014.

The company designed the new version with two goals in mind: speed and ease of use.

"Improvements have included redesigning the navigation, reducing the need to scroll, and making it easier to manage team members. Speed is also a hugely important factor in getting work done, and we've put a lot of effort into improving it in Redbooth."

Over 3,000 companies currently use Redbooth to streamline their workflow and optimize their productivity. Teams like Airbnb, Apple, Ritz Carlton, Unicef, and NBC run critical operations using the Redbooth solution.   

The company's original mission to provide a single place for organizations to collaborate and get work done has resulted in a unique product that combines powerful task management functionalities, live collaboration tools, and now, predictive technology.   
From basic to HD, Redbooth steps up its game with video-conferencing feature
While its project management functionalities make it similar to platforms like Asana, Trello, and monday.com, Redbooth stands out with its HD video-conferencing feature.

Team members no longer have to be in the same room for everyone to be on the same page. Wherever users work from, Redbooth's video-conferencing lets them connect with their team instantly.

If team members need to present a report or show new information to their colleagues, the ability to share and annotate information on-screen, in real time, is an incredibly handy feature of the HD video conference.

Most employees know all too well how switching between multiple platforms for collaboration drains focus, hinders productivity, and makes it hard to stay organized. Redbooth merges online meetings with its project management and business chat features to let users do everything in a single place. Up to 25 screens can participate in a video conference all at once, eliminating the need to use separate tools like Skype or other similar products to connect remote teams.

HD conferences are visually optimized to feel like face-to-face meetings.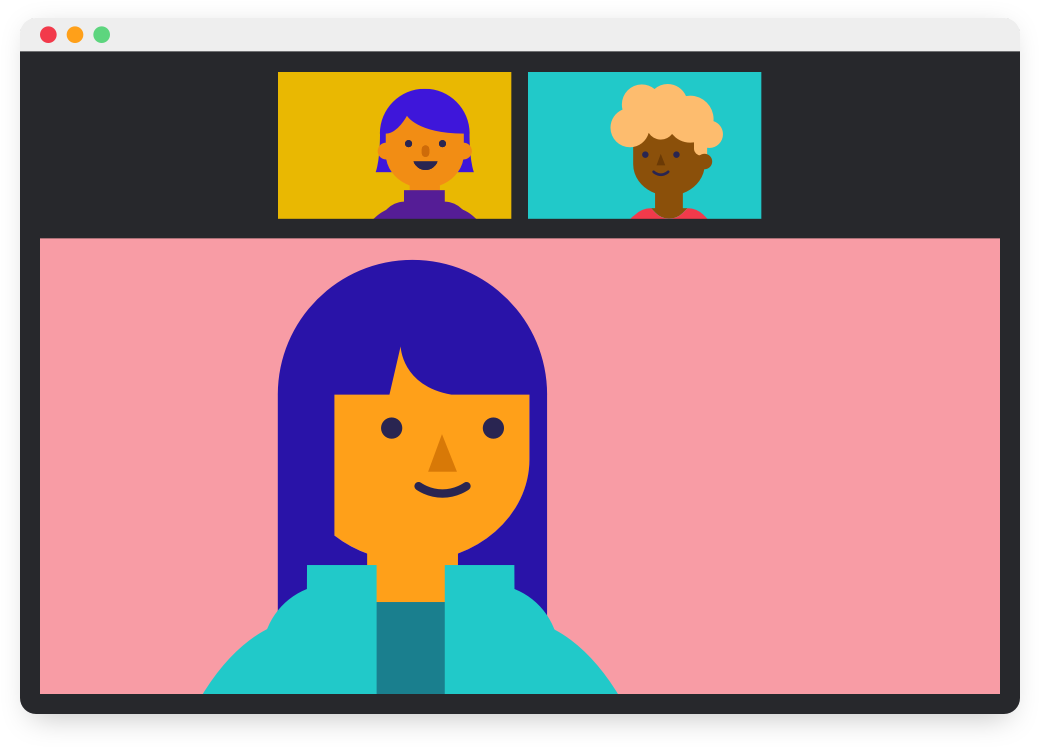 Image credit: Redbooth
Ringing the praises
Redbooth has undoubtedly spent time and effort developing a smooth, easy-to-use interface. Elegant and simple, the Redbooth solution comes with a short learning curve.

The company's focus on communication between team members is not only well thought-out but well executed and intuitive.  

By offering a free plan and a premium plan starting at $9 per user per month, Redbooth makes sophisticated communication and project management functionalities accessible to organizations of all sizes.