Too many cooks
The law of diminishing returns is pretty straightforward: It's the rate of decrease in the output of production per every new productive factor. 
Another way of understanding diminishing returns is to consider the popular expression, too many cooks spoil the broth. Basically, adding more people, tools or processes to your workflow speeds things up, but only up to a point. At a certain point, all these extra "hands" just start getting in the way of one another, slowing you down.
Notion, a lightweight, flexible platform for everything from CRM, task and project management, to databasing, takes this law to heart, both in terms of how the company is structured, as well as how the app functions.   
"Software is a lot like that." says Notion founder and CEO Ivan Zhao about diminishing returns. "Without understanding what you're trying to do, adding more people will actually slow you down." Here he's talking about keeping the Notion team from getting too big too quick, wanting it to grow more organically only as necessity warrants. 
The Notion team is still just 14 people. They've actually been turning down extra VC money so as to avoid an endless expansionary model that favors cosmetic growth numbers over product progress.  
At the level of the software itself, Notion couldn't be more in sync with the motto "less is more."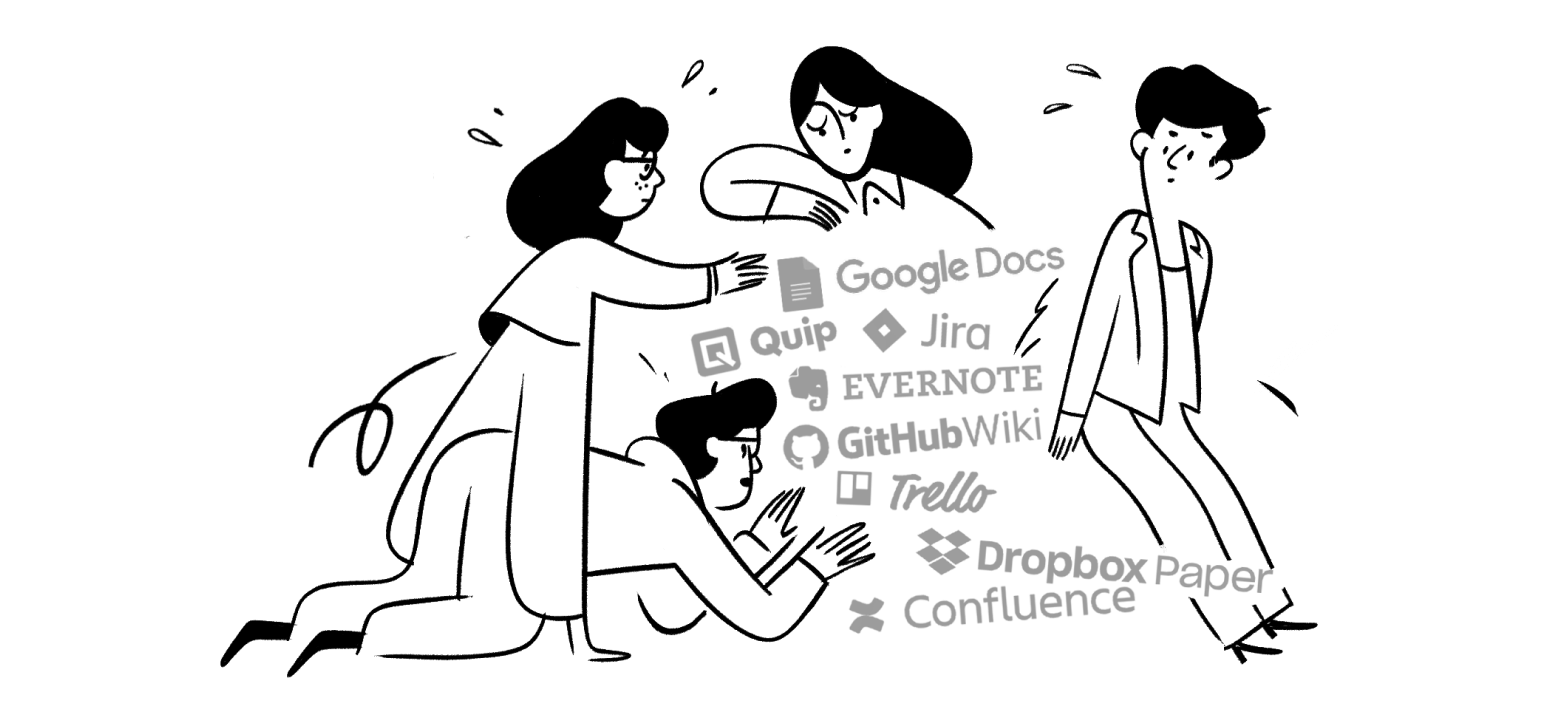 Where we're going, we don't need codes
The idea behind Notion is, don't overload your users with an avalanche of distinct tools and features, each requiring its own learning curve. Rather, provide a few easy-to-use excellent features that can be mixed and built-upon in modular ways according to each individual user's needs.
In other words, Notion is useful for absolutely anybody who uses computers for work, school, projects or a personal organization—no coding experience required. 

The look and feel of Notion
Blocks, pages, templates
Notion works by creating or uploading blocks: These are anything from a to-do item on a list, an image, an uploaded document, a blog post, or a contact lead.
These blocks are put on pages—for example, a project, a planner, a wiki database—and become workspaces that can be shared with teammates for collaboration. 
You can start with a blank page (like a blank canvas) and add blocks to it. Conversely, you can use one of the Notion templates to get started, or make your own template from scratch and subsequently share it with the Notion community, if you like. 
There are loads of templates for all sorts of organizational purposes, from basic to-do lists to team databases and project roadmaps. 
Beyond that, templates are grouped into categories, like for school (for teachers or students), designers, engineers, team tools and personal tools (which include fun stuff like meal planners, exercise routines or apartment hunting).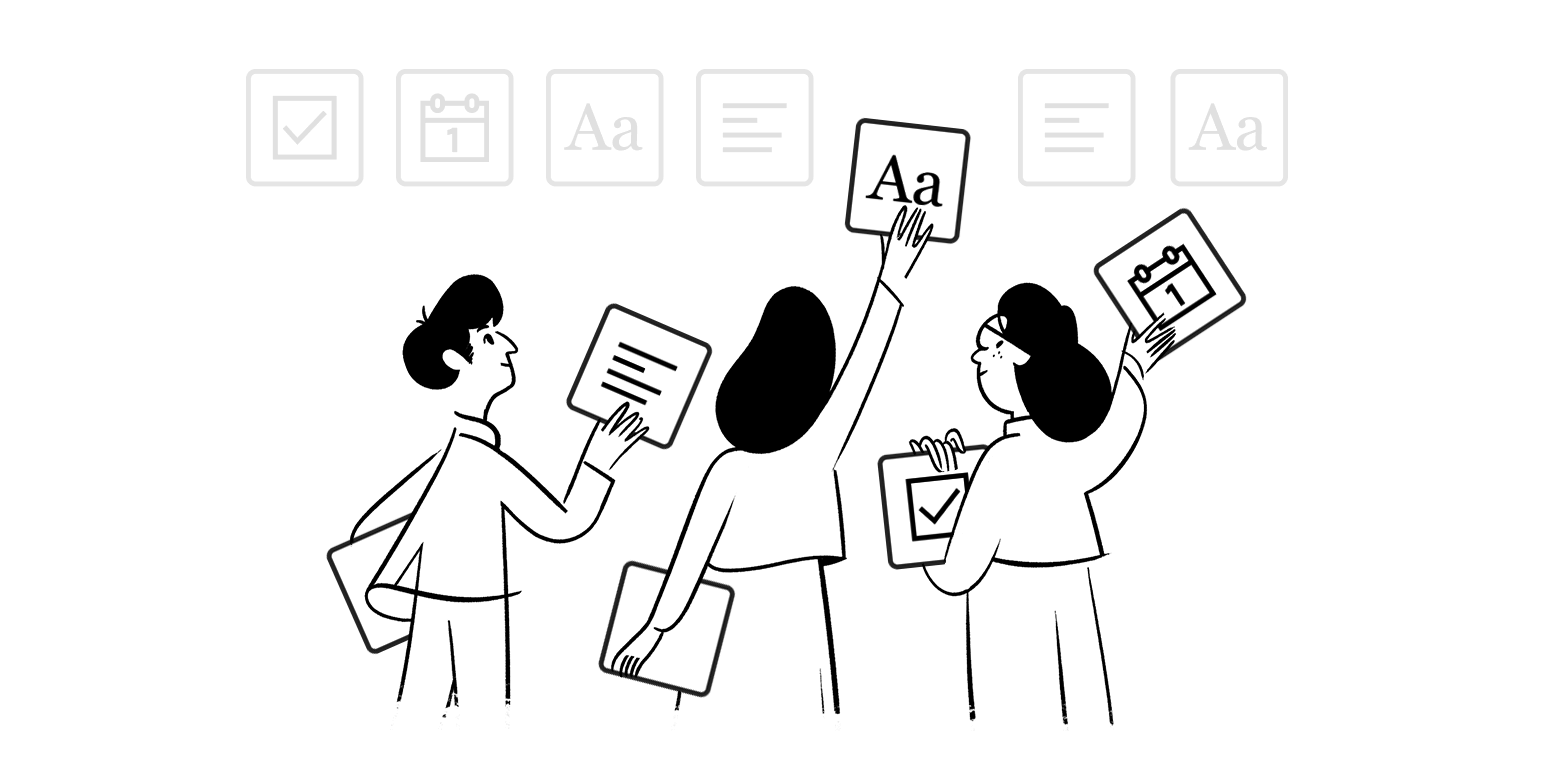 Views
Most templates offer several different viewing styles and it's simple to toggle back and forth between them to determine which one best suits each page's purpose.
The most traditional view is always Table, especially for databases and organizing information. It's like a spreadsheet with common columns for status, tags, priority, and for assigning a team member to be in charge of each item. 
List view is a neater, more minimalist version of the table view, used for quick one-click access to all the listed pages.
The board view follows Kanban logic. This is great for tracking items on a to-do list towards completion or monitoring larger projects with many moving parts progressing through stages.
The gallery view is for images and other media. It's a series of cards as if pinned up on a wall, showing the image and a few select properties that you can choose to display, like name, tags, or contact information. 
Finally, there's a calendar view, great for event planning or product launches. Items slip onto small cards on their designated date (within the month grid), or can stretch across multiple dates.
In any view, there's a helpful filter option, letting you see things like blocks with certain tags or items assigned to specific people. You can create custom filters plus there is a sort and a search function.

Bespoke tools, unlimited
Once you've gotten the hang of adding blocks on pages and seeing these workspaces from different strategic angles, the tools you can create are numerous and versatile. 
Notion's primary way of positioning their utility, however, is by replacing many other popular apps with each of their tools. Aside from your email and Slack, Notion is coming after the big players one by one. 
Notes & Docs
Here, their sights are squarely set on replacing the need for Evernote and Google Docs.
With Notion, you can begin with a blank page or a template—many popular ones are listed on the sidebar, which you can edit. When you work off a draft, you can 'tab' through the fields you want to fill in or add other property fields. 
Arranging pages with text, titles, to-do list, database, embeds, media (it takes over 30 types), and other blocks is easily done with drag-n-drop functionality. There's inline @ use for mentioning teammates, date reminders, or to mention other pages. 

Knowledge Base
Notion takes on GitHub, Wiki, and Confluence with their knowledge base system, which they refer to as "tribal knowledge," the aggregate intelligence of a group, team, or company. 
The knowledge base is a collection of documents or pages grouped under one parent page, which can be private or shared as a wiki page. 
Tasks & projects
When it comes to tasks & projects, Notion is a high contender against Trello, Asana, and Gira. 
Here you track progress status on tasks; bugs that need fixing; sprints, which are a set of time-bounded tasks that need a push; and epics, which are big-picture initiatives.
Each item on a task list becomes its own page, which can be assigned to one or more team members. You can insert notes, due dates, tags and priority levels. The default view here is the board version, but you can see it in other views too. 

Spreadsheets and databases
Finally, Notion can be used as a Google Sheets or Airtable alternative for all things database related.
Aside from the obvious database stuff like inventories and reading lists, Notion is great for a personal, freelance or small operation CRM. A contact card opens up to a new page with the basic CRM template waiting to be filled in. 
If you have pictures, switching from the table view to the gallery view is easy as pie.
Any notes tied to a contact relating to a date will be automatically plugged into the calendar view. And if three months elapse since you've made an update to a particular contact card, you'll receive a "time to reach out" alert by their name (you can edit the timeframe and the alert message).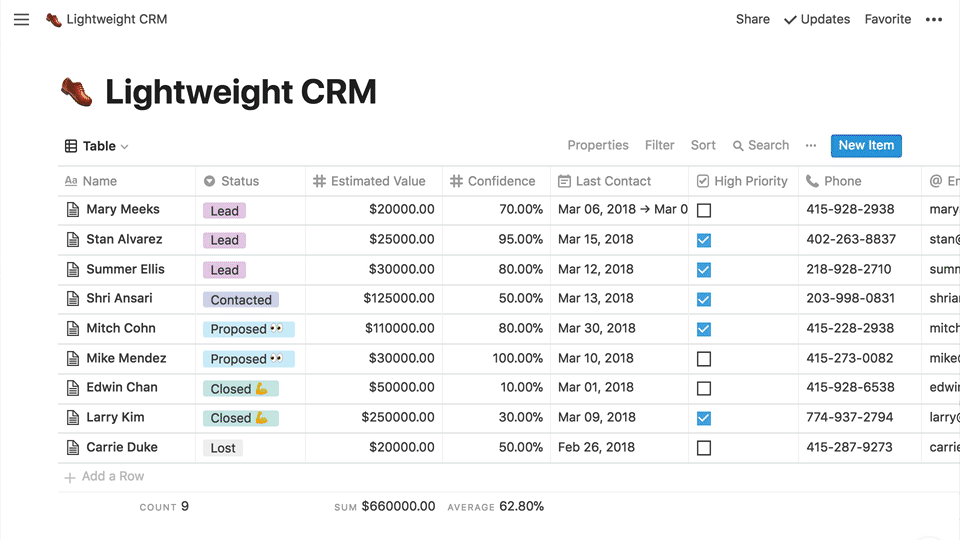 Inventing the future 
Notion was founded in 2016 in the belly of the tech beast: San Fransico. It's frontman, Zhao, grew up idolizing computer gurus like Alan Kay and Douglas Engelbart. 
Like any company, they've progressed in fits and starts, with the occasional supportive boost here and there (Zhao's mother even bridged some money once).   
Now things are really beginning to skyrocket. They blasted past the 1 Million user mark back in March. Perhaps that competition-take-down strategy is working.
Here's how Zhao sees it: In the beginning, there was a struggle between a handful of players. Then Gates's company came out on top, covering all basic utility and professional purposes (docs, spreadsheets, etc.). 
Now, there are a plethora of B2B apps again. 
Zhao is "hoping that we're in this pendulum swing from one product, Microsoft Office, to too many SaaS products. And now the pendulum is swinging back towards something more bundled up again."
That's where Notion comes in—breaking away from today's modern work tools and creating something entirely new. 
Keeping it lightweight, elegant, and most importantly, modular is just that future-of-work imagination that may make Notion the next bundle of workspace awesomeness.