Insightly Does CRM With CX Front-and-Center
Since 2000, more than half of all Fortune 500 companies have gone under or been absorbed by other businesses. 
In the opinion of Insightly's founder and CEO Anthony Smith, this is all due to rapidly changing customer expectations. The companies that have gone up in smoke, or are well on their way,  are those that refuse to move away from legacy systems and sales force automation-centric solutions. Meanwhile, companies that work hard on customer intimacy will retain and expand their user bases. 
That's why Insightly's CRM for sales, marketing, service, and delivery is all about tailoring UX for best practice CX.
Insightly and the rules of the game
Founded in Perth, Australia in 2009, the company (now based in San Francisco) takes pride in being "the CRM for building lifelong relationships," a platform primed to meet our tricky, sticky contemporary business landscape, where one misstep can mean your customer walks out the door and over to the next vendor. 
Of course, streamlining sales and achieving organizational efficiency is still important, but what's most important is fostering customer relationships of a certain intimacy that will survive disruption by competitors. As Smith notes, customers "want deeper relationships with businesses, ones that go far beyond the purchase transaction." 
According to a report by Gartner, businesses should be looking into improving real-time responses and using analytics that drill down through the nuances of the customer journey.
Customer analytics are now the #1 most important tech investment, and CX is king.
With that in mind, Insightly lasers in on helping your business develop customer relationship intelligence. 
Checking out app features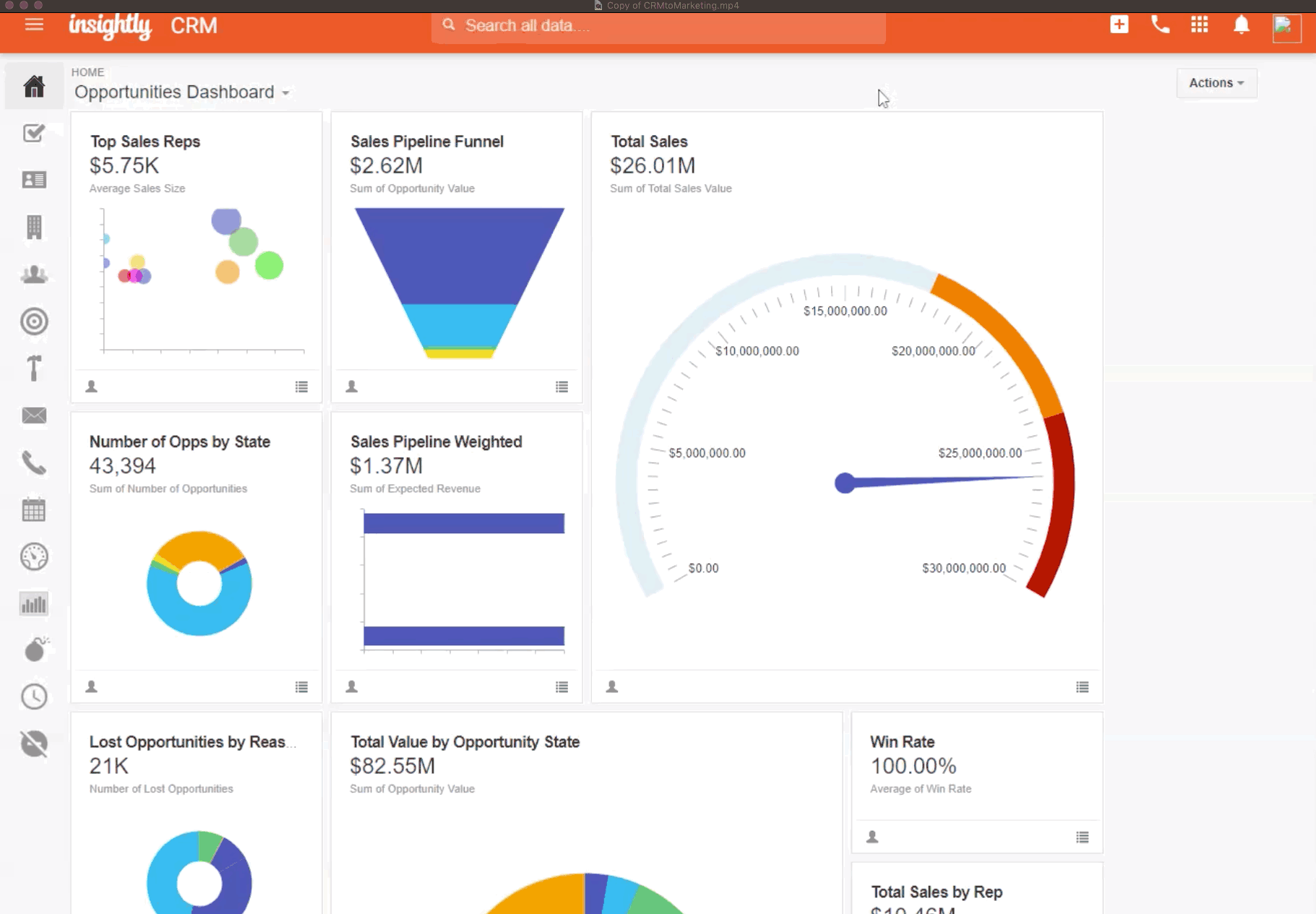 Insightly builds its CX-first vision into all the classic CRM features you'd expect, like lead routing, workflow automation, contact management, and in-app email with tracking and bulk emailing to lists.
The platform offers data capture and storage, robust analytical tools, and a long, long list of app integrations to help you streamline your business processes. Native pre-built integrations, open APIs, Webhooks and custom code execution in isolated containers give Insightly users unbounded flexibility to integrate with tools they already use and ones that they would like to integrate. The platform also syncs with G Suite and Microsoft Office 365 and offers web and mobile versions for both Android and iOS.
Really, at the end of the day, Insightly's strength lies in its unified CRM platform solution with SFA and marketing automation, helping you nurture leads in automated customer journeys.
We deep dive into some of Insightly's most notable strengths below.
Marketing automation and project management
Alongside CRM and sales force automation, Insightly offers marketing automation plus delivery and project management applications on the same platform. This is a major advantage when trying to solve the all-too-familiar challenge of managing fragmented customer data silos. 
With Insightly's marketing automation and project management tools, you get all those juicy features you may need for B2B use cases including: advanced reporting, contact and account management, advanced customization options, email templates & tracking, lead management, opportunity management, pipeline management, project delivery, relationship linking, workflow automation, and seamless marketing automation integration for account-based marketing.
Relationship tracking
The Insightly platform acts as the single source of all customer data, tracking customers from the very first digital touch of a visitor on a website (or app) until the last touch at the end of the customer's lifecycle. 
These customer interactions include website visits, file downloads, form fills, chat logs, support tickets, event attendance, mobile sessions, and custom events from third-party apps. Each interaction is viewable at all times by any customer-facing team—marketing, sales, delivery, service, and support. 
By linking customers, records, and other information, Insightly helps you build a web of related contacts and can also help track the development of your relationships with other organizations (this is very useful for B2B).
Part and parcel to this is being able to track individual customer interactions with your company's team members, bosses, and partners. This is super helpful, for example, when dealing with a group of customers at another organization, because you'll be able to know who reports to who, their relationship statuses ("boss of so-and-so," "friend of so-and-so," etc.), and any other unique characteristics.
Integrated sales pipeline
Insightly has a reputation for its smooth pipeline integration between CRM features, like managing contacts and customer data, tracking opportunities (aka sales leads), and assigning tasks to team members with handy to-do lists. There's also the option of setting up automated pipeline alerts, and it's easy to generate visual, Kanban-style sales reports.
You can also build custom pipelines with statuses that trigger custom activity and workflows as you advance through different stages. To increase the complexity, you can create an "activity set" that generates a collection of tasks and events when a given stage is triggered. 
This integrated sales pipeline works as part of Insightly's overarching CX-centric philosophy. Everyone gets more visibility, and processes are refined in a way that caters to customer needs, bringing best practice results. 
Business Intelligence (BI)
Until quite recently, it's been tricky to implement Business Intelligence (BI) in small and medium-sized businesses, but Insightly's easy-to-use BI features (powered by Microsoft Power BI) are built into its various dashboards in a visual, legible way—without any significant learning curve. 
BI aggregates historical and real-time data within your CRM platform, allowing you to make more informed decisions from observable trends and metrics. 
Customization
Insightly's analytics, reports, and dashboards are easy to create, pleasing to view and shareable across teams. These inform better decisions throughout the business. 
The platform also includes dynamic customization features like custom fields for contacts, custom layouts for dashboards, and a drag and drop editor. You can also set advanced permissions to restrict access to custom dashboards.
Custom data capture and custom data validation rules help you tailor your database so it's in line with your business requirements.
The Insightly Sidebar™
Insightly is one of the top CRM software for Gmail users. The Insightly Sidebar™ runs as a handy Chrome extension, letting you save Gmail messages directly to your CRM so you can build contact and lead information. It also lets you bring up CRM info on the side as you work in your inbox. 
You can then view related records, like location, industry, past and pending deals, and past communication, so your next email is easier to write and better informed.
A CRM for 2020
Insightly started out targeting small businesses pretty much exclusively. Now it serves over 1.5 million users and 25,000 businesses worldwide, of many shapes and sizes, even mega-small (the platform continues to offer a "no-frills" free plan for up to two users), though it is still known best as a top CRM for small and midsize enterprises.
In an age of rapid disruption, Insightly's relationship-centric business model has proven both durable and effective. In October 2019, Gartner Customers' Choice ranked the company in the top 6 of sales force automation platforms, alongside legacy heavyweights like Salesforce and Microsoft Dynamics 365. 
By ensuring that CX is the major imperative in every aspect of CRM, from sales pipeline to contact record, Insightly shows what this genre of software can, and should, do for businesses in the era of improving customer relationships. Delivery and project management, marketing automation, deep customization options, Gmail integration, business intelligence for increased personalization—it's all there, and it's all pretty, pretty good.