Voiceflow: The Voice App for a Conversational Experience
From matters of mere convenience to life and death situations, interactive voice response (IVR) technology is quickly becoming the future of human-to-app interfacing.
Voiceflow takes up the challenge of enabling non-coders to design and build their own voice-commanded apps.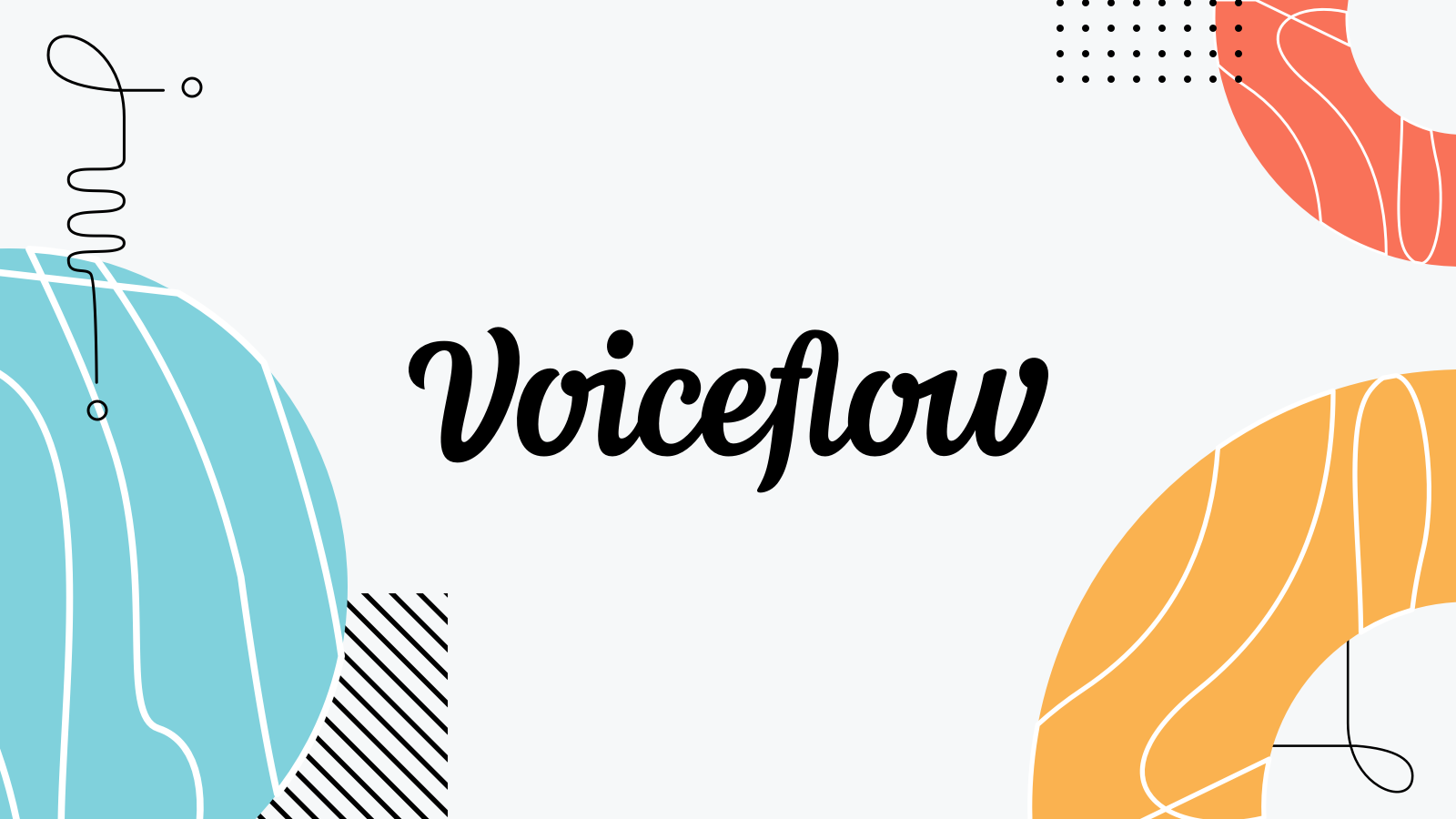 The future is voice
The idea behind Voiceflow is to democratize the creation of voice apps the same way Wordpress made blogging a snap for the masses or how Photoshop made image editing a more intuitive experience. 
If you're unsure about the future becoming increasingly VUI, think about this: The number of digital voice assistants in use at the end of 2018 was 2.5 billion; by 2022, it's expected the number will be up to 8 billion (a 220% increase); while currently, about 32% of Americans own a smart speaker.
It's safe to say, the future is indeed chatty.
Working with the big names
Voiceflow lets you build voice apps for Amazon Alexa, which is on more than 100 million devices, and Google's Assistant, which is on at least a billion. These apps (called Skills with Amazon and Actions with Google) are functions that can be taught to perform tasks within their respective devices—an easy example would be asking your voice app to, "turn on the lights," to electronically flick on a light switch. 

Breaking down Voiceflow
Using Voiceflow is simple, intuitive, and offers a wide selection of helpful resources—including forums and video tutorials.
Onboarding 
Whether you're an entire work team, an individual user, or working on a collaborative project, Voiceflow has the ability to host a range of users. To get a sense of its users' intent, the platform begins onboarding with a quick three-question survey as soon as you sign up:
Are you using Voiceflow for personal or work?

Are you interested in using Voiceflow for 'Design & Prototype' or to 'Build & Publish'? 

How much coding experience do you have? None, a little, a lot?
Taking the time to answer these questions not only gives you a better experience while using the app, but also helps Voiceflow improve their product for you, the user.
Drag it in
The main actions in Voiceflow happen within a universal canvas onto which you drag blocks. These connect with each other to form a flowchart design, or dialog tree, that visually represents the interaction between user and app. Another option is to view interactions in a wireframe structure.
While working within this canvas, you won't be forced to pick Amazon or Google right off the bat. Instead, you can begin by designing for one system and then toggle back and forth to tweak for each platform's specificities, all within the same app design.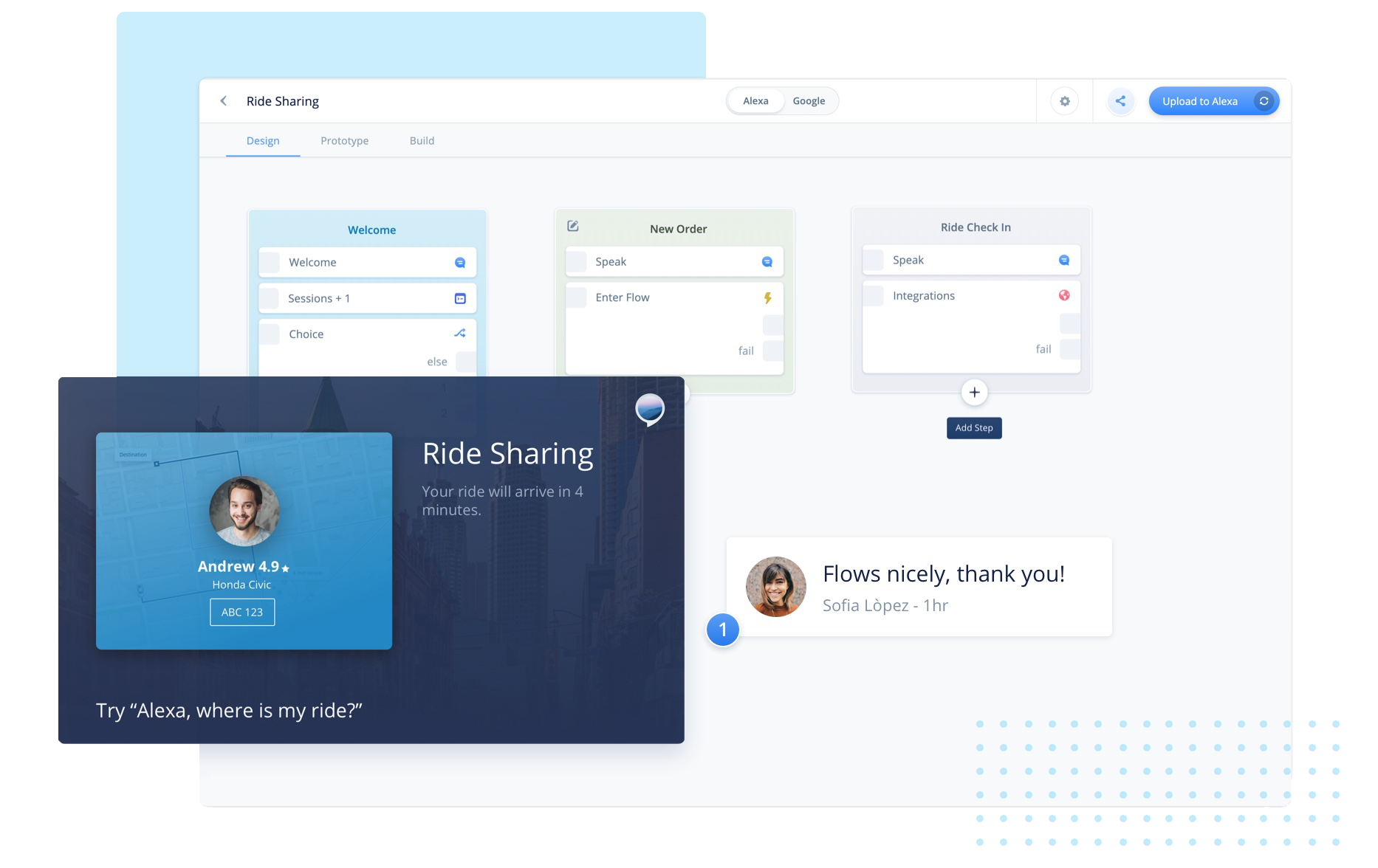 Block it out
The Start Block is the wake-up event of a voice program—It's like when folks say "Alexa" to get her attention. Depending on what kind of app you're making, there can be different ways to kick it off.
The Speak Block usually comes next, which is how Alexa will respond to move the program along. It can be something as simple as "How can I help you?"—in which case, you know Alexa is waiting for you to give it some instructions.
These various instructions—or requests, or questions—are broken down in Choice Blocks. You can add a bunch of choices per block, and depending on what you say, Alexa will recognize it and proceed along with the right choice to the next block.
For example, if you're designing a voice command app to assist with cooking, you could have a basic back-and-forth pattern of Speak and Choice that might go something like this: 
(Start:) Alexa, I need a recipe.
(Speak:) What kind of cuisine do you want to cook? 
(-> Choice:) Italian, Indian, Iranian.
(Speak:) For how many people are you cooking? 
(-> Choice:) One, two, three.
(Speak:) How much time do you have? 
(-> Choice:) 15 minutes, 30 minutes, 1 hour. 
At this point, if there are no more Choice branches, the app can filter down to the best recipes that match your criteria and suggest an option.
You can do a lot with Speak and Choice, however, there are plenty of other blocks for further functionality options, such as the group of Logic Blocks.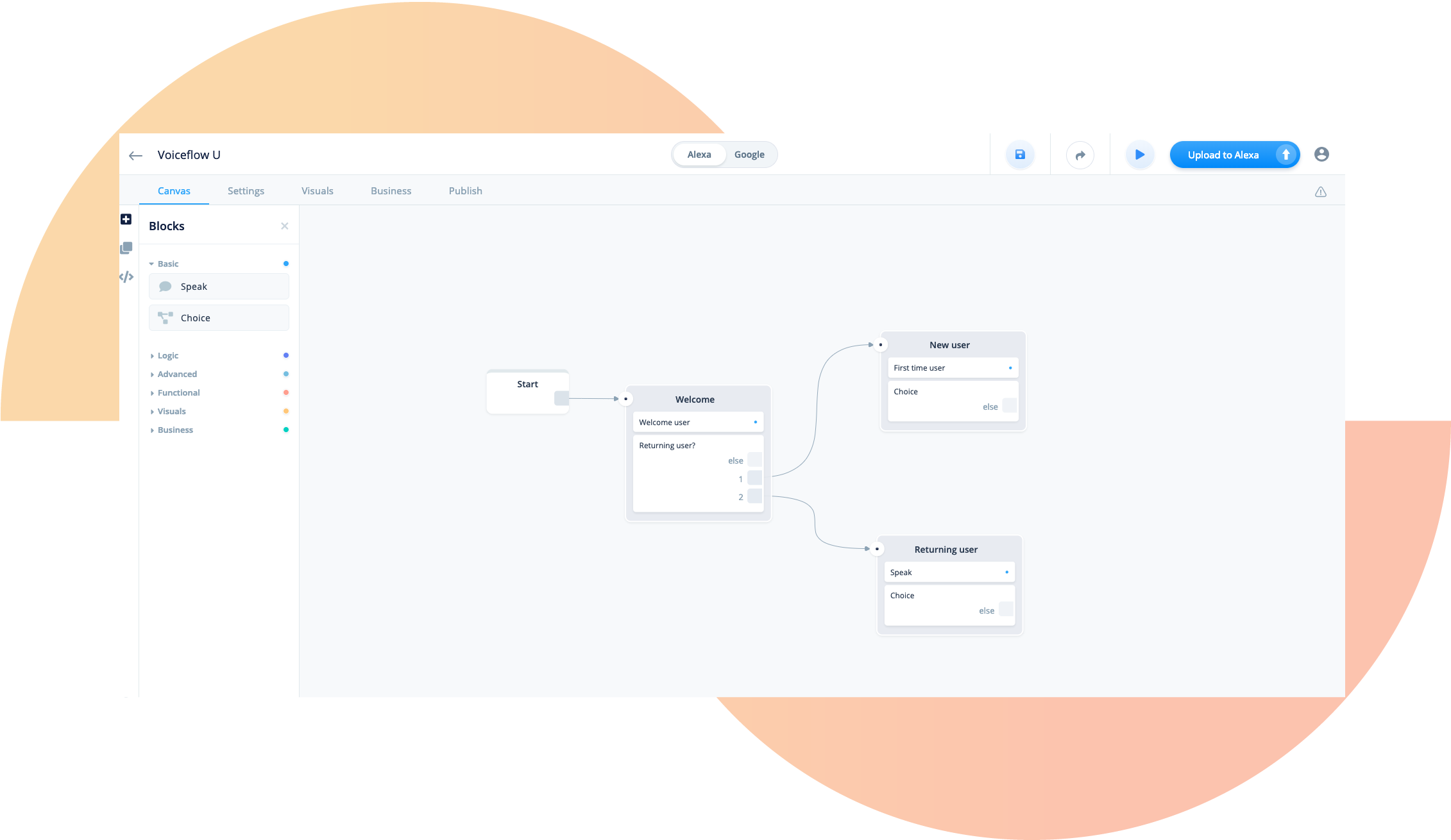 Let's get logical
The Logic Blocks help create a different, more personalized voice experience for each user session.
For example, let's say a first-time user of a recipe app is asked if they have an allergy to shellfish. If the reply is 'yes', the next time your user interacts with the app, the recipes will be filtered to accommodate their condition.   
You achieve this with a Set Block that makes use of conditional logic and variables. It saves you time in the programming stage if you want your voice assistant to be re-using certain terms a lot, such as the user's name. 
This gets used along with a Capture Block, which listens for the user to say a certain variable and then plugs said variable into Set blocks.
An If Block allows you to create IFTTT flows depending on the user's answer. The last Logic Block is a Random Block, which functions almost like a 'shuffle' option for a music playlist. 
Commanding attention
Lastly, there are the Command blocks, which can be activated at any time while a user is interacting with the program. That is to say, these commands interrupt the normal chain of events because the user has a question, needs help, or simply wants to pause or exit the program. 
Voiceflow even offers a few templates for the most common of these commands: asking for help or pausing the program.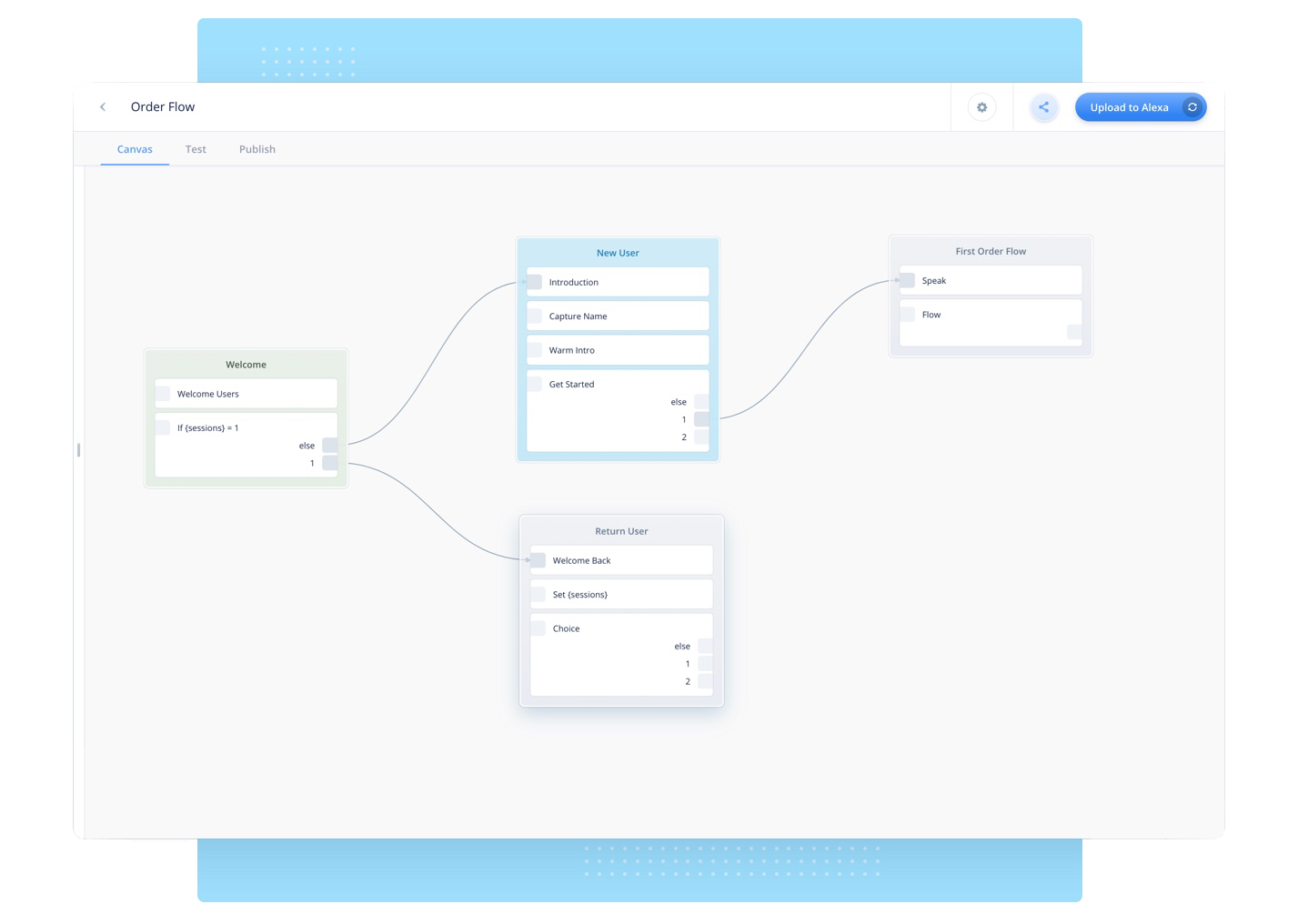 Simple & affordable 
Solo users can test out a free version, limited to three projects. Upgrade to Pro for $29 per user per month and receive unlimited projects, priority support, and room for up to three collaborators. The Business plan offers unlimited collaborators, projects, account linking, and build support for $99 per user per month.
The vocal shift
The history of voice assistants in popular culture is rich: from Knight Rider's KITT to the more deadly HAL of 2001: A Space Odyssey.
But when it comes to our very own Google-contra-Alexa Corpo Tug-O-War, here's to hoping we don't escalate into something dystopian. 
Fortunately, Voiceflow is looking at a different kind of future, where anybody can leverage the power of Amazon and Google with their own custom-built voice apps. 
CEO and co-founder Braden Ream explains Voiceflow's goal is to "help train [voice user interface designers] and give them a platform that's accessible, where they can collaborate with each other." 
As Voiceflow helps unleash the VU creativity of the crowds existing outside the Amazon-Google core programmers, Ream hopes "to see a tremendous uplift in the quality of conversations" we have with our voice assistant apps.