Overloop CRM Review 2022: Features, Pricing & Benefits
Whether you're a one-person business, a young and promising startup, small business, medium business, or mega-corporate enterprise, leveraging a great CRM solution for your business is absolutely crucial.
So we're happy to parade a new system down the CRM runway with Overloop CRM. This article is going to provide you with a bit of company history before really unpacking the many amazing CRM features that Overloop offers. We'll also break down the pricing plans and compare them to their free CRM package, as well as include a couple of screenshots of their various interfaces and dashboards (note: screenshots may become outdated as time passes, but if you head on over to overloop.com, you'll see that latest look).
What Is Overloop CRM?
Overloop CRM got off the ground back in 2015. The company is based in Namur, Belgium. The original idea for Overloop was simply a Google Chrome extension, allowing salespeople to gather contact information like email addresses off company websites from directly inside their Chrome browser.
Today, Overloop is a near-total CRM software and sales engagement package. Its main focus is on inbound and outbound conversational marketing and selling. It has a special set of tools which let sales reps transform their email into a powerful lead generation and deal management system.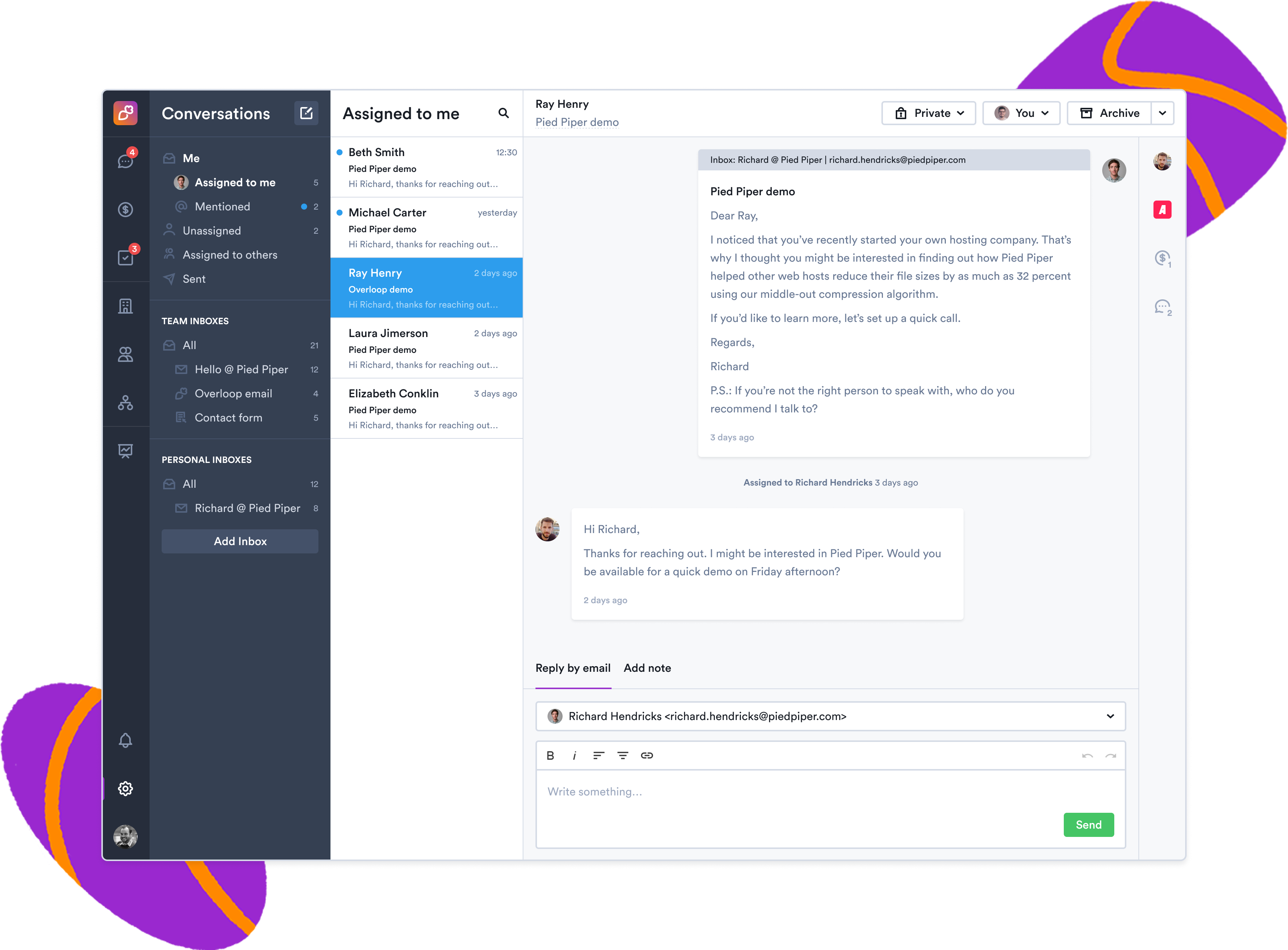 Overloop Feature List
Here is a list of some of the main features of Overloop CRM:
Contact management

Inbound and outbound marketing

Deal and pipeline management

Productivity management

Document management

Email tools

Overloop email finder

Workflows and automations

Analytics, forecasting and reports

Overloop mobile apps

Integrations
Contact management
All CRM tools revolve around customer relationships and for this Overloop has got you covered. Not only does it help with the organization of your contacts, but it can also help you with lead generation, that is, finding new contacts to hopefully inject into your sales pipeline. Group your contacts by company or organization, or add custom fields for further grouping and filtering. With these you can make detailed lists or "smart segments" which allow for personalized messaging. What's more, importing contact data from spreadsheets, and exporting that data for 3rd parties, is a snap with CSV files. 
Inbound and outbound marketing
We call this marketing, though at Overloop they tend to use the word "conversations." That's because this is not your old-school advertising game, but a form of inbound marketing which is more modern and personable, like a conversation. You can easily set up outbound sales sequences. On top of this, Overloop has web form features with over 1,000 pre-defined fields. And what would conversations be without a live chat tool, which Overloop also offers.
Deal and pipeline management
First off, there's a great simple visual dashboard for keeping track of all your deals in the sales pipeline. It has the functionality of a kanban board, meaning you move deals across stages from left to right until completion. The stages are customizable, and you can set up real-time notifications when a deal changes its status. When you create deals, you can add notes, documents or specific tasks. Pipeline management also shows you stats on deal profitability and deal rot, which is when a deal doesn't progress in a while, nudging you to take action or move on. 
Productivity management
Salespeople are probably the most motivated people in business, but that doesn't mean they can't benefit from CRM tools to manage their productivity levels. Task management lets you set up your to-do list whether it's making a call, sending an email or taking an action. You can add notes and files to tasks, and then see everything in an activity timeline. Added functionality is there for sales reps to actively manage their time and deadlines.
Document management
Sometimes referred to as a content management system, or CMS, when you are dealing with teams, it's a good idea to keep all documents in one place that is easily searchable. This lets team members work together on docs, and everyone will be aware that they are working on the most up-to-date version. Document management is even more crucial as more companies allow remote and stay-at-home working.
Email tools
Overloop CRM has a massive slew of amazing features to transform your email into a powerful inbound and outbound selling machine. As email marketing software, you get your templates to build great-looking email campaigns, and these templates can be modified and saved. Email syncing lets you connect your regular email account to Overloop (like Gmail). You can also track your email engagement, seeing when someone opens your email and if they've clicked the link inside it. 
Overloop email finder
No matter how great a conversationalist you are in your emails, you can always use new emails to have more convos and create more deals. Overloop has a tool to find the email of anybody online. You can search for specific people by first or last name when you know the company they work for. There's a bulk email finder, which also de-duplicates the contacts and emails in your list. An email verifier checks why an email has been ignored, in case it's no longer active or even if it was incorrect. There's also an email finder Chrome extension, which is also available through Overloop's API.
Workflows and automations
We touched on this briefly above, but it's worth really explaining again. Workflow automations are a great way to cut down on repetitive tasks which are nothing but time-killers for your salespeople. Overloop makes it easy to set up rules-based workflows, where you select events that trigger new events. For example, when someone fills out a web form, it will trigger an email going out to them thanking them. Workflows function with time delays too, so you determine how long after an event occurs before the next event gets triggered. Automation is great for tasks, deals, and data updates.
Analytics, forecasting and reports
As you and your team market and sell, you're creating reams of data in the wake of your actions. Overloop's analytics show you pipeline performance metrics, as in how your sales cycle is doing, where the drop-off points are, and the win rates, among other trending data points. You also can see which sales rep is crushing it and who might need more motivation through goals and objective leaderboard features. Revenue forecasting is a big part of analytics for getting a good idea of what's trending, future sales stats and growth figures. 
Overloop mobile apps
Overloop CRM has created solid native apps for all sizes of devices with fully responsive interfaces, which means the screen adjusts itself if you are on a mobile device, tablet, laptop or desktop computer. As of writing this text (for the 2022 Overloop review), they are currently in the works to get their dedicated mobile apps ready for both iOS and Android. Regardless, the responsive interface works really well on your phones as it is. 
Integrations
It begins with a REST API, which lets your dev team build add-ons and other custom processes inside Overloop, or integrate it with their own apps. However, Overloop has a hefty integration marketplace where you can connect this CRM to plenty of popular SaaS. Included here are apps like Slack, Trello, Mailchimp, QuickBooks, Asana and Zoom. It also offers 2-way contact syncing with HubSpot and Salesforce. Meanwhile, other CRMs like Pipedrive allow for Overloop integration for Overloop's lead generation features. You can also use Zapier, the integration software, to make your Overloop work with over 700 other tools.
Overlook Pricing Plans
Let's take a look at the pricing system for Overloop CRM, which offers a free version and an advanced premium plan.
Overloop CRM plans 

Monthly price

Annual price

Website

Overloop Free CRM

Free

Free

Overloop Advanced

$79 per month

 

$69 per month

 
Email Finder credits
Every user registered with the advanced plan with Overloop can use the Email Finder tool 250 times per month (so-called "credits"). You can also buy extra credits per month, starting at $39 per month for an additional 250 credits, and going all the way to $299 per month for an additional 10,000 credits.
Difference between the free version and the advanced version
Both versions get you unlimited contacts, organizations, deals, lists, smart segments and workflows. For more customization you'll need the advanced version. Also, reports and insights don't come with the free plan. For pipelines, you get one max for free, and unlimited ones when you pay. For advanced email tools, only the premium plan gets you automation, email tracking and page-visit tracking, among other things. Both plans, free and paid, offer chat and email customer support from Overloop (as of now, their customer support does not provide a phone number).
Is Overloop CRM Any Good? Our conclusion
If you need a free CRM system that can help you find new contacts, remain in touch with them better throughout the sales process, and gives your business overall great outreach and communication abilities, Overloop CRM is a wonderful choice. What's more, the premium Advanced Overloop can be quite worth the price tag, especially as your team grows, as every additional user results in the total price per user getting more affordable.
That's about it for our Overloop CRM review. Hope you figured out if this CRM is right for you.