Milanote for Startups: Visual Communication for Creative Crowds
On first glance, Milanote comes off as something like a cross between a mood board and a project management tool. Visually oriented and crazy flexible, it's very much made with creatives in the crosshairs.
Milanote was first released at the start of 2016. It's now favored by a growing contingent of freelancers and startups, with a user base numbering upwards of 35,000. How'd they get so far so fast?
Well, it seems they've found a sweet spot, hitherto unexplored, between note-taking and project management apps.
Milanote thinks it's 'square' to be just a note-taking app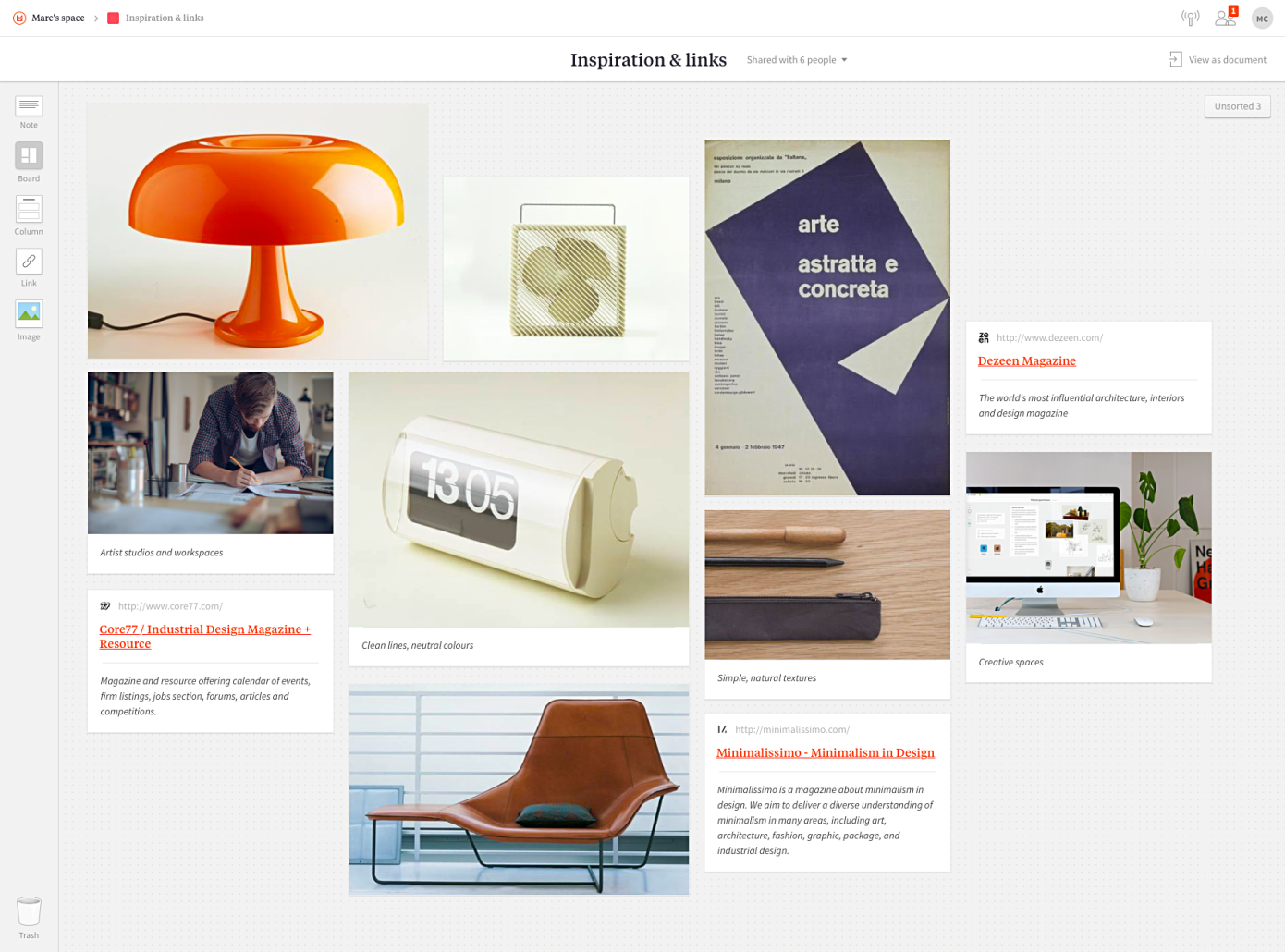 Image credit: Milanote
The driving idea behind Milanote is this: when you can put all your notes, images, tasks, files, and messages in one place, you free yourself to connect ideas. When you collaborate and share ideas in-app, you bridge individual initiative with team critique and insight.
Visually oriented, creative professionals are often looking for ways to declutter and think straight. In theory at least. So Milanote's big wager is that we'll be thrilled to stop flipping between Slack, Dropbox, Google Docs et al., all the livelong day.
The company's CEO, Ollie Campbell, initially spearheaded Milanote as an internal tool for his existing business, which was focused on user interface. The concept was to invite 'spatial communication' on a single horizontal surface, providing a simple but effective means to get the idea ball rolling toward best practice.
Milanote's basic DNA is definitely comparable to note-taking apps like Evernote and OneNote.
However, it takes things further by letting you complete not only the researching and brainstorming but also the work afterward in-app. This double-whammy of planning and execution is where Milanote's unique value emerges.
Storage, backup, and data syncing all takes place within the web-based platform. You can export project boards to PDFs or else invite clients, suppliers, or anyone else involved to collaborate on the board itself. There's no mobile version yet, which makes it a bit tricky to use on the run, but that should be coming soon.
As usual, the free version has a data cap, but you can pay up for single user or team subscriptions with unlimited storage.
What Milanote does, it does with a lot of templates
Honestly, the Milanote platform is so customizable that it borders on madness. You could use it as a giant whiteboard for your latest graphic design project, or a place to map out and develop user experience for your next website. You can basically build whatever kind of project board you need from scratch.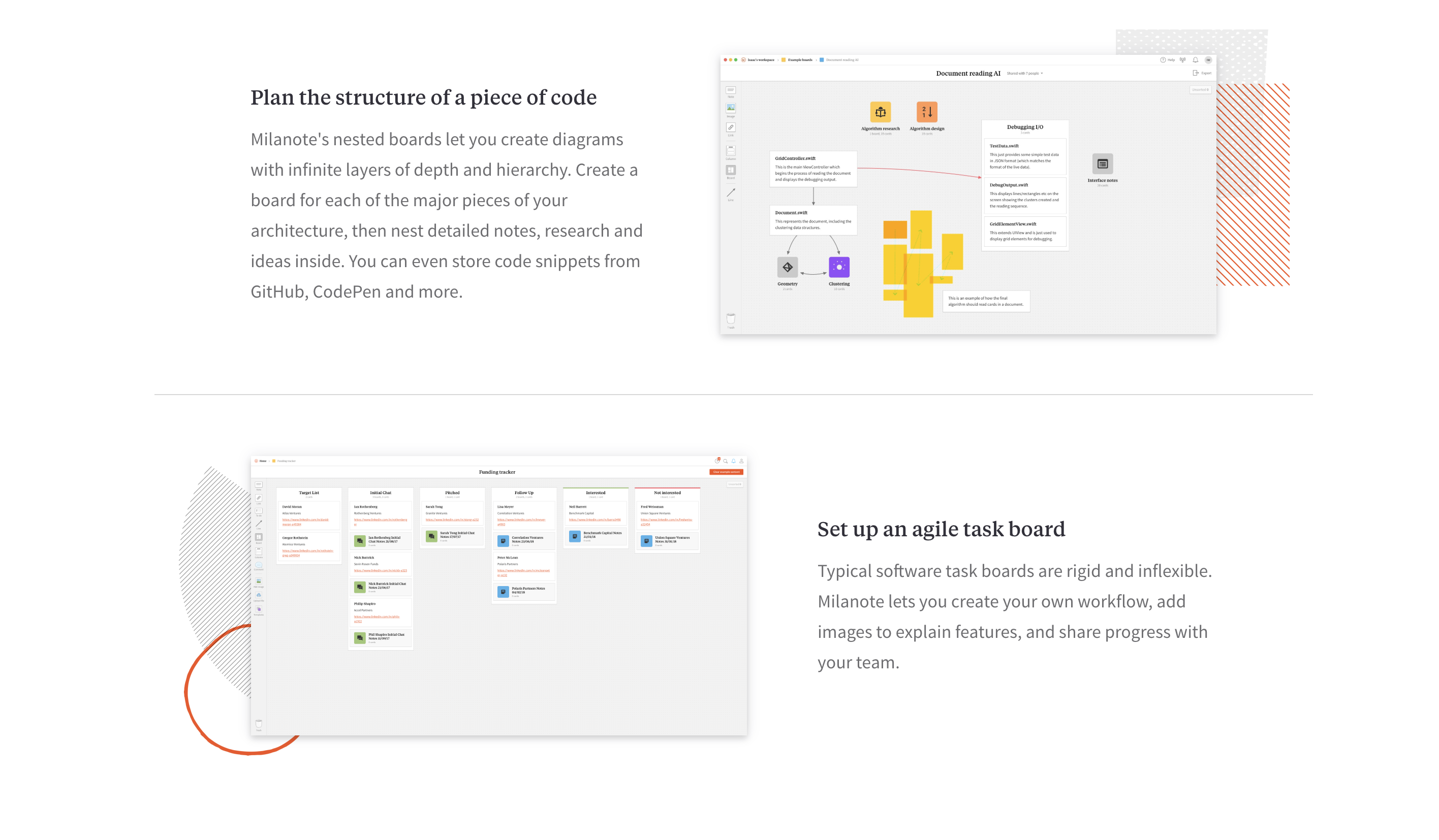 Image credit: Milanote
Of course, not all of us have time for that. Others tremble at the thought of such terrible, horrible freedom. So, to get all us normies on the wagon, Milanote provides some seriously varied templates, each designed to tackle the specific workflow of your business.
For startups, there's a template called Lean Canvas built to handle risk and innovation. Speedy, collaborative, and ready for remote work, it can help you develop your unique value proposition, work out customer segments, and deal with key metrics, cost structure, revenue, and more on one shared screen.
Milanote isn't a CRM, but it does offer super-minimalist CRM functionality too, as put forth through a smattering of CRM-y templates. These include sales pipeline, customer journey, and buyer persona.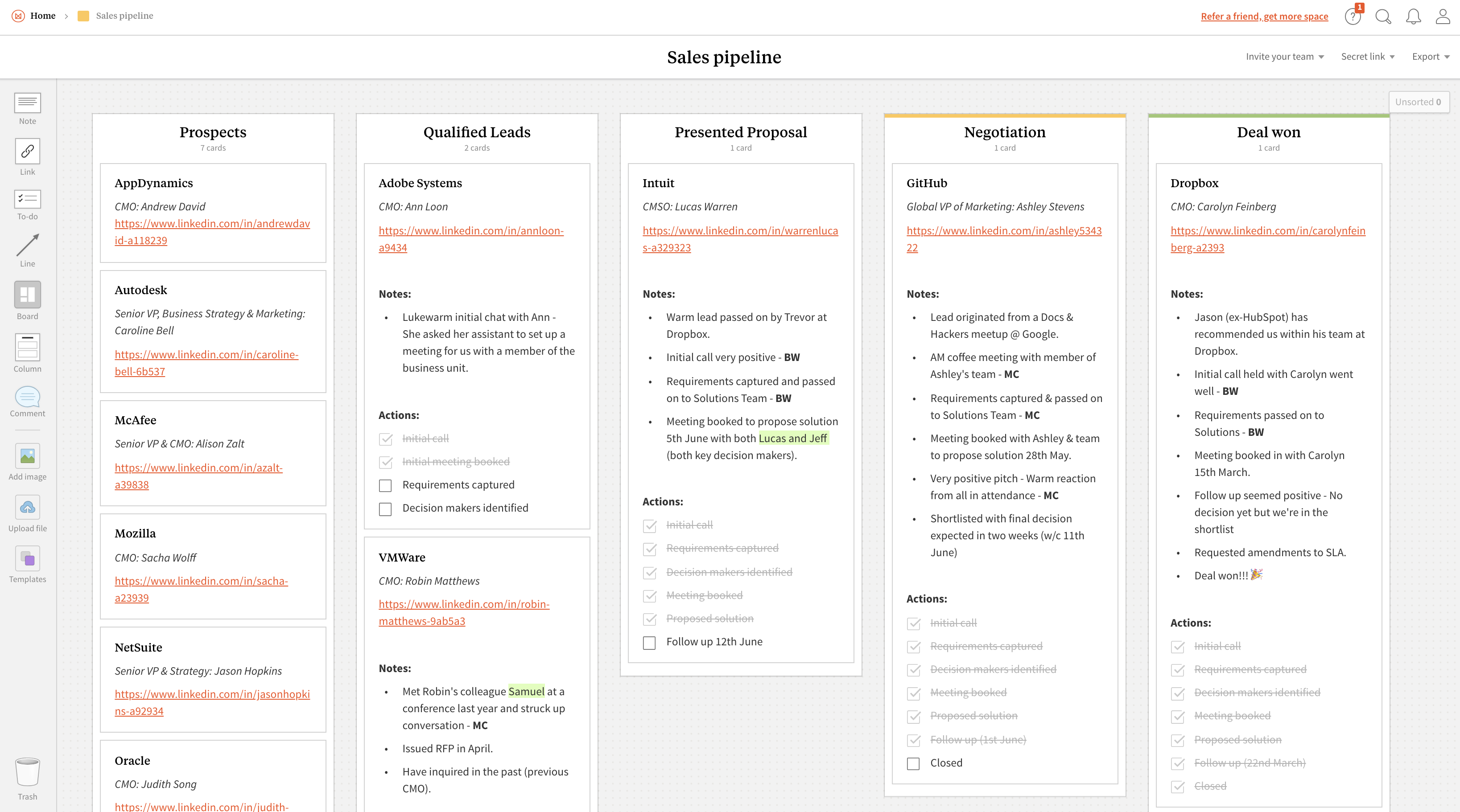 Image credit: Milanote
The simple sales pipeline template is a basic but effective way of tracking prospects from the lead to deal stage. Milanote does this in a Kanban-style card-based view, not unlike, say, Trello.
To begin, you stick your prospects into the first column on the left, then share the board with team members. From there, you move right on to tracking prospects turned into qualified leads, your presented proposals, your deals in negotiation, and your deals won.
The customer journey template helps you work through pain points and decrease churn by mapping out user experiences. You can chart customer journey by stages, the channels, and devices they use to reach you, customer sentiment and identify solutions and opportunities.  
The buyer persona template, meanwhile, provides a place to workshop out who your customers are, and how to reach them. Before you start selling, you can make sure your hunches are grounded in reality, and find out where you should be directing market research.
Extra sub-boards can be nested within the main one, like a matryoshka, so hierarchy and complexity are accommodated within the unassumingly simple format. You'll be able to keep things tidy and keep everything connected.
If you're a developer doing developer stuff, you'll be pleased to know you can import snippets of code from GitHub, CodePen, and elsewhere too.
How real people work with Milanote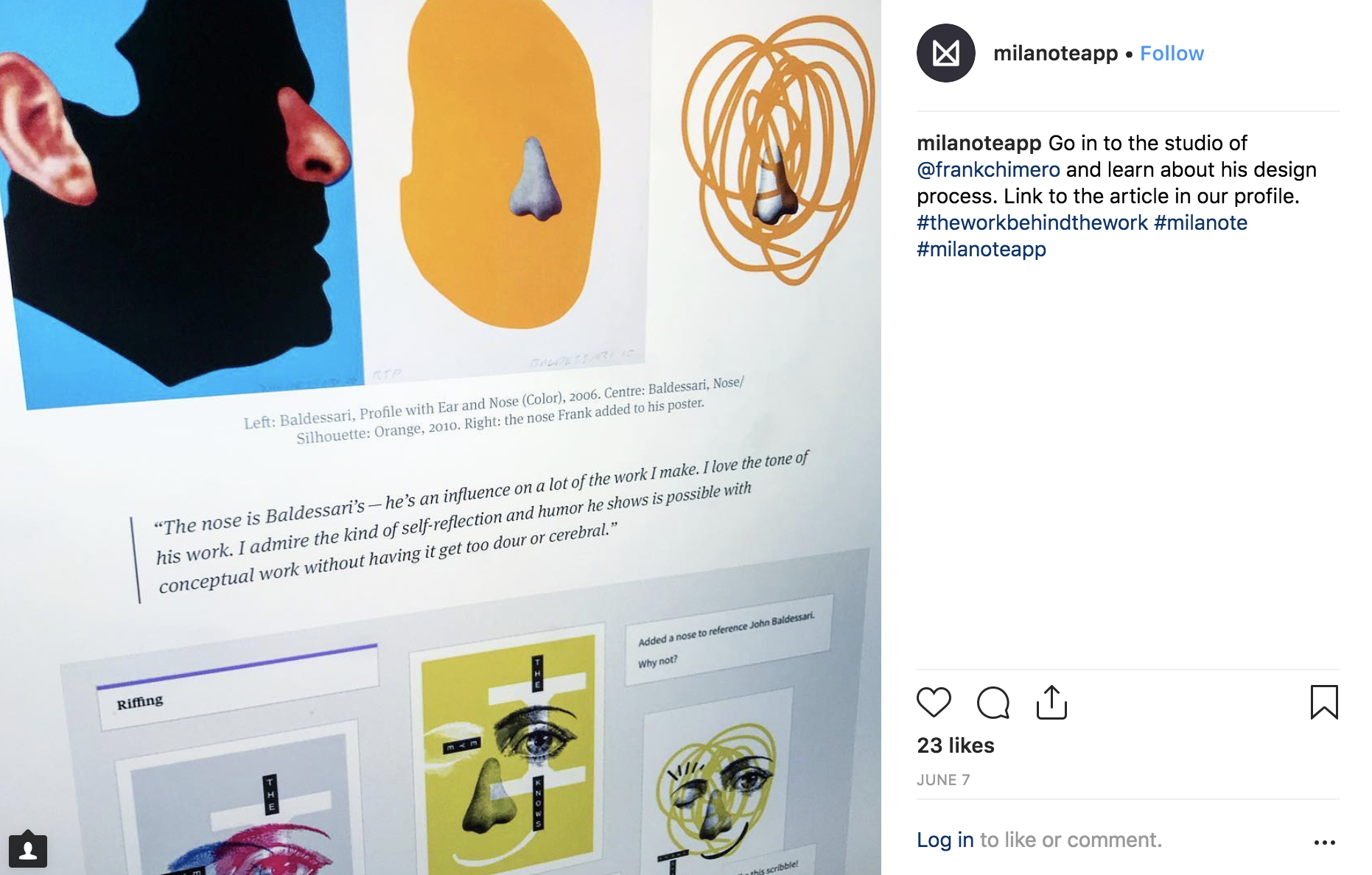 Image credit: Milanote Instagram
Milanote counts folks from companies as varied as Uber, Chanel, and Xero as users. But how are they all making it work with their niche workflows?
Well, Des Traynor, the VP of Marketing for customer messaging platform Intercom, thinks it's great because it lets him work on strategy and campaigns in a dynamic way. He uses Milanote to do things like brainstorm and ideate, fill in a social media calendar, build user personas to better understand the target market, create customer journey maps, and plan marketing campaigns.
Brendan Kearns, the product designer at InVision, uses Milanote to work on user interface. He sees it as a useful place to organize ideas and understand their logic as they grow into something more concrete. Visual boards can collect inspiration from across the web, from still images to video, while the website content template can be used to figure out what works and what doesn't in a painless drag-and-drop setting.
Is Milanote giving us a wee too much freedom?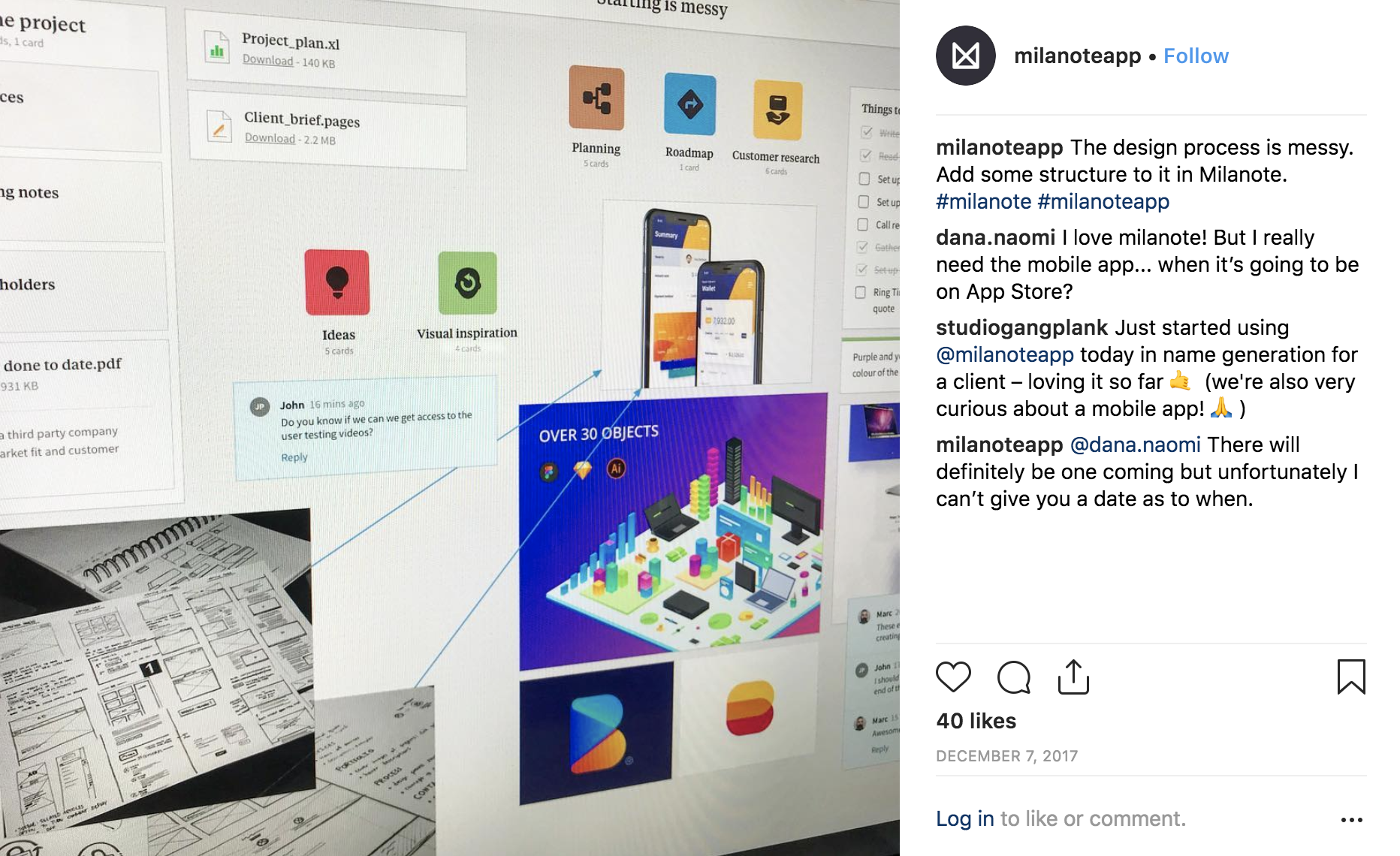 Image credit: Milanote Instagram
Milanote's customization options, as we can see, are vast. That might well be a turn-off for people who prefer circumscribed features, even with the provided templates offering a baseline level of direction.
At the same time, for those who appreciate the challenge of its non-linear design and see value in it, Milanote may be exactly the right tool.
No one can deny it's unique. But is it a unicorn or a minotaur? You'll have to give Milanote a whirl and see for yourself.