Less Annoying CRM Means No More Excuses
Search "CRM" on Google and it gets you over 250 million results. Even more than The Beatles!? It's huge.
Tech companies and startups know about it. But ask around in public, and the story changes.
Shop owners, artisans, contractors, even freelancers. There's still a lot of small and independent businesses that haven't adopted a CRM platform. Sure, they've heard of it, and they know it would probably be useful.
But, you know, learning new stuff can be a pain in the derriere.

Less Annoying CRM (LACRM) gets it. Adopting isn't a totally effortless endeavor. So, at least it can be as minimally annoying as possible. Right?
A walkthrough of Less Annoying CRM
LACRM's lean but nimble CRM tool-belt has got you covered.
The SaaS platform manages all your customers and other contacts. It tracks your leads through pipelines. It helps you stay on top of events and tasks in calendar and agenda forms.
In other words, an all-in-one simple CRM. It's CRM software for sales teams, a holistic management tool, a project management app.
Annoying CRM features are just the ones you need. There aren't a million CRM options.
The app is intuitive and there's no excess. There isn't even a smartphone app. Simply open the web app on your mobile and you'll find it works on Android, iPhone, and tablets.
The main page
Your standard workspace shows you all the day's scheduled events, like meetings, as well as the tasks, like that email you've promised to send. These tasks can be checked off like items on a to-do list. From this workspace, you can switch to a calendar layout, which shows both events and tasks while keeping them clearly distinct.
The workspace gives a brief summary of pipeline activity, showing the number of contacts per each step along the customer journey. For example, you might see you currently have 20 prospects and 10 qualified leads.
There's an activity feed too, and if you are a team leader, you can see what co-workers have been up to. You can always further expand the activity report to search through it for more details.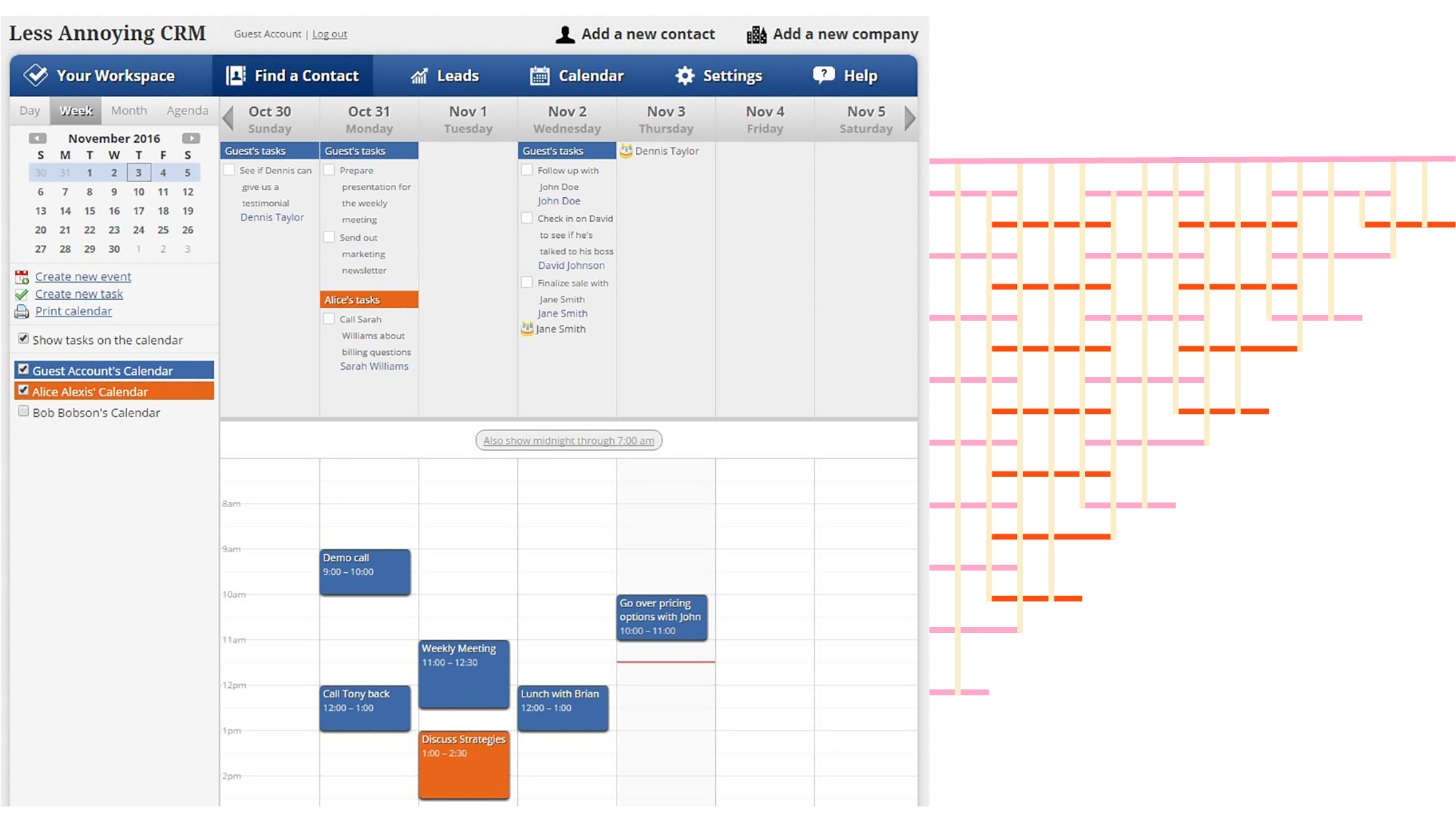 Keeping up with who's who
The contact management dashboard lets you add notes to contacts and upload files associated with them. Get a history of all their events and activities, and add tags.
You can import contacts from spreadsheets, .PDFs, and
The full list of contacts makes it easy to search based on personal or professional details and company name. Contacts can be sorted into groups, and when you create a new group you can choose to keep it private or share it with others on your team.
The CRM also offers a status variable where you see at what stage in a pipeline a contact currently sits. For example, as a prospect, a qualified lead, or a sale. Finally, you can prioritize contacts based on how important they are, or how likely they are to be converted into customers.  
Your time laid out before you
Calendars and tasks follow the same simple and functional aesthetic as the contacts page. There's color-coding based on primary or private tasks and events.
As a team leader, you have the option to view the calendars of your team on top of your own. Aside from viewing the calendar by day, week or month, there's an agenda view which lists all upcoming events and tasks.
Every step of the way
Pipelines and leads are a bit of a drill-down from the full contact list. The latter comprises personal contacts, vendors and other 3rd parties. People and entities that are not necessarily prospective customers.
Lead management lets you track how qualified each lead is as it's moving along the pipeline. There are loads of filtering options here, and obviously "status" is among the most important. These statuses include prospect, qualified lead, sales won, and sales lost.
After a couple of times using these features, you'll get the hang of it.
You can create new pipelines using one of LACRM's templates, or build one from scratch. Templates include obvious things like sales, orders, projects or job applications. When you custom-build your own, you get to name the statuses for each stage.
For example, say you want to make a pipeline for leads who have been sent an email promo to try a free CRM trial of your subscription service. You can set the statuses to:
sent email > clicked the promo link > singed up > done free trial > bought a subscription
Back on the contract pages is where you'll see a list of all your pipelines, so you can insert a contact into one of them and assign them a status. Conversely, clicking on a pipeline shows you every contact who is in it and their status.
Log those emails
Emails written and received outside a CRM platform can get logged inside LACRM. LACRM provides every user with a unique email logging address. You create a contact with whatever email provider you use (it's useful to name it "LACRM").
Whenever you email a contact, you just 'BCC' the LACRM address. LACRM will match the email of the recipient with their contact information on the platform. Then, when you view the contact, you have access to these logged emails.
Similarly, when a contact emails you, you can forward that email to the LACRM email address to log it.  
Integrate and prosper
LACRM syncs with Google Calendar and Gmail. It integrates with a bunch of other apps too, so you can go beyond simple customer relationship management.
For example, there's Mailchimp for email marketing. You can boost social media presence with Facebook Lead Ads. Follow up with better customer support using the Zendesk integration.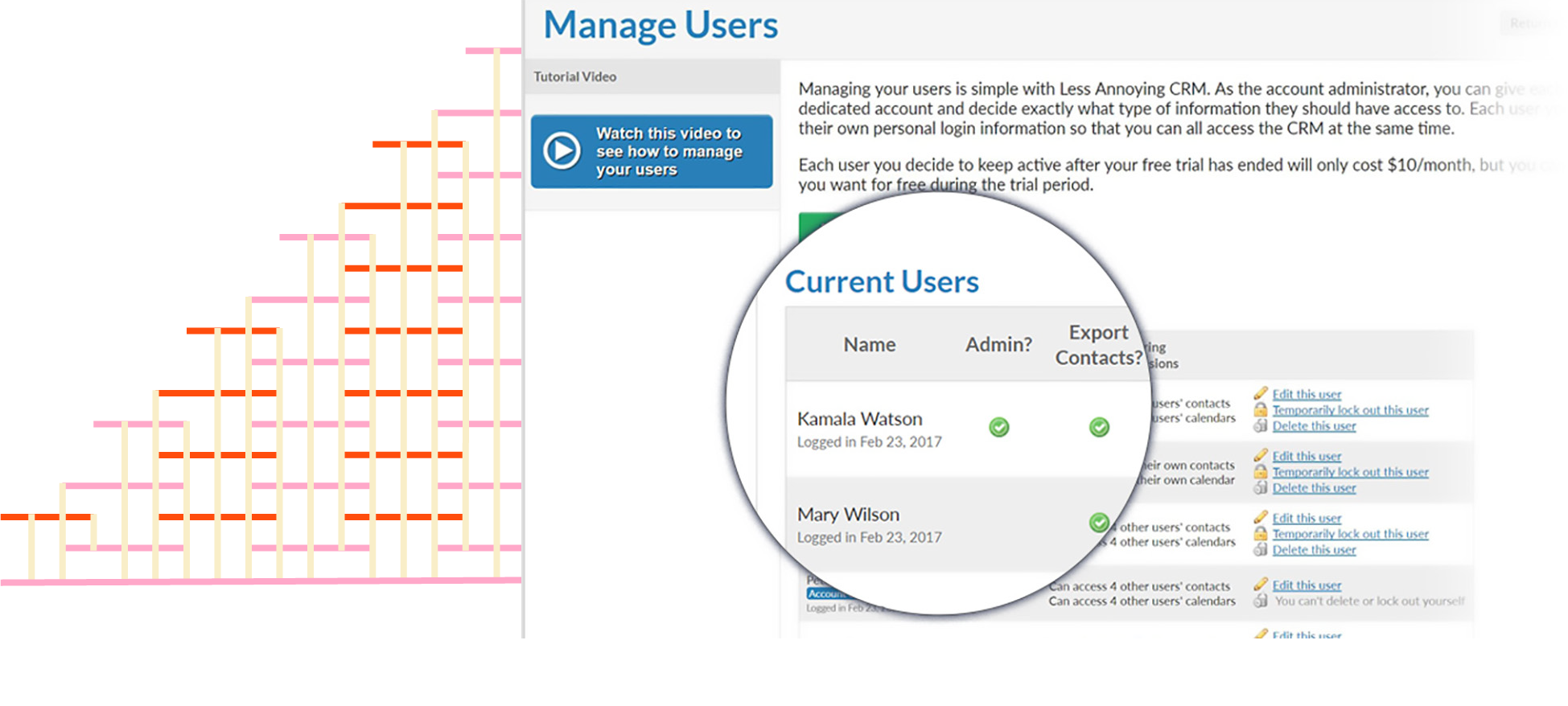 A less annoying startup story
LACRM is certainly no new kid on the block, often ranking in top lists for categories like operational CRM.
They've been in the game since 2009, beginning as the micro-operation of two San Francisco brothers, Tyler and Bracken King. They only hired their first employee in 2011. By 2012 they reached 1,000 users. This year, 2019, saw them kick off with almost 20,000 users.  
Today, they're no longer battling it out for space and talent in San Francisco. They're in the heartland of the United States. St Louis, Missouri is home.
In fact, it is the actual hometown of the Kings.
St. Louis may seem a less-than-traditional locale for tech startups. But the King brothers swear the diversity and talent pool there is as vibrant and as competitive as the coasts. And with much less exorbitant overhead, obvs!
As for spreading their name and message across the CRM universe, LACRM has begun holding annual conferences in St. Louis. Subjects they cover include email marketing, sales, SEO, and content marketing. VIP attendees get extras like 1-hour in-person account audits with a CRM Coach.
But while LACRM's reputation has grown over the last decade, its commitment to helping small companies has never wavered. Less Annoying CRM supports small businesses full stop.
The philosophy is simple: The benefits of CRM for small business are overwhelming. In price and ease of use, Less Annoying CRM helps you smash annoying barriers to adoption.  Annoying CRM reviews show the company is regarded as one of the best CRMs for the little guy.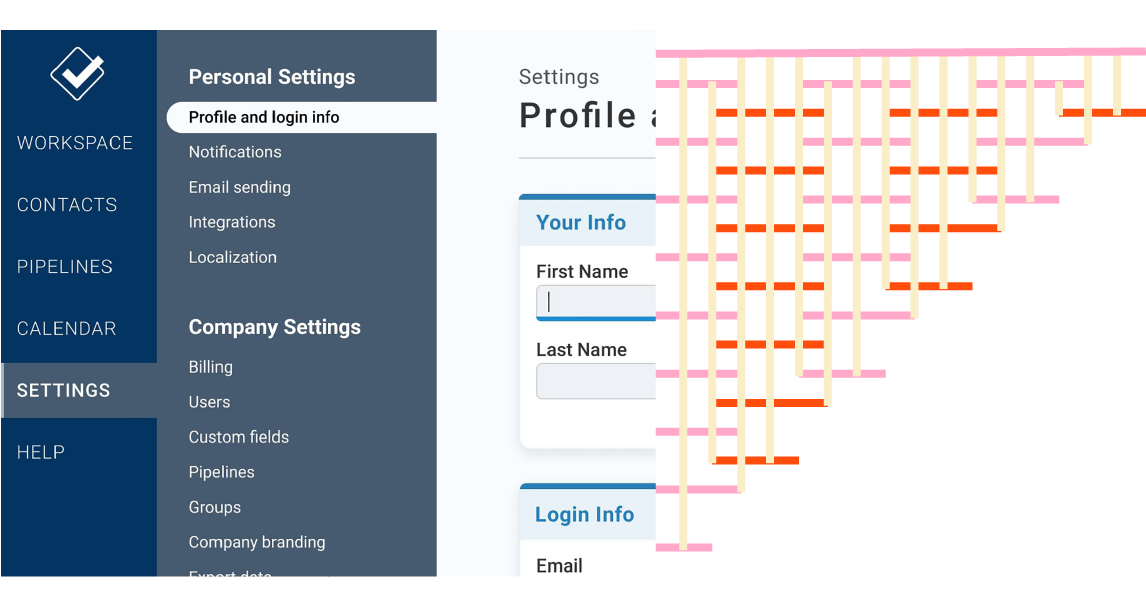 Hold the junk
LACRM has a single pricing plan across the board. Navigate to www.lessannoyingcrm.com and you'll see it. It's $10 a month per user with unlimited contacts, and that's that.
This is definitely good value for money. There's a 30-day trial too, no credit card required.
This price plan is pretty contiguous with LACRM's philosophy.
As the company explains, certain CRMs have "complex pricing tiers, usage limits, long-term contracts, upfront payments..."
And also upsells.
You can never be sure the platform was optimally designed for small businesses.
 Less Annoying CRM suggests that any CRM with several plans actually function best only for the big players. Those who take the Cadillac packages are good to go. But you can never be too sure those "cheap" plans aren't stripped-down versions of the premium ones.
So what does it mean when a company like LACRM boasts of one basic plan with zero extras? It's their way of proving they've dedicated their platform entirely to small business owners.
A simple customer relationship manager that can track leads and drive the sales process. Contact manager, sales force automation, and reporting tools. Very little learning curve.
LACRM provides the least annoying platform with the most basic but useful tools. With "none of that junk" you don't need. It's competing with other established CRMs in this vertical like Keap (Infusionsoft), and holding its own.
No question, the platform was designed for the small business from the ground up.