Gro CRM Locks Down the iOS Crowd
Gro CRM's platform focuses on smaller businesses with an emphasis on mobile, more specifically for Apple operating systems.
That Apple factor
Here's a setup which might sound familiar: Young office workers wake up in their apartments, jump on their iMacs and MacBooks quickly over breakfast, pour over their iPhones and iPads while riding the subway to work, only to finally arrive at the office to log on to their company PC desktops.
Apple products are on average more expensive than competing PC products. Which might explain why businesses eyeing their bottom line have tended to lean away from Apple.
Yet due to Apple products user-friendly interface, a growing number of small firms, hip startups, as well as creative freelancers are dismantling that biased dichotomy of Mac-toy versus PC-tool.
More importantly, why wouldn't a firm competing in the digital age—for market share but also for employee talent—not want to take full advantage of a unified operating system with undeniable "millennial" appeal?  
And so Gro CRM made the intrepid choice to design a sales and customer management platform solely for Apple iOS users (with a desktop version coming soon).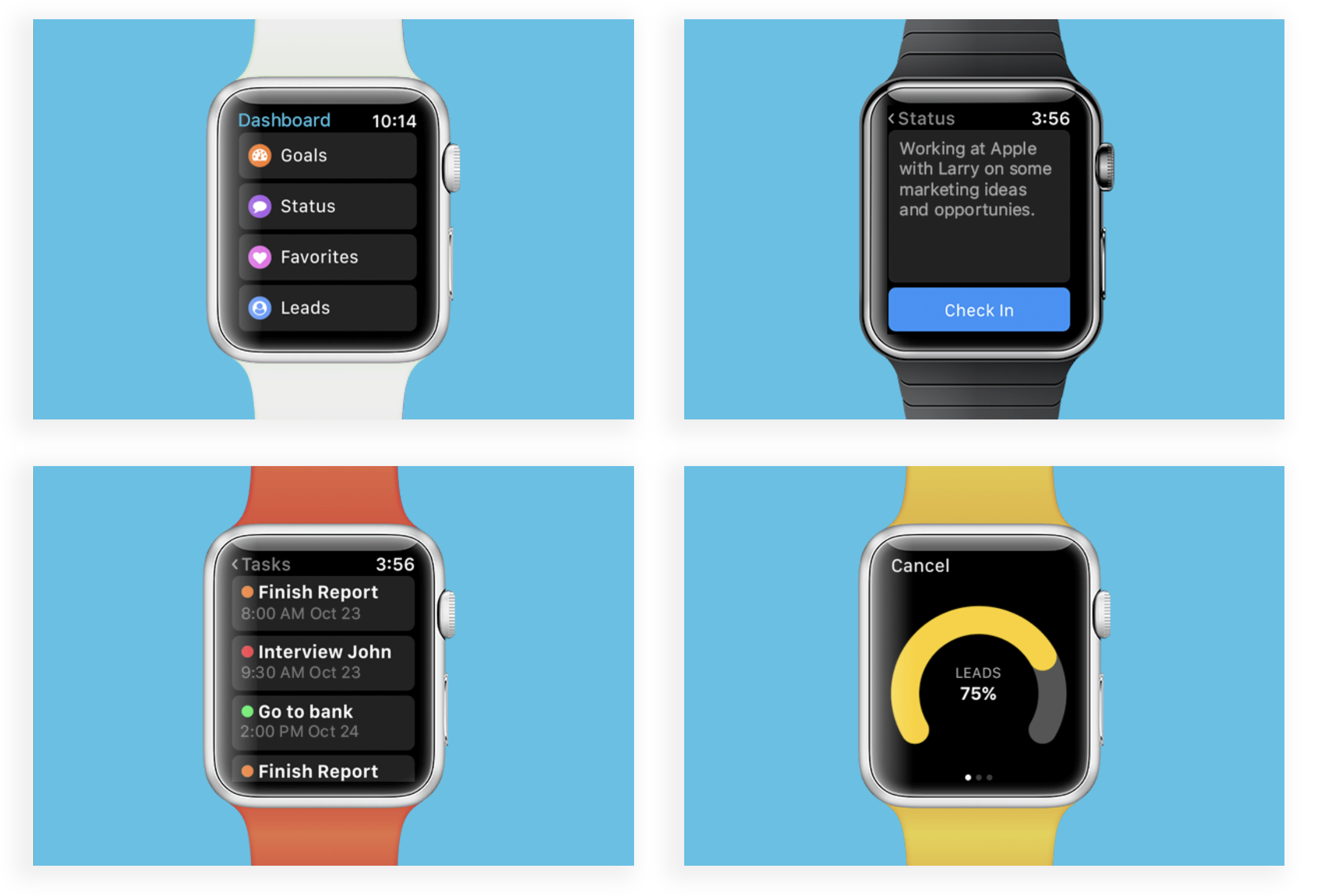 Staying light and nimble
Gro CRM's target users aren't only Apple fans. The platform is also highly-geared towards those SBs, startups, and freelancers. They claim that a team of 10-25 employees is the company size "sweet spot" for their product.
It's not just how many employees are in the office, because Gro CRM is tailored for sales reps to get out of the building and hit the streets. Of course, most CRM have mobile versions, but Gro CRM's is designed, from the ground up, for iOS.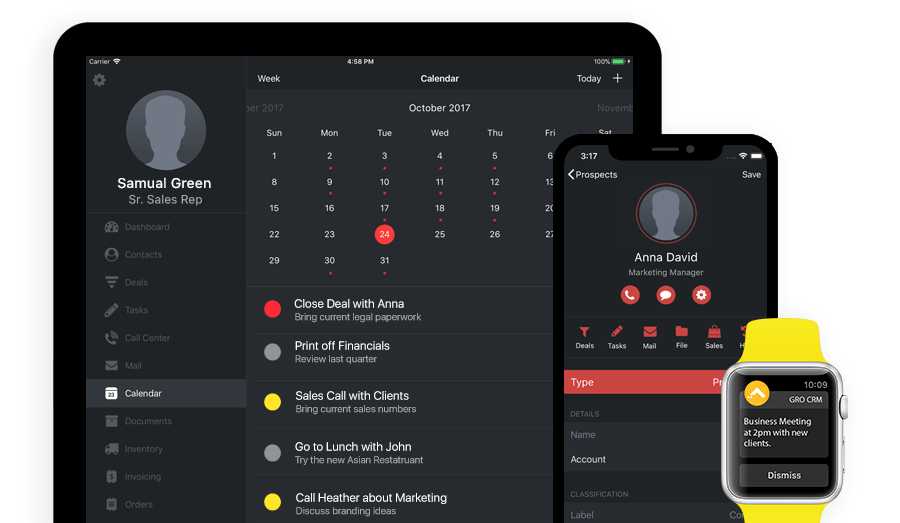 Gro CRM: Productivity through simplicity
At first glance
The dashboard is pretty straightforward because keeping things simple is in Gro CRM's DNA. The UI is super designer-friendly, which dovetails nicely with a Mac user's love of cool and clean aesthetics.
Not to mention that the CRM is easy to adopt and navigate, another boon for startups and SBs on a lean budget who need to get the most value out of a CRM.
At a glance, the dashboard displays analytics for any time duration, as well as shows minute-by-minute updates of new developments, like changes in the numbers of leads, deals, and sales.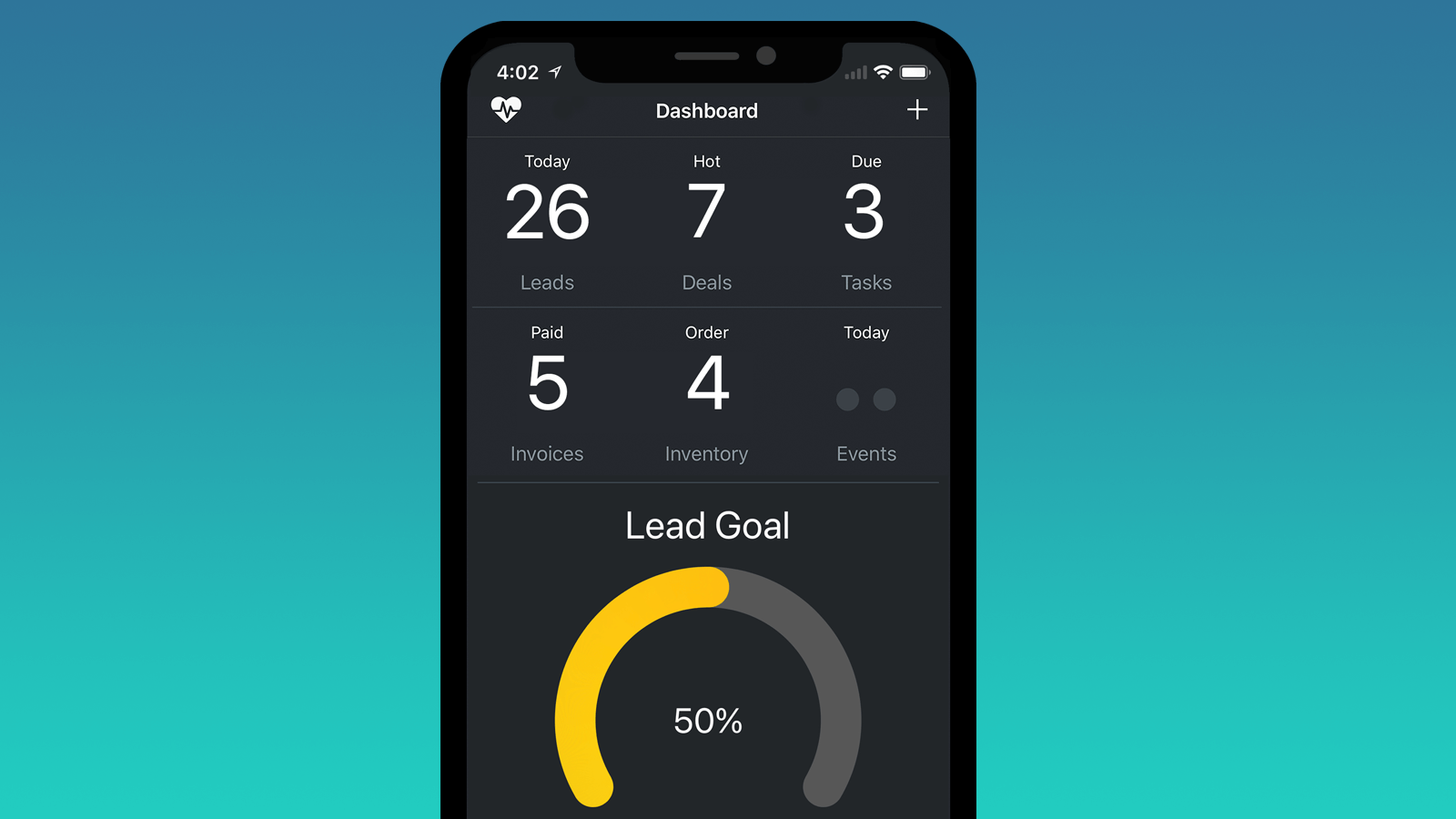 Staying organized
Keeping all leads and contacts well organized is at the core of any CRM, and Gro CRM takes this especially to heart. Along with all the relevant contact data that is accessible, one can get a historical picture of a contact's past engagements, as well as a look into all future planned tasks needed to close the deal or complete the job.
Getting in touch with contacts goes beyond calling, texting and emailing. For when a face-to-face meeting is called for, there's Apple Maps integration which shows locations of contacts and helps with transportation details.
Getting in touch
You might think email tracking is limited to Mac-only integrations, but luckily Gro CRM is more inclusive than that. Aside from importing mail contacts from iCloud, there's also cross-functionality with Gmail, Yahoo, and Microsoft Outlook, among others.
Of course, communication isn't limited to text-based talking, as Gro CRM has a dedicated call center feature too.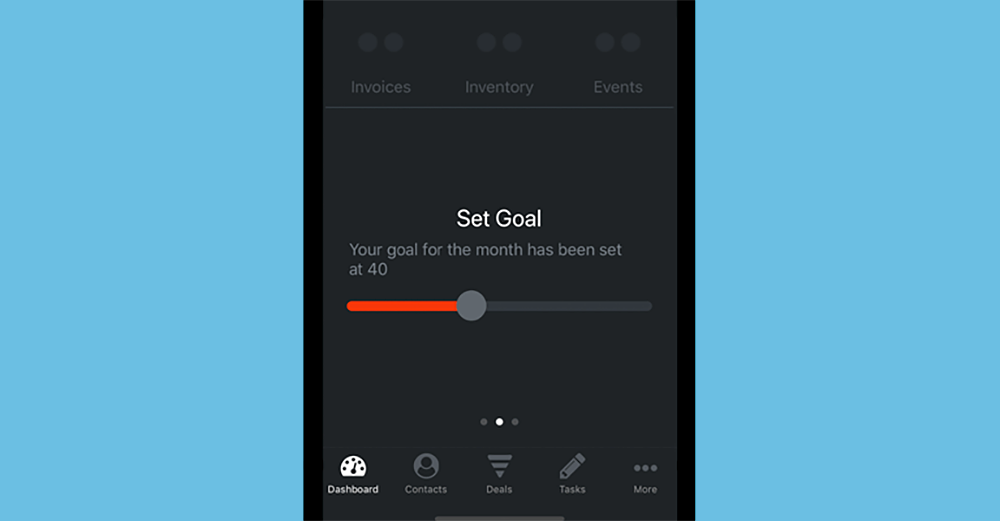 ABC (always be closing)
Gro CRM calls their feature for deals "opportunity management." The focus is twofold: Get more leads into the pipeline, and win more deals coming out. One way they achieve this is by making sure the hottest deals stay front and center.
Deals go hand-in-hand with tasks which are the finer touch points to help nurture each lead on through the pipe. Tasks are sorted by category, like "answer email," "follow up" or "send a quote." Each task can be sorted in chronological order so you always know what must come next, or by adjustable priority settings.

Gro CRM loves their acronyms, and when it comes to their calendar feature, they've got another one: TCB, or taking care of business. The calendar is fully synced up to both the tasks and the deals modules, so a change in one gets updated in the others. As scheduled calendar events approach, you'll get notifications to your synced devices.
Keeping up to speed
What good are analytics if they can't be shared as widely as possible? With Gro CRM's status board, it all casts seamlessly with Apple TV for that big-screen overview.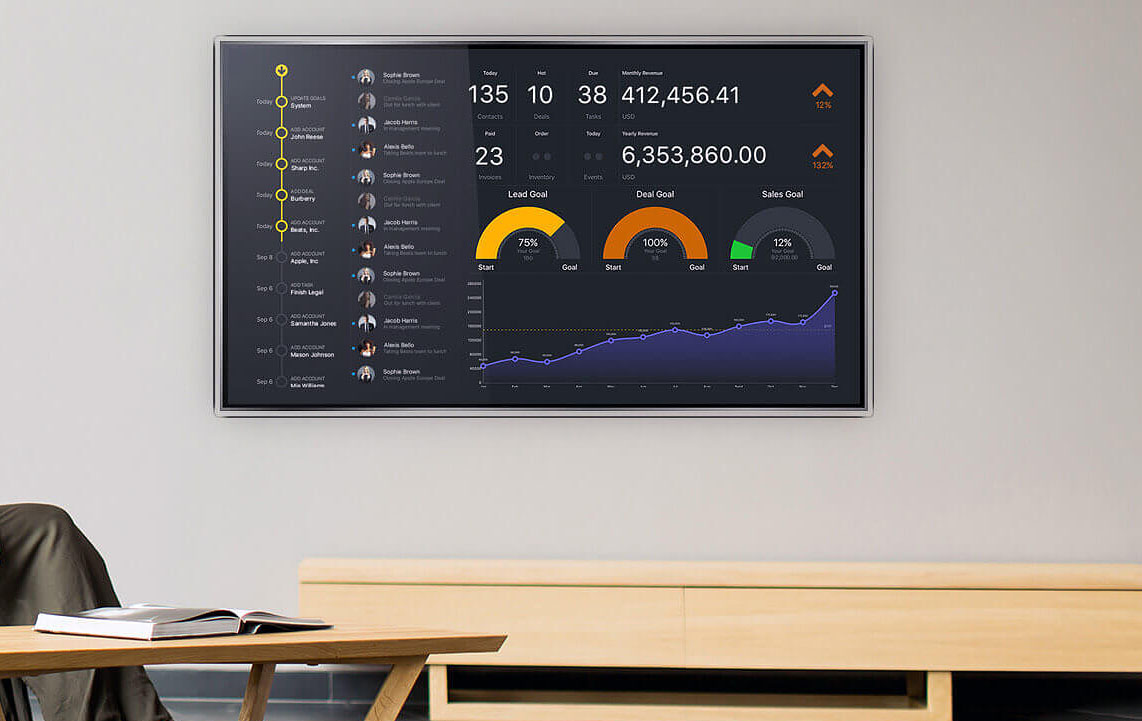 This helps everyone have the ability to share and learn from each other's successes and setbacks. However, just in case an office encourages a bit of friendly competition, privacy control over contact lists and deals is also available for sales reps,
Not only is it sales stats on the board, but employees can check in and post their status. It's useful to know who's in the office, who is out meeting a client and who might be home sick with the flu. Through this feature one can get in touch with any other team member by email, phone and text messaging.   
From CRM to ERP
ERP, or enterprise resource planning, represents all the indirect customer-facing features. Gro CRM offers a bunch of features that fit more into the ERP bag.
These tools assist with: inventory, POs, payments, receipts, quotes and invoicing. One neat feature here is that quotes can be made on the fly, on a tablet, and the customer can digitally sign off right away with their finger. Another handy feature is that sales reps can scan their receipts to keep track of all expenses.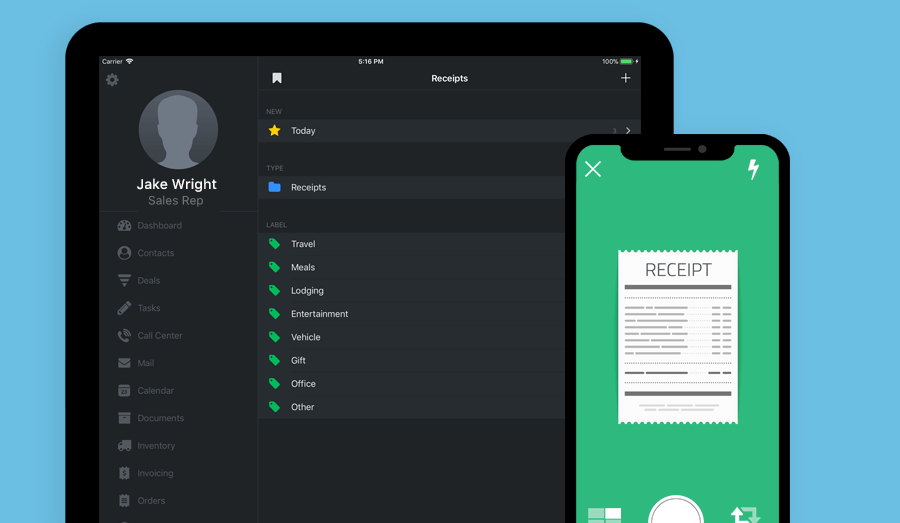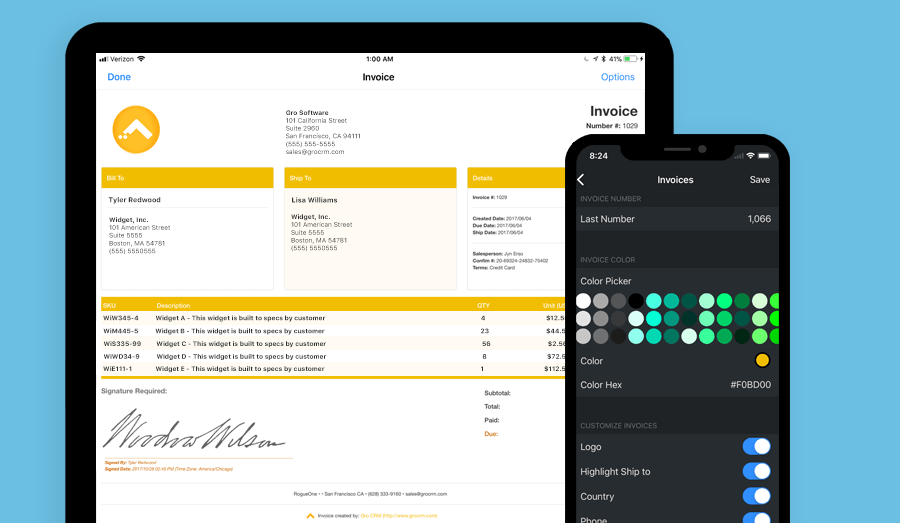 Want extras with that?
Gro CRM has made it a point to make their API quite programmer friendly, giving every Gro CRM user access to their backend, as well as harnessing the community power of GitHub.
For the less tech-savvy users, there's a good range of add-ons which include everything from Mailchimp to Slack to Zapier.
Of course, different price plans get you different packages. The cheapest starting at $14.99 per month works great for a solo user but doesn't include some things like map functionalities and most of the ERP tools.
The advanced Pro version runs up to $49 per month (or $39 if billed once a year) and it's got room for unlimited users.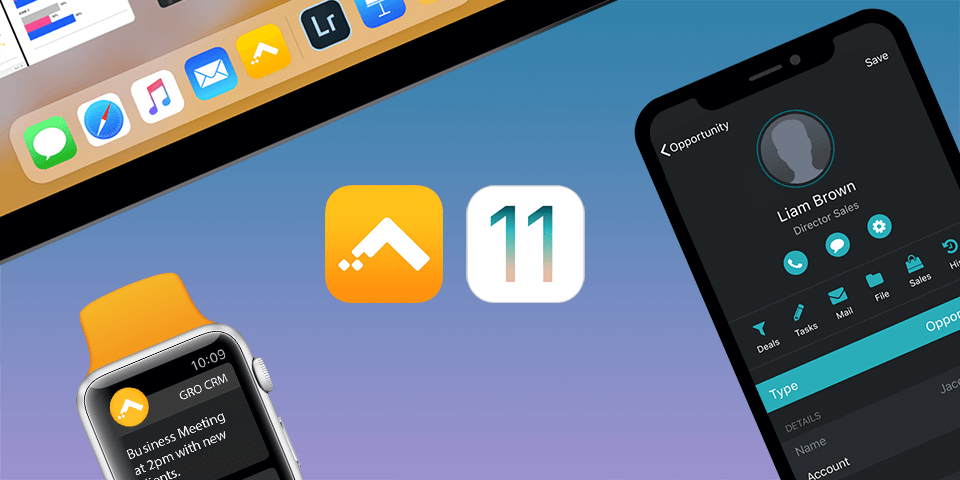 The Apple of Gro's eye
Gro doesn't try and tone down their unbridled love and enthusiasm for all things Apple, which is pretty much how most Apple users feel about their MacBooks, iPads, iPhones and Apple Watches.
And since so many Apple enthusiasts are channeling their creative A/V and design-heavy talents into up-and-coming businesses, why shouldn't they expect a CRM built exclusively for them?
As humbly as they may start, there's no capping the potential for Gro(wth).