Front: An Inbox Is Not an Island
Robo-reception
Front co-founder and CEO, Mathilde Collin, once said that their platform is "a bit like an online receptionist."
And if by "online receptionist", Collin meant a neurally-jacked-in, multitasking cyborg with astounding memory capacity, then her definition is most definitely accurate.
That shared advantage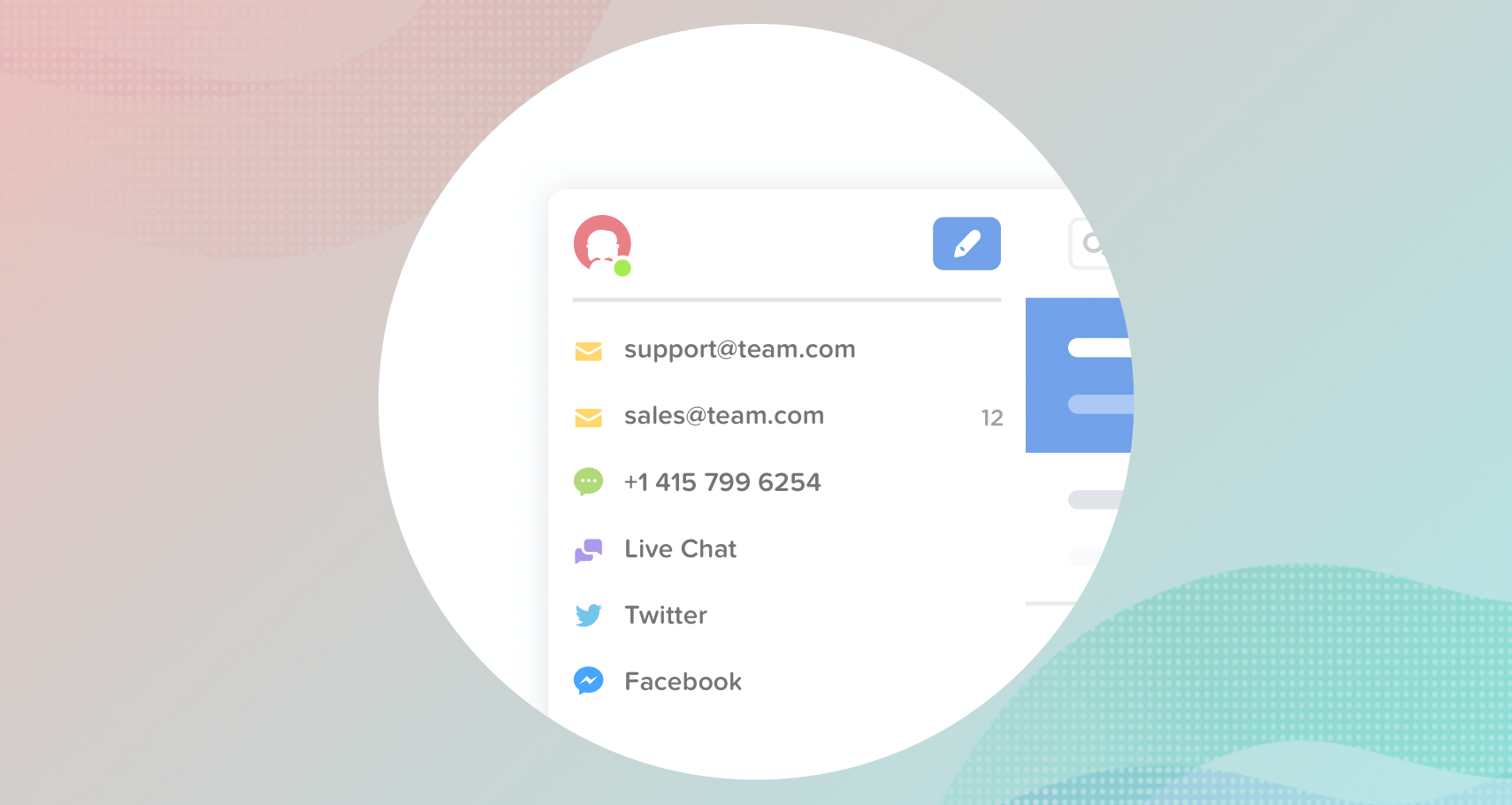 Front is a shared inbox which began in 2013 with email—a communication platform which gave each employee access to a single-shared email address for unified collaboration.
Since then, the same platform has expanded to also incorporate messages from live chatting, SMS, and social media messages.
Normally, if a company has an all-purpose email, like info@yourcompany.com, it might be one employee's job to manage all incoming mail to that address. Then, depending on the nature of the message, that employee might forward it off to the appropriate department, along with some extra CCs or BCC baggage, perhaps even an extra email explaining the purpose of the forwarding.
Alternatively, a bunch of people could have access to one generic info@ email. However, this scenario runs into the issue of keeping track of who answered what and when.
Companies need to avoid the above scenario and the resulting case of "response collision," where two replies go out to the same person (or an even worse situation where employees all assume someone else has taken on the issue, and the email gets lost in the shuffle entirely).
These are but two cases where a Front shared inbox boasts clear superiority.
Responses are never neglected; there is no response collision; issues get dealt with faster because they're routed to the best person, and all internal communication happens directly in-line with the messages.
This results, firstly, in a smoother sales process, as prospects receive the quickest and most relevant attention. Secondly, it translates to better customer support, as issues get the prompt and appropriate help they deserve with less wasted paperwork.
Getting Front and center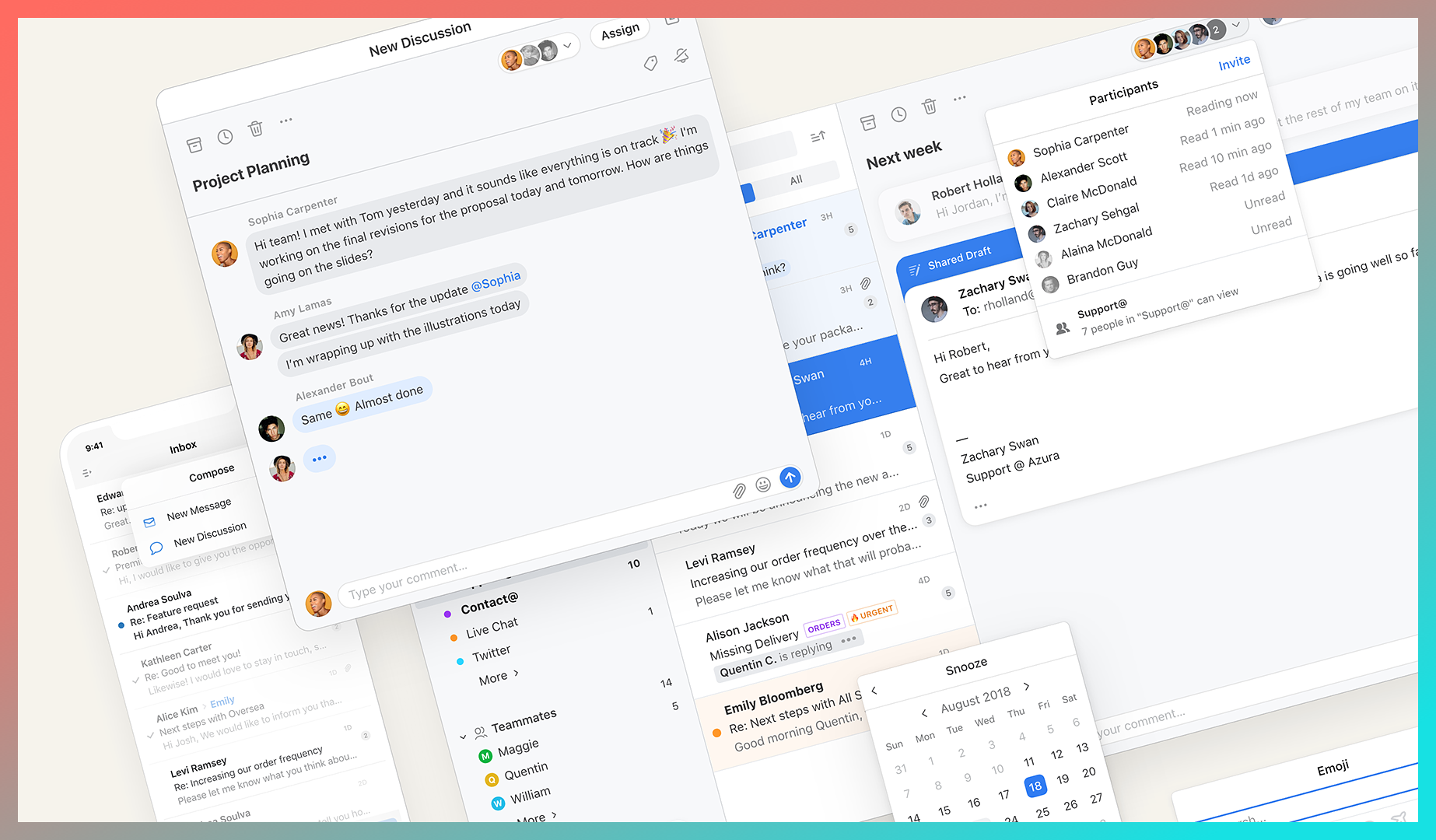 At the foundation of the app lie the features of its email management software:
The dash
The main dashboard is divided into four panels. The leftmost displays the inboxes, which could include Gmail, Office 365, and Twitter. Below one can also switch the entire dashboard to display analytics and address books.
The second panel is the message list, which has all the messages for whatever inbox is selected. One can choose to reveal all messages, unopened emails, or opened messages that have been assigned to a specific person.
The next panel over is for composing messages. Here you can reply to a message, assign it to another team member, add a note to it, or invite someone who isn't part of the shared inbox to view it.
Finally, the rightmost panel is for working with the many integrations of Front.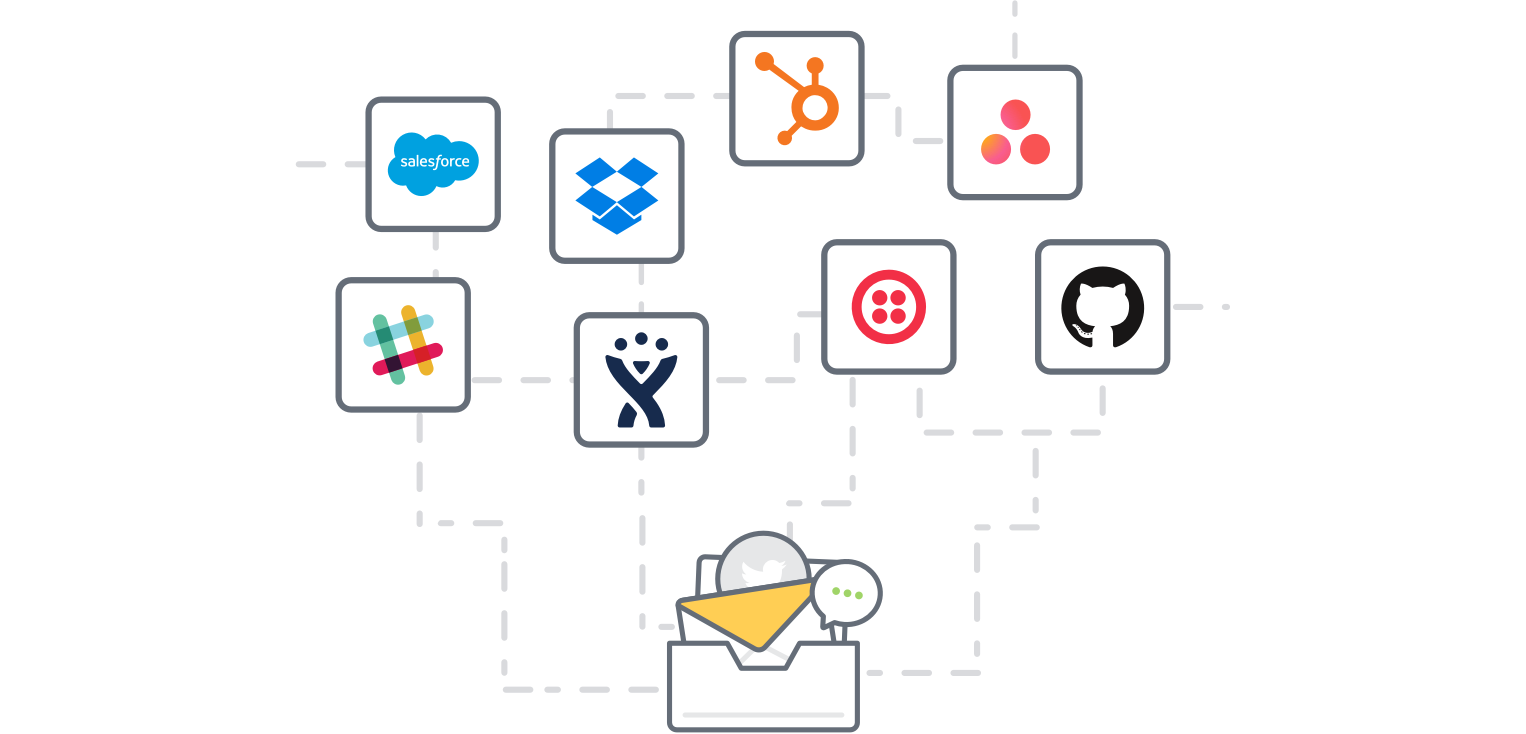 For example, if you receive an email from a new contact, you can open Salesforce CRM from within Front's right-hand panel and create the new contact card directly from your inbox. All new information that comes in through your inbox will be auto-updated in the Salesforce platform.
Notes and comments
Regarding comments, let's say an email comes in from a customer asking about receiving a discount. Julie from sales has a good reason to grant it, but she needs to ask her supervisor first.
Julie appends a note to the customer's email explaining the reason for the discount, then "@" mentions her supervisor in the notes. Julie's supervisor will receive a notification and will see both the original email thread and Julie's notes, each clearly defined by a color-highlighting system to avoid any confusion.
Emails and everything else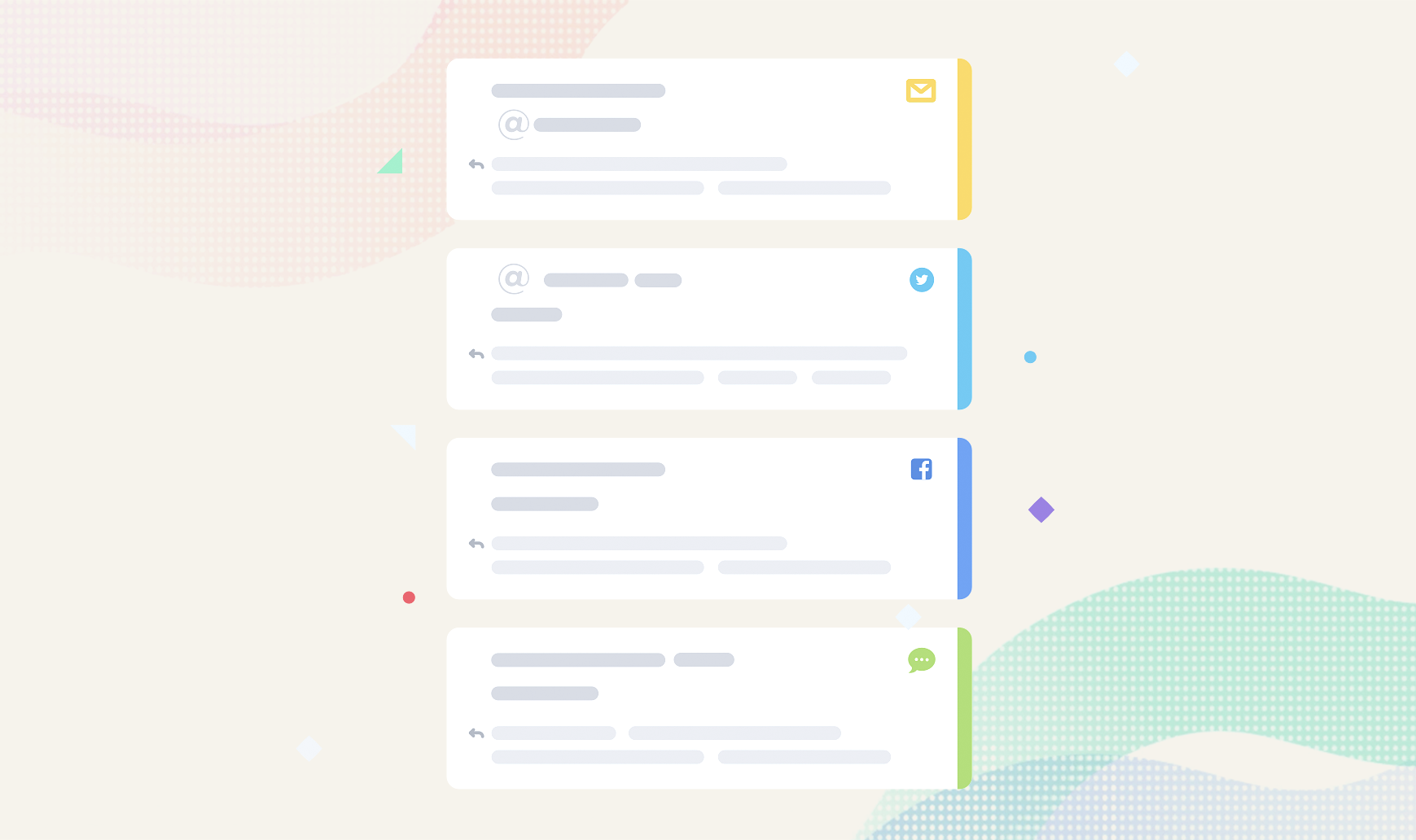 Emails (plus chats, SMSs and social media messages) are also conveniently tracked with receipts, so the sender knows when the receiver has opened them.
Similarly, if an email has come in but nobody has taken any action, employees will be reminded with a notification.
Finally, any incoming messages can also be attached an auto "canned" response so that nobody writing to the company feels like they've been ghosted for too long before a human agent takes over.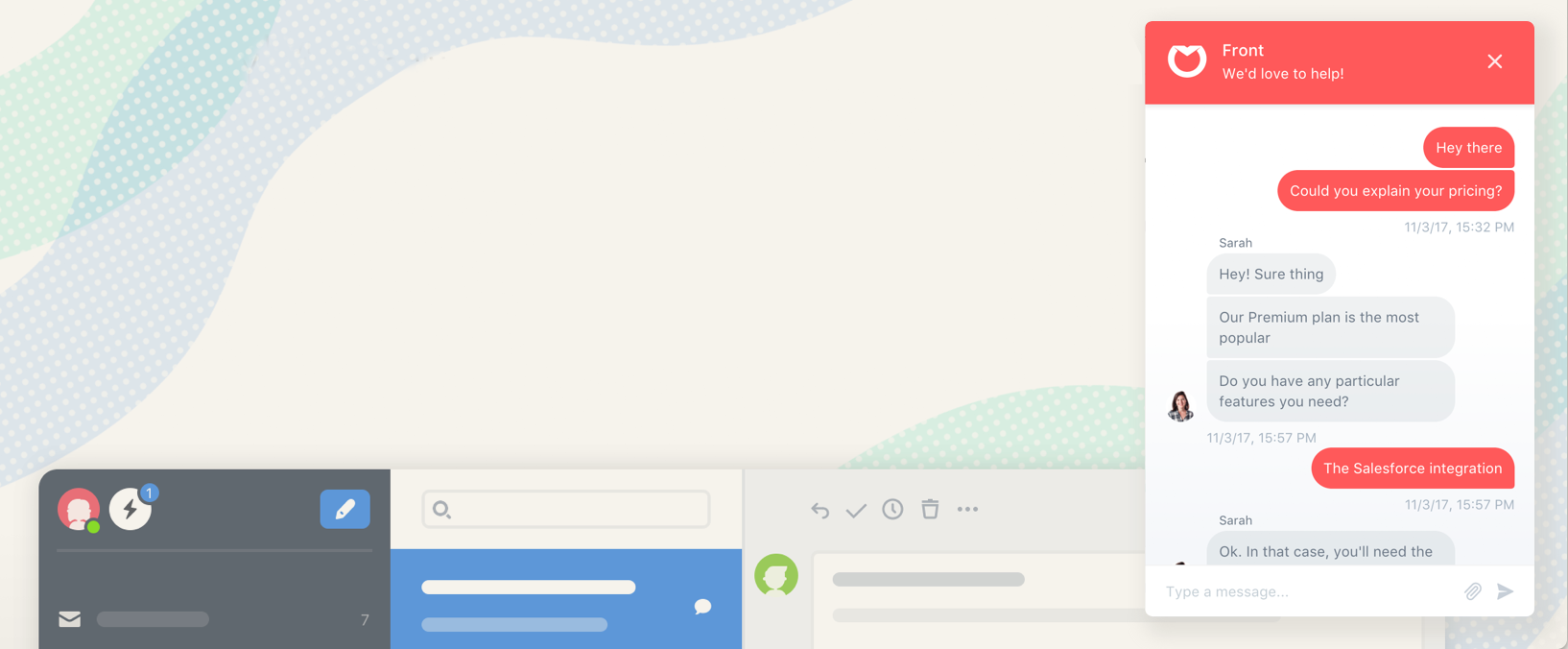 Rules apply
Front has an automated workflow feature called rules which trigger set actions. You can create a rule and give it a name like "shipping delays." Then, you choose when you'd like the rule to apply—for instance, if it's regarding inbound or outbound messages, replies or comments.
Users can also assign 'if-then' parameters. For example: If an inbound message has the words "shipment," "delay," or "where the hell's my stuff?!?!" then assign that message to Steve who works in shipping.
Another convenient rule helps prevent ticketed issues from lingering in limbo too long without being addressed.
Say an issue has been given a certain SLA time frame (a service level agreement) promising to resolve an issue within, say, one week. Then you can set up a rule that says, "if 5 days have elapsed without a resolution, then escalate this issue so that it gets immediate attention."
Pricing
Although the inboxing for emails, SMS, social media channels and live website chat all function like one single inbox within the same dashboard, the chat feature is new and comes as an add-on for $11 per user/per month.
Otherwise, there are three basic Front packages to choose from.
The basic goes for $15 per user/per month, and it allows for one channel, one integration, @mentioning and assigning, and a few other features.
The premium option is $29 per user/per month and allows for 15 channels and also includes analytics.
The all-in mega enterprise option is $59 per user/per month and handles 100 channels, Salesforce integration, support & training, and more.
All on the same page
By combining all channels of communication—social, SMS, chat, calls, and, of course, email—in a single inbox, Front not only helps distributed teams and disparate departments work in closer collaboration but also helps minimize friction for better customer and client communication.
Front elevates the most important qualities of speed and clarity into their shared inbox platform, helping companies achieve more sales, offer better service, and attain higher levels of overall productive awesomeness.