Clearbit Fills in All the Fuzzy Fields: Data + Leads


CRM data doesn't grow on trees
CRMs are great, that is, once they're populated with contacts. Sure plenty of CRMs have nifty tools to hoover up spreadsheet data or robotically mass-mimic copy/paste actions from company websites and LinkedIn.
Or, better yet, there's Clearbit—a marketing data engine founded in 2015 in San Francisco. Clearbit can be used alone but also integrates with CRM, plus several other platforms, to develop all sorts of business intelligence for your company.
The platform operates almost like a digital receptionist, waiting at the entrance of your website to find out for you who is visiting, what they may want, how important they are, and how you should proceed in dealing with them.
Clearbit mines data and refines it into sales
Clearbit has three main features: Enrichment, Prospector and Reveal.
With these three interconnected tools, it builds databases of info-rich contact and company profiles, which are then ready for easy filtering and searching. Then, you create custom pipeline experiences with landing pages, emails or chatbot messages based on contacts and companies matching your adjustable criteria.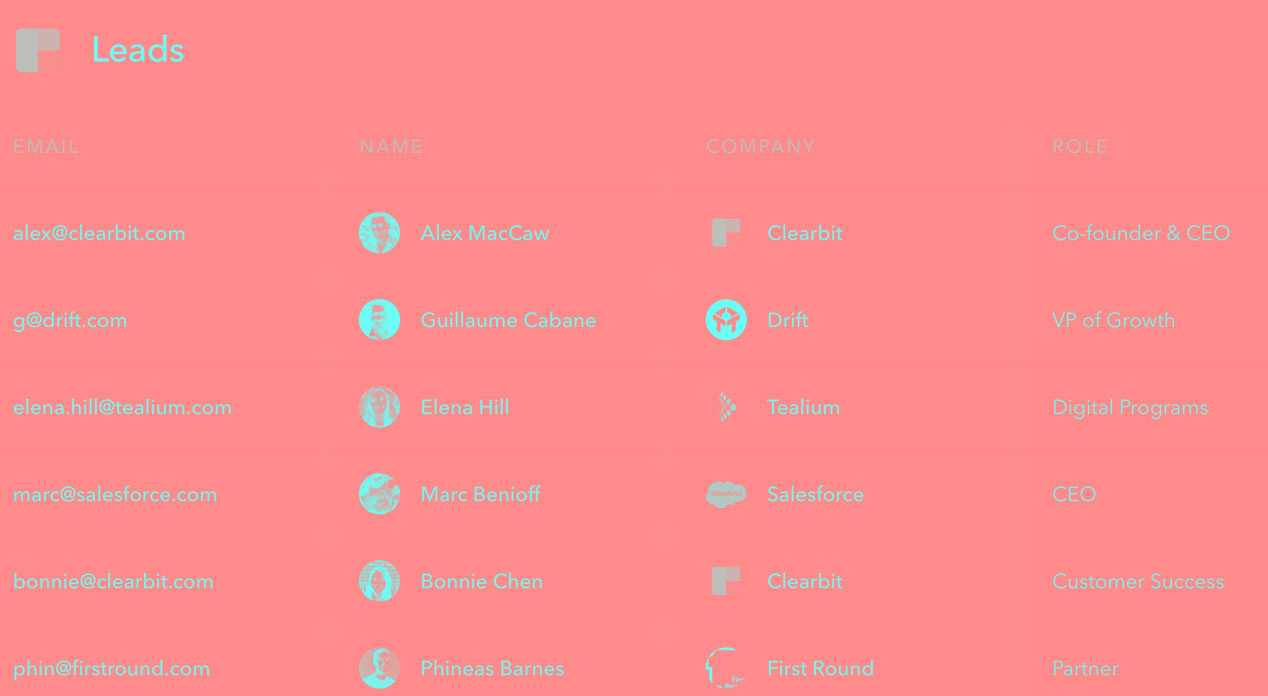 Enrichment takes emails and URLs already at your company's disposal and gives each profile an extra boost.
Say you get an email from stephq@agriculturegro.com.
Clearbit's Enrichment tool analyzes that email by searching through its database and then creates a contact card with its findings. So now, you have a contact card with the following details:
Name: Stephanie Quailton

Role: Sales VP

Company: Agriculture Gro Inc.

Location: El Paso, Tx

Email: steph@corponetz.com

(Social media avatars)
Next, say you look up the company Agriculture Gro, and plug their URL into Enrichment. Now you get a company card, like:
Name: Agriculture Gro Inc.

URL: www.agriculturegro-erp.com

Industry: Agriculture Gro, ERP Software

Tags: Farming, Shipping, Storage, Logistics Software

Tech used: Microsoft Dynamics 365, Google+

Revenue: $2 Million per year

Size: 150 employees

Location: El Paso, Tx
There are around 85 different fields, or attributes, for contact or company profiles details. Of course, you can add or edit the information yourself.
Clearbit automatically refreshes this data once every 30 days and updates your files if they spot a change. You can also receive notifications when any of your contacts changes jobs or companies.
Once you have these contact and company profiles, Clearbit then syncs them automatically right into whatever CRM you use, like Salesforce, Segment, Zapier, Marketo and Slack.
The Prospector side of Clearbit involves a hefty database with over 20 million companies and over 200 million individual employee profiles. The platform applies business intelligence to make sure their data is sound, using sources like social presence, company websites, legal filings, and crowdsourcing.
Using the Prospector feature, you can plug in advanced search criteria with multiple filters, like:
Find marketers in Missouri who work in the fashion industry.

Or
Find companies with more than 1000 employees who use Salesforce and have the tags "mobile" and "media."
As with Enrichment, the results are turned into profiles which are then synced to your CRM. Likewise, this data is auto-refreshed every 30 days.
Reveal is the real meat on the bones of Enrichment and Prospector because here is where you turn all that data into leads and potential sales.
Reveal collects data on visitors to your website, as well as the companies they work for (note: Clearbit puts a lot of emphasis on people using corporate emails, as non-affiliated personal emails can get flagged as potential spam).
What's more, if those visitors arrived at your site by clicking on one of your ads or campaigns, Reveal makes sure you know this, as this can help you decide how much effort should go into converting this visitor.
For example: If a visitor clicked on your ad for "50% Off If You Sign Up Today," that lead should get more immediate sales attention than someone who clicked an ad that just said, "Find Out More About Our Products."
It goes further, as Reveal lets you set up different landing pages depending on which ad the visitor clicked.
You can also use the criteria to decide how a visitor to your site will be moved into the pipeline.
For example, if you sell both kitchen supplies and restaurant equipment, and Clearbit determines that a visitor works at a wholesale bagel factory, they might be directed to a landing page with your top selling industrial dough mixer. But if that visitor's email shows they work at a coffee shop, they may land on a page with novelty bagel toasters.
Another example of Reveal's features: You set up criteria, like:
People with the title CEO who work at companies with revenue over 1 Billion.
Those coming to your site who match that criteria will land on a special page, and your boss will get a notification to jump on a chat and personally greet the distinguished visitor. If not, they can get a message from a chatbot you've trained to know just what to say.
Know thy database
Clearbit takes pride in providing fresh data that's always accurate. The marketing data engine uses advanced business intelligence and a hefty database to help you understand your customers, identify prospects, and personalize every customer interaction.  
Clearbit is the twofold solution: It expedites data collection, while always keeping you up-to-date on the important who's who and what's what going on in your contact database.