Simplifying Online Lead Generation With Clearbit Forms
Are you looking for ways to capture more leads from your website? Getting prospects to fill out online forms can represent a significant challenge, as it often connotes lousy user experience. Sales intelligence developer Clearbit addresses this issue by launching Clearbit Forms, an application that simplifies the form filling process to help businesses generate more leads.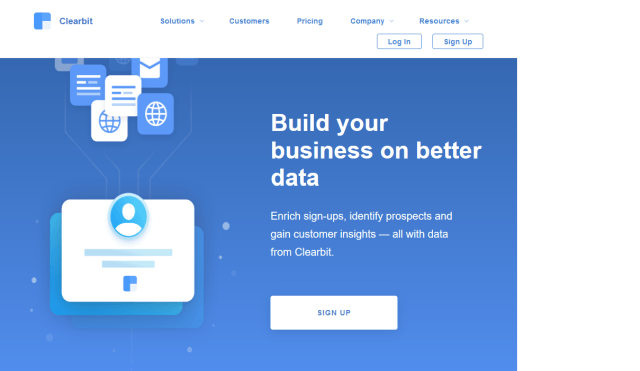 Image Credit: Clearbit
Clearbit offers a suite of sales intelligence software that helps businesses find more information about their customers to increase sales opportunities. Its tools search the web and millions of data points in real-time to obtain relevant data from multiple sources, like web pages, social media, government records, or legal filing.
Since not all potential customers are equal, sales teams want to respond to each person in a personalized way based on where they come from, what web pages they visit, and how they qualify themselves.  Data collected by Clearbit helps determine whether a potential customer is from a company's target market. 
By automatically evaluating and analyzing customers' buying patterns, the solution identifies opportunities and suggests possible courses of action sales teams can take to close deals quickly.
Clearbit also offers a series of integrations with other platforms, allowing users to bring customer information to CRM solutions. 
This summer, the company released Clearbit Forms, an application designed to simplify online lead generation by providing intelligent forms.
As soon as prospects enter their email address, Clearbit searches for details like job title, company name, or location. After finding relevant data, the application fills form fields automatically in front of the customer's eyes, making information submission easy and effortless.
Clearbit Forms' Dynamic Enrichment feature enables businesses to shorten their forms by hiding fields unless no relevant data is found.  The solution still collects information but only displays the necessary info, keeping the forms as short and functional as possible

Image Credit: Clearbit Blog
Most companies require potential customers to fill out lead forms to access specific information on their websites. Clearbit reports that 80% of Software as a Service businesses will not even share pricing until you fill out their form.
As most people typically dislike this time-consuming task, online lead conversion can be a real challenge for businesses.
By simplifying the process and saving potential customers time, Clearbit's intelligent lead forms provide a much better user experience, which attracts more customers and allows companies to capture more leads.
Founders of Clearbit, who have backgrounds at Twitter, Google, and Stripe, aim to transform the world of sales intelligence and create simple yet powerful products that companies love to use.
Online lead capture being a cornerstone of any business development strategy, the launch of Clearbit Forms marks a significant step toward making enterprise software more straightforward.