Capsule CRM Introduces New Gmail Add-on
Capsule CRM recently introduced a collaboration with Google on a brand-new Gmail Add-on, enabling users to access their emails directly within Capsule.
Capsule, a web-based CRM solution, is designed to help smaller businesses stay organized, know more about their customers and maximize sales opportunities. It allows you to store contact information, keep track of all communications, create and manage tasks, and monitor sales pipeline and performance.
With the new Gmail Add-on, you can now store entire conversation threads in Capsule with just a few clicks.  Any email adding to the thread gets stored automatically.
When accessing your Gmail inbox, the add-on can automatically display information from the CRM solution. For example, if you receive an email from an existing contact, all of their data in Capsule shows up in the add-on window, meaning full access to each customer's contact info all in the same place.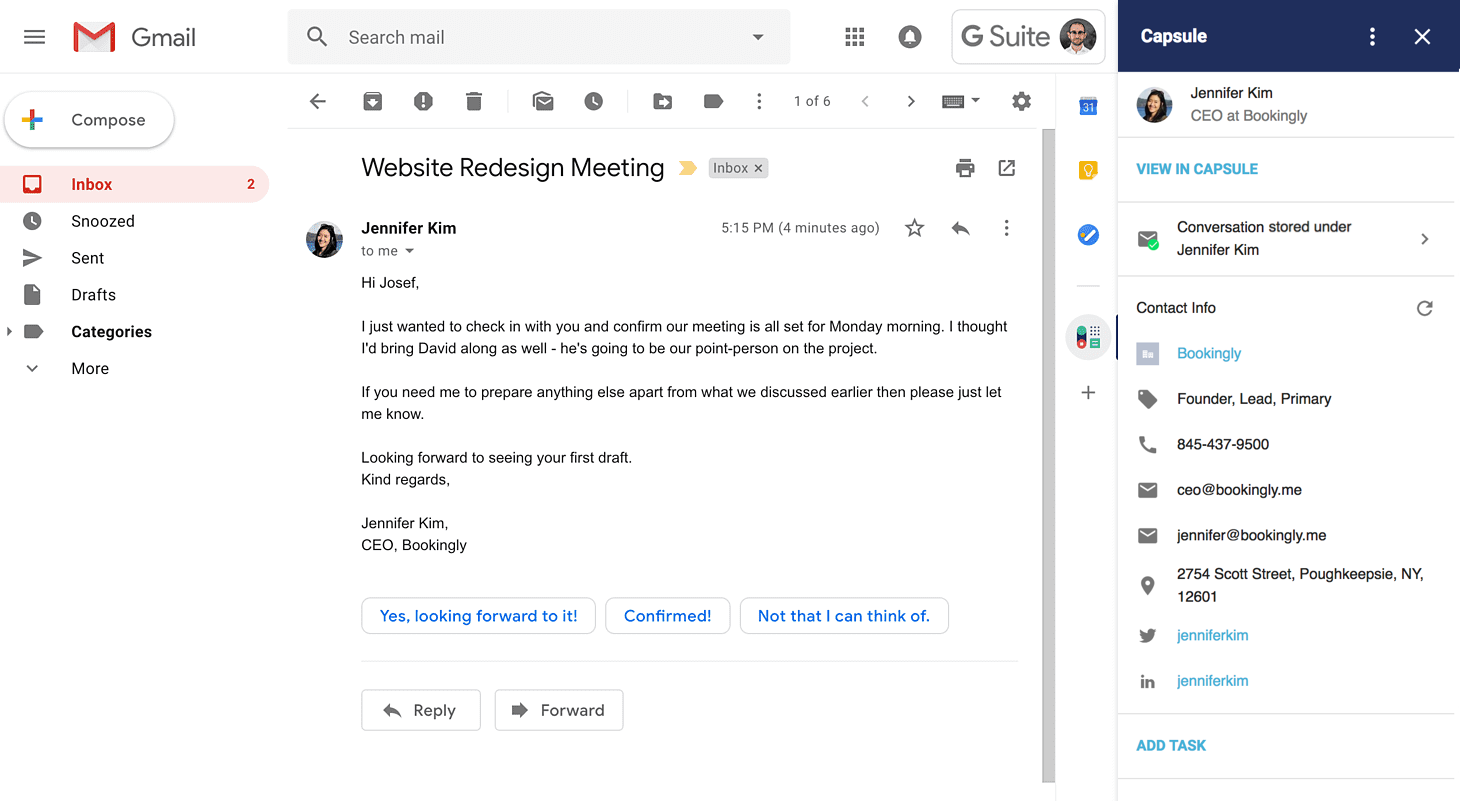 Image Credit: Capsule CRM Blog
If someone not recorded in Capsule sends you an email, you can add them as a new contact directly from Gmail. The add-on automatically identifies contacts with the same organization email address and regroups them into a single category. 
As Capsule  explains on its blog, "customer relationships often start with an email." Electronic mail is often a preferred way of interacting with new and existing customers, and employees spend a lot of time consulting and responding to emails to nurture relationships.
 The ability to access the CRM system in your inbox can be a significant time-saver, as you do not have to switch between several applications continually.
As enterprises try to evolve to accelerate workplace productivity, integrations with consumer applications like Gmail are rising in popularity. Several CRM companies have begun to realize that providing employees with software which works as smoothly as the apps they use every day helps increase performance.
The Capsule integration with Gmail falls within this trend of making CRM solutions more user-friendly and efficient.
With over one billion active users, Gmail is the world's most popular email service. The application's minimalist design and easy-to-use interface significantly contribute to its success.
As most employees already use Gmail on a daily basis, its integration with Capsule makes the CRM system much more accessible and appealing. 
With this new integration, Capsule follows suit to other business software providers like Zoho, Agile CRM, and, more recently, Dropbox, which all started partnering with Google in recent years. Copper's decision to move its application to Google's cloud hosting platform this summer further shows that the G Suite integration trend is not slowing down anytime soon.