Calendly: The 3-Click Method of Scheduling
In the globalized world that we live in, cross-border teams and projects are becoming an all too common feature of work. Have you ever tried coordinating a Skype call with your parents during their trip to Switzerland while simultaneously navigating a daylight savings time change in North America? It's not easy. Put work into the mix, and it only becomes more complicated.
Bottom line, working with people remotely, and in different time zones, can present certain obstacles, such as scheduling meetings and chats at a time that works for all parties.
On top of cross-border communication, there is the ever-present concern of high-quality customer satisfaction. The level of accessibility and ease with which customers can interact with a company or an individual can boost or sink their bottom line. Particularly in traditional professions which rely heavily on time-measured billing and direct client interaction.  
Calendly presents a unique solution to scheduling meetings, for both organizations and individual users.
Take control of your schedule!
Coordinating schedules can be demanding. Sometimes there's no better feeling than taking the matter of valuable time into your own hands.
The Calendly app enables users to take control of their schedule. Easy-to-use and straightforward, the entire act of Calendly happens in three quick clicks: users set up their availability, grab their unique calendar link and share it with their team or clients through various platforms, including email, LinkedIn, Facebook, etc.
Teams members or clients can choose an available time slot that works for them, and Calendly will send meeting invites to both parties, appearing as a calendar invite.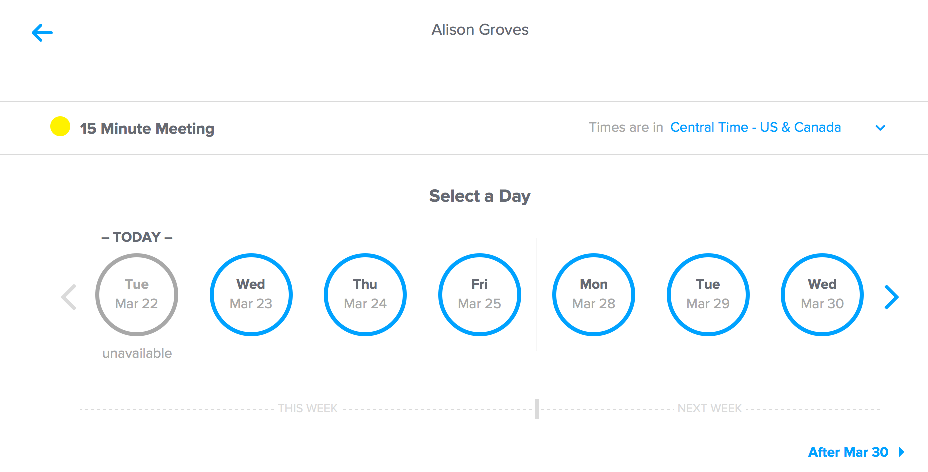 Image credit: Zapier
The app also helps users tailor their meeting requirements before sending out their availability. For example, users can send out separate URLs for 15, 30, or 60-minute meeting time slots. The feature guarantees a more accurate and organized schedule system while also giving the user a realistic picture of how much time is available.  
Another stellar time management feature: Calendly enables users to set time limits on how far in advance meetings can be scheduled with them. For example, a user can set a specification that meetings must be scheduled at least 5 hours in advance, and only between 9-5 business hours.
That means no more polite, "let me know what is most convenient for you," statements (when we all know this usually results in a time that is not at all convenient).
Calendly conveniently aligns calendars with user-specific time zones, which means that all parties are aware of the exact time slot they are choosing. You'll never have to ask yourself, "wait, is that EST or PST?" again!   
Another point of conflict that Calendly resolves is double-bookings. Since the app syncs with most calendar apps, Calendly has eliminated any room for double calendar entries or time conflicts.
Calendly CRM integrations
Perhaps the most attractive feature of Calendly for sales and marketing teams is the ability to integrate the software into specific CRMs — not just for the CRM calendar, but also to track information about clients.
For example, if a prospect schedules a consultation with a sales team via Calendly, the scheduling form can capture information that loads into a CRM like Salesforce, as a new client or prospect record. Therefore the CRM can capture the meeting and store it on a client record.
Users can currently integrate Calendly with their CRM via Zapier.
Alternatively, users can forget about Calendly altogether and go for a CRM like HubSpot which has a native scheduling app.
But maybe you don't want all the features that come with HubSpot? It can be overwhelming. So, if a user or a team doesn't need all those added features, then Calendly may be the best (and cheapest) option.
In addition to CRM integrations, Calendly has dozens of powerful integrations with other productivity tools.
Calendly for the people
Millions of people, from various industries, use Calendly. After all, it is free to use with an option to upgrade to a premium ($8/month) or pro account ($12/month).
Calendly is particularly suited to those who operate on a calendar slot basis. We are talking freelancers, doctors, accountants, osteopaths, and lawyers. The app presents an easy way for those occupations to schedule appointments and accurately gauge availability.
For example, a lawyer may want to set a particular meeting length, location, as well as 10-minute breaks in between each meeting. They can set it all up in Calendly and send out a schedule invitation via a single link to clients and colleagues. The whole operation is time-saving while also maximizing efficiency.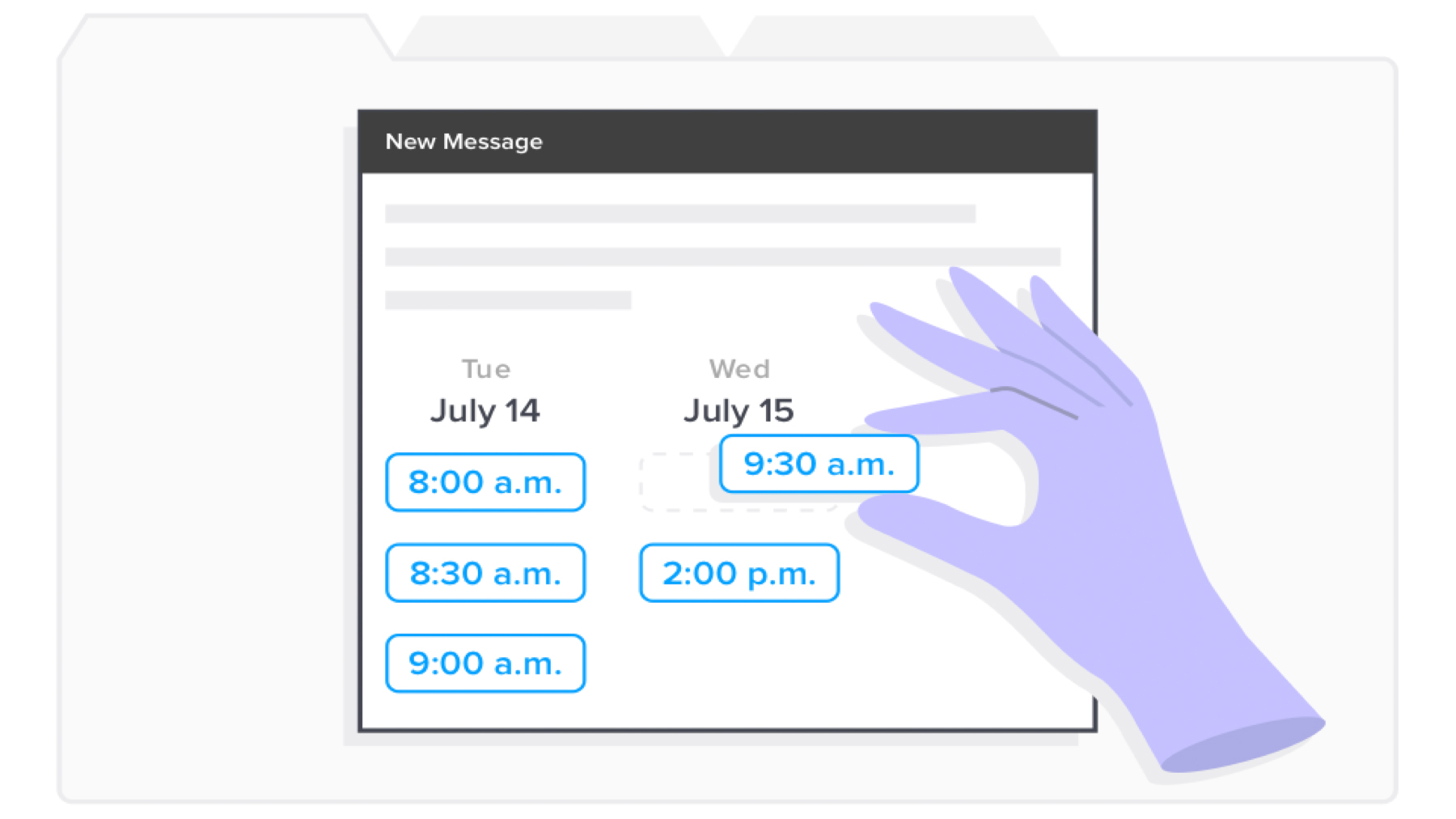 Image credit: Calendly
Let's be real, self-service is the way to go
It's safe to say that, like a self-service gas station, the people prefer to self-serve.
Most people are partial to booking an appointment or meeting on their own time, rather than emailing back and forth or playing phone tag.
The amount of animosity and confusion surrounding the booking and scheduling of time slots only tallies up a pile of unnecessary stress tickets. Calendly simplifies and resolves the act of tricky scheduling by helping users to organize, communicate, and plan better. The outcome? Stronger and improved client or customer relationships.