Figure It Out (FIO) Displays All the Time Zones of the Rainbow
"Today, tomorrow, from here on in, we are more connected than ever. Each of us finely crafting products with people scattered across mysterious sapphire oceans, tranquil sage forests and tan colored deserts."
Such poetry was penned by the creator of FIO (Figure it Out), expressing how we digital denizens of the modern work world know no boundaries of time and space as our industrial analog ancestors once did.
FIO is a web app that gives you an instant and colorful overview of what time it is in other places on this planet. It's simple and it's perfect for today's distributed workforces and remote teams to coordinate and collaborate.
In the world of remote work—where one team member is just getting out of bed while another is eager to climb back in—scheduling events and encouraging awareness across different time zones can be tricky.
FIO, quite simply (and beautifully), invites you to figure it out.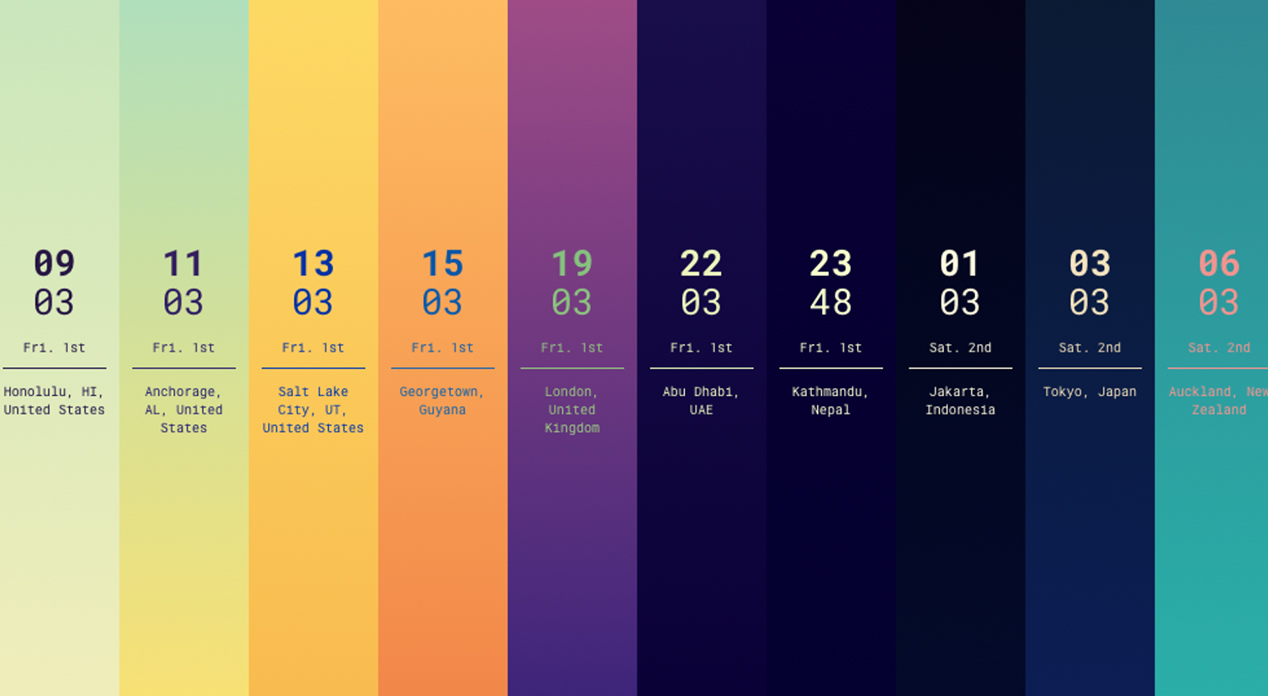 The look and feel of FIO
FIO is a lightweight app which can be used either as a web version, or you can get it as a Chrome extension. When you use it as an extension, the FIO dashboard is what you will automatically see every time you open up a new tab, so it works out great that the platform is built with a true designer's sense of color, shape, and spacing—key for one's daily peace of mind.
The basic dashboard is a screen divided into vertical columns, each colored a different hue from a carefully-curated palette.
Before you experience the full spectrum of FIO's rainbow, you're prompted to input your own location, which you can immediately rename. So if you're working from your apartment in Brooklyn, you might rename it "Home." If you're on a regular visit to your main office in San Francisco, you might choose "HQ."
Another quick customization change you can make is switching the clock format from the 12-hour am/pm style of the former British empire, to the more worldly 24-hour clock display—sometimes called "military time."
Likewise, the date format can be the near-universally accepted DD/MM/YY, or the uniquely American MM/DD/YY (which mimics the way we say the date, e.g. May 18th).
The great temporal overview
Now, once you've added your local time and set up your display preferences, you can begin adding other time zones to the dash.
Each new zone you add gets positioned either to the right or left of your home zone, depending on whether it's temporally pre- or post- your local hour. It also says at the bottom of each column how many hours ahead (e.g. + 4) or hours behind (e.g. - 2) that particular zone is from your own.
Columns representing a time zone closer to morning showcase colors which are lighter and more yellow-toned while nearing midnight, they go almost jet black, an aesthetically-conscious touch.
You can add up to ten time zone columns before FIO tells you you've hit a max. However, you can keep adding locations so long as they fit into one of the set columns. For example, if you're in New York and want to add Montreal and Miami, all three will be grouped together in their respective EDT time zones. These groups also have a cap at three locations per column.
Last but not least, if you're working on the go, FIO has an auto-location generator to figure out where you are, drop your settings down into the right time zone column, or create a new one if you hadn't added that location yet.
Events: interzone coordination
If setting up the FIO time zone columns is like laying down the pastries and coffee on the board room table, then the Events feature is where everyone finally gets to take a seat, grab a cup and a bite, and get down to business.
Right up top, next to where you "add a location," you click "create an event," and a pop-up window appears prompting you for details. You give the event a title, then set the date, time and duration.
From there, you can export the details to Google, iCal, Yahoo or Outlook, where you can easily invite others to join or comment on the event page. The title will then appear on your selected app's calendar as an event which was "gracefully created using FIO."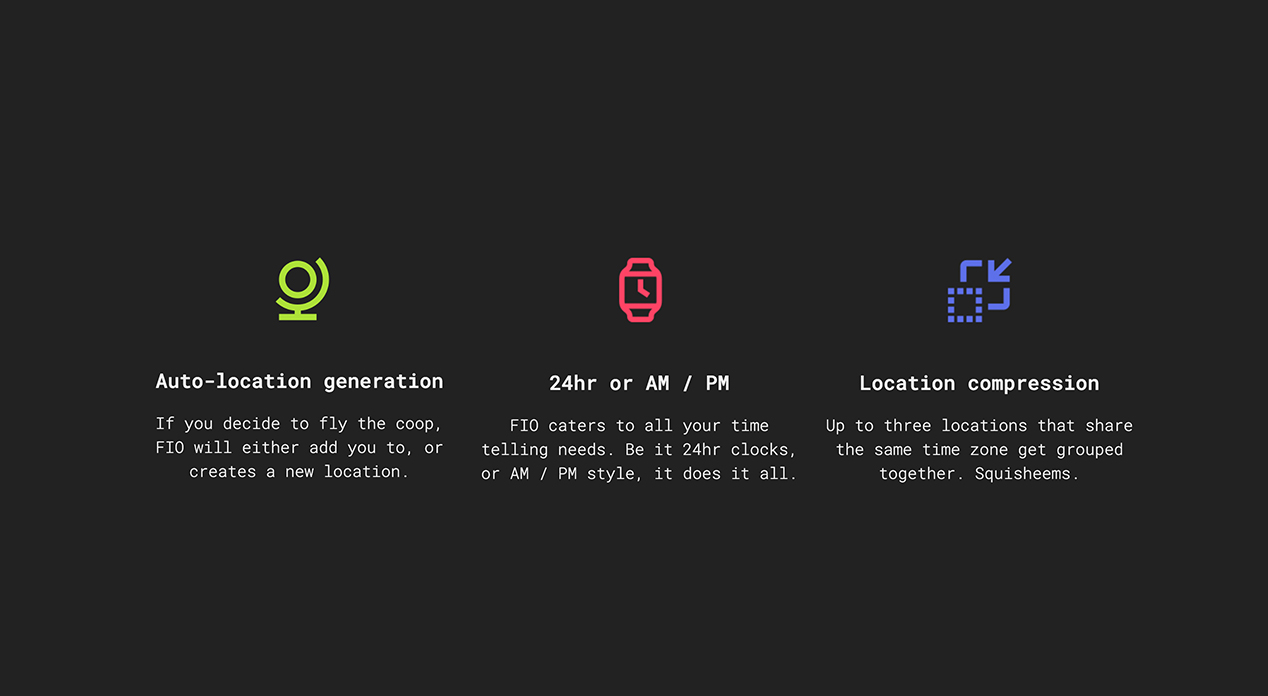 Figuring out where to go next
This nifty little tool has so far made some decent splash in the tech world, boasting over 15,000 users to date, with most users in the States, the UK, Australia, and India. It's also garnered two awards: the 9th Pixel Award (Peoples Champ—Utilities), and the Kantar Information is Beautiful Award 2014 (Bronze).
FIO is the brainchild of globe-hopping designer Fritz Riha, who has also lent his skills to projects for the multinational bank Barclays, digital medical service platform Sitka, and education and career service Udacity.
Currently, Riha is thinking about how to expand FIO's reach. With the Google Chrome extension, it seems like a natural next step to incorporate Hangouts into the platform. He's also hoping to get an iOS and Android app up and running within the next few months.  
For now, however, Figure it Out is an instantaneously useful web tool—totally free of charge—which will surely add a bit of color and grace to the way you envision cross-temporal workflow planning.