Zendesk Acquires Base CRM. Everyone Benefits.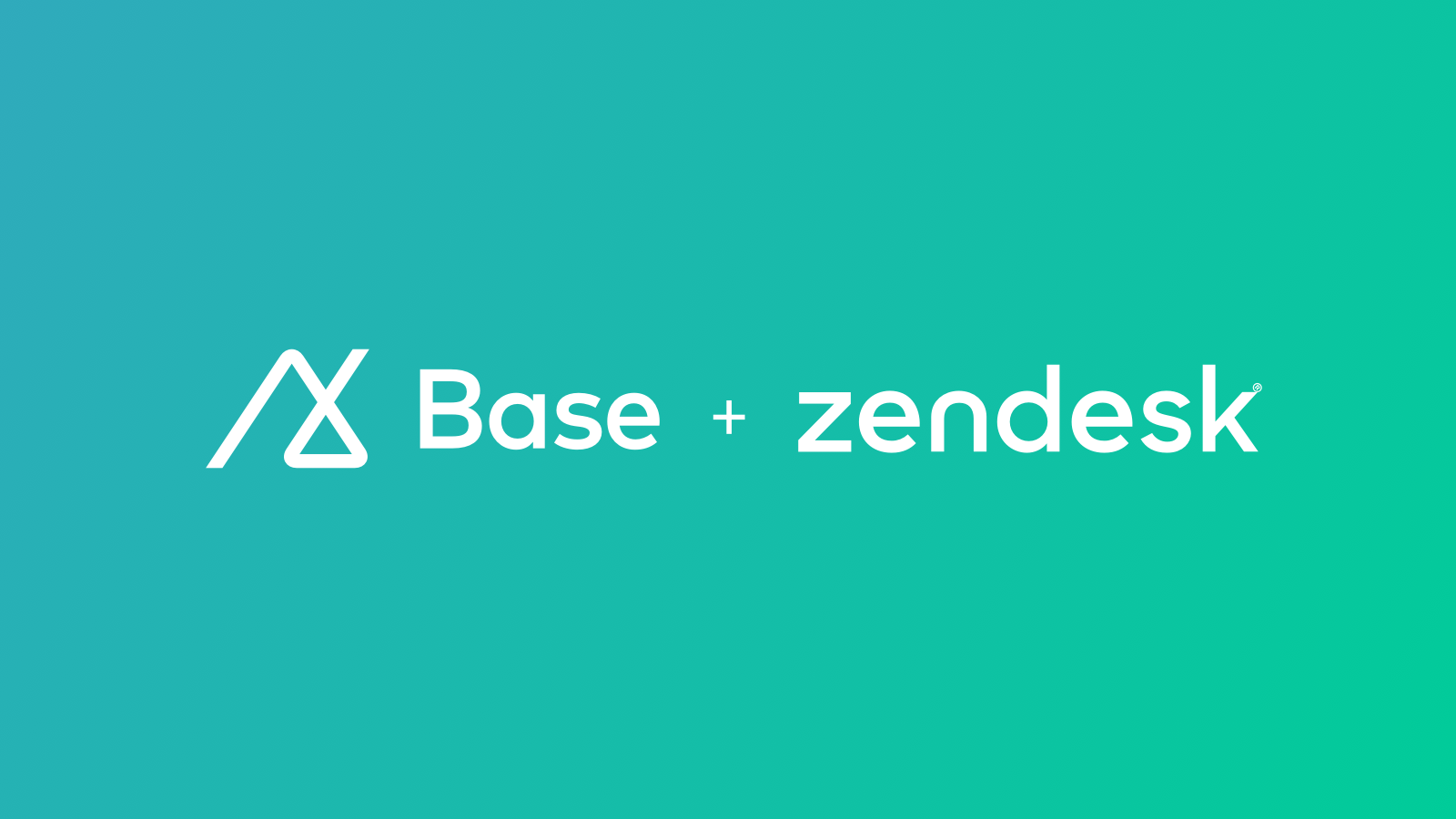 Image Credit: Base CRM
When Zendesk bought Base CRM about a month ago, some people wondered what the point was. Zendesk has always been all about customer service, so why were they buying a sales focused CRM?
Oh 'twere that our times might be so simple, that sales and service were but islands separated by some vast, impenetrable sea.
The modern reality is businesses really do need 360-degree visibility on customers, from prospect to sale. Ever-more fickle customers demand knowledgeable staff who can take care of problems and recommend offers they'd actually be interested in. After all, customers don't care much about the invisible walls between departments.
So fostering a close relationship between sales teams and customer service agents is key. And as we will see, as Zendesk acquires Base CRM, this problem gets easier to solve.
Zendesk buying Base CRM makes total sense
Since launching in 2007, Zendesk has steadily expanded its offerings to capitalize on an era of relationships. The cloud-based platform puts customer information in one place, reducing friction and improving communication. Its support ticket system is efficient and effective, traits that have made it an industry standard with 119,000+ users.
Many people already integrate day-to-day customer support operations with Zendesk. Meanwhile, lots of people are waking up to the benefits of using a CRM at work. Why not grab new users, and keep old ones, by tacking an ensuite CRM onto the Zendesk platform?
With that in mind, this acquisition is clearly about getting ahead of trends and furthering the Zendesk service offering on a holistic level.
Then there's the bottom-line business sense of the acquisition. In terms of revenue, Zendesk already makes more than HubSpot annually without a CRM. Now that they have one of their own, they are going toe-to-toe with the big boys.
What exactly does Zendesk get from Base CRM?
Launched in 2009, Base is a web, iOS, and Android-based CRM that works as an all-in-one sales productivity platform. The software's special value is on collaborative selling, and improving customer relationships by syncing and sharing information (emails, notes, call records, etc.) between team members. It features a customizable sales pipeline, sales tracking and reporting, forecasting, and a simple, intuitive interface.
Sales automation lets you keep the process working without the busywork. You can set triggers when you get a new lead, qualified deal, or incoming deal. Everyone gets a heads up so there are fewer meetings and confusion.
The basic, winning principle shared by Zendesk and Base is to focus on people, rather than process, and let the rest follow.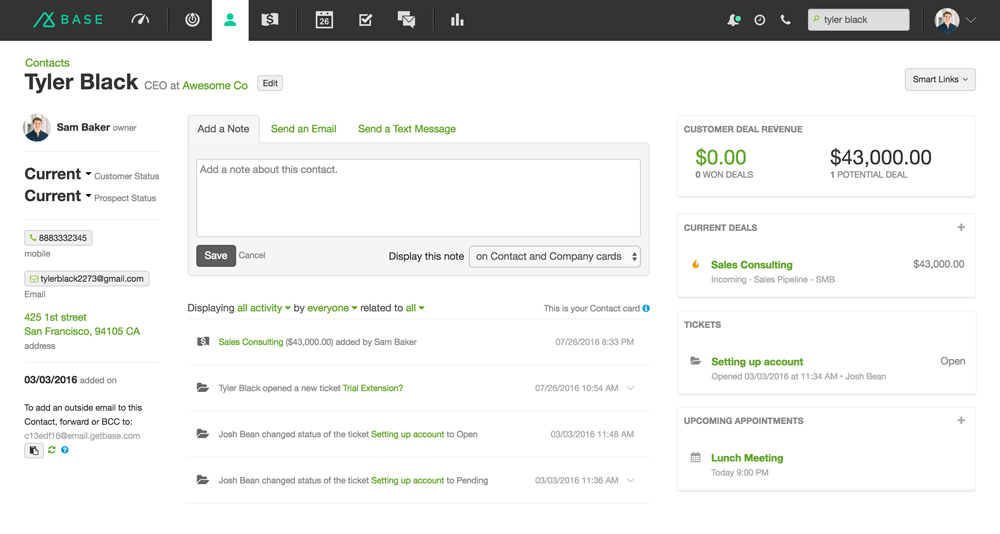 Image Credit: Base CRM
Base-Zendesk integration pushes this noble sentiment onward, letting you share all your customer information cross-platform. Contact and deal information from Base will be displayed in Zendesk support tickets. Sales teams working from Base can grab customer information from support tickets.
This means everyone working in customer-facing roles will be able to interact with full context in mind, empowering them to put their best face forward, without the drudgery of tracking down customer records or emailing so-and-so to align on a deal. The end result, of course, is less churn and more sellin'.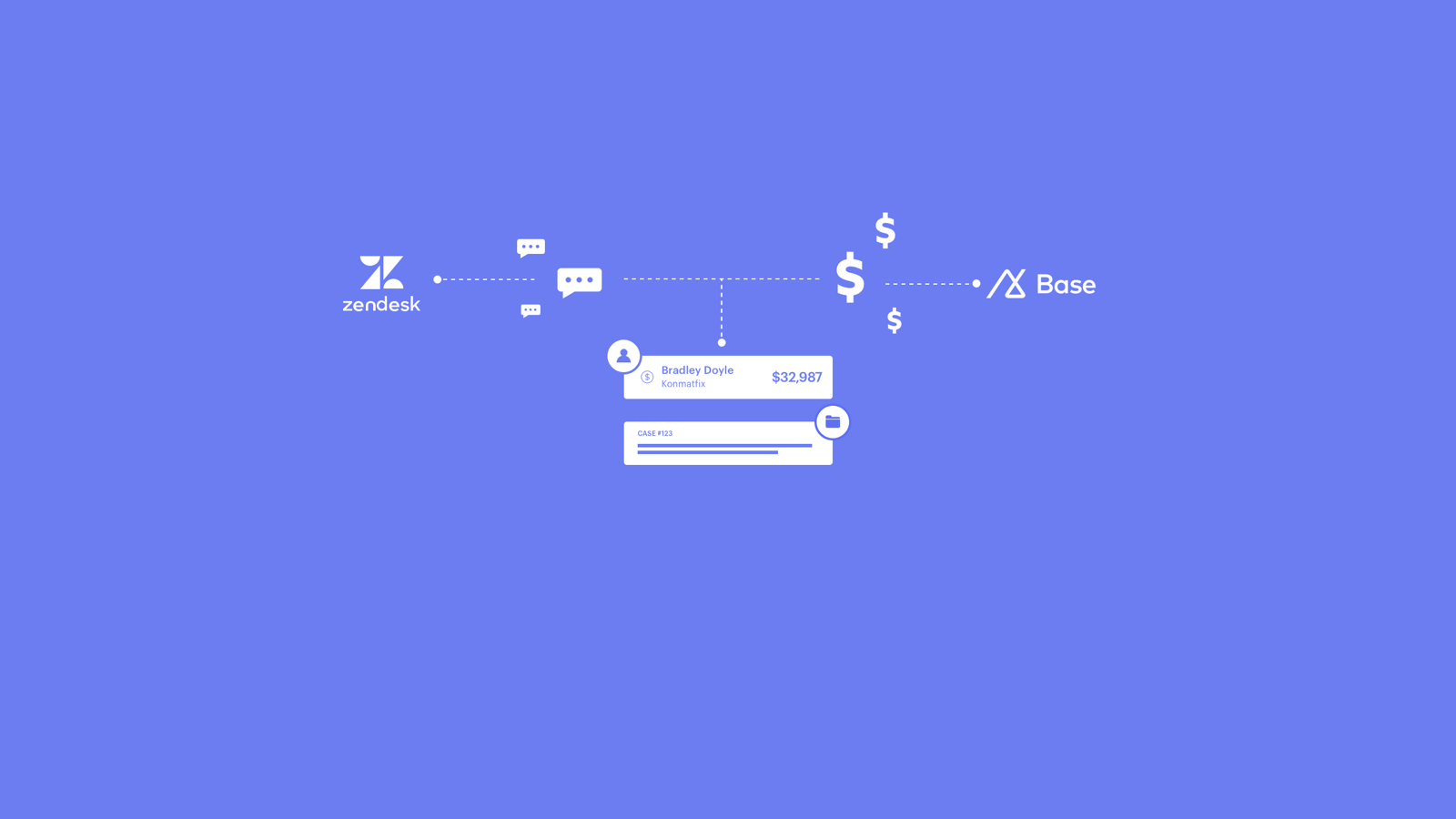 Image Credit: Base CRM
Base + Zendesk and the integrated future of CRMs
While the acquisition might seem like a gutsy pioneer investment now, it's likely we'll be seeing a lot more of this sort of platform consolidation happening in years to come. The quest to turn customers into advocates is heating up, and the currently vast CRM herd is likely to get thinned a bit.
In other words, Zendesk may well have bought its future with this move. Deeper integration between Zendesk and Base is sure to follow soon, but things are definitely off to a good start.