Xero Is the Swiss Army Knife of Accounting Tools
When it comes to cash flows, budgets, and overall accounting, sometimes a solid spreadsheet or a banks' sorta-decent online banking platform just doesn't cut it. 
Xero, an online accounting platform, is a stellar alternative. 

From Xero to hero
Indeed, Xero's raison d'être is helping businesses—big and small and tiny too—simplify bank and accounting down to a science. It's a platform putting one's important banking data front and center, giving the user at-a-glance pictures and quick controls over cash flows, balances and expense lists, among many other useful features.
By linking and syncing with one's banking institution, Xero's users can manage their accounts across multiple desktop and mobile devices, as well as share accounts and administrative control among work colleagues and business partners. 
The connection is made 
Xero is able to connect with over 5000 banks from all over the world (US list here). Finding yours is a matter of searching for the name, Xero walks you through the steps of connecting. Once connected, you have the option to further download all your banking history into Xero's platform. 
From here on, all transactions with a savings or checkings account, credit card, loan, or even a PayPal account are instantly synced between Xero and your bank, no matter which platform the transaction is executed.
Two views from above
Xero has two principle dashboards for most of a business's big picture: the main dashboard, and a specialized dashboard for measuring business performance. Of course, these UIs are also optimized for mobile.
The main dashboard
This basic dash displays your cash flow month by month, and your account balances. You can see which invoices are still owed to you, and which bills you still need to pay. There's also a list of all your recent expenses. 
You can search through your dash details by bill or invoice due date, by amounts, or even by the amount of time elapsed since a payment was due. Finally, the windows on the dash can be rearranged according to your preferences by drag-n-dropping.
The business performance dashboard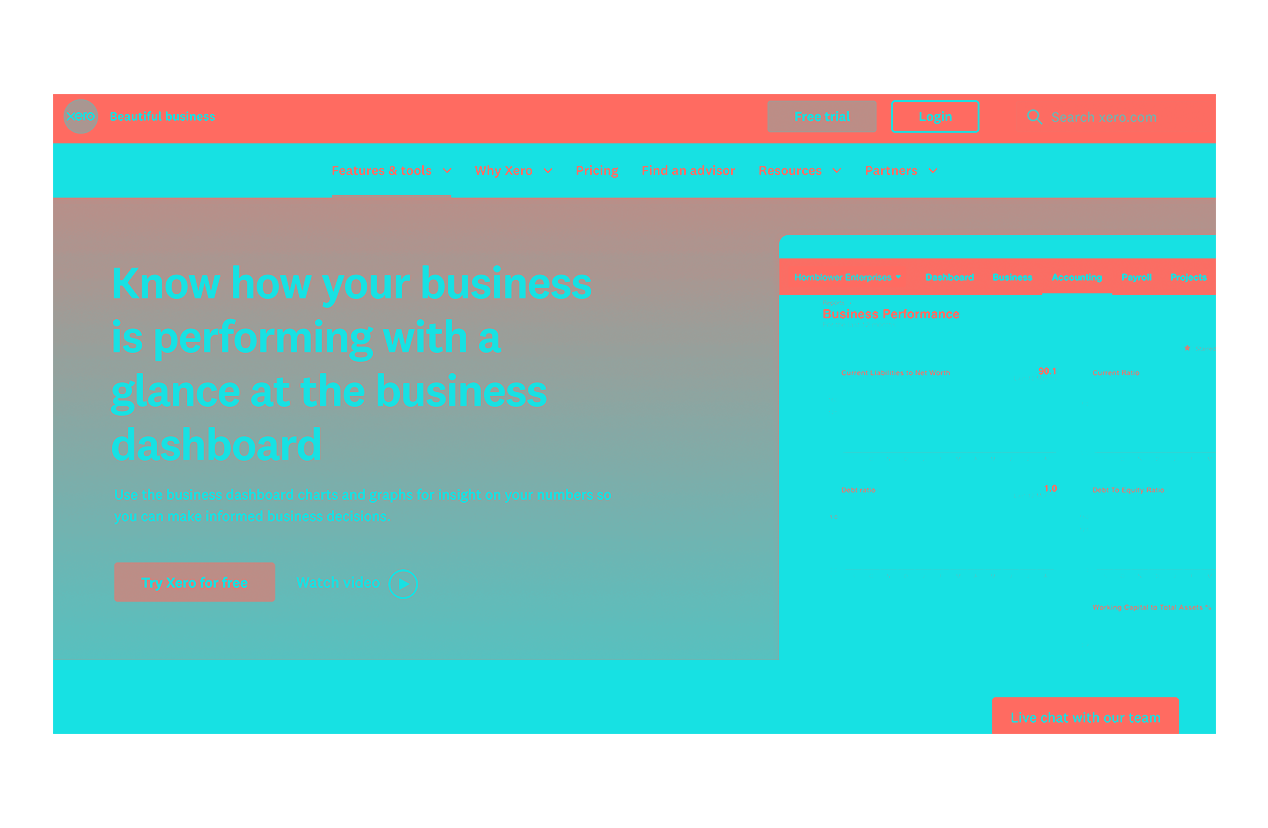 The business performance dash is all about getting at those precious KPIs. 
For example, debt to equity ratio, capital to assets, fixed assets to net worth, liabilities to net worth, to name a few. Most of these are bar graphs, but all can be expanded for more in-depth breakdowns. Also, you can select which of the KPI metrics you want to show up on the main dash. 
Another cool thing about the business performance dashboard is that you can allow your own financial advisor access to it, so they can choose and prioritize which metrics are foremost displayed. You can send a message to your advisor right from within the dash.
Featuring an all-star cast
Here's a sample handful of Xero's features:
Using the mobile app, you can snap a photo of a receipt, and Xero adds the amount to your expenses (including the pic). You can allow others to submit and approve expenses for a team account and all expenses can be labeled and assigned to projects. 
You can customize your invoice off one of Xero's templates, using your branding, or create one from scratch. Customers can access the invoice online, and you'll get a notification when they open the file. They can also pay the invoice with one click. Finally, invoices can be pre-scheduled to go out automatically.
Importing old inventory lists from spreadsheets is a snap with their CSV module. The inventory lets you sort between all your items and their quantities, as well as their cost and sale price, which makes it easy to see where you're most profitable. When expanding any item in your inventory list, you can add descriptions or upload files, like photos of each item.
Xero offers monthly and weekly breakdowns showing which bills are coming due, and from there it's easy to pay the bill right away or set a date for an auto payment. Saved bills can be auto-scheduled to be paid on a regular basis, and you can also batch pay bills to multiple suppliers. If a supplier is using Xero too, they can send their invoice directly to your Xero account which will automatically save it for future records.  
Contacts is like a mini CRM arm of the Xero accounting platform. You see contact details, their map position, and a graph displaying how much money you've received or given to each contact by month. The activity list will bring up interesting details, like the average amount of time they take to pay an invoice. More details that you can set are their currency, tax rates, and whether they get an automatic sales discount. 
By syncing your email with Xero, your whole mail history is migrated directly into the platform. From there, it's easy to share emails with other members of your team. Contacts can be grouped, and there are smart lists for creating targeted email marketing campaigns based on factors like group, purchasing history, or location.
Putting together all the tools to help pay, get paid, order stuff and ship stuff is great, but in the end, that is data dying for a higher purpose. 
Xero offers formulas that help you compare actual results with budgets, or compare two sets of actuals from different periods of accounts. Finally, with Xero, you can customize, share and publish reports and budgets.
Can't wait to unpack that
With over 20 tools as part of the complete platform, Xero manages to make each one specific enough to make using it practically self-explanatory. 
The total package with every feature available and unlimited invoices, quotes, bills, and reconciled bank transactions comes to $60 per user per month. After that, there are lighter plans with fewer tools and some limits, ranging from $30 to just $9 per user per month.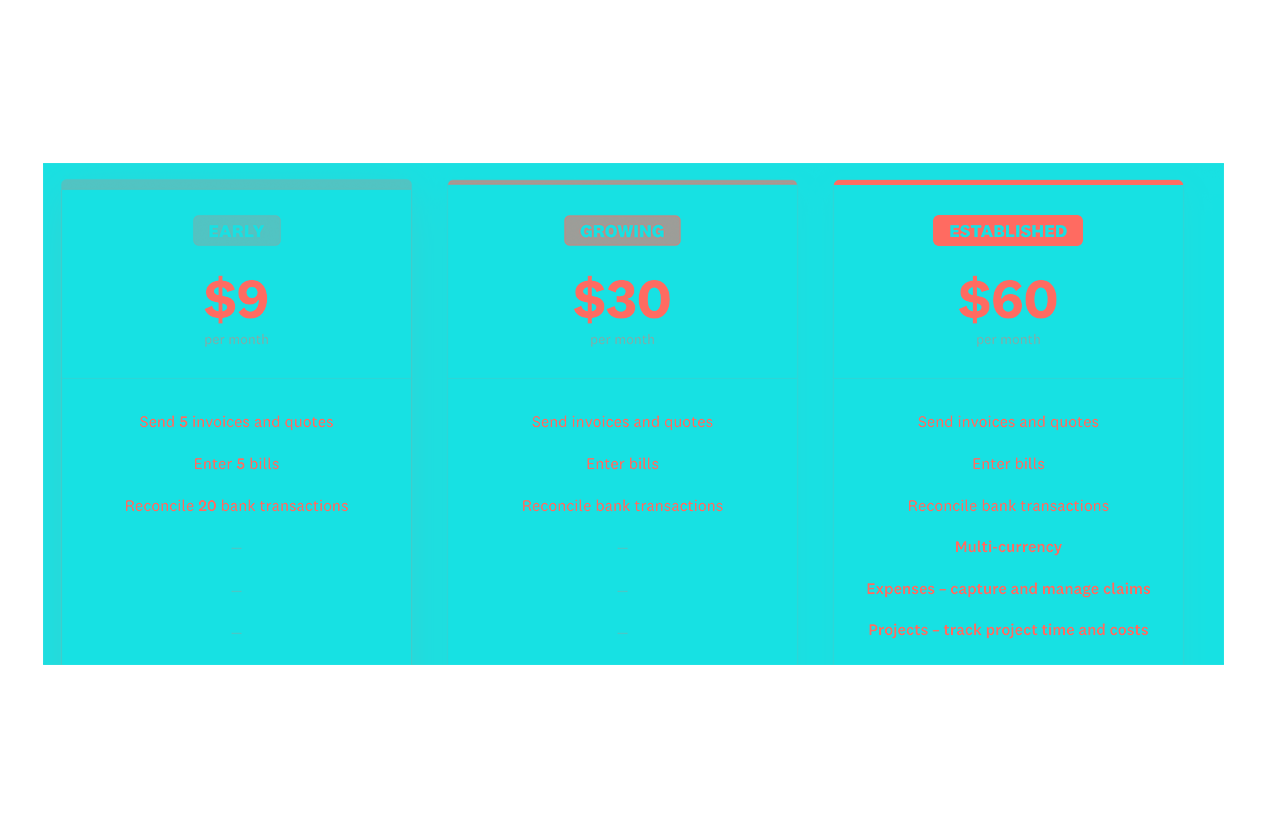 Adding it all up
The simple dashboards, multiple device usage, and decent stack of intuitive features all make Xero a smart choice for keeping your accounting from spiraling out into a complex headache. 
Still not convinced? There's a free trial. But the monthly fees will likely be a smart money choice down the line.