Salesmate Review 2023: Is Salesmate CRM Any Good?
Getting everyone on your team onboard with a CRM can be tricky. And if you're looking at this Salesmate review, chances are you're looking for an intuitive CRM that leans towards ease-of-use and, hence, ease of pan-organizational adoption. 
This was, after all, Salesmate founder Samir Motwani's idea for the app when he oversaw its launch in 2016.
But does it deliver on this promise of simplicity? Here we'll get into every nook and cranny of Salesmate, covering price breakdowns, feature lists, and pros and cons.
Salesmate review 2023: Is Salesmate any good?
This Salesmate review answer is yes, Salesmate.io is good, even great if you basically need a good app to help stay in touch with contacts and nurture leads down the sales pipeline. It's also a top choice if ease of use is especially important to you.
Many reviews consider Salesmate to be in the list of the best sales CRM software, up there with other big names like Zoho, HubSpot and Pipedrive.
Salesmate.io pricing plans 
First of all, how much does Salesmate cost? Let's first review Salesmate CRM pricing:
| | | | |
| --- | --- | --- | --- |
| Plan | Monthly Pricing | Annual Pricing | Site |
| Starter | $15 /user/month | $12 /user/month | |
| Growth | $30 /user/month | $24 /user/month | |
| Booth | $50 /user/month | $40 /user/month | |
| Enterprise | Contact vendor | Contact vendor | |
Are there any Salesmate coupon codes or promo discount vouchers?
We checked it out, and it appears there are no Salesmate discount vouchers or coupon codes right now. As usual, staying tuned to the vendor's social media, ex. Salesmate Twitter, and scoping out the vendor website from time to time, you may come up with a deal.
Salesmate overview: What is Salesmate & what is Salesmate used for?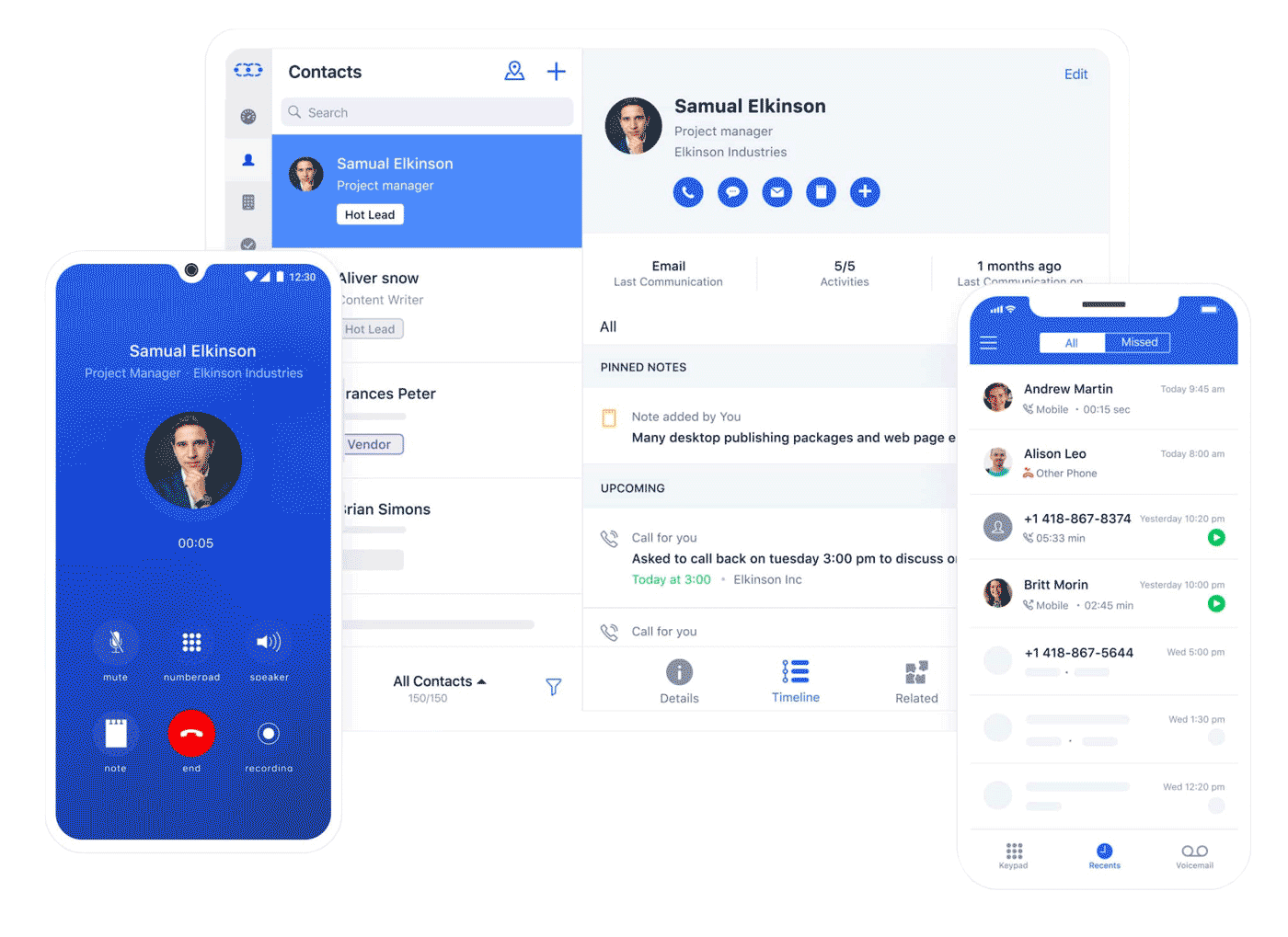 In brief, Salesmate is a software to help sales teams get more leads and win more deals. It does this with a combined toolkit of sales management, sales automation, email tools, telephony and text messaging. 
There are also great workflows for streamlining sales pipeline management. For deepening customer relationships and increasing your bottom line, Salesmate is a great value for money.
Salesmate free vs paid: what's the difference?
There isn't a free Salesmate plan, but there is a 15-day free trial available. You can try the Starter, Growth, and Boost plans for free. To try and negotiate a free trial of the Enterprise-level plan, contact Salesmate through their website. 
Salesmate.io features list 
The main features of Salesmate are:
Sales management

Sales automation

Email automation

Telephone and text messaging

Analytics and reporting

Mobile apps

Extensions and integrations
Sales management
When it comes to sales, sales teams can manage their database with simple contact management or based on the company. There are also web forms that are a great way to capture new leads for your CRM software.
To stay on top of deals, reps can zero in on a single sales pipeline or have access to a multiple pipeline management dashboard. Calendar syncing and a useful meeting scheduler are also on offer.
You can use real-time follow-ups, notifications, user mentions, tags and notes to manage all activity, and for reps to share useful information about leads and deals. Similarly, there are features to streamline recurring activities.
Salesmate has a tool for managing your products, whether they are material goods or human-based services. 
Finally, with Salesmate you get goal management functionality to track your progress and milestones against your sales forecasting.
Sales automation
With Salesamate, your sales functionalities go extra far when you use workflows and automations to take over simple and repetitive tasks. Workflows can also function as date-based workflows.
The workflow management is straight up and easy to use, with minimum 10 workflows in the most affordable Salesmate package, and up to 100 workflows in the enterprise plan. Workflows are also tied to automated emails to get notifications about automation activity or to do follow-ups with leads.
Alongside simple workflows, you can set up more advanced automated sequences, as well as sequence emails to stay top of mind with your network. Finally, there are also sales automation lists you can leverage.
Email automation
Nowadays, emailing is one of the most important sales channels. Salesmate has loads of great email marketing and sales functionalities. Firstly, you get unlimited email storage.
You can get access to a total email sync between the Salesmate platform and your regular email providers like Gmail or Microsoft Office 365 Email.
More powerful email tools include email tracking and email scheduling. You can also set up email reminders, as well as send bulk emails.
Teams can also take advantage of a shared email team inbox. They can also use, update and share email templates. Finally, Salesmate has a slew of email metrics for deeper insights into their engagement performances. 
To end with the more technical stuff, you get your standard email SMTP and CC/BCC forwarding tools, as well as IMAP email integration.
Telephone and text messaging
For a more traditional sales process, Salesmate lets you pick up the phone and sell with better tools. To speed things up, use click-to-call, and you can also use Salesmate with Skype and Facetime.
Salesmate has built-in functionalities for both voice calls and text messaging. They also provide you with local phone numbers of where you're calling as well as toll-free numbers.
Basic telephony features also include a power dialer, call transferring, call forwarding, and call recording. There is a voicemail drop tool to send pre-recorded messages to people's voice mails.
You get text messaging, with both incoming SMS and outgoing SMS. There is also bulk SMS texting and scheduled texts. Finally, there are many text templates to use and even a text pilot tool.
Analytics and reporting
Reports begin with Salesmate's standard dashboards and reporting which is a solid start to analytics. You can also customize these dashboards and reports. 
From these reports you can tease out insights either by activity or by deal when analyzing the sales pipeline and funnel.  
You also get call log reports, as well as email analytics and email template usage data.
Mobile apps
Salesmate has apps for Android devices, iPhone and iPads. These apps include push notifications, a mobile inbox, and a business card scanner.
With the mobile apps, you can directly make calls or do texting. Call logging is also available.
Finally, the mobile apps have a location feature which shows you map-based data. 
Extensions and integrations
Integrations are key to setting up a total software stack. You can integrate Salesmate directly with a range of SaaS like Slack, WordPress, Knowlarity, RingCentral, Zapier, Xero, Zoom, DocuSign, MailChimp and more. 
With Salesmate's API, you can build on top of their platform more tools you find useful. And using Salesmate's Zapier integration, you can get even more connections with other apps like Zendesk for customer support or HubSpot for more CRM features.
Salesmate also has a great Google Chrome extension. It can identify your contacts from your emails, create new contacts quickly, track emails and provide 360 degree contact overviews. 
Salesmate pros and cons
Here are the advantages and disadvantages of Salesmate:
Salesmate advantages
The first benefit of Salesmate is that it is hands down a great tool for getting contacts and making deals. This app truly is all about selling and earning.
The next advantage of Salesmate is its excellent suite of telephony and text functions and features. Being able to call and text from the Salesmate interface is smooth, and the call recording is very useful.
Another pro to Salesmate is that it scores points for ease of use. When it comes to quick onboarding, you get your value for money with Salesmate.
Salesmate security also scores well, most importantly when it comes to email sharing and team inbox permissions.
Salesmate disadvantages
It's not great to list the drawbacks of any great selling software, but here are a few cons to Salesmate.
There is no free version, which is a big negative for many people new to sales CRM software or if your small business has a budget.
The customer experience can use some improvement especially when trying to get customer support. It's great that all plans have similar support access, but it would also be good for those who want better support to have the option to pay more for it.
Finally, you cannot say Salesmate is an all-in-one platform, as there is little for marketing and nearly nothing for customer service.
Salesmate complaints & praise (from real Salesmate customer reviews)
Online reviews of Salesmate are pretty consistent in praising this app as a great selling tool. People love the phone and text tools, as well as the email tracking. Ease of use also gets mentioned a lot.
Negative Salesmate reviews from users online and other review sites are more varied in their comments. Some decide they'd need a more all-in-one sales CRM tool with more features, like HubSpot.
Review of Salesmate support
Salesmate support is 24/5, meaning all day, but only on business days. All the plans have email support, chat support and remote screen sharing support.
Other resources to help you use Salesmate include how-to videos, webinars, a support portal with an FAQ and blog articles.
Is Salesmate.io worth it? Our conclusion
Is Salesmate worth it? It sure is, particularly if sales funnel management is top of your software needs, and you want something your team's likely to adopt wholeheartedly.
Of course, there are many Salesmate alternatives out there in this very competitive market, so comparison shopping is always encouraged.  
But do give the 15-day free trial a whirl if you've read above and decided you're interested. Once again, you can trial the Starter, Growth, and Boost plans for free—that's great news if you're looking to check out use cases in your small or midsize company.