Evernote in Gmail: Remember, Organize, Collaborate
There are a lot of ways to note down something interesting you come across on the web, or to save useful content while doing online research. You can bookmark, copy-paste, email yourself, screengrab, or just jot something down. 
The problem is, these methods are messy and idiosyncratic—meaning they might work for you, but would pose serious trouble when you need to share notes to collaborate with others.
Notetaking app Evernote has made organizing, editing, searching, sharing, and surfing the web for 'noteworthy' content an easy task. Now they make your inbox more manageable too with the newly released Gmail add-on.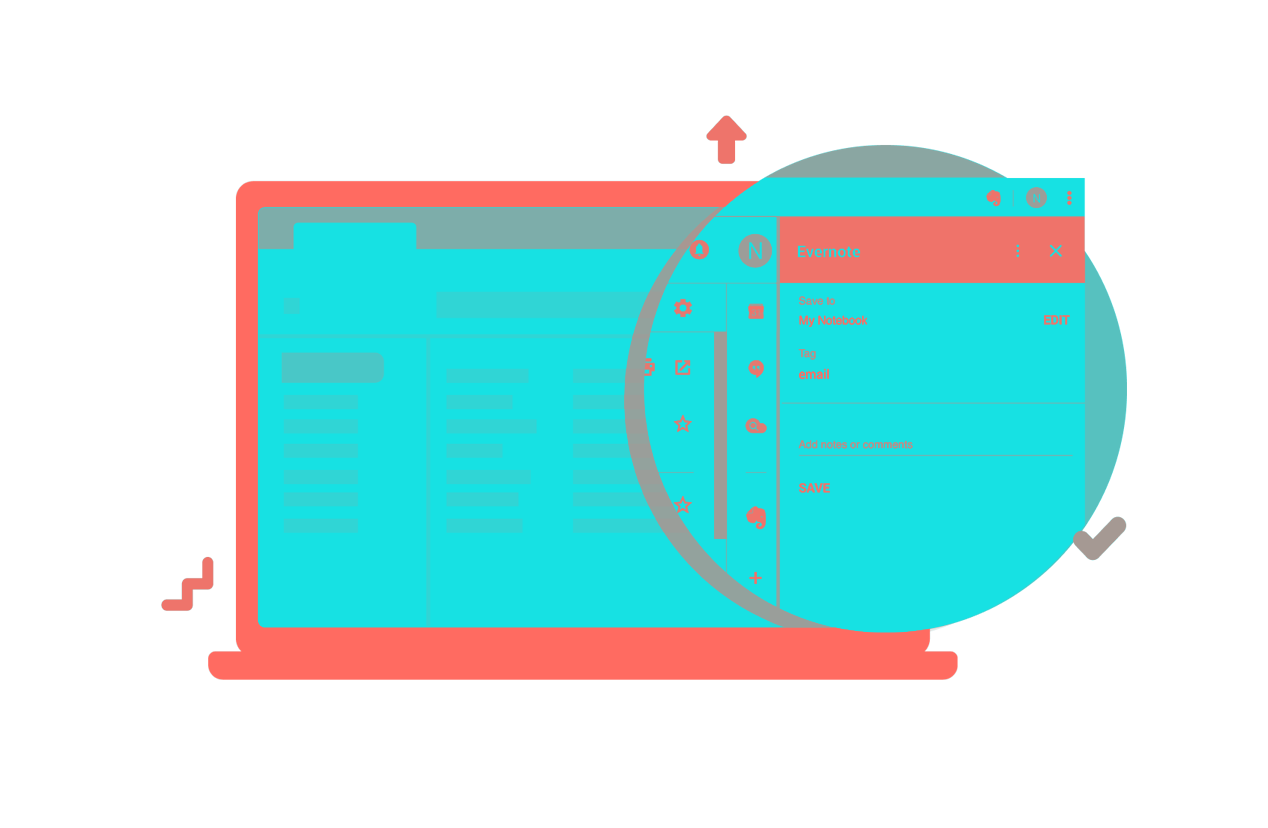 Gmail and Evernote: The great uncluttering 
The add-on announcement came in April and has already received a solid 4.3ish rating from close to 500 reviews from the G Suite Marketplace.
The main idea is to let Evernote solve the problem of email overload and inbox clutter. The Gmail add-on helps you log all the messages, ideas, lists, and goals from your inbox directly into Evernote so that you don't lose any of the important details. It does this by letting you grab any email and instantly store it in an Evernote notebook where it's easily accessible, searchable and shareable.
Meanwhile, no more arduous digging through Gmail's cluttered inboxes and threads.
From the envelope to the folder
The Evernote icon goes right into the Gmail platform. When you save an email—whether a whole thread or just a single letter—you can rename the subject, stick it into one of your Evernote notebooks, tag it and add comments, all directly within Gmail's dashboard.
Within Evernote, you can see your saved emails as notes and add text or images to them. You can share these emails as notes, or create a public link to the note which gets sent to your Gmail outbox for further sharing.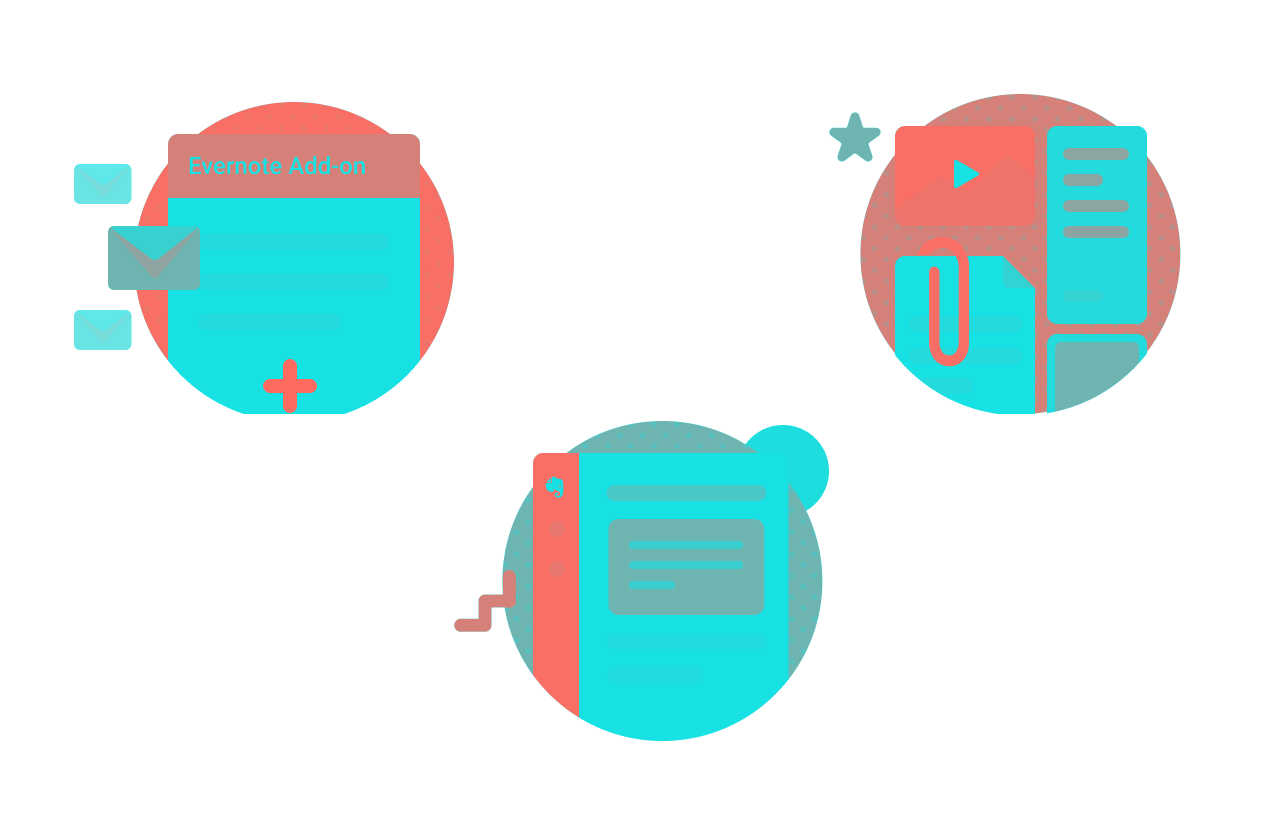 All about the Evernote app
Aside from Gmail, Evernote lets you create new notes directly in the app, import notes from the web, and create notes by snapping pics. All your notes are easy to sort through, you can access them across a desktop and mobile app, and can even collaborate in notes with partners.
Web clipping
The Web clipper is an Evernote extension for Chrome browser which is an upgrade from basic bookmarks. It lets you "clip" anything you come across online worth saving and sharing: web pages, articles, text snippets, and even PDFs.
Web clipper does screenshots with markups, meaning you can add text, highlight and draw on the shot, crop, and zoom, or even add visual callouts for extra emphasis. Everything clipped with this tool is added to an Evernote folder and easily searchable.
Templates
When it comes to specific reasons to make notes, Evernote provides useful templates. Some examples for work alone are: planners for your day, week, month or year, budgeting, event feedback, new recruit hiring information, meeting agendas and minutes, project tracking, marketing, and social media campaign planning, and more.
Tagging, searching and syncing
There are notebooks and tags to organize all notes into folders with as many filterable labels as you like. However, you can also just keep all notes unsorted, since Evernote has a powerful search function to go through the content of all the notes.
All your notes get synced across all your devices, letting you even start a note on one device and finish it on another. You can also do voice-to-text notes with mobile using iOS's Siri or Google assistant.
Scanning, snapping, speaking
Using a photo tool on the Evernote app lets you snap pictures of documents, receipts, business cards or labels. This works like a scanner which then saves both the picture and the captured text. 
Evernote's scanner is powerful enough to decipher handwriting in 11 languages, and typewritten texts in 28, which helps properly index the content. This is a good way to back up notes jotted down in meetings or even capture elaborate whiteboard brainstorm sessions. 
Finally, you can use Evernote to record audio notes. To convert audio to text, though, you have to use your device's voice-to-text modules.
Business collaboration and integration
When it comes to teamwork, Evernote helps groups of people stay on the same page by avoiding excessive duplication, and therefore no confusion over the latest versions.
Indeed, sharing and collaborating might be the most valuable benefits of Evernote when using it for work purposes. 
That's why Evernote offers its Spaces collaboration tool, which because of its utility in the work-world, is naturally a part of their business plan. Still, they do offer a free plan that has the most basic note-taking abilities with some sharing too.
As for integrations, Evernote works directly with some of the major apps like Google Drive, Outlook, Salesforce, Microsoft Teams and Slack. 
For indirect integration through Zapier, there's everything under the sun, from project management tools like Trello and Asana; social media platforms like Twitter, Instagram and Facebook; to inbound marketing apps like HubSpot; and CRMs like Zendesk and Sugar.

Remember everything
Notes remember everything without heaping loads and loads of near-indistinguishable iterations atop the already heavily burdened memory pile.
Evernote's philosophically-minded co-founder, Stepan Pachikov, believes that everyone should begin using Evernote as soon as possible and to consider it as a second brain. Pachikov invented the ability for computers to read handwriting, which affects a lot of daily actions like receiving hand-written mail or using a stylus to digitally sign for your package. So, the man has the credentials, to say the least. 
He envisions a future where Evernote will be "a full backup of your memory." Supposedly, part of the motivation was that he himself is cursed with a terrible memory, and would dream of "capturing information and thoughts at the speed at which we think." 
It's not just about fixing faulty memory, it's about creating a clean and clear mental space. Just think of all the innovation we might accomplish when our minds are freed from the burden of holding all our past memories alongside our future projections?
So, as rudimentary as note-taking might seem, especially in our techno-mediated society, it's important to keep in mind that it's not just the volume of words on papers, or texts on screens. It's about innovative ways to organize, store and share the best ideas at the most opportune time and place. This is the Evernote solution.