The Future Call: Dialpad and VoiceAI
A month ago, cloud-based phone system Dialpad made the Forbes Cloud 100. That's a list of the world's top one-hundo private cloud computing companies, judged by CEOs from public companies - so no naughty business.
The inclusion is well-earned. This startup has been on a tear in 2018, acquiring business voice AI innovators TalkIQ for a cool $50 million in May, then quickly getting the money back with $50 million in funding from ICONIQ Capital in July. It now has 50,000+ customers, including WeWork, Uber, and Reddit.
In a crowded market, everyone likes what Dialpad's doing for business communications. But what exactly are they doing so right?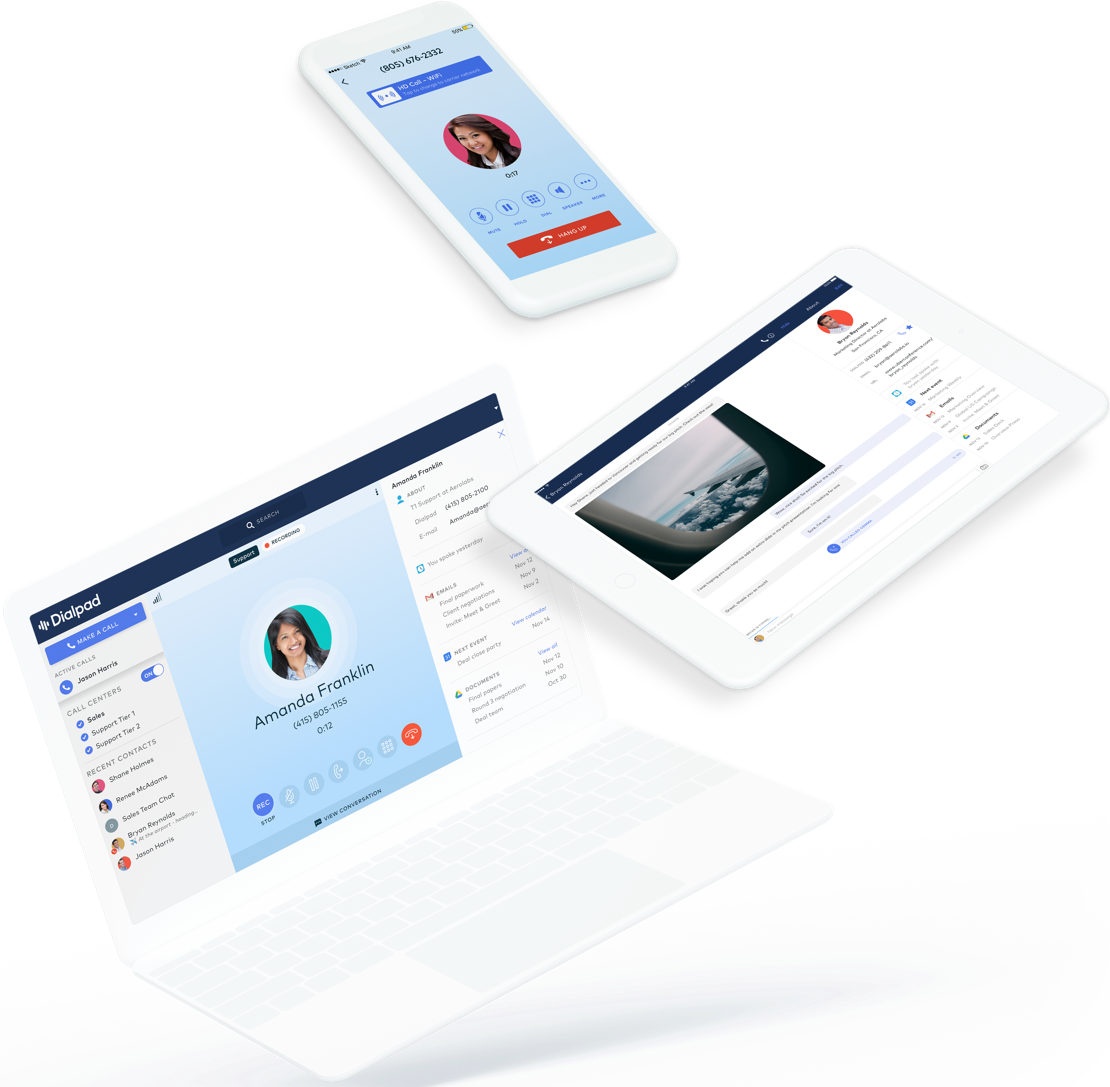 Image credit: Dialpad
How Dialpad got Forbes-worthy
Dialpad is a cross-channel platform with voice, video, call center, and messaging features. Not only is it the only business phone system that natively integrates with G suite, Dialpad also disrupts legacy IT providers by offering a smarter, more agile alternative.
The company's approach has always been softphone first. Their 'killer' motto, "kill the desk phone," says it all. Rather than invest in hardware that gets outdated fast, you just sign up and start handling business communications from the devices you already use. It's easy to set up teams, departments, and different offices, so you can scale up your business without going broke on IT costs.
Everything is built on the Google Cloud platform. It's all hosted there too, which means you can seamlessly shuttle work between the crusty office DELL and your iPhone X. You can also move between devices mid-call and continue using mute, transfer, and hold. This is an absolute godsend if your device's battery is dying, or you just want to switch to mobile to walk and talk.
In-app HD quality audio and video ensure all this device-switching actually works and works well.
Definitely, the most exciting thing about this product is the fact it now incorporates advanced AI analytics for all things business voice. When the company bought TalkIQ, they mind-melted its tech into their own platform and rebranded it as VoiceAI.
Dialpad VoiceAI analyzes customer sentiment and other sci-fi innovations
Using industry-leading speech recognition and natural language processing technology, VoiceAI automatically and accurately transcribes sales and support calls in real-time. You also get immediate insight into which parts of the call were most important.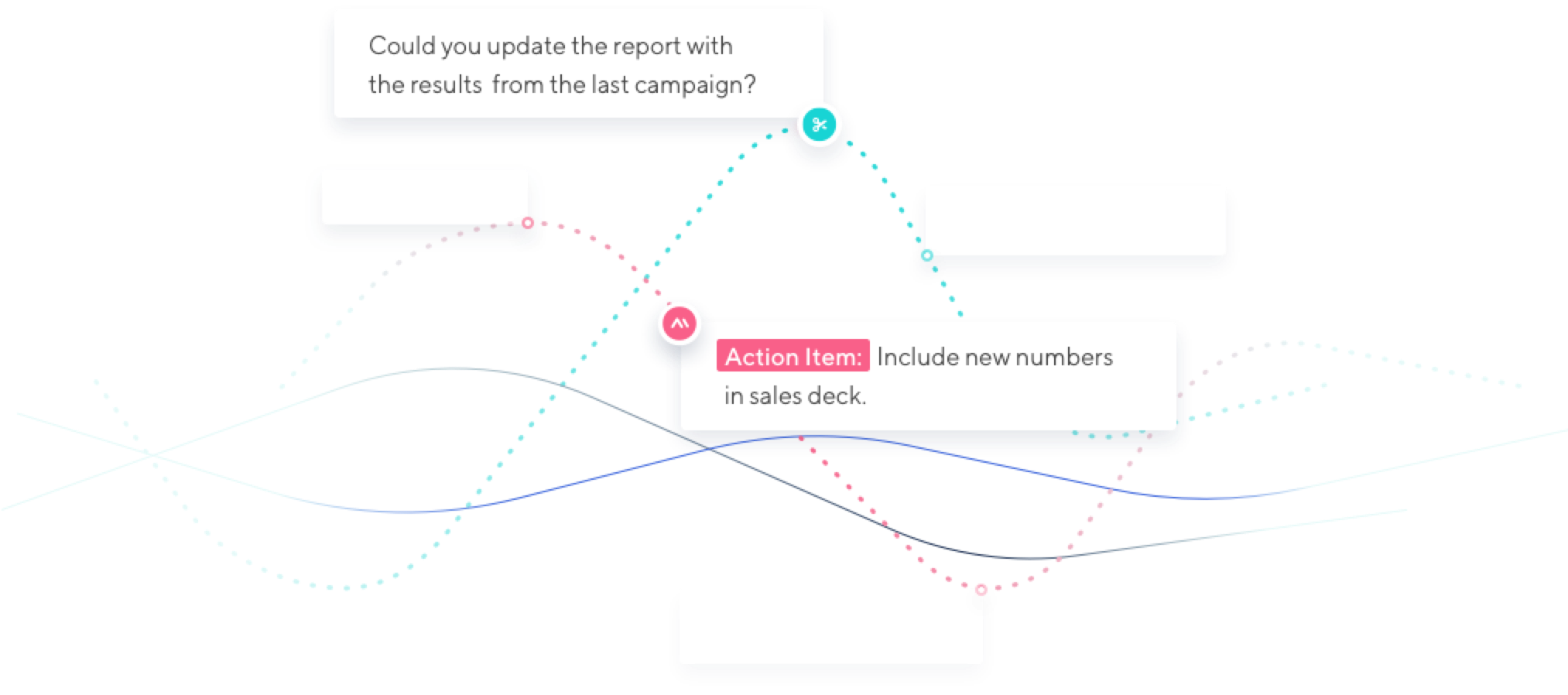 Image credit: Dialpad.com
VoiceAI generates Smart Notes about the conversation that just happened, charting customer sentiment and giving you a list of Action Items - the things you said you would do over the course of the conversation, like "I'll email you the detailed product description."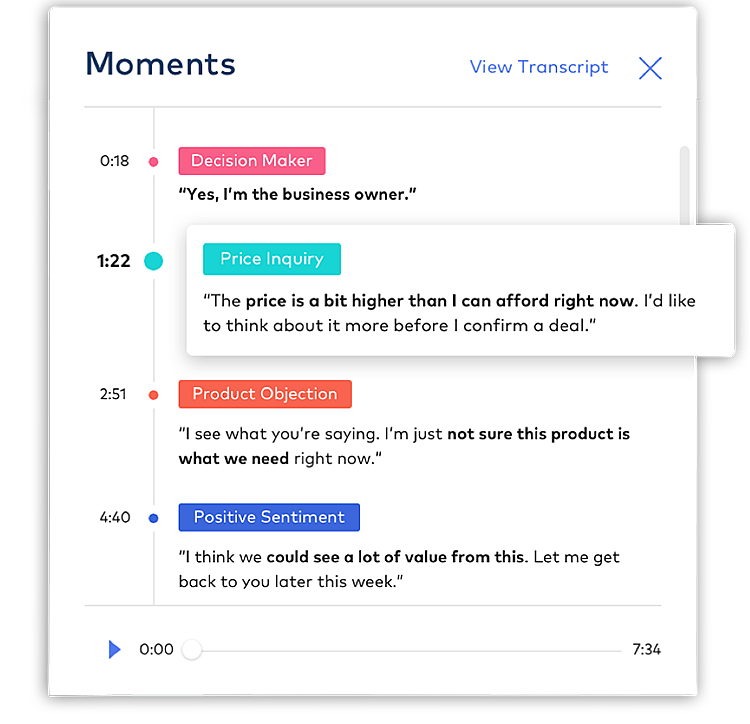 Image credit: Dialpad.com
The Moments feature provides a timeline of each business voice call with key moments highlighted and classified by customer 'intent signals.' For example, when someone says something like "I don't think I need this product right now," VoiceAI automatically classifies this as a 'product objection' and makes a time note. When someone says "we might not be able to afford the price right now," it notes this as a 'price inquiry,' giving you the chance to follow up and strike a deal.
Real-time sentiment analysis creates a customer satisfaction score on the fly. Real-time coaching listens in on the conversation, providing sales team members with feedback in the form of recommended responses, pricing, features, and information on competitor offerings.  
Intelligence and Consistency: The Future Call
Being able to analyze patterns and trends in your sales calls lets you make sales pitches and scripts tighter and better. Crucial insights into the seller/buyer dynamic let you win more.
By offering a softphone service with NLP and AI leanings, plus a number of useful integrations with companies like Zendesk, Salesforce, Slack, and Dropbox, Dialpad makes it so that you can catch action items at the source. AI interprets data so that you can follow up (and link up) within your existing work apps. 
Long story short, Dialpad was already doing a lot right, but VoiceAI puts it over the top. Advanced AI capabilities have given the company a serious competitive advantage, and might just give yours one too.
For Dialpad download click here 
Check out more details on Dialpad pricing here