Carrot & Leadership: Because Clarity Speaks Volumes Over Authority
Follow the leader
Carrot is a communication organization app with ambition. While it understands the advantages of keeping every individual in a company on the same page, it also helps leaders' voices be heard above the chatter.
In fact, their motto is "lead with clarity," and their homepage browser tab title is "leadership communication for fast-growing and distributed teams".
That's not one, but two shout-outs to the importance of leading.
But it's not that Carrot wants to put the omnipotent dictator back into the corner office. They recognize that "alignment happens when everyone is pulling in the same direction," and give leads the right set of tools to keep everyone on track.
Descending the ladder
The old baby-booming business model of top-down hierarchies are slowly going the way of the fax machines and dial-up internet.
Where once orders were handed (or shouted) down to the proles from the suits in the tower, today, everyone is encouraged to converse, chat and share across different but even-leveled flexible channels, regardless of your position.
It's vertical versus horizontal; one-way commands giving way to equal exchange.
But what if in this broadly positive transition, the pendulum swung a bit too hard? That is, might something be getting lost in this entropic conversational miasma?
In the age of Slack, it's hard for leaders to be heard in the infinite scroll of key announcements, updates, and daily decision-making.
So, wouldn't a better business communication structure take the best of both worlds—that is, horizontal group chatting combined with the singular voice of clear leadership?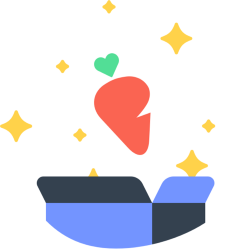 Getting priorities straight
Carrot, at its heart, is an asynchronous communication app—one that prioritizes and organizes messages based on their importance, not their chronology.
It avoids plunging users deep into synchronous conversational threads. Instead, it acts as a hub for leaders to organize communication in such a way as to guarantee their employees do not miss new messages, are aware of high-priority messages, and have the ability to easily respond and attend to the tasks each message delivers.
These priorities make Carrot ideal as a leader-focused communication tool.
It's not meant to trump all other chat tools, but rather to work diligently in the background of other apps. Perhaps this is a reflection of constructive managerialism: not constantly front and center, but rather standing firmly behind the team, ready to lend support or offer an encouraging nudge.
Slack integration
This internal communication tool positions itself not against, but alongside chat tools like Slack, which is one of Carrot's main integrations. It is less the anti-Slack, and more the Bert to Slack's Ernie: a bit more mature, serious, to the point, and ready to get things done.
Integrating with Slack seamlessly, Carrot gives leads a control panel where they can draft posts and categorize priority before posting to Slack.
Teams can respond directly within Slack, Carrot keeps it all in sync.
In Carrot, leads can stay on top of who has seen their posts. If team members haven't seen a post, the platform will automatically remind them to check it out—keeping communication effortlessly consistent.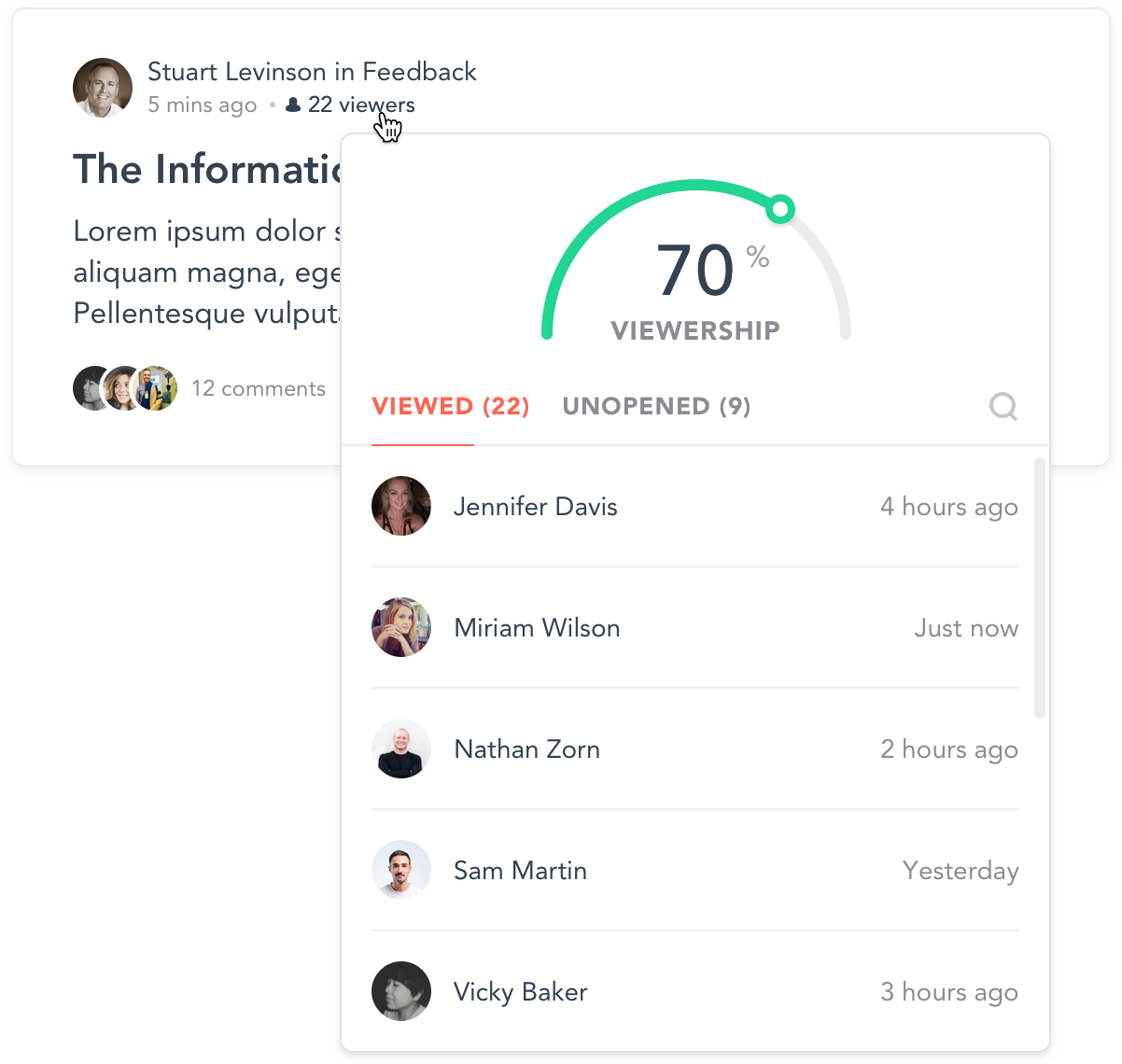 No one wants to get lost in a Babushka doll of conversation threads
Ever fire up the computer only to get overwhelmed by an avalanche of unread chats? Or even worse, get lost in the messy tangle of unsorted email threads, with replies nested in replies like a defective Babushka doll?
How do employees know what's important? How can they be sure there's not something from their lead in there? And even if they try to go through everything in order, they'll never be sure that some key tidbit of information didn't somehow elude them.
Carrot solves such problems. Here's how:
No shortage of incentives to bite into Carrot
Getting in sync
First things first, get Carrot in sync with Slack. There's no need to trudge through lengthy login procures twice if you're already up and running with Slack—one click gets it all done.
The administrators of a Slack group can manage access to Carrot, which helps for adding or removing team members from the network. There's even a Carrot Bot for Slack for auto-sharing between the two platforms.
No RSVP required
The next step is managing and inviting team members to populate the Carrot network. You can do this by sending a URL invitation, or one via Slack or email.
The admin assigns a status for each new addition: admins who can edit all posts, invite others, and deal with things like team management and billing; contributors who can also edit posts and send invitations; and viewers who can't change a post but can add their own two cents.
Starting the day with what's new
Carrot likes to call the dashboard a Morning Digest. It's an overview of all posts and meant to have the opposite effect of email overload.
All messages (including ones synced from Slack and Google Drive) are very clearly presented and tagged if they are new or "must see."
Messages are also put into sections, like "all hands," or organized by specific departments like sales or design. Messages can even be based on type, for example, announcements or events.
You can create and edit new sections anytime, controlling whether it is for the whole team or only for specific members. These sections can also sync up with Slack #channels.
Got something to say
Creating a post happens in an unobtrusive pop-up window to the side of the dash so that you can easily work with your inbox in plain view. While composing, every word gets saved as a draft and remains strictly for-your-eyes-only.
You then pick a section for your post, or if the one you want doesn't exist, you can create it on-the-fly in the post-composting window.
Using "@mentions" sends notices to the targeted users via the app, Slack or email. Attachments and images are easily pulled from your computer or cloud services (GDrive, Dropbox, etc.).
Here's a real noteworthy point: Carrot shows you who opened a message and when. For those taking their sweet time to attend to their inbox, Carrot will automatically send them a friendly reminder.
Show and tell
Maybe you need to quickly rattle off some ideas and typing away will only stunt everyone else's flow. Then skip the text and hit record to start a video post (which can also be mixed with text).
Embedding links from YouTube and Vimeo is no problem. Even cooler is their integration with Loom, which enables screen and camera recording.
If it all sounds a bit simple, it is, and not in a bad way:
Write posts

Get them seen by the right people as efficiently as possible

Get more work done faster

Leading by example
As a company Carrot practices what they preach.
Their own team works remotely, distributed around the globe, and their own platform is ideal for their team leaders to be absolutely sure that one hundred percent of their communications get through.
They also stand firmly behind concepts like open source, transparency and constant feedback from their users. They do this by developing on GitHub, and maintaining a Trello Kanban roadmap to field update suggestions.
Carrot offers a free plan for teams as numerous as ten. The free plan includes only 500 MBs of storage, but going over the limit still lets users read, write and edit posts, just no more attachments or video.
The standard team plan has no data limits. Here's where you get some of the best features, like the in-app video recording, the ability to see who's opened posts, and the automatic gentle nudges to those who are yet to do so.
Time to turn down the noise
The Slack age normal hustle and bustle means chat messages flow synchronously: one after another after another etc. This can be distracting.
Carrot organizes and presents messages is an asynchronous matter. It lets people catch up when it's not an interruption to their workflow.
Giving leads the ability to see who opens a message and when one might say Carrot provides a "leader's-eye view" of time and communication.
However, it's not Carrot's aim to reassert the lofty position of team leaders as omniscient because there's no denying the value that gets generated from letting everyone have a say.
But sometimes it gets a tad noisy and you need the right SaaS to come along and help send out the right messages that will cut through all the noise. This is Carrot.