Canva Makes Design Accessible
Simply put, Canva just gets the nature of contemporary graphic design.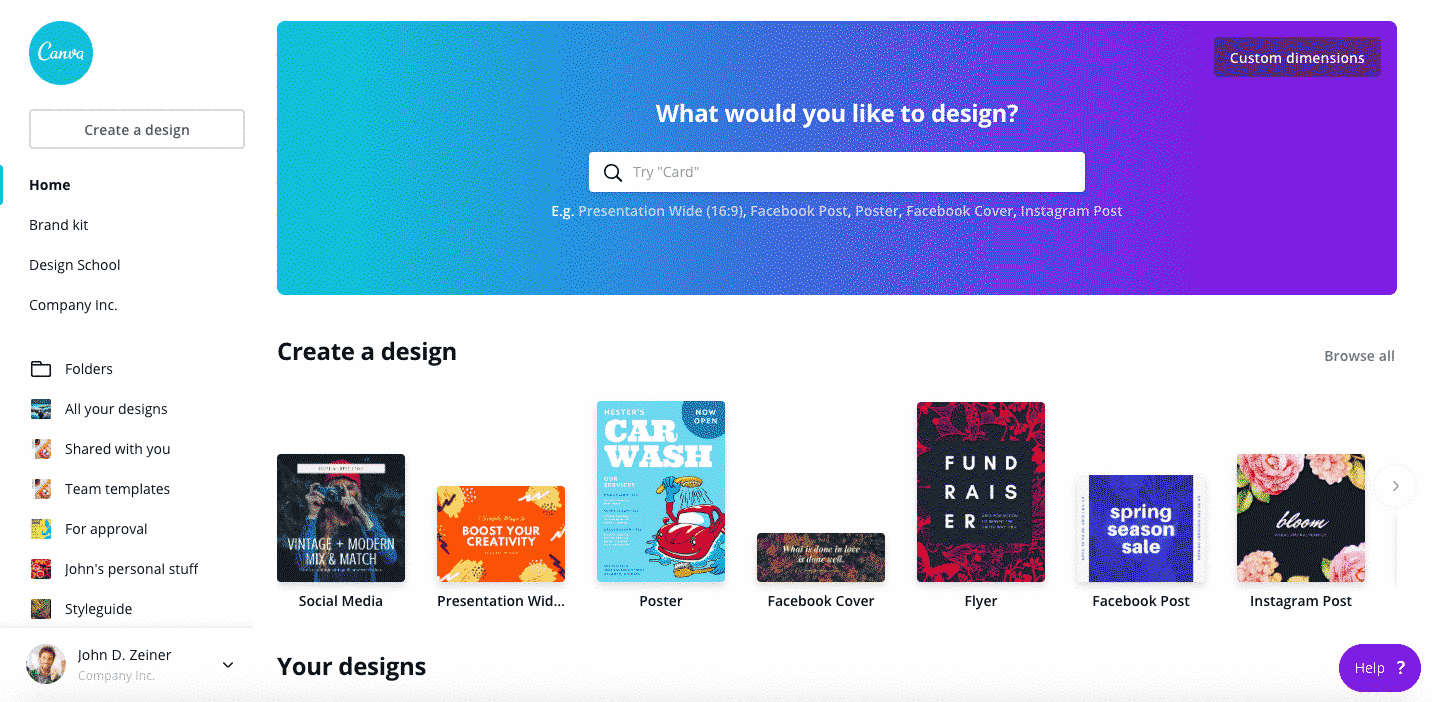 The online SaaS tool is built to help users deliver simple, outstanding brand aesthetics. It's packed with intuitive features and a vast archive of templates and images, making it easy to design websites, logos, calendars, media kits, presentation decks, social media posts, business cards, and most anything else under the sun. 
The app's user base is big and broad, comprising schools, small and mid-size businesses, to enterprise-level Fortune 500 companies (over 80% of them, actually). It's used by organizations as varied as Duke University, Greenpeace, HubSpot, Yelp, and Pinterest. 
All of them have found value in Canva's principles of simplicity and collaborative design. Could you, too?
Doing design for everyday people
"Our goal is to help people design anything and publish anywhere."

—Melanie Perkins, chief executive at Canva.
Canva started small, in a down-under, out-of-the-way place. 
Founder Melanie Perkins got the initial idea behind the app way back in 2008, at which point she was just 19 years old, living in her mother's house in Perth, Australia, studying commerce and communications at the University of Western Australia.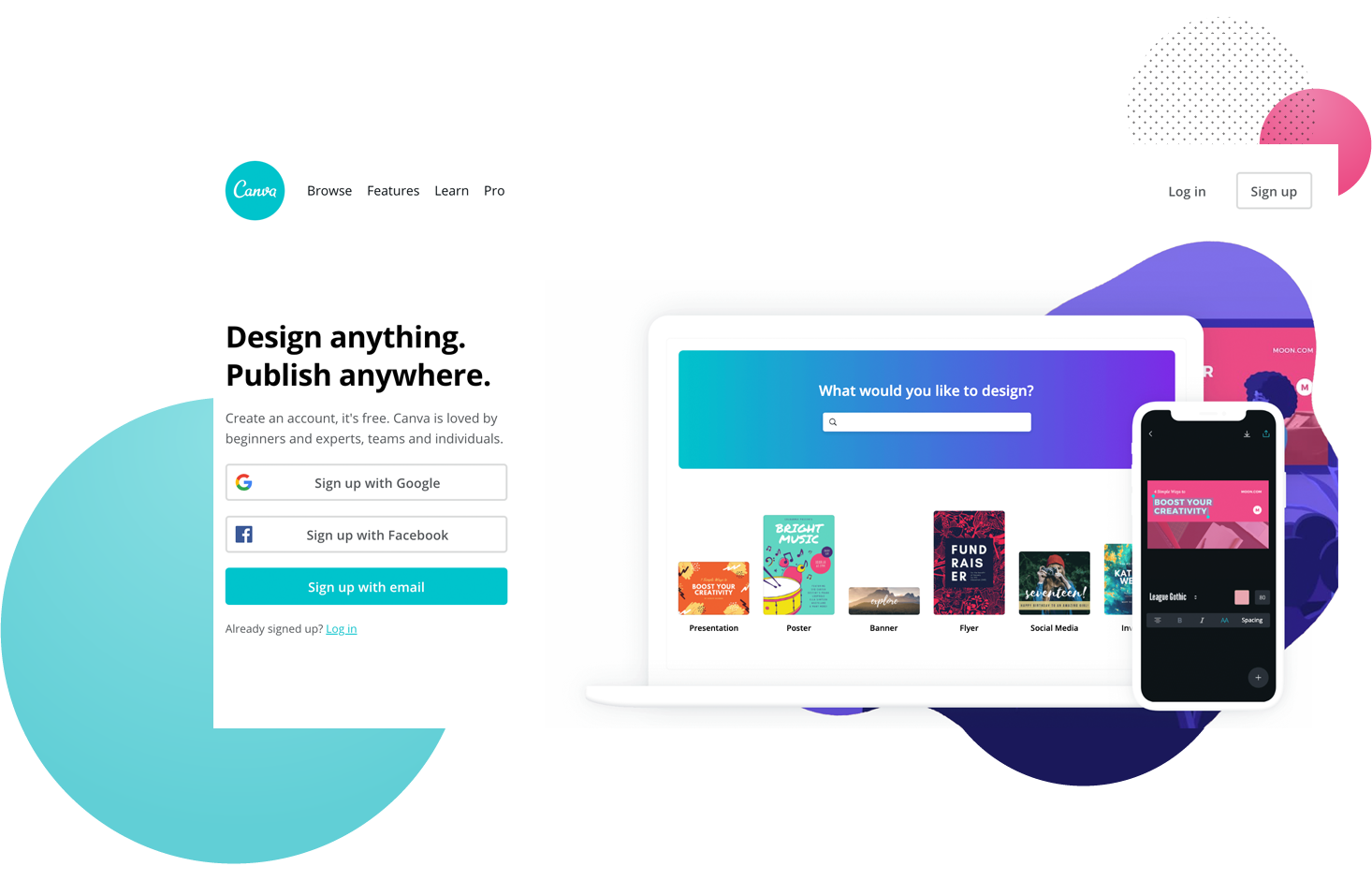 In her classes, Perkins noticed that design software took an inordinately long time to learn, and making stuff look decent was a hassle. Rather than grumbling and carrying on, in the manner of your typical undergrad, she instead saw a business opportunity and a vision of the future.
Perkins believed design was going to be "online, collaborative, and much, much simpler." And if she acted fast enough, she surmised, she could build the tool that realized this vision first. 
Along with boyfriend Cliff Olbrecht (now Canva's Chief Operating Office), Perkins founded her first company, Fusion Books, which targeted the very niche market that is school yearbooks. The Fusion app offers a drag and drop editor with a selection of templates, graphics, and fonts to choose from, allowing anyone to create a visually appealing record of one's very own Wonder Years. 
It was a big hit. She dropped out of school, and in 2010 she started pitching the Canva concept, i.e. a big idea version of the Fusion app for general users, to Silicon Valley investors. It took a while for anyone to bite, but in 2013, Perkins banked $3 million in investment funds from former Google executive Cameron Adams. 
Canva received a $1 billion dollar valuation at the start of 2018, making it only the second Australian startup to receive 'Unicorn' status. Today, the company has offices in Sydney, Manila, and Beijing. The company is worth a whopping $2.5 billion, and the app claims over 15 million users across the globe.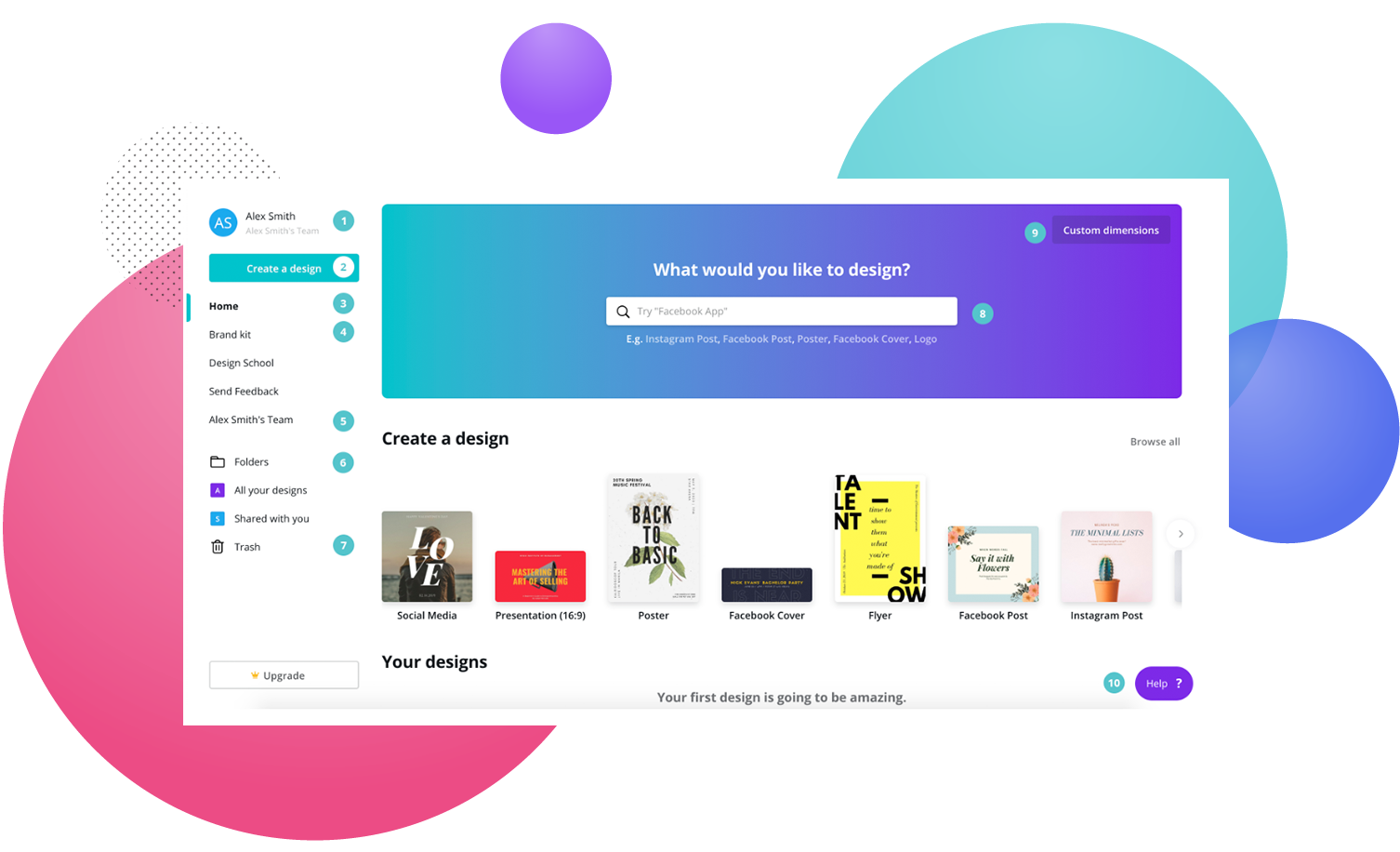 Whatever it is, Canva can do it
Canva offers an archive of over 2 million photos, images, and icons, and thousands of templates. This plethora of materials—and the mix-and-match nature of the Canva creative process—ensure that despite the fact the program is used by millions, no two designs will ever look alike. 
In other words, without hiring a single professional graphic designer, you can generate a great looking brand identity, and keep your flow of content aesthetically on-point. That's a big deal from the standpoint of budget, as well as flexibility and speed. 
The app's drag and drop user interface lets you do everything without any pre-existing knowledge of graphic design software. There are tools for photo straightening, resizing, image cropping, photo captioning and enhancement, speech bubbles, blur, transparency, old-timey vignette effects, and design grids for iterating and deciding on custom layouts, as well as vector images that can be blown up or shrunk down while looking clean and contemporary.
There's a utility for generating animations too, called Canva Animator. It's designed to work with all of the app's templates, so you can add eye-catching, interactive movement to your graphics in a snap.
Meanwhile, their brand kit allows you to quickly implement fundamental Good Design™ principles like color and font consistency. You can iterate, choose, and then save all your brand colors, fonts, and logos in one place (i.e. your brand kit folder). 
Of course, when compared to Adobe Photoshop, and more advanced utilities like CorelDRAW and Adobe Illustrator, the app is missing some features. But for most people at the intermediate level or below, as well as experts pressed for time or trying to deliver something relevant and attractive in a hurry, Canva does the job and then some.
Worth noting that there is a mobile version of Canva offered, but (perhaps unexpectedly) it isn't nearly as intuitive as the excellent desktop app.
Collaborate and prosper
Collaboration is one of the key values of Canva. You can share your work with shareable links and email, as well as design folders if you're a Canva Pro subscriber. 
Canva allows the people on your team to work together on design. Team members are already super knowledgeable about your brand, so it's only logical to have them transfer their innate understanding of what you're doing, and what you're all about, into crafting a (great-looking) visual identity. 
After creating a design folder on your Canva homepage, you just click the share button in the corner of the specific folder you want to share, choose which user you want to be able to view/edit the content, and in which specific folder—et voilà 
Team templates allow you to create custom, reusable templates that your team can access to quickly generate on-brand media. You can also create brand materials using different templates to add a splash of variety to your visuals, without swerving off your chosen path.
Getting Canva
The app is available at three pricing levels. 
You can get the basic version of Canva for free, which will give you access to a limited number of templates, only two folders, and a gig of storage data. The free version lets you upload your own images or browse and buy millions of curated, quite-good photos (priced from $1 and up). If you're a lone-wolf freelancer or running a business by yourself, this will probably do the trick.
To gain access to collaborative features, unlimited storage, and more expansive prefab content, you'll have to buy the Canva Pro plan for $12.95 per user, per month. 
If you have a big team (over 20 members), then you'll want to go all-in with the top-tier Canva Enterprise, which takes all the features of Canva Pro and adds features like onboarding incentives and team administrative controls. 

Canva raises the bar 
Canva has a lot to offer small and medium-sized businesses looking to spruce up their visual identity.
Being able to implement consistent brand aesthetics without breaking the bank, or daily workflow, is a huge coup. So too is the ability to collaborate visually with your team, the people who know your brand inside and out.
And this, of course, is why the app has been a runaway success story. The value is there for all to see.
You'll never have to settle for amateurish, clip art graphics again. Good design is good to go.