Breeze: A Cool Fresh Take on Total Project Management
Breeze is an all-in-one project management tool to plan and track work with clear visual dashboards. It is a getting sh*t done approach to projects for teams—easy to use and elegant to the eye. Its no-frills package is remarkably effective for improving clarity and efficiency. With its simple overviews, Breeze helps pinpoint at-a-glance where and when work slows down, and whose idle time could be redirected to help boost a job along.

Kanban style
Breeze takes the basic idea of a Kanban system and runs with it to offer something way more robust for SMEs and even solo freelancers, specifically with features for tracking and reporting.
"Kanban," which is Japanese for signboard, is a straightforward system where tasks are put on cards, and cards on pinned to a board in vertical columns. Each column, from left to right, represents a stage of a project. A most-rudimentary Kanban setup would go something like this:
Need to do > In Progress > Done
Where either the next available employee grabs the topmost card in the first column, or, a team leader can assign task-cards to specific workers. Breeze, with their simple design, and intuitive UI, makes doing this a … well, breeze.  
Breeze's simplified package
One thing that makes Breeze the ideal project management tool is their stack of features, which are comprehensive but more importantly, not excessive. Cramming in every feature under the sun may look impressive on a sales pitch, but they will likely only bog down the user experience.
Breeze narrows their tools down to what you need and nothing more, with the main ones being:
Project boards

Task cards

To-do lists

Time tracking

Calendars

Reporting

Project management
Every project has its main board which gives an overview at a glance. On the board, you create lists, which are the vertical columns, and you customize them to specify a certain stage in the progress of a task.
Each new task becomes a card. Cards can be given deadlines and be assigned to specific team members using convenient @mentions, so they'll be notified when they get an assignment.
Cards can then be dragged and dropped vertically on the list based on their priority, or horizontally as the task moves toward completion.
Task cards can also be used to leave comments and feedback among team members, and files can also be uploaded and attached to each card.
Furthermore, each task can be broken down into a to-do list. This might sound redundant, but with Breeze, you have the freedom to decide how detailed you want to drill into each task. For example:
The project is overhaul landing page

One task might be design new logo for new landing page

One item on a to-do list for this task could be, pick a color scheme for logo and for new landing page
Like tasks, each item on a to-do list can also be assigned, prioritized and commented on.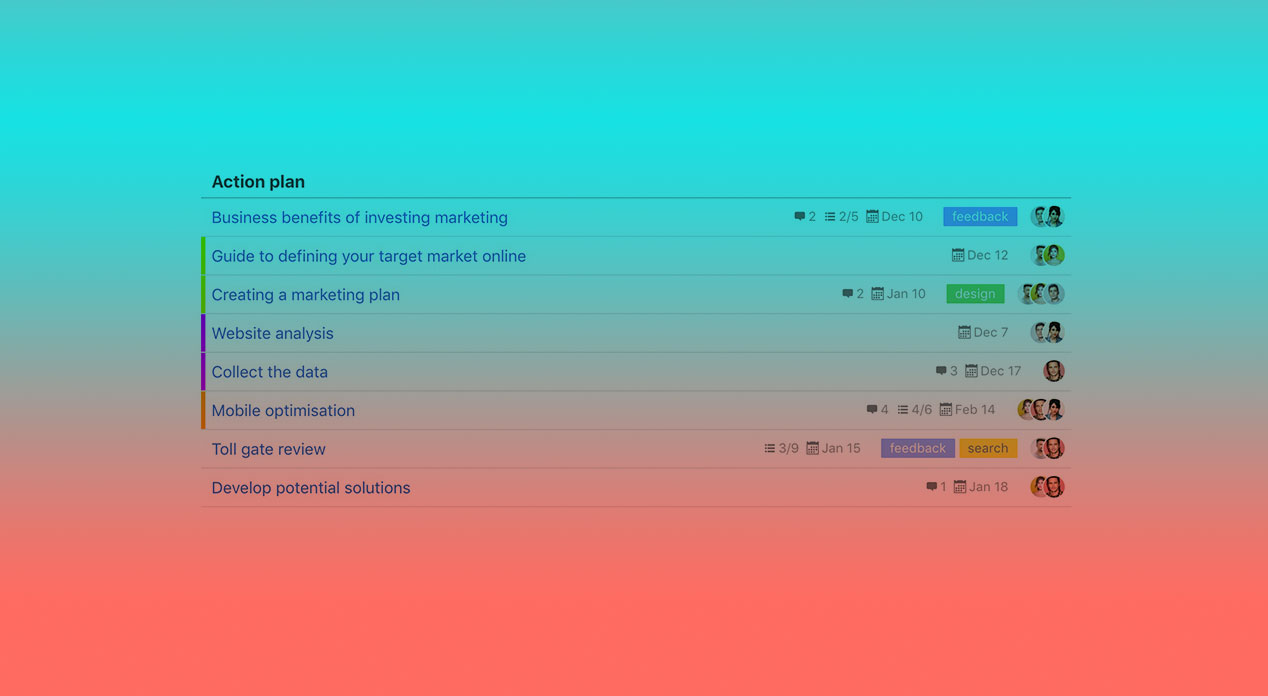 Tracking, estimating and reporting
When working on a to-do item or a task, Breeze lets you track how long it takes.
You roll up your sleeves, hit play on the tracker, and get to work. Every time you close your browser, the timer pauses and starts up again when you resume. This measures actual work time against estimated time, which helps fine-tune future time estimates.
Likewise, you can use the timer to gauge how close you are to your budget. You set a billing rate per hour of work and measure the billable hours against the estimated budget. You can also tell Breeze when certain hours should not be billable.
There are always many factors being juggled in the air during the lifecycle of a project, like how long each task is taking, what's done and what hasn't been begun, and who is overworked and who is idle. Breeze has got several different reporting features to make sure you never drop the ball.
For example, you can view the total hours worked on a task based on a day-by-day bar graph, or see how much time each employee has put into the task or project. You can also get a big-picture glance at every task in a project over an extended period of time.  
Finally, you can see which employees have taken too much onto their plate, and which might be getting through their tasks faster than the time given them. This way, tasks can be shuffled, and nobody gets stressed with too much work, or forgotten with too little.
Calendars
While projects seem to follow their own linear logic, we can't forget that their life cycle happens on normal human time. For this reason, Breeze has several calendar dashboards to keep projects on schedule.
There's a master task calendar, where all tasks for all projects are represented by blocks stretching over the number of days on which they're being worked on. These blocks are color-coded by project, all of which are listed to the side of the calendar.
You can zero in on a daily agenda calendar too, which displays all tasks in a descending list from the present day onward. These tasks are also color-coded to match their project, and they can be set for "all day" or a specific time and duration.
Next, you can view all the tasks by a specific employee or team workload. And finally, you can view calendars for specific projects only, with all deadline and estimation information available.
All the calendar data can be synced with Google Calendar, Outlook, or any other calendar module your company uses.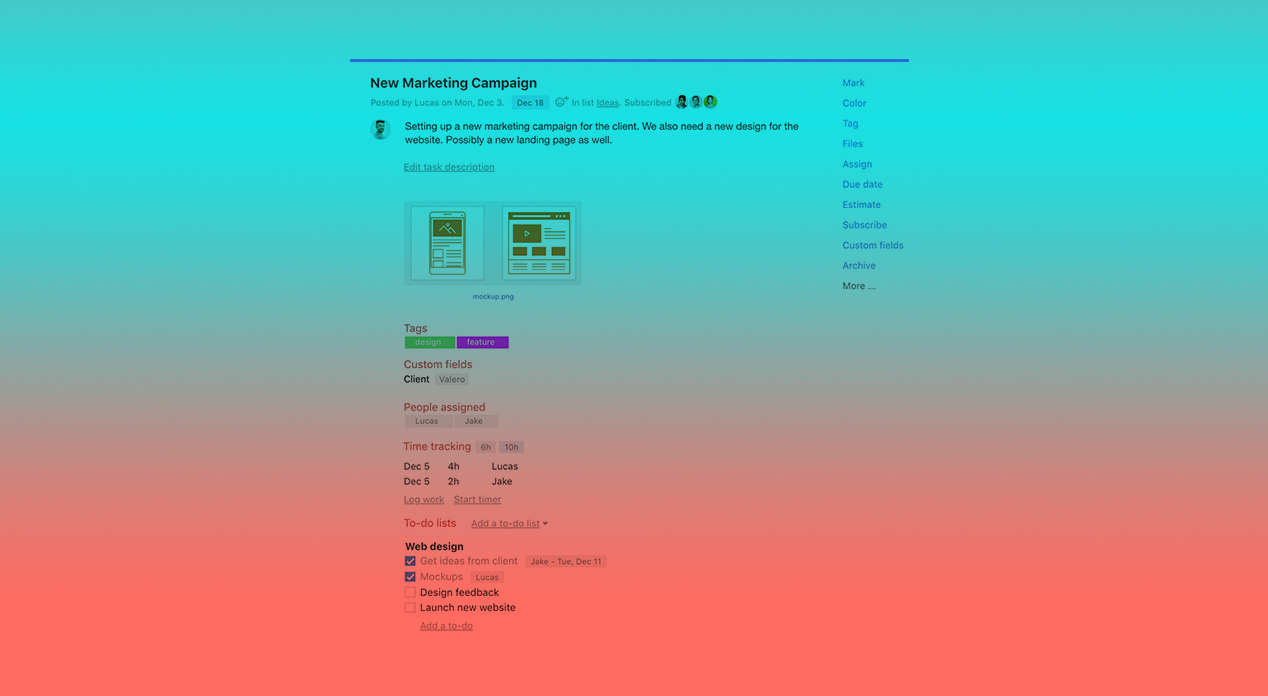 Project management as second nature
If you're thinking about a comparison to Trello or Basecamp, you're not far off from the original idea behind Breeze.
As CEO Rene Vahtel explains, "I tried to use Trello and Basecamp and they failed to solve my problems ... Breeze is a Trello and Basecamp mashup that adds a lot of the missing functionality that is needed for everyday project management activities."
Some of those specific functions are Breeze's calendars, tracking, budgeting, and reporting, all of which turn a lame-duck Kanban into an organizational power tool.
The cost of getting your hands on this tool varies depending on the size of your company, although all plans include every single Breeze feature. For those curious to try it out without committing, there's a 14-day free trial.
Breeze was designed so that using it feels like second nature. After all, Kanban is just a fancy Japanese word for a board, and according to Vahtel, "the user shouldn't even have to know anything about Kanban. To them it should look just like a big board with tasks and lists, that's it."
It, being crossed-off items on a to-do list, completed tasks, successful projects, and beefed-up mastery of the modern art of getting sh*t done.