Bitly: Taking the Customer Experience Into Your Own Hands
How frustration can lead to innovation
In 2007, Twitter began gaining worldwide popularity. It slowly started becoming the best place for people to express their wildest thoughts that they might not want to share with their immediate families. 
The happy story didn't last long.
Twitter had a character limit of 140 characters, and people had a lot to say. As people struggled to fit their thoughts into a tweet, frustration grew.
The struggle would have looked something like this:
The truth is that 9% of the English tweets hit the character limit. This statistic reflects the struggle of fitting a thought into a 140-character tweet. The outcome? People spent lots of time editing and even abandoning their tweets in frustration. 
But people have a history of being bright, so they started using URL shorteners like Google's link shortener, goo.gl, to compress their tweets.

The popularity of URL shorteners led to the creation of Bitly.com in 2008. Today, it reports shortening 600 million links per month and getting over 200 billion clicks per year.
Although Twitter users can now tweet up to 280 characters, URL shortening remained a widespread method for content distribution across social networks and other channels.
What is Bitly? 
Since its creation, Bitly has evolved from offering URL shortening services to a powerful link management platform that helps businesses build awareness and make sense of tons of data. 
If your needs are simple, you can use it to make a shorter URL and move on with your life.
If you're a large business, you can leverage Bitly's link management features to:
build brand awareness

boost your social media efforts

test landing pages

create campaigns

drive sales
We can see brands of different shapes and sizes using Bitly in their marketing efforts. 
Here are a handful of examples:
ESPN - uses Bitlinks to track the engagement on their social posts.

Mashable - uses Bitly to keep track of visitors who come from Instagram.

Smaller startups - leverage the tool to test different CTAs to check what is driving traffic and what isn't.

Other brands - use Bitlinks for shortening and branding links for SMS campaigns.
What are URL shorteners?
Let's make the concept of URL shorteners easier to grasp by using a simple abbreviations analogy. 
Here's a phrase that's familiar to everyone: you only live once. 
The phrase got shortened for digital communication use and is today widely typed as YOLO. 
Well, URL shorteners, instead of shortening words, they're tools for shortening URLs. A tool like Bitly takes your long URL and transforms it into a shorter one. 
Here's an example:
Long URLs are confusing, sketchy, and unprofessional, while shortened URLs take up less space, are more memorable, and keep your text tidy. 
Even better than short links are short branded links. Short branded links are more recognizable, trustworthy, and clickable.
Benefits of using Bitly
Finding your way through the maze
All marketers strive to create content that will drive results. But to know if the content drives results, you need to measure it and make sense of the data. 
That's where the link comes in.
Instead of only comparing impressions, engagements, and shares, using a Bitly link can help businesses understand how each piece of content, channel, and campaign is bringing in value.
The link works reliably on all platforms, be it Facebook, Twitter, or Linkedin. It's also trackable, meaning it can give valuable data points about who's clicking, from where they're clicking, on what device, or from which channel.
Companies can use Bitly links to compare data across channels. They can track campaigns to see which channels drive the most traffic back to the website. 
Ultimately, you'll have the power to connect with your customers, with the right message, to close a sale. 
Source: bitly website
Rooting your brand into people's minds
One crucial ingredient of a recognizable brand is consistency. Consistency makes a brand recognizable but also memorable. When a brand is consistent across channels and devices,
its perceived value increases. 
And a recognizable brand can achieve its business goals more easily. 
You never go into a supermarket thirsty, see a bottle of Coca-Cola but hold off on buying it until you consult with online reviews. You already know who Coca-Cola is, and you trust the brand.
Apart from imagery, color palettes, and taglines, links are another vital part of maintaining a consistent brand. You share them across all of your channels and devices, and you include them in your newsletters. 
In a way, links string together your customer journey and play a critical role in how customers engage with your brand.
One major reason why Bitly is now playing with "the big guys" is because of its "branded links" feature. A branded link is a shorter version of a URL built around a brand name or related term. 
Branded links ensure your brand is noticed, regardless of on which channel you share the content or what kind of content you share. 
The next time a person sees your branded link, they'll know that it's your company and the chances of them clicking on your link are instantly higher.
Features
Link management
On Bitly's website, you can notice a line that says: Everything you need to create and manage powerful links at scale. 
Yes, we can all agree that's great copywriting, but what does it mean?
It means that Bitly equips you with all the tools you need to create effective marketing campaigns. 
You have the option to make long links shorter, customize your back-half, create branded links, as well as custom branded links. 
On top of this, the dashboard allows you to gain a closer view of your links and how they're performing. 
Within the "all links" page on the dashboard, you have an array of data. Bitly provides a breakdown of your click engagement based on the actual number of clicks, referrers, and locations. 
When selecting an individual link, you can gain insight into how many clicks it received within a specific timeframe. 
The referrers data shows you the source of the click. For example, if you're sharing your link on multiple social media channels, let's say Facebook, Twitter, Instagram, and Linkedin, Bitly lists the social sites separately so that you can better understand which channel is bringing the most value. 
Moreover, you have access to location metrics that tell you from which location in the world your audience is coming. 
Why is all this data so valuable?
Because it can help you make smarter, data-driven decisions on where and how to invest your brand's resources.
On the plus side, Bitly is also available as a Chrome extension that allows you to shorten, measure, and optimize your links easily and rapidly.
Branded links
Did you know that branded short URLs have a 34% higher click-through rate than an unbranded domain? 
With a paid Bitly plan, you can choose your custom domain, which lets you create branded links. 
Example: a generic Bitly link looks something like this: https://bit.ly/2Zlypjb
In the example, "bit.ly" is the domain, and the alphanumerics that follow are the path.
In a branded link, you can fully customize how your link looks like. 
Bitly will walk you through the process of setting your branded short domain up to work with the platform. 
If you purchased a domain that's called es.pn, then your branded link will look like this: https://es.pn/5x4tprm
You can further customize the back-half of your link so that your audience can see it like this: https://es.pn/superbowl 
The power of the branded link is that it's more recognizable, and at the same time, it informs your audience where you're taking them. 
Source: bitly website
Mobile links
Hear this: 98% of all SMS messages are read! Around 90% of those messages are read within the first three minutes of being sent!
Great news: Businesses that use Bitly get an opportunity to create branded links at scale and deliver informative messages to their customers. 
One of Bitly's clients that owns several casual dining chains needed a quick solution for several SMS campaigns to share coupons and promotional offers.
The brand sends out around 24 million links every year. 
Let me say that again: 24 MILLION LINKS. 
Long story short, Bitly helped the brand create thousands of unique SMS communications using short branded links thanks to the almighty Bitly API. And since they're short URLs, the company saved a great deal on SMS fees. 
Here are a few other ways how Bitly can empower brands' SMS communications:
sending appointment reminders

re-engaging customers that abandon their carts

sending tracking updates to customers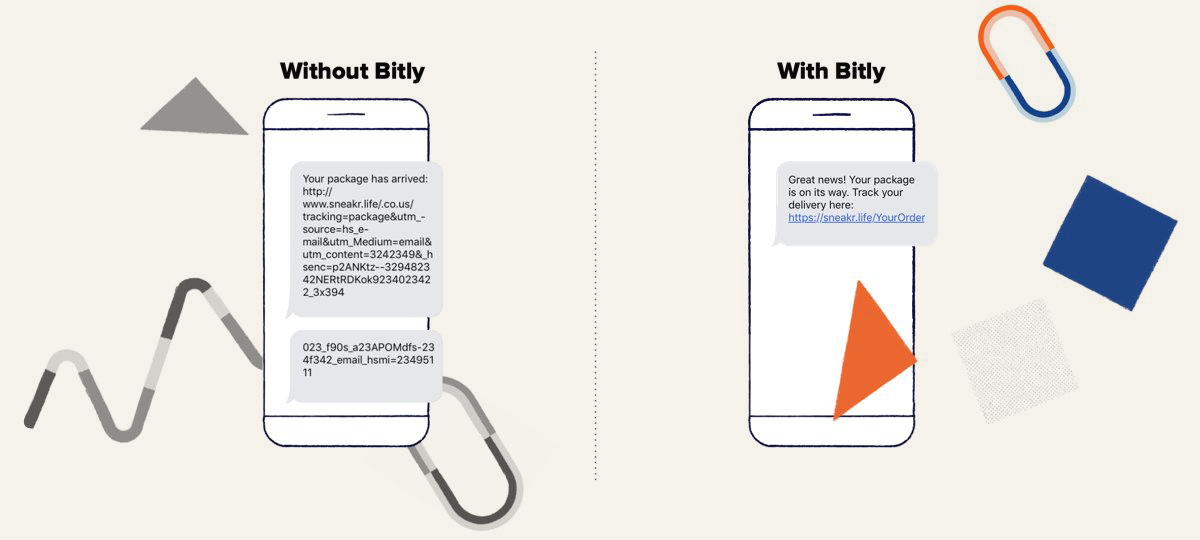 Source: bitly website
How do I make a bitly link?
To make a long link short
Making your long link short is incredibly simple. Go on Bitly's homepage and enter your URL in the box below the fold. 
In an instant (if not less), you'll be presented with a shortened link that you can copy and use immediately. That's it! 
To make a branded link
Step 1: Log in to your Bitly account.

Step 2: Navigate to the orange "Create" button.

Step 3: Choose your branded domain. (if you don't have one, make sure to upgrade to a paid plan to get one free custom domain to connect with the platform). 

Step 4: The last step is to paste the URL you want to shorten into the second field provided. 
And that's it! 
Once you're done, you're free to customize the back-half of your link. 
To customize your link, simply delete the alphanumeric code and replace it with something more relevant to the link content. 

Integrations
Buffer, Linkedin, Salesforce, Reddit, Twitter, Hootsuite…
Why are we listing all these social media and marketing tools? 
Because Bitly can nicely integrate with all of them. In fact, it can integrate with nearly every social media and marketing tool out there.
By integrating Bitly with your social media tool, you can more easily share branded links in your social content.
Instead of interrupting your workflow, you can now seamlessly manage your social media, campaigns, and customer experience.
Bitly API also integrates with some of the best SMS communications platforms to deliver branded and informative text messages to your desired audience.
For more detailed information, check out this resource page. 
Is using bitly free? 
Bitly offers three plans:
Free
With a free limited account, you can customize your shortened links, track click rates, and see your top referrers. The number of links is limited to 1,000 unbranded links per month. If you're a small business, then the plan sounds quite reasonable. 
Basic
The Basic plan starts at $29/month and includes:
1,500 branded links/month

1,500 custom back-halves/month

Free custom domain

Unlimited number of clicks allowed on the links you create

Create tags to group and categorize your links

Social posting

30 days of link history
Customized
The cost of the Customized plan depends on your company's needs. You'll need to request a custom quote. 
The plan includes:
3,000 branded links/month

Change the destination page for branded links

3,000 custom back-halves/month

SSL certificate available for purchase 

Free custom domain

Create tags to group and categorize your links

Group and manage links in bulk

Add UTM parameters to your links

Export of campaign data

Social posting

2 years of link history

Dashboard reporting

Mobile deep link reporting
Please view a more detailed report of Bitly's plans here. 
Source: bitly website
To conclude
From afar, Bitly looks like a simple URL shortening tool. 
But when you peek more closely, a world of functionalities opens before your eyes.
Branding links, measuring engagement, checking location, organizing campaigns, mobile communications optimization, tracking links; the list of features is a road with no end. 
You could be a painter who has her small eCommerce website. Or, you could be a Fortune 500 company.
Bitly offers a little something for everyone.
Whether you're using a free or a paid account, Bitly can help make sense of the data and help you come up with more informed business decisions. 
Hopefully, this post will inspire you to try new things with Bitly, whether you're a painter, tech startup, or enterprise.