CloudCall Launches Unified Communications for Bullhorn
Computer telephony integration provider CloudCall recently released Unified Communications for Bullhorn. This solution, integrated into CRM software Bullhorn, allows businesses to call, text and send instant messages from a single interface for more effective workforce recruitment.
CloudCall provides a computer telephony solution that is designed to help businesses enhance their communications. By integrating phone interactions directly into CRM platforms, CloudCall can optimize companies' relationships with customers and partners while maximizing the power of the CRM system.
The software integrates with many CRMs including Salesforce, Microsoft Dynamics (Microsoft CRM) and, more recently, Bullhorn.
Bullhorn, a cloud-based comprehensive tool, helps corporate employers and staffing agencies manage the recruitment process. It allows companies to post job openings, track candidates and fill open positions. Its features namely include email and social media integration, intelligent searching, reporting tools and mobile recruiting.

Image Credit: Bullhorn
The new CloudCall integration adds instant messaging, SMS and automatic call recording in a single interface. Bullhorn users are now able to initiate text-based interactions directly from their CRM, and automatically sync interchanges to the Bullhorn contact records.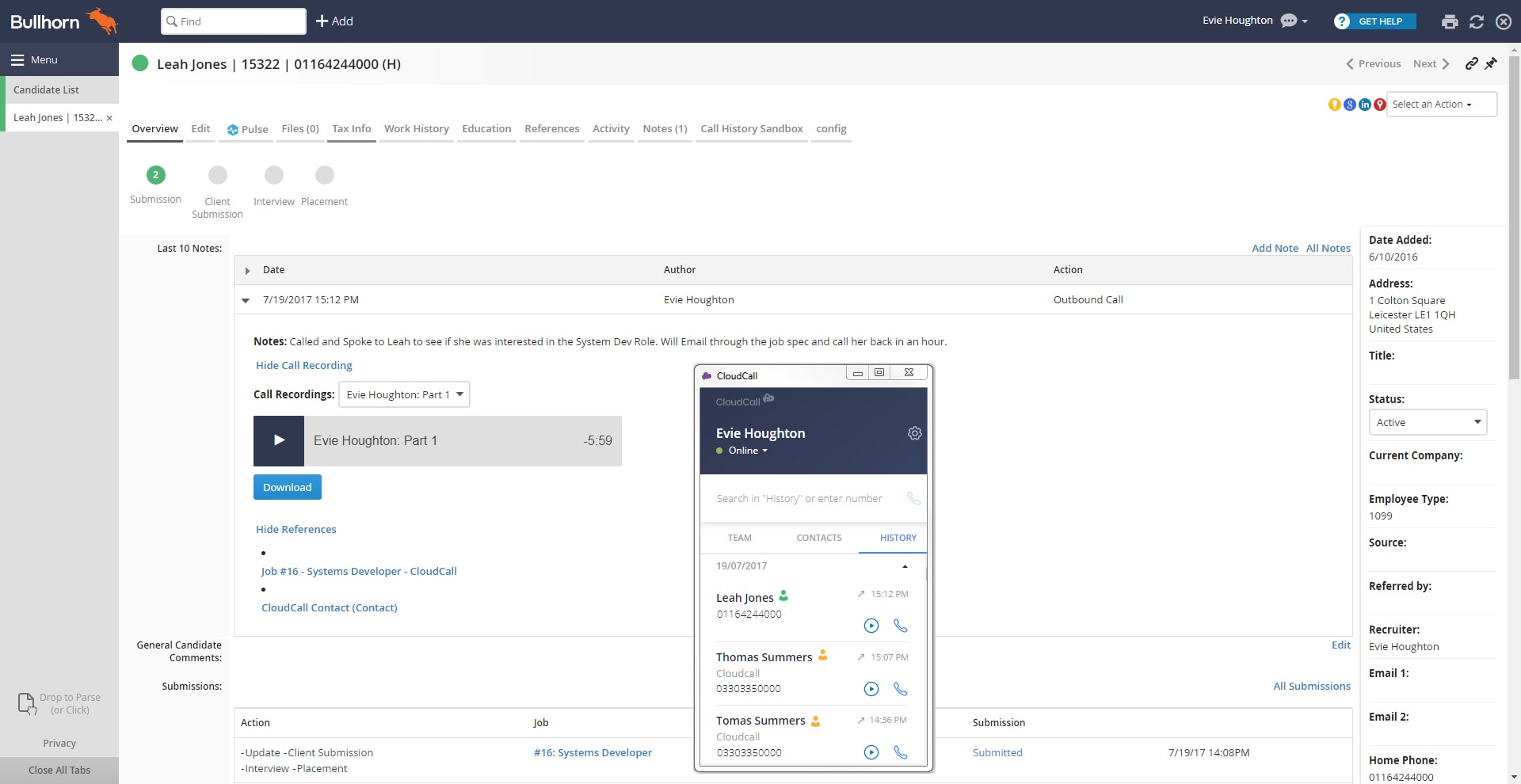 Image Credit: CloudCall
As all conversations are now captured and stored in Bullhorn, users can communicate efficiently with their candidates and colleagues while capturing relevant details within the CRM.
Managers can access real-time dashboards and analytics giving a complete view of their team's messaging and calling activities. They can monitor or join calls in real time to provide guidance and share recordings of successful calls for more effective training.
CloudCall CEO Simon Cleaver explains that while millennials' preference for messaging is driving a fundamental change in the way recruiters and candidates interact, most messaging still takes place on mobile phones, beyond the reach of CRM systems. As a result, "candidate and project records often suffer gaping holes, risking a plethora of business issues."
As companies increasingly rely on SMS to speed interactions with candidates, CouldCall considers that integrating all communication channels into one CRM platform will make the recruitment process easier and more effective. "Our ultimate goal is to give our recruitment customers an edge in the race to match candidates with clients while improving the candidate experience," Cleaver says.
Both CloudCall and Bullhorn believe that the ability to reach candidates through their preferred channels will give businesses more visibility and make them more productive.
Founded in 2005, CloudCall is based in Leicester, United Kingdom, and currently works with more than 23 000 professionals worldwide. It was recently named one of the fastest growing British companies in the Financial Times FT 1000 report.
Bullhorn was founded in 1999 and is headquartered in Boston, Massachusetts. Working with 8000 businesses in over 150 countries, the company is considered by many as a global leader in CRM software for the recruitment industry.