Viral Loops Mimics DropBox's Referal Program
Word of mouth is powerful.
People trust recommendations from friends, so when you get your current users to recommend your products or services to friends and family, you create an effective customer acquisition model that costs you close to $0.
That's the model DropBox used to grow their user base from 100,000 to 4,000,000 in 15 months—that's a staggering 3,900 percent growth.
It's also a model any company can use to grow their user or subscriber base significantly. Enter 'How to grow like DropBox', a marketing app offered by Viral Loops that enables users to create DropBox-like referral plans and build virality into their products.
More Than Just Viral Marketing
A majority of today's biggest brands attribute a substantial portion of their growth to virality. Not just viral marketing but building virality into their products so that they see more and more growth with each new customer.
By giving users an incentive to share their products on a grand scale, companies build bonuses or enhancements into their product or service that users can earn by bringing their friends on board.
DropBox's double-sided incentive is a classic example.  
"Get More Space"
DropBox's model is pretty simple and straightforward: when you sign up for DropBox, you get 2GB of cloud storage, for free. When the storage space runs out, you can either pay for more storage or invite a friend and get an extra 500MB of space, for free.
You either pay for it or get it for free—it's a no-brainer, right?
Users can repeat the referral process up to 32 times to get an additional 16GB of free storage space in total. This is where the virality comes into play.
Imagine the rate at which DropBox could grow if each user referred 32 friends and those 32 users referred an additional 32 friends…massive, right?!
The next element of successfully implementing such a program is to make it as easy as possible for users to take you up on the offer.
In DropBox's case, users can onboard their friends during the signup process by sending their unique referral link to their preffered form of contact.
How to grow like DropBox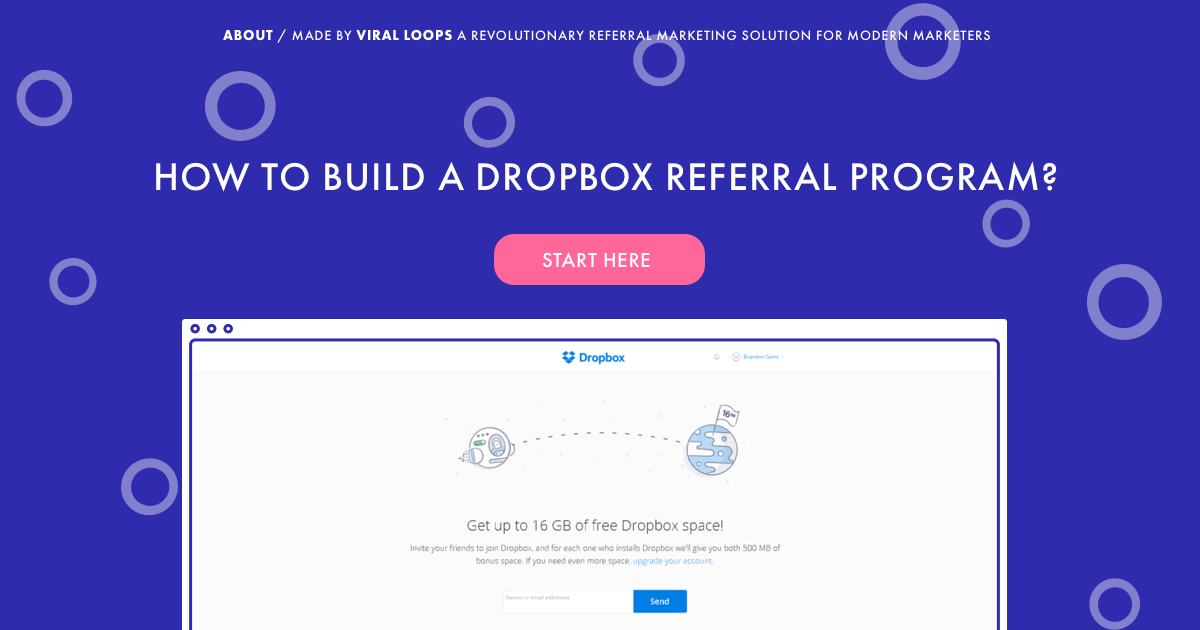 Image credit: Viral Loops
"Refer a friend, they get X and you get Χ too" is not a marketing strategy specific to DropBox. It is used by companies like Airbnb, Uber, Teespring and more.
DropBox isn't the pioneer of the referral program but rather is inspired by PayPal's refer-a-friend program.
PayPal's business was about cash, so they rewarded each referral with cash. Dropbox, in a similar manner, rewarded their referrals with their main product offering—storage.
The model is pretty simple and really any company can model their own referral plan off DropBox's by using the 'How to grow like DropBox' marketing app.
The app was created to help users understand how DropBox referral campaigns work and how to implement them for their own companies in 5 simple steps.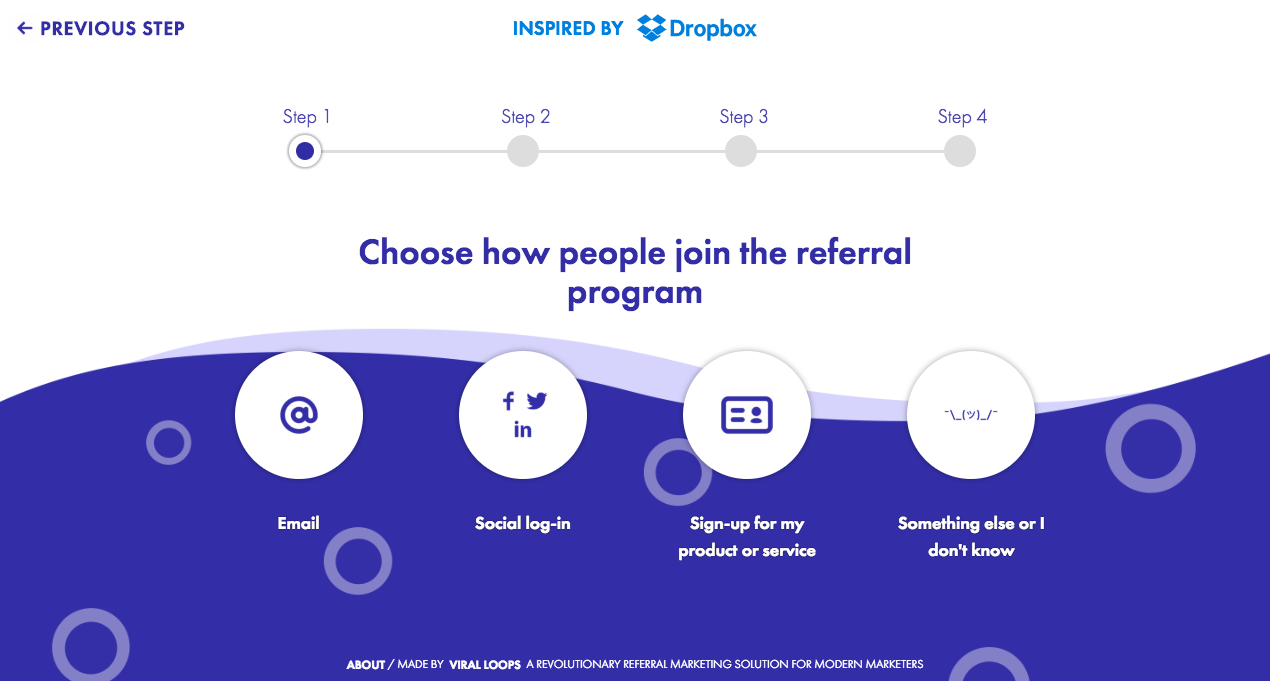 Step 1: Choose how people join your referral program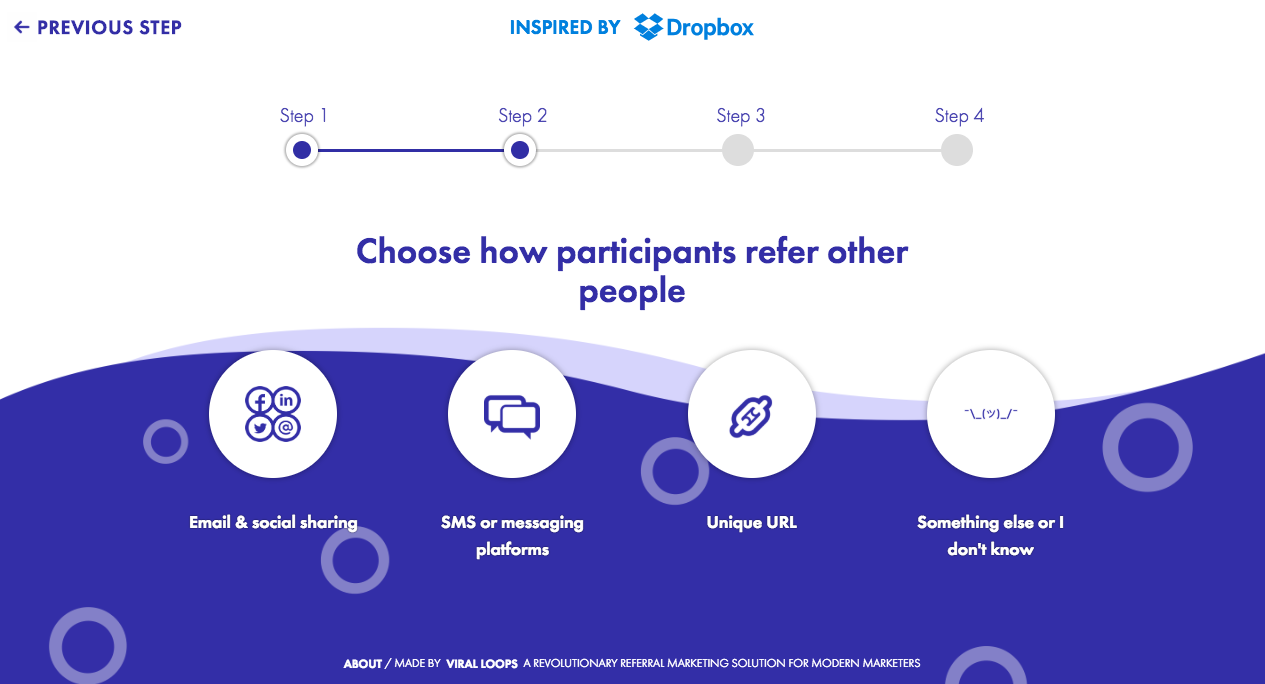 Step 2: Choose how participants refer other people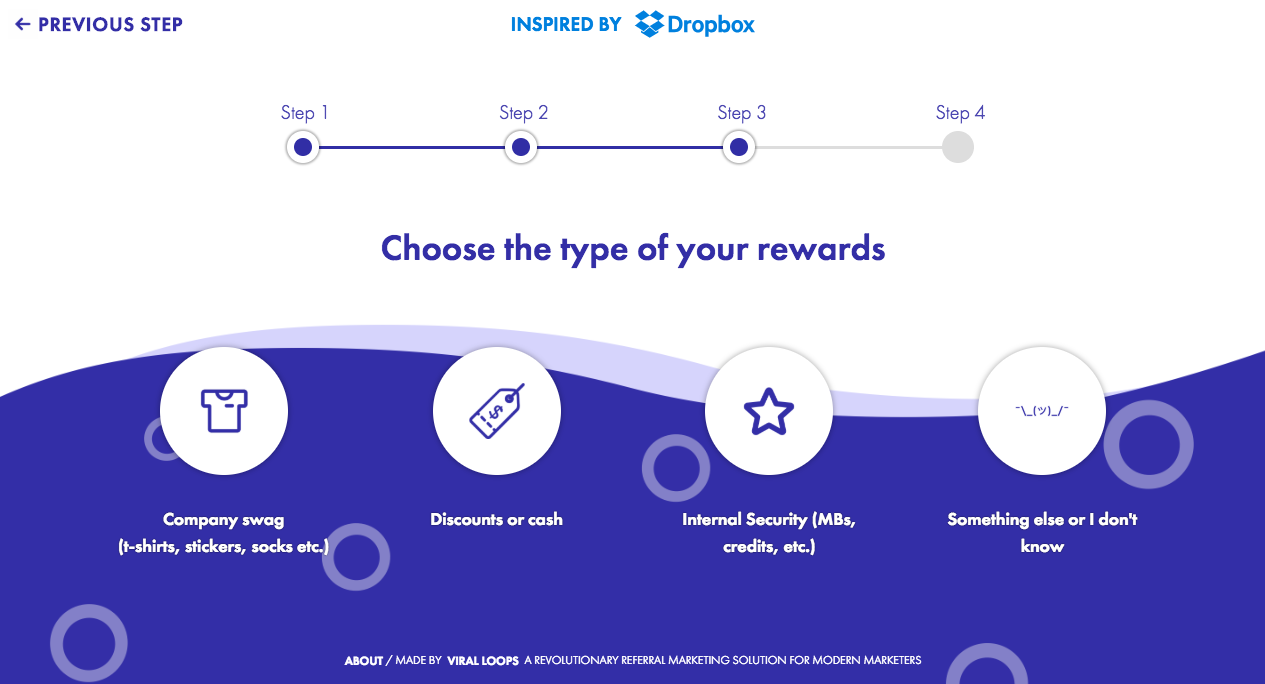 Step 3: Choose the type of rewards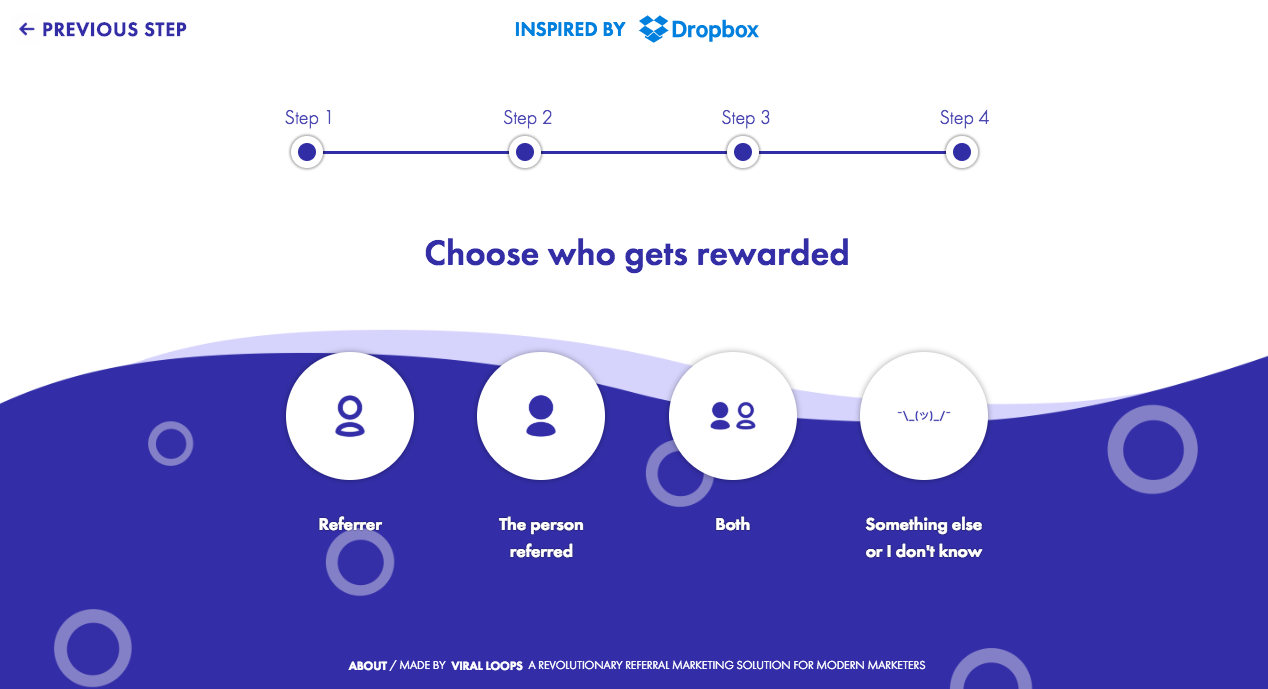 Step 4: Choose who gets rewarded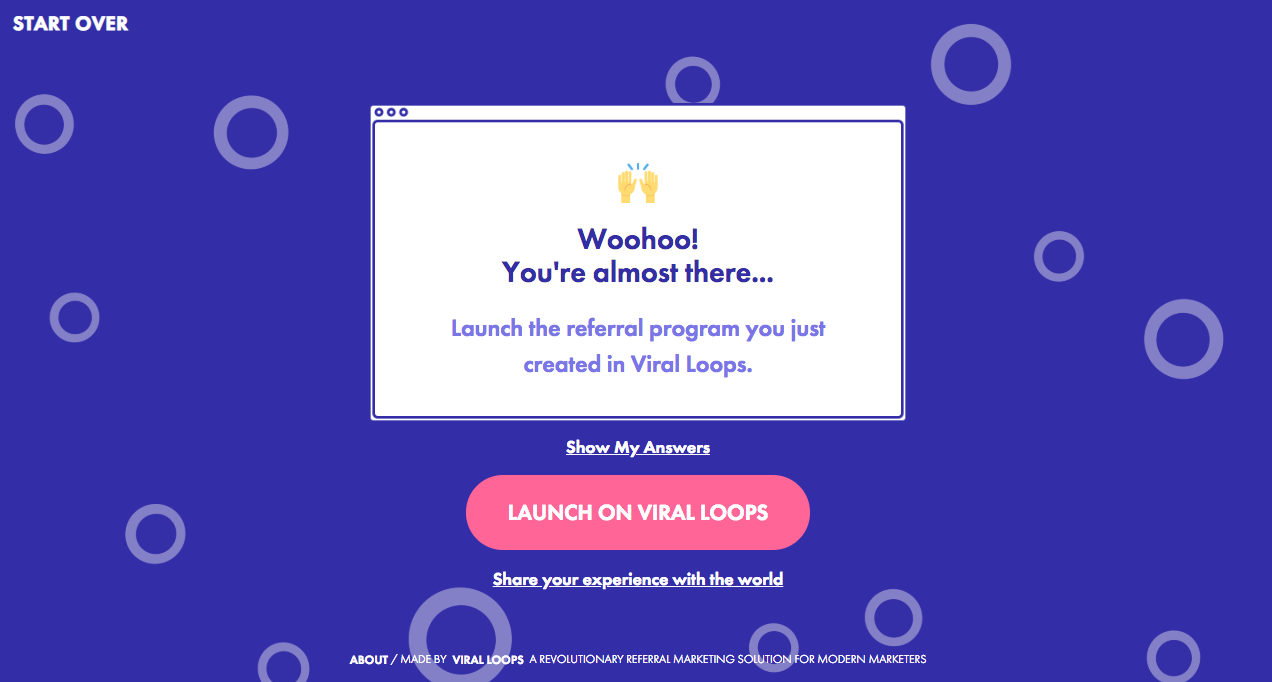 Step 5: Launch your referral program
In just five steps, users can set basic parameters for their campaigns, referral signup systems, communication channels and the type of rewards they want to offer.
Referral programs are a cornerstone of viral marketing. Perhaps because they are simple, cost-effective and impactful.
Think about it: almost a decade after DropBox's launch, not only does pretty much every internet user, from Grandma sharing family photos to professional photographer's sharing TIFFs,  the company's referral program is used in various case studies to illustrate how the referral method can become the engine to a company's growth.