Redtail CRM Software: Your Best Pal in Every Aspect of Your Client Relationships
In 2003, two men by the name of Brian and Andy looked at Brian's trusted red-tailed Golden Retriever, and a company name was born.
Today, that dog-friendly company is known as Redtail CRM and is one of the many products developed by Redtail Technology. 
Redtail CRM was once a small company with a handful of advisor clients. It managed to grow into a large Customer Relationship Management platform that offers financial services to thousands of advisors. 
Adopting Redtail CRM enabled us to maintain break-neck growth and provide better service for our clients.
This is how one of Redtail's clients describes the platform. 
From its workflow processes feature to the mobile app, Redtail aims to provide financial professionals with round-the-clock access to their clients and their client information.
Who Is Redtail CRM For?
Heron Wealth, a New York City-based wealth advisory firm, is one of Redtail's clients. 
When asked why he chose Redtail, David, the founder of Heron Wealth, said: 
Over the long run, I wanted to make myself obsolete in my own firm. I can only do that if each team member can know everything about clients that I know about the clients.
Redtail CRM is for financial advisors like Heron Wealth. Companies that experience significant growth, year after year, and need a way to maintain scale. 
Companies that have tons of valuable data, only available to a handful of people. 
What Redtail CRM offers companies such as the ones mentioned above is a better organization and complete transparency to eliminate the struggle of their teams to do their best job. 
A client such as Heron Wealth that ultimately realized it lacks a feature-rich platform that will hold all their client information. 
Now, with the right CRM in place, all team members at Heron Wealth have access to useful information and are working smarter. 
Benefits of Redtail CRM
According to a current client, the most significant benefit of Redtail CRM is:
The knowledge that nothing is falling through the cracks.
Redtail CRM has so many amazing features built into it that enable entire teams to operate more efficiently. 
Features such as Workflows and Reporting that ensure work processes are done more efficiently and in a timely fashion.
Or the Seminars feature that lets you plan and manage external and internal events. 
On the plus side, the CRM provides additional services such as Redtail imaging, email solutions, and archiving services. 
The CRM is always rolling out new updates and functionalities based on user requests. So, it's only becoming more functional and user-friendly over time.
If you need help, the support team is always available to offer thorough help. The pricing for the CRM is also very affordable, considering the quality of service that well exceeds the price point. 
According to Redtail CRM reviews, the platform is a fantastic option if you're looking for a user-friendly dashboard that offers quick access to your calendar, contacts, and reports. Everything is one click away, which is crucial for any salesperson.
Redtail CRM's Features
The team at Redtail really have thought about nearly everything. No wonder why thousands of financial advisors love Redtail and use it on a daily basis. 
There are so many fantastic features to explore and leverage when it comes to working fast and working efficiently. Here are the top features that make Redtail CRM one of the best and all-round CRMs on the market:
Workflows 
Workflows are repeatable processes based on specific events that happen. Those events can be external, like a client meeting or client review, or internal, such as employee onboarding or employee training.
In a nutshell, Workflows ensure that every new client or new employee receives proper training and management so that nothing falls through the cracks. 
The Redtail CRM allows you to design automated processes to match the processes you already use in your practice. You can design a detailed Workflow that will serve as a road map for you and the office to follow.
Within a Workflow, you can create Steps, and within those Steps, you can create Tasks. 
To explain it better, let's imagine that your Workflow is America's Wonders Tour. Your first Step is to stop at the Grand Canyon. The Tasks are Take Pictures, Stop at the Gift Shop, and Walk the Rim.
Similarly, when creating a Workflow for let's say Onboarding, your first Step would be Contact data, and your Tasks would be Contact Photo, Contact Details, Email addresses, and Phone numbers. 
When creating a Workflow, you have an endless number of functionalities, including:
Create a Workflow using a pre-prepared template or create your own template.

Assign Tasks to individual people or teams.

Add due dates to each of the Steps and Tasks. 

Edit a Workflow by changing the Workflow's Name, Owner, Category, Target Date and/or Description.

View Step due to see what you're currently behind on. 

View your Workflow Tasks for today. 

View your Active Workflows.

Filter which Workflows display on the page.

Pick additional contacts to link to the Workflow.

Download the Workflow as a PDF file, suitable for printing.

Delete Workflows. 
Reporting
Having data and making valuable use of it are two different things. Redtail CRM can help you combine those two things into one valuable report.
By using CRM Reports, you can harness your data for increased efficiencies and improved client experience. 
The CRM lets you create all types of reports, from account and contact reports to transaction and workflow reports. These reports let you check employee productivity, incentivize client referrals, reward clients for loyalty, and so much more. 
You'll even be able to export your reports to an Excel file or a PDF document. 
Calendar 
The Calendar feature is probably one of the areas you'll visit most often.
Why?
Because it lets you stay on track with everyone's schedules.
Redtail's Calendar is no different from any other calendar that you might have used before. The company didn't reinvent the wheel. They just took your normal calendar and upgraded it to include plenty of functionalities.  
The most notable functionalities available on your Calendar within Redtail are the following:
Add activities directly from the Calendar interface. Once the "Create Activity" modal opens, you can add your preferred date and time, type, category, attendee name, etc. 

Using the Actions menu, you can delete completed activities, show client birthdays, hide weekends, and more on your Calendar.

You can use the Users menu to choose whose Calendar you are viewing. You can view a specific database user's Calendar, use the Select All option to select all users, or the Me option to select only your Calendar.

The Types menu allows you to pick which Activity Types you want to view on your Calendar. It can be client meetings, appointments, personal, out of the office, and more. 

You can even set certain preferences for your Calendar. For example, you can set your Default Calendar View to Day, Week or Month. Or, you can set your Default Calendar Time Slots to 15, 30, or 60-minute slots.
Notes
Notes are Redtail CRM essentials that are easily accessible from the Today page.
You can use the Notes feature to document your clients' history. By using Notes, you can track everything that has happened in your company. They will be your record of who you talked to, why you talked to them, or when the conversation started. 
For everything that's upcoming or is in the future, that's your Activities section. 
For example, let's imagine a client calls in and mentions that they have a new phone number. Once the conversation is done, you can quickly add a note to the client's account that they have changed their number. This can ensure that no valuable information is lost and can improve your client's perception of your office. 
Seminars
Seminars is a great tool to use in Redtail. With this feature, you can quickly add new seminars or client events. 
Once the seminar event is added to the CRM, you can effectively plan and manage the event to ensure nothing goes wrong. 
Let's say you're organizing an annual event. Using the feature, you can add seminar location, manage attendees, provide any necessary description, get seminar reports, and more.
In a sense, the Seminars feature is a great tool for building client interactions, whether that is a wine tasting event or a workshop. 
Opportunities
Opportunities are everything that's in your sales pipeline. You can use Redtail as your sales pipeline tracker and move potential or current clients through your sales process. Redtail's Opportunity Tracker will help you stay on track and keep all of your open opportunities in front of you. 
Mobile app
You can use the cloud-based mobile app if you're not able to log into the CRM from your computer. 
The first page you see when you enter the app is the Today page. The Today page offers you a quick glimpse into your activities for the day. Your activities for the day can easily be deleted or marked complete by simply swiping left. Or, you can tap on an activity to see more details. 
From the Today page, you also have the option to create a new activity from scratch. 
Beyond the Today page, you can tap the right-hand icon in the top corner to see the main menu. 
From the main menu, you can access the Calendar, Contacts, and Opportunities areas. Unfortunately, there isn't any way to access other things like Reports and Workflows.
So, if you need to access your Reports or Workflows, you'll be needing your laptop.  
Retriever cloud
The Retriever Cloud tool enables two-way syncing between Redtail CRM and Office 365, Microsoft Exchange Online, and Google. 
This allows Redtail users to sync both contacts and activities bi-directionally between the platforms.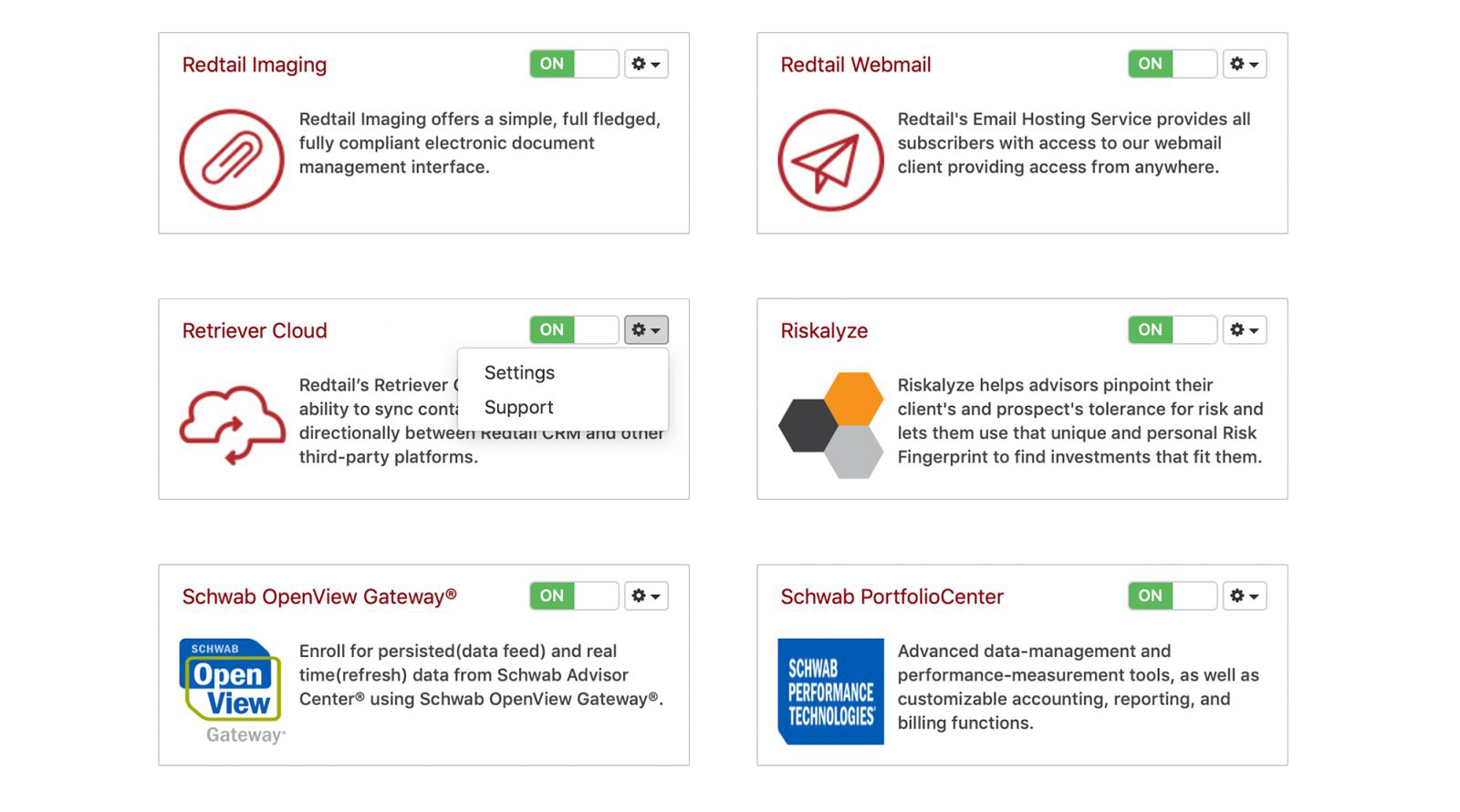 Ease of Use
Redtail CRM has a simple dashboard that nicely presents all of the top features. Everything is nicely and neatly ordered on the dashboard, providing all the necessary information at your fingertips.
There's a bit of a learning curve, but there are tons of useful resources that walk you step-by-step on how to use it. From free webinars to extensive online help documentation/videos, you can learn how to use the CRM rapidly and extensively. 
On top of that, the company also offers its own series of training events called Redtail University around the country.
And once you get the hang of it, your sales process will be a lot easier to manage. 
The Today page shows you everything you need to know for the day, including appointments, meetings, tasks, and even client birthdays.
On the left-hand side of the screen, you'll find the main menu that provides quick access to Workflows, Reports, Seminars, Opportunities, and more. 
Instead of clicking through several screens to find certain information, on the Redtail CRM, everything is accessible with a click of a button. 
Integrations
What makes a great tool even greater is its ability to integrate with other powerful tools. That's what Redtail CRM does. It nicely integrates with so many popular tools that range from document storage to risk analysis tools. 
Here's a brief of some of the categories of tools it integrates with:
Document Storage: Citrix ShareFile, Docupace, NetDocuments, Evernote

Financial Planning tools: Advicent: Naviplan, eMoney, LifeSite

Form-filling software: Anvil, LaserApp Anywhere, Quik!

Investment Research: Advisory World, Morningstar Advisor Workstation, Morningstar Office

Marketing Tools: AdvisorStream, Advisor Websites, CreativeOne, e-Relationship, FMG Suite, Leadjig, Lead Pilot

Portfolio Management and Custodians: Fidelity, Fidelity Wealthscape - NFS, Schwab Portfolio Center, Albridge Solutions, Blueleaf, Envestnet, Securities America

Risk Analysis: Riskalyze, Morningstar Office, Finametrica, CircleBlack
Pricing
With all of its features, the CRM will cost you $99 per month per database that allows up to 15 users.
In case you need more than 15 users, you'll have to sign up for another CRM subscription.
For $99 per month, you'll get all of the best features, including:
Unlimited leads, contacts, reminders, and tasks

Complimentary database conversions

Free Mobile app

Custom exporting

Backup and disaster recovery

Document management

Workflow processes

Detailed reports

Seminar management

Free support

And more
If you want to test the software before making an investment, there's also the option to try it for 30 days for free.