Mixmax 2.0 Reinvents Email for Business
Despite the increasing popularity of instant messaging services, email remains the default protocol for communications between teams in many organizations. However, email was not explicitly designed as a collaboration tool. When managing projects or troubleshooting problems, long email threads can become confusing and inefficient, eventually harming productivity.
Mixmax makes email more effective in customer-facing roles by bringing analytics, automation, and enhancements directly into Google's email service.
The Google Chrome extension offers a wide variety of additional features built right into your "compose" window in Gmail, letting you track messages, schedule meetings in one click, add interactive polls and surveys, coordinate communications across your team, and much more.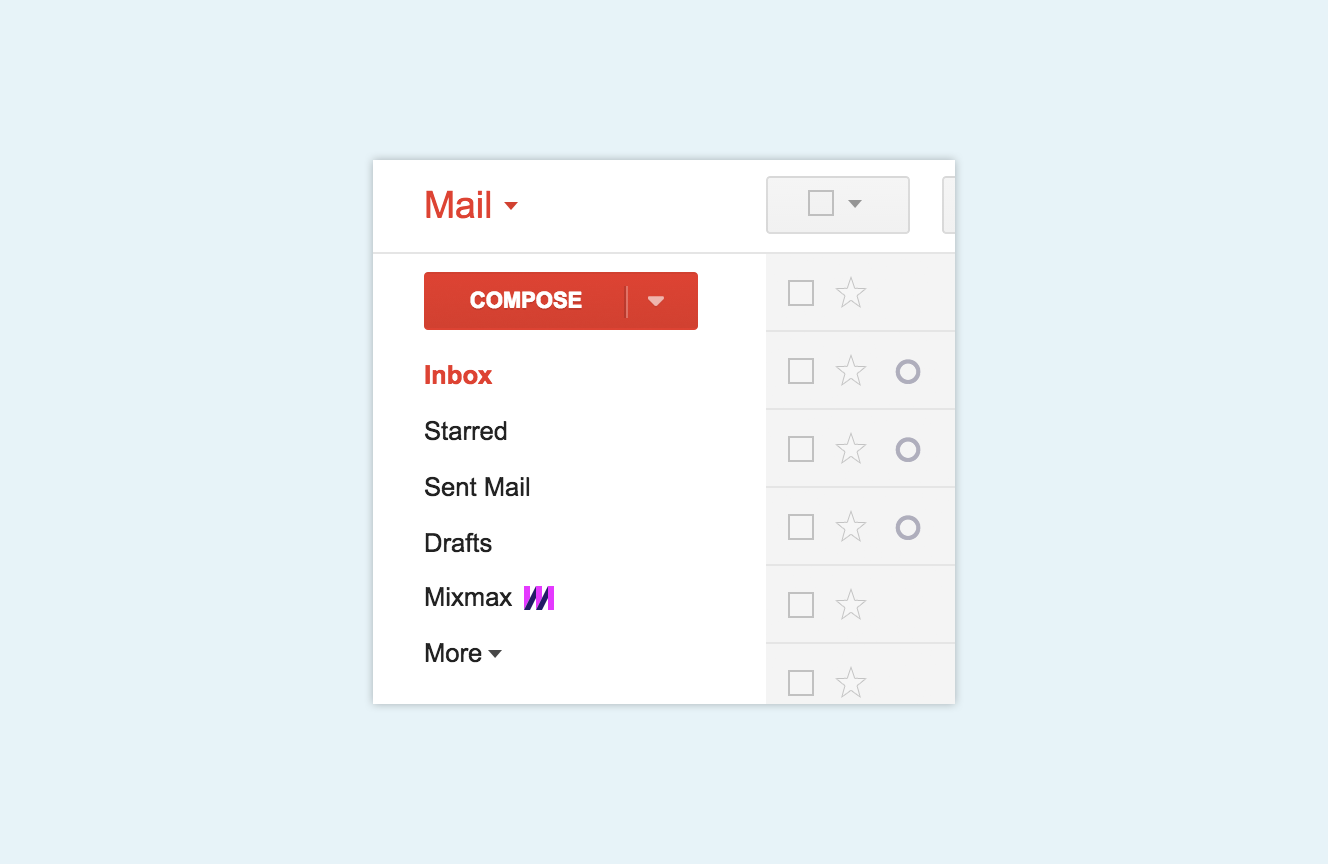 Do the impossible with email
Mixmax's mission is to empower users to "do the impossible with email." They believe that everything we can currently do on the web, like making purchases, completing surveys, scheduling meetings, and interacting with apps, should all be made possible in an email.
Along with his partners Chanpory Rith and Brad Vogel, Olof Mathé started the company in 2014, taking on the challenge of upgrading and optimizing email.
It's no secret the web has evolved at an incredible pace in recent years, making many useful advancements we all use on a daily basis, like collaborative document editing, video-conferencing, and street view on maps. Yet, email remains static in comparison.
After creating communications tools at companies like Apple, Google, and Skype, the three partners saw an opportunity to build a solution in which email would maximize both expressiveness and productivity.

According to Mathé, email will never be replaced, as it is too useful and ubiquitous. However, as Mathé explains in a 2018 interview with VatorNews, there is still, "a lot you can do to turn email into a delightful, interactive, and productive experience."
Today, Mixmax has over 10,000 customers worldwide, including reputable companies like Google, LinkedIn, and Uber. Last year, the San Francisco-based company raised $10.4 million in a funding round.
Core features
Email Tracking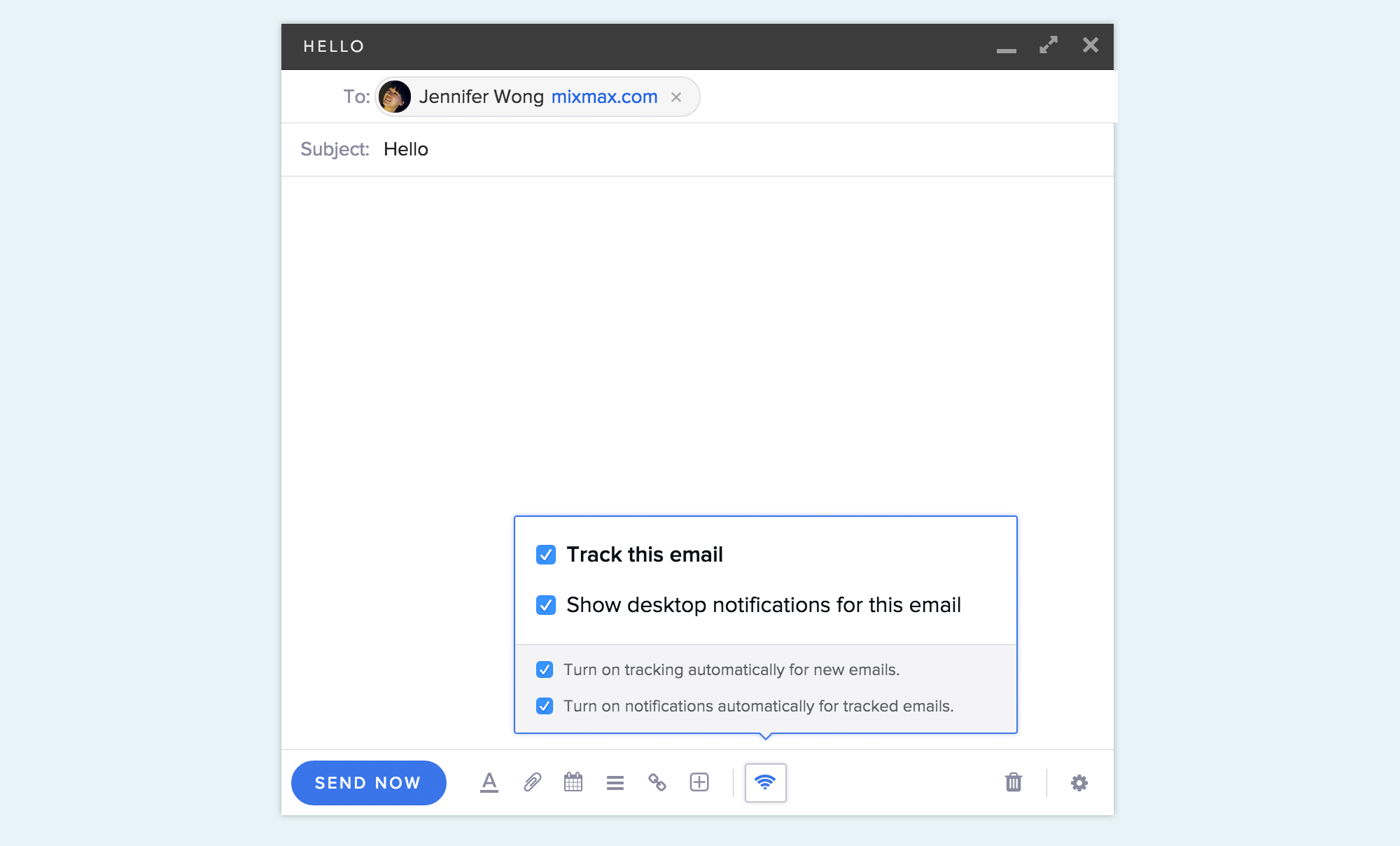 An email tracking feature lets you know as soon as someone opens your message. It shows exactly when the email was opened and how many times it was read.
If you are sending to a group, you will see which individual saw the message so you can follow up with the right people. You can selectively enable this function for each email you send or turn it on by default.
Mixmax even sends desktop notifications to inform you of any new activity with your sent emails.
One-Click Scheduling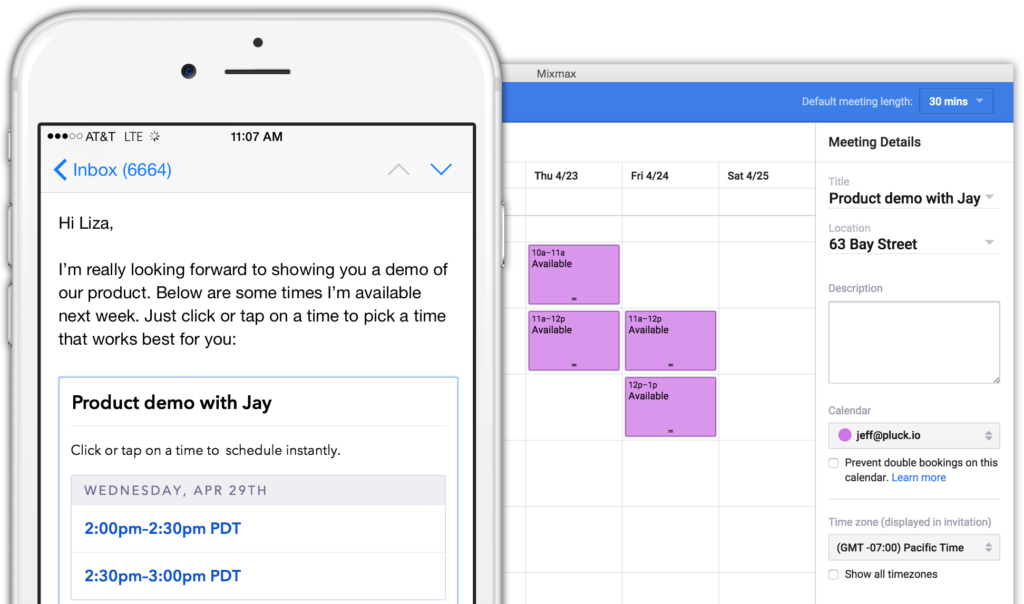 Scheduling meetings with customers or colleagues via email can become a hassle. You email someone your availability, then you have to wait for them to reply with theirs. All you can do is hope the chosen times will not overlap and that neither party's availability will change.
This back-and-forth process wastes valuable time and hinders overall productivity.
With one-click scheduling, you can easily share your availability and coordinate meetings in one email instead of ten.
This feature gives you access to a calendar directly in your "Compose" window where you can select the times you are available with one-click. Another window on the side lets you enter your meeting details.
You can add all this information to your email by clicking on the "Insert Available Times" option.
Once the recipient chooses a time, the appointment is automatically scheduled in Google Calendar, and all involved parties receive a confirmation email.
Polls and Surveys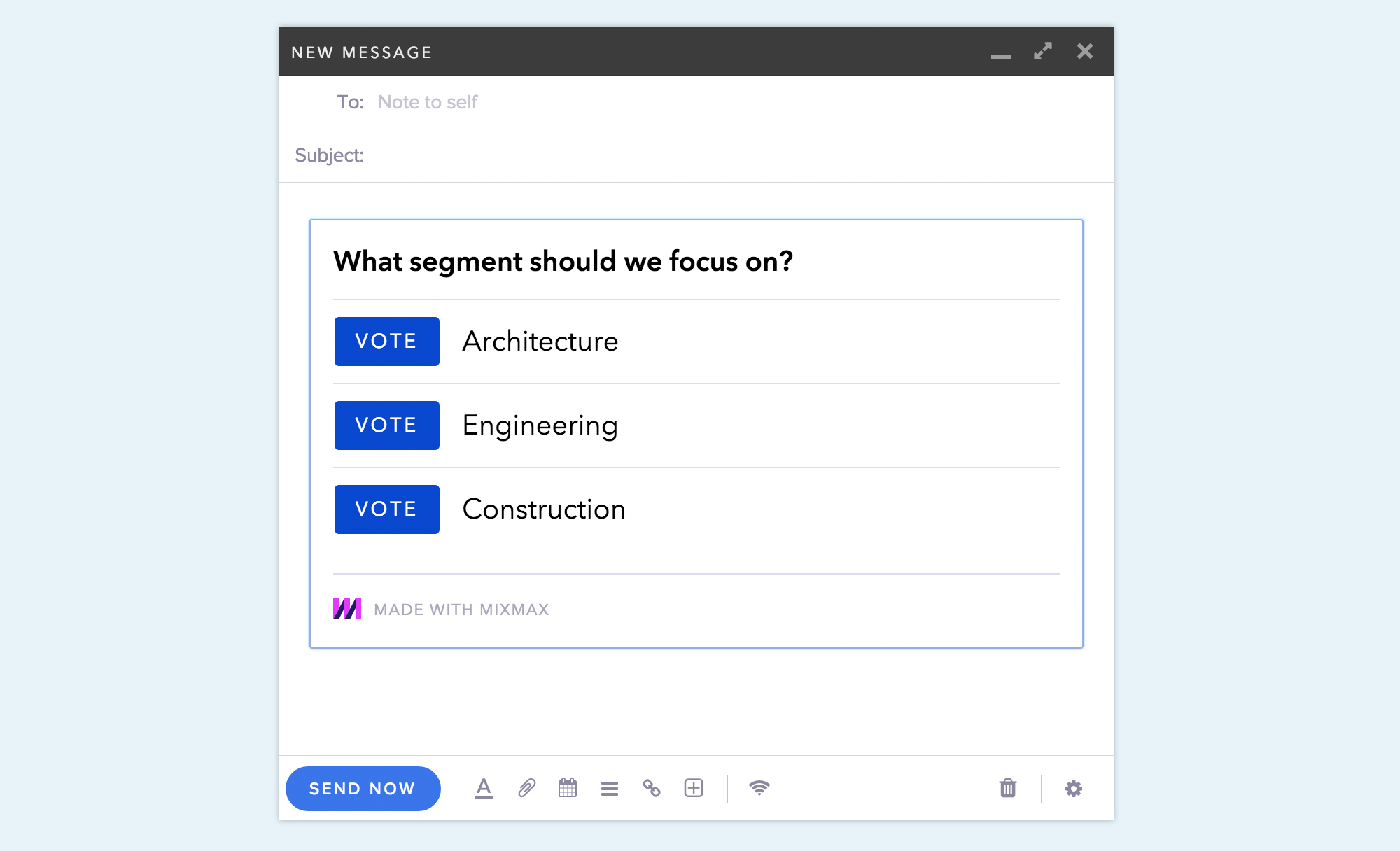 You can easily receive feedback from customers or colleagues by embedding polls and surveys into your emails.
Polls allow you to ask a question and have recipients select one option out of several. This feature is handy to obtain quick answers to simple questions─recipients simply click a button, and their response is automatically sent back to you.
Surveys, meanwhile, allow recipients to respond to questions in free-form text. This format lets recipients describe their specific situation with more explanatory details, meaning you gain more in-depth answers. When the survey is finished, the results are automatically sent to your email.
Team Live Feed
A critical component of Mixmax's mission for upgrading email is to give users actionable data on their communications.
The Live Feed provides a complete overview of your email analytics, letting you know who has and has not opened your messages, clicked on links, or downloaded attachments.
You can see, for example, if a potential customer has downloaded the proposal you created, or if a candidate has clicked on the YouTube link to watch the video explaining the company's mission. A search field helps you find any recipient or subject line quickly.
The Live Feed also allows you to coordinate communications with your colleagues and share contact lists across your team. Giving every team member access to the same information helps boosts organizational transparency.

Mixmax 2.0 introduces new features
The app also just got a features facelift. Updates include an all-around faster, nicer looking user interface, the ability to make calls from your inbox, more full-fledged LinkedIn integration, and something called 'Beast Mode.'
Dialer
You can now make calls from within Gmail using Mixmax.
Generate your own phone number from a country of your choosing, and route incoming calls to a specific number.
Calls are placed from the sidebar. If a contact's phone number is in your database, you just click the little phone logo in their profile to connect. You can also just copy+paste or type out a number and call it.
The ability to log calls and sync your information with Salesforce gives the feature further mileage.
Calling rates can be found here.  
Integration with LinkedIn messaging and LinkedIn Sales Navigator
Improved LinkedIn integration makes it easier to find leads and make connections.
There's now an easy-to-spot LinkedIn button in the sidebar (under the People tab), which connects you to the LinkedIn Sales Navigator. That means you can instantaneously access a contact's profile info and send a LinkedIn connection request in-app, or email their InMail directly from Gmail.
That's super useful for generating new leads from LinkedIn profiles who may not be your contact list already.
Beast Mode

Beast Mode is a task automation tool that lets you knock down all the day's calls in one beastly power surge.
You can choose to do all the tasks in a task sequence or just a particular 'stage' of that task sequence. Filter by due date, status, and team member assigned and select the tasks you want to get done right away.
Salesforce sync lets you transfer contact information, call logs, and notes to your CRM platform.
But before you get too pumped up, please note Beast Mode is only available if you sign up for the top-tier Enterprise plan.

Personalize it!
Mixmax offers many more useful functions such as custom branding, personalized signatures, email templates, and an "Undo Send" option which essentially lets you go back in time, preventing a message from sending even if you already hit "send" (a feature probably everyone has longed for at one point or another).
The solution also pulls in a rich preview of any link you drop in an email, similar to how you would expect on Facebook.
The app lets you attach files not only from Google Drive, but also favorite productivity tools and CRM like Salesforce, Pipedrive, Dropbox, and GitHub.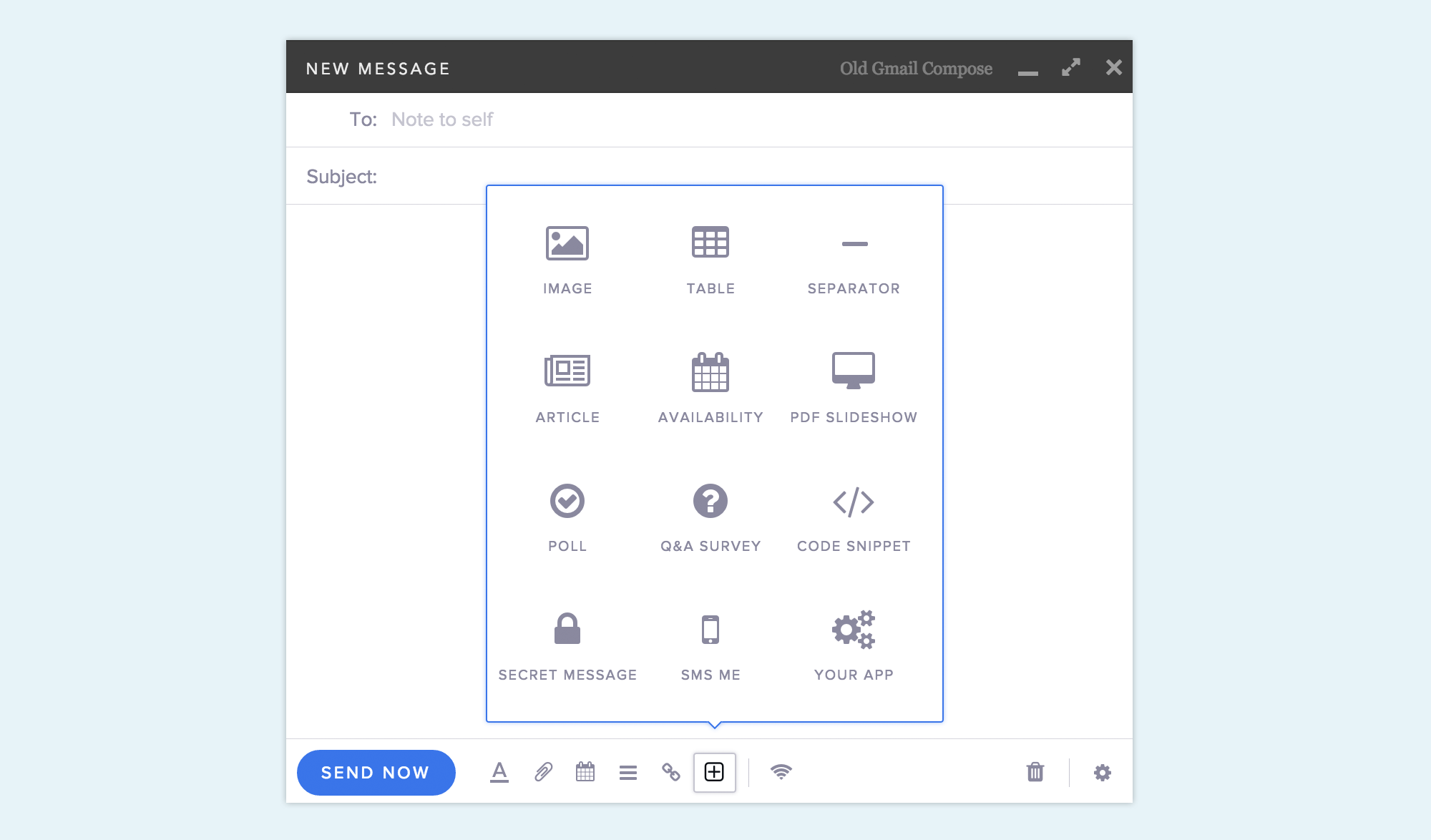 The future of email
By helping you gain more value from email, the app's powerful features provide amazing possibilities to optimize your communications, save time, and, as a result, boost productivity.
Even though it has seen very little innovation in recent years, email is superior for asynchronous threaded conversations, and still one of the most reliable, easiest ways to tie your name to a company domain.  
There are, therefore, enormous opportunities for developers to make email services more useful for work teams. Mixmax's visionary approach is quickly making optimized features the new norm for email.
You can get a free 14-day trial of the Small Business and Growth packages. Paid plans start from $9 per user per month.