Daylite: Finally, a CRM Solution That Connects CRM With Project Management
Do you frequently feel overwhelmed by everything that's on your plate? You have clients to follow up with, meetings to schedule, emails to answer, and multiple projects to keep track of. 
The thing is that – more often than you want to admit – you struggle to remember any previous communication you had with a lead or a client. 
You've experimented with different CRM systems, but none seem to connect the tools you love using in one central place.
Daylite solves that problem by connecting the best CRM, project management, and lead management features in one powerful app. On the plus side, it also integrates well with Apple Mail. 
The best news? It only costs $42 per user per month. 
Let's explore the app's best features in more detail.
Daylite in a Nutshell
A fully-featured and user-productive CRM. Best CRM for Mac Users. Powerful and highly customizable multi-function app. 
This is how users describe working in Daylite.
In short, Daylite is a hub for all your business information. Contacts, projects, pipelines, notes, calendar, and tasks are all linked so you can easily find what you're looking for. 
Think of it as your external mind. It allows you to empty your mind of all the little things you have to remember and transfer them into a trusted system where everything is easy to retrieve.
It's simple: the app frees up your mind so that you can focus on the more critical aspects of your business, such as bringing in new clients. 
Some of the things you'll get by working in Daylite include:
Remember client details and communication

Stay in touch with leads/clients and close more deals

Never forget to follow up with clients

Improve team efficiency and organization

Organize your short-term and long-term projects

Work on the go, even without a Wi-Fi connection
The Daylite set of tools is divided into CRM features and project management features. In other words, you can easily use the platform to manage customer-facing tasks and internal ones. This can be a powerful tool, especially if you're running a company with multiple teams and departments.
In a nutshell, it's an amazing CRM tool built specifically for Mac, iPhone, and iPad users. It's ideal for small and medium-sized businesses with up to 100 people who want to expand their client list and projects and scale with ease. 
Stay tuned as we explore the best features in more detail below. 
CRM & Sales Features
Contact Management
This is where Daylite lets you stay in touch and top of mind with your prospects, customers, and vendors. And it does so effortlessly and conveniently. 
After importing contacts from your Contacts App, you can perform all kinds of tasks, such as:
Setting up a follow-up

Scheduling a new appointment

Adding notes and files
And the best thing? All of your interactions with a contact will be kept in one place. Whether you need to check a note from a call last month or an email you sent last week, Daylite remembers every little piece of information even if you don't. 
What's more, with Daylite's filtering options, you can organize and segment people and companies to target the right people at the right time. 
But the great features don't stop there.
Anytime you want to know what's on your plate for the day, head over to the Home Screen and see all of your meetings and tasks. 
Sales Tracking
Here's a fact: 
Sales teams' biggest challenge is preventing leads to slip through the cracks. 
Luckily, Daylite helps you stay on top of your leads by keeping every deal and quote organized in one place.
For instance, you can: 
keep an eye on every email, call, note, and file 

build customizable pipelines

get a detailed report on your sales processes (number of deals in the pipeline, your close rate, where deals are getting stuck in the pipeline, etc)
Some other features include tracking the probability of leads and prioritizing hot, medium, and cold leads. 
But what happens when you're out on the road? The good news is that with Daylite's offline functionality, you can capture new deals anytime, any place.
Opportunities Board 
As of September 2022, Daylite added a new feature to their CRM and sales kit called the Daylite Opportunities Board. 
The Opportunities board is an incredibly useful visual sales and opportunity tracker. It gives you a clear and instant summary of how many sales opportunities are currently in the pipeline, and at which stage they're at. You can also filter down the data by actual-versus-expected sale value, the date the opportunity was created, the forecasted sale-completion date, by the sales rep who owns the deal, or the sale type or category.  
The Daylite Opportunities board helps:
Stay on top of all your sales opportunities in progress

Show you where each sales opportunity is in the pipeline

Display your sales teams success rates by monitoring results

Review individual sales team members sales success rates

Highlight potential pipeline pain points where churn takes place

Plan the following moves for each sales opportunity in the pipeline

Set priority levels to each individual sales opportunity in progress

Show the expected value of each sales opportunity if it converts
The Daylite Opportunities board looks more like a Kanban board than a sales pipeline graph. This makes it extra easy to drag and drop opportunities across the varying stages of the pipeline, which are also customizable. Of course, the Opportunities Board is synced up with the Daylite Pipeline views. This new tool comes as a standard part of Daylite's CRM and Sales Feature list.
Project Management Features 
Projects and Tasks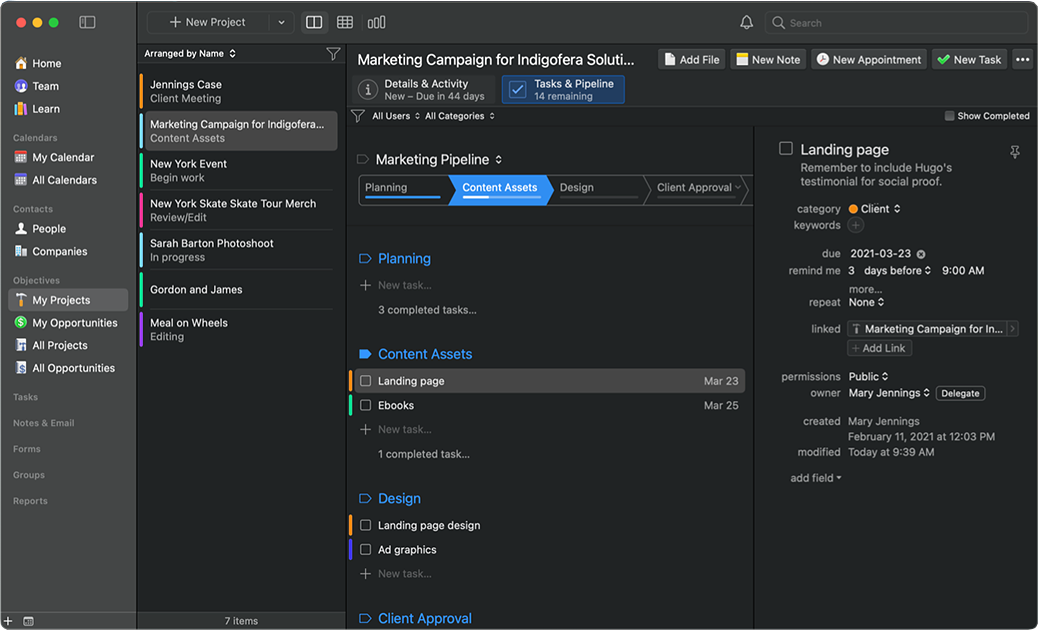 Here's a fact: juggling multiple projects at once and jumping from one app to another is just a regular part of almost any business.
What can you do to streamline your processes? 
Spreadsheets are messy and impractical. 
Most project management systems are overly complicated.
The future is in platforms such as Daylite that help you manage all types of projects and remember what's been done, who is still working on what, and what decisions have been made.
To begin with, you can manage client or internal projects individually or as a team. What's more, Daylite's unique linking feature lets you virtually paper clip things together.
For example, let's say you have to jump on a call with a client in 10 minutes but can't remember where you left things off. If this happens, you can simply click on the client's profile and review your last few emails with them or go to a linked project and check the status. 
Easy, peasy! 
Every task can have a due date, notes, reminders, and priority. You can even assign tasks to team members and get a notification when they're completed or updated. 
Additional Features
Daylite Mail Assistance (DMA)
What do you get by turning on Mail Assistant for Apple Mail?
You'll be able to create new contacts, set reminders, and even schedule appointments, all without even leaving your inbox. 
All you need to do is:
Install Mail Assistant (you'll be asked to provide your device's password)

Turn on Mail Assistant (you can do this manually in the Apple Mail app)

And that's it! The Mail Assistant will be ready to go!
Integrations & Add-Ons
You'll be lucky to hear that Daylite integrates perfectly with almost every app in the Apple ecosystem, including:
Apple Mail

Apple Contacts

Calendar

Siri

Dark Mode

Reminders
In addition to Apple apps, there are plenty of other integrations that can help boost your business, such as Zapier, SignEasy, Excel, Google Drive, MailChimp, Slack, Facebook Lead Ads, and more. 
Customizations
Let's say that you're a niche business with specific needs and processes. As luck would have it, Daylite offers plenty of customizations to fit your business.
For instance, the app lets you create custom fields, default values, categories, roles, keywords, relationships, and more. 
In addition, you can control which users and teams can see and access sensitive information. 
The cherry on top is that you can build custom integrations using the platform's API. 
Pricing Plans
In terms of pricing, Daylite is $42 per user per month. There's also a free plan that you can use with an unlimited number of seats, but there is a limit on the number of items you can create. For example, you can only create up to two projects, two opportunities, 100 tasks, and 100 appointments. 
If you want to test the platform before committing to a yearly plan, there's a 14-day free trial, as well as a complimentary 30-minute onboarding call to help you get started.
Final Thoughts
To sum up, Daylite can be an excellent app for you if you're:
looking for an affordable Mac-based small business solution

need a tool that acts as a middle ground between a good CRM system and a project management tool

a team of 1-100 employees
As this is a Mac-only product, it integrates incredibly well with every app in the Apple ecosystem. 
This can be both a blessing and a curse. Although it works well with other apps in the Apple ecosystem, it limits your hardware choice and eliminates the possibility of sharing the CRM cross-platform.
What's more, the data is in the cloud, but the application sits on your device. In other words, you'll get the best of both worlds: the reliability and offline usability of a desktop application and the security, standardization, and data-recovery benefits of the cloud.
All in all, if you're looking for a more affordable option than Salesforce and you are committed to the Apple ecosystem, Daylite seems like a top pick for you.