Crisp Hacked the Chat System
In the ever abundant land of chat options, the enemy is fractured communication. More and more people rely on chat vs. phone customer service. These days, customers have various communication platform preferences, and every company should be sensitive to that. Facebook, Twitter, Slack – why leave the cozy realm of your social media throne for a random chat room?

Crisp gets it. The customer messaging startup for startups is an online chat service which enables website visitors to communicate directly with service representatives through various social media platforms.
The service was built by hacker geniuses, Baptiste Jamin and Valérian Saliou, out of Saliou's apartment in France. Launched in 2015, the co-founders utilized some serious growth hacking techniques to kickstart their company.
Technical and UX research, a "Powered by Crisp" chat logo, a video/audio chat option, and scalable, affordable rates not only helped put Jamin and Saliou's brand on the map but potentially launched them into competition with the big leagues.
What does Crisp offer?
First off, it takes 2 minutes to install Crisp to your website. The chat services include a variety of formats which visitors and customer service agents can communicate, including text, notes, canned responses, and most notably video and audio call, which Crisp was the first to introduce to the chat market in July of 2017.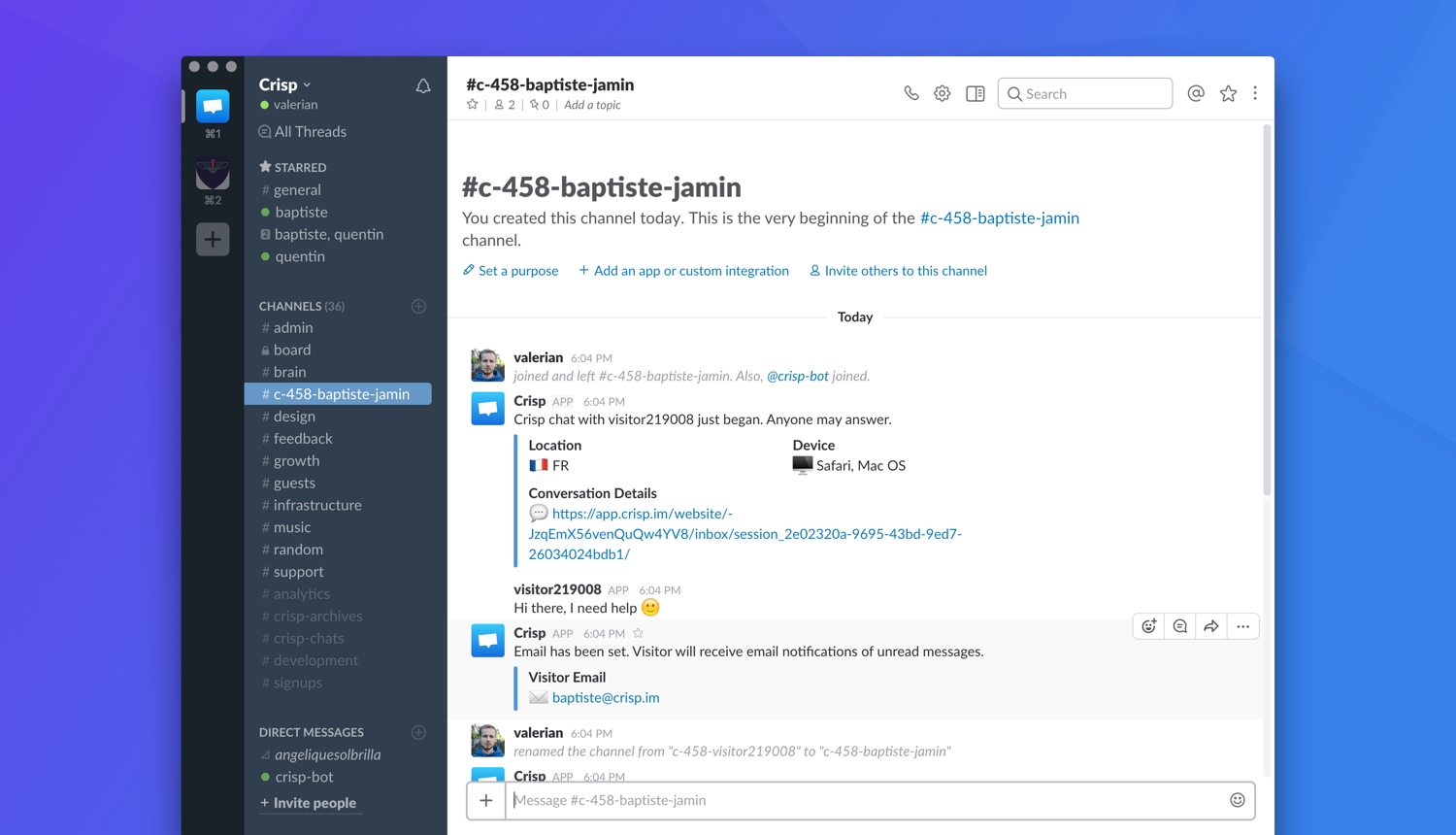 Image credit: Crisp
Undeniably, one of the most prominent features of the Crisp service is its cross-channel customer support. This includes Twitter API, the option to reply from within Slack and sync leads within popular CRM platforms, Zoho, Salesforce, Pipedrive, and HubSpot.
The chat service also provides companies and teams with methods for re-targeting website visitors through Crisp campaigns. The campaigns are set to manual or automatic, re-targeting leads and sending emails with text, video or images.
Companies can target visitors from specific countries or users who visited the site a few days prior.
By using a predefined event trigger filter, companies can ensure they are targeting the right kind of visitor. For example, if a customer cancels a subscription because it was too expensive, a Crisp campaign can automatically send them a rebate coupon to lure them back in.
CRM-friendly chat
As previously mentioned, Crisp is a super CRM-friendly. Teams can follow leads through Zoho, Salesforce, HubSpot, and Pipedrive and even automate their sales pipelines with Crisp bots.
The company has reworked their Crisp user section to operate more like a CRM. User profiles contain more data: company information, user information, user events, location, job position, number of employees, etc.
Essentially, Crisp helps salespeople keep it all together.
Competing with the mega-giants
Crisp played a bold move in the game of startup chess, going head-to-head with customer messaging giant, Intercom. Crisp challenges the popular messaging platform with a freemium pricing plan, plus clever marketing and analytics.
First off, the Crisp co-founders implemented a "rolling start" to their company. Rather than launching their product on a specific day, Jamin and Saliou received and responded to live feedback from 20 early users. This approach relied on the inevitable "people talk" principle, and it worked.
One of their early users listed the company on ProductHunt and the user list quickly grew from 20 to 2000.  
From this point, the two-person, apartment-based Crisp team delved out a scalable, affordable pricing plan that rivals other customer messaging options like Intercom. The fair pricing policy, CRM integrations, and impressive list of features gives Crisp a huge one up in the chat market.
Let's get crispy
With 70,000 brands subscribed to their chat service, Crisp is becoming synonymous with efficient customer service and sales management.
The company has three different subscription options: the popular Basic freemium model (for personal sites), Pro (for startups) and Unlimited (for larger companies). Each plan is tailored to suit different kinds of teams in various stages of development.
You know that feeling when you unpackage a brand new, crisp white shirt? Why not apply that mood to your customer service messaging service? Go ahead, try Crisp on for size.