Appcues for App Usability: Take a Hint, and Run With It
Give a web app business an in-app tutorial, and they'll retain customers for a day. Give them a tool for iterating their in-app tutorial themselves, and they'll retain customers for the product's life.
Forgive the proverb use, but that's the basic idea behind Appcues. And that idea is working.
It's hard to do walkthroughs well, and tricky to maintain and update them. Previously, you'd need developers to build in-app walkthroughs and change code. That's costly, time-consuming, and decidedly non-agile.
So Appcues has made a product that lets anyone "personalize a product experience without writing code." It's a great way to get new users on the straight and narrow and to get them primed for feature discovery.
Appcues streamlines onboarding and offers hints for product development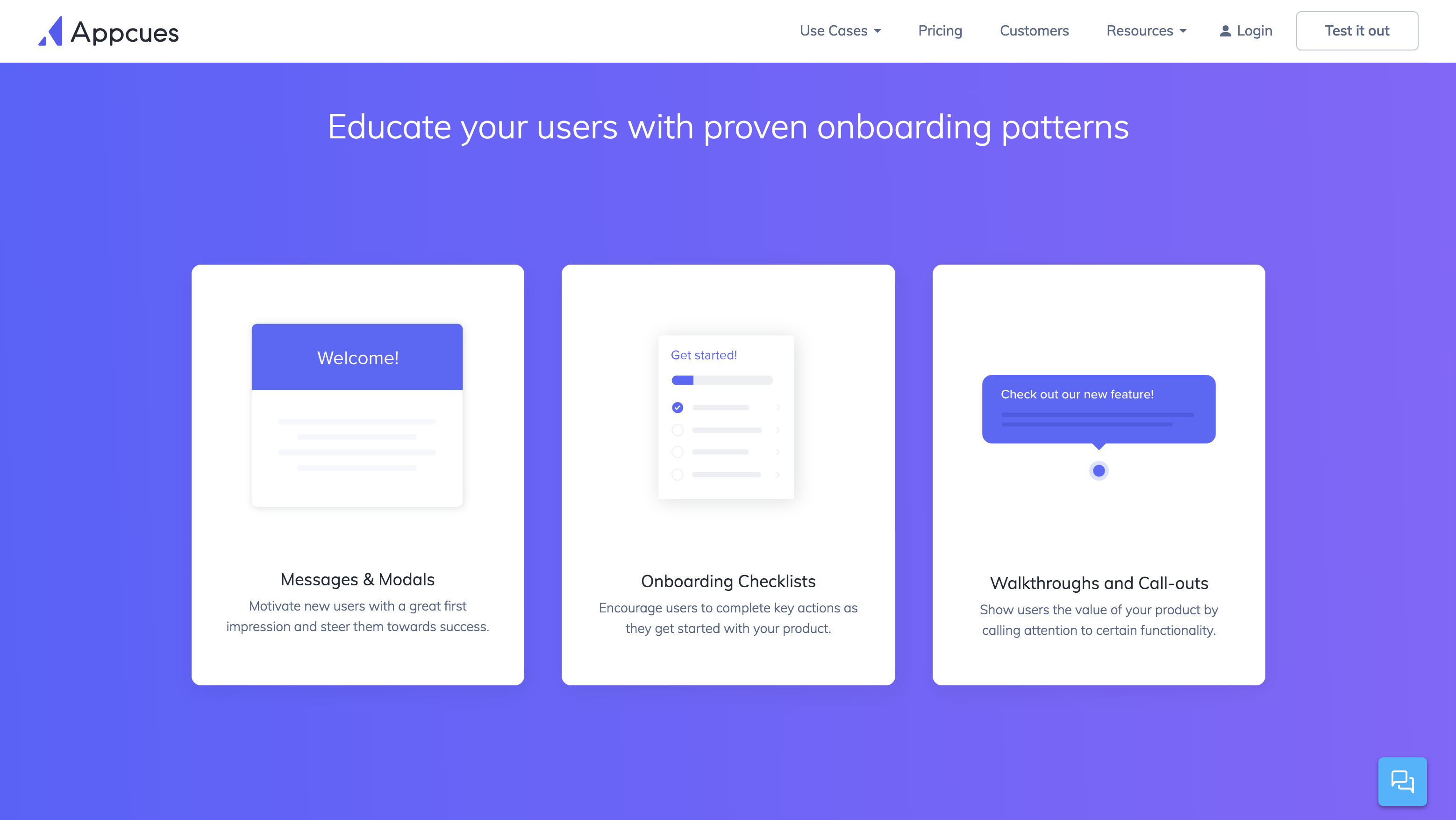 Image credit: Appcues
The founder and CEO of Appcues, Jonathan Kim, previously led front-end development for Hubspot's Social Inbox. It was there that he discovered the pain points he would later address with Appcues.
Kim found that, especially if a product was highly complex, you would lose customers in the walkthrough very fast indeed. There also wasn't enough visibility on what was working and what wasn't. It took too long to implement new iterations.
The grand product features tour, also known as 'onboarding', is a key moment because fewer than 5% of users continue on to become regular users. A lot of that is down to people failing to find value fast enough.
A bad onboarding experience sends a person fleeing into the woods, never to be seen again. It's not the 90s anymore, so you can't expect people to go out and buy a For Dummies guide for your product; once they're gone, they're gone Jerry, gone.
A good experience, however, can make them into a committed customer. To put things in perspective, if you bump up your 4% customer retention to 5%, you could see revenues increase by 25%. It's just simple math.
Appcues is designed to deal with the 'experience layer' of your business. By that, they're referring to the visual layer on top of your website. They deal with helping you develop an in-app user experience that drives user engagement, as messages and walkthroughs welcome users and coax them to learn and take action.
Being aware of a user's needs, you set your relationship up for a long-term rapport. When you've gotten rid of churn, you've firmed up a business's bottom line. Now you can grow.
Gentle guiding with hotspot and tooltip features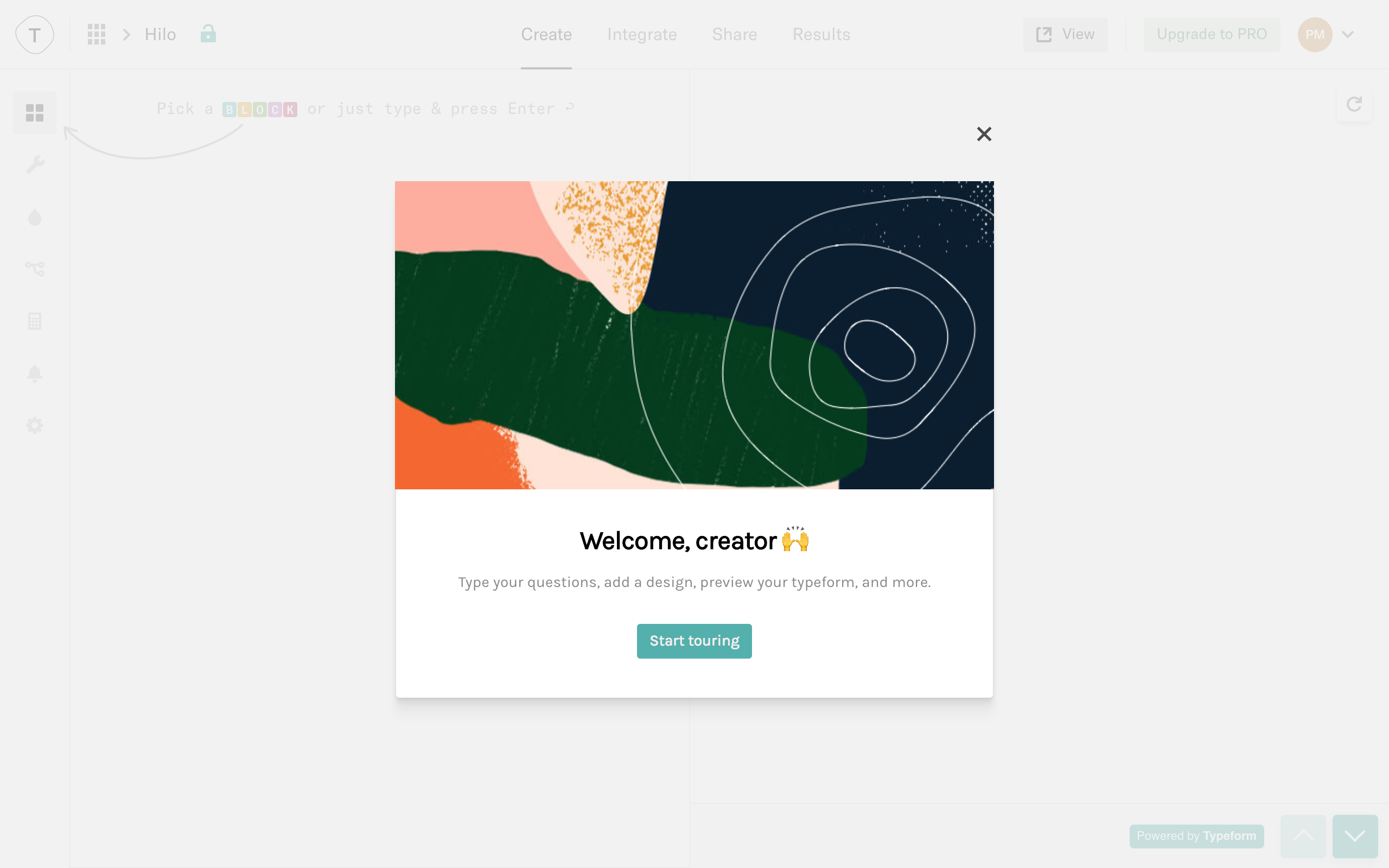 Image credit: Appcues
Appcues lets you create a user onboarding flow, welcoming them and driving them to action. You can customize the flow so it appears native to your product.
A marketing funnel loses people as it goes from awareness all the way down to sale. That's normal. But if everyone's dropping off at one point, what's the deal? If nobody's using a feature on your website, is it because they don't know about it, or because it's no good?
You might find out a button is in the wrong place, or the wrong color. Maybe the next step for the user is just not obvious enough. A simple change can often go a long way.
Appcues gives you cues (the app kind...) about what to change. Rapid experimentation lets you quickly iterate and find your way out of bottlenecks, so you can move on.
Adding hotspots can capture people's interest by highlighting a page element. You can drop hotspots on dynamic elements like dropdown menus and popouts, increasing their versatility.
You can generate normal tooltips, which generally have a 'Close' or 'Next' button attached to them, as well as Action-driven tooltips, which let them move forward by just clicking on the action the tooltip points to.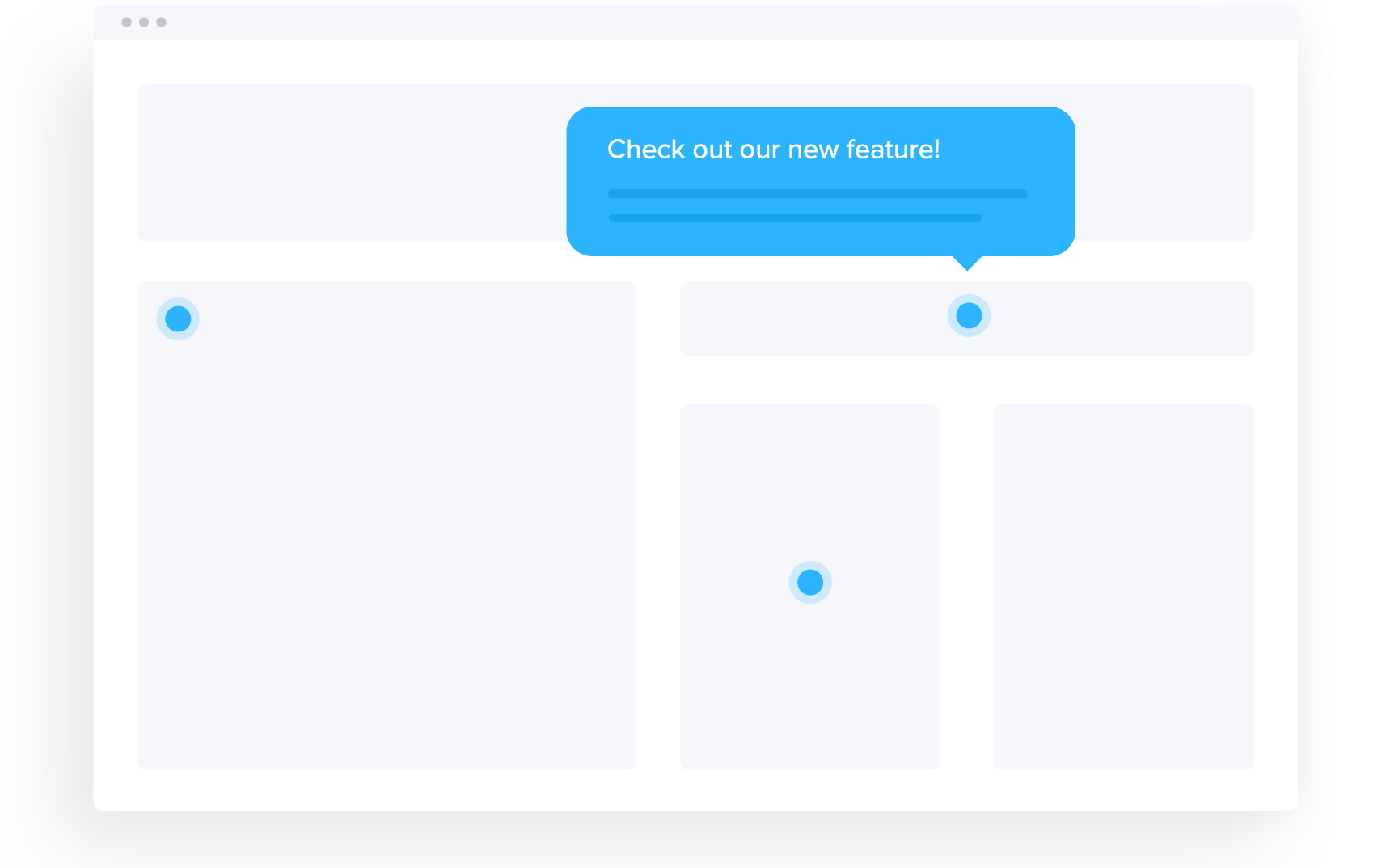 Image credit: Appcues
Announcements, meanwhile, let people know how to make the most of product enhancements. You'll be able to make people use new features and get them to update their app usage as you yourself update it.
You can customize announcements to match your web app's aesthetic, build them from scratch, or else use a prefab one from a template library.
You can customize your walkthrough experience too, with personalizations calibrated to user profile and geographical location. Set up event triggers to target specific users by segment. Based on their sign-up date or plan, you can make sure they see the features most relevant to them.
Performance metrics allow you to see how feature announcements are performing over time, so you can work to address issues and solidly build up adoption. These metrics are beyond useful, because you'll be able to do regression analysis and identify where people get lost, track user messages, and find out how good your long-term retention is.
A/B testing is super helpful too. You'll be able to see how different onboarding flows do against one another, then pick the best performing one.
Appcues for optimizing NPS surveys (so people actually respond)

Image credit: Appcues
Appcues gives you a big boost in the survey department too. You'll be able to engage customers to figure out your NPS (Net Promoter Score). Set up surveys on a rolling schedule, or at random, so you don't accidentally piss the people off with regular interruptions.
Rather than using email, you can capture feedback in-app. That's huge.
Why? Because when a survey runs within the app, it's integrated and non-invasive, not to mention more attractive. People are more likely to respond to your inquiries when they don't have to go out of their way to do so, and when they're not being interrupted by you while trying to do something else.
Appcues' NPS survey feature segments users instantly and intelligently. That means NPS score results can be meaningfully broken down. You can compare across audience segments to find out your most and least satisfied customers, then act accordingly.
Making walkthroughs a cake walk, one iteration at a time
To re-iterate, Appcues helps you develop a consistent, genuinely engaging user experience with an emphasis on exploration.
You, yes you, can re-iterate your product over and over without developers, without code, in a flexible, intuitive way. When people get pleasing, genuinely useful visual cues to explain things and direct them on, they'll see the value in your business.
Surely product and feature walkthroughs aren't the most exciting thing on earth, but they're important. Appcues has been growing steadily based on the fact most businesses have historically ignored this importance.
Perhaps now is the time to take a cue.