Affinity: Expanding Relationships Intelligently
There's contact management, and then there's relationship intelligence. Affinity confidently asserts itself as a frontrunner in the latter category. 
Affinity transcends traditional contact databases with a deep data, AI, and full automation approach. Within the concrete contacts you have, there's an abstract wealth of new relationships waiting to be built.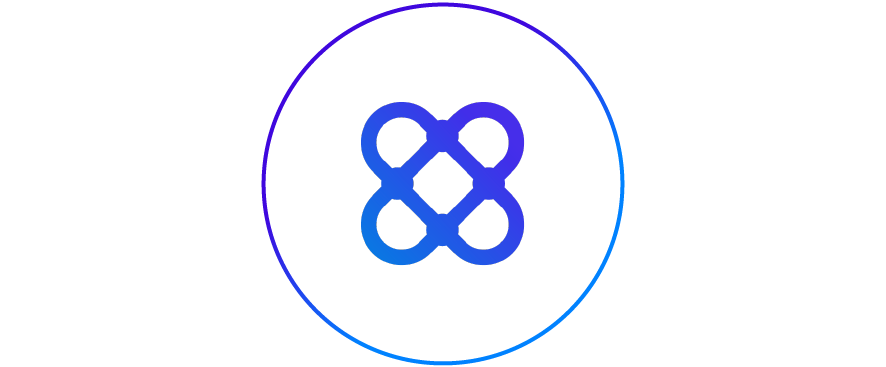 Growing beyond the crowd
With Affinity, it's all about tapping your existing contact list to generate introductions for new contacts.
In Affinity's terms, your existing contacts are your prospects. Using sophisticated machine learning and NLP, Affinity shows you the strengths of your relationships with specific people, and how strongly they're related to others you're looking to know.
It's a bi-directional strategy: First, if you want to get to know a specific person who is outside your network, you can find out who in your network can give you a "warm introduction"—Affinity's distinction for building new connections with existing contacts (as opposed to the "cold calling" or "pavement pounding" of yore).
A good way to start is to look for anyone you might be interested in connecting with based on your catalog of contacts and their extended networks. 
A warm intro to Affinity 
Overviews and updates
Affinity's Pipeline automation is for monitoring prospects and deals in progress and further saves time by automatically handling updates and records. 
You can break down your deals by company, for example, viewing contacts by company or your last engagement with them—whether it was a meeting, a phone call or an email. 
All the contact, interaction, and pipeline updates are done automatically and in real-time. It works by sifting through emails, calendars, and contact lists from both the G Suite and Microsoft Exchange platforms, as well as other third-party resources, like Crunchbase and Clearbit. 
All activity in your deal pipeline will update in real-time as prospects move along through categories like new, pending, and won. You can sort these details in smart columns to view specific angles. For example, if you want to track your engagement with a contact over phone calls or face-to-face meetings.
There's a contact capture, which picks up every interaction between your team and their contacts. This creates new contacts for you by filling in all the extra details like contact info, company, and title.
As for archives, you can go back and see all your meetings, the calls you've received and missed, the emails you've answered and left unanswered, and the tasks you've completed and haven't. This works for looking at your team's past too.
Affinity can also capture and store all your email attachments, saving you time in keeping your deal records organized.

Tapping for growth
The Affinity Alliances™ tool is the bread and butter of the platform, designed to expand your contact list beyond your immediate connections.
Say, for example, you're a sugar salesman and you're looking for buyers at several companies in the candy industry. Alliances™ starts by looking through your contacts and shows you who among them is connected with any buyer working in the candy industry. So now you know who to request a warm intro from.
There is also a relationship graph feature for a more visual breakdown of how contacts fit into teams and companies, as well as a list maker that filters down your team and contacts' prospects based on things like title, location, industry or company size. 
A truly unique facet of the Alliances™ offering is the allies community—a group of mentors, investors, advisors, and colleagues, who help open up totally new areas of networking.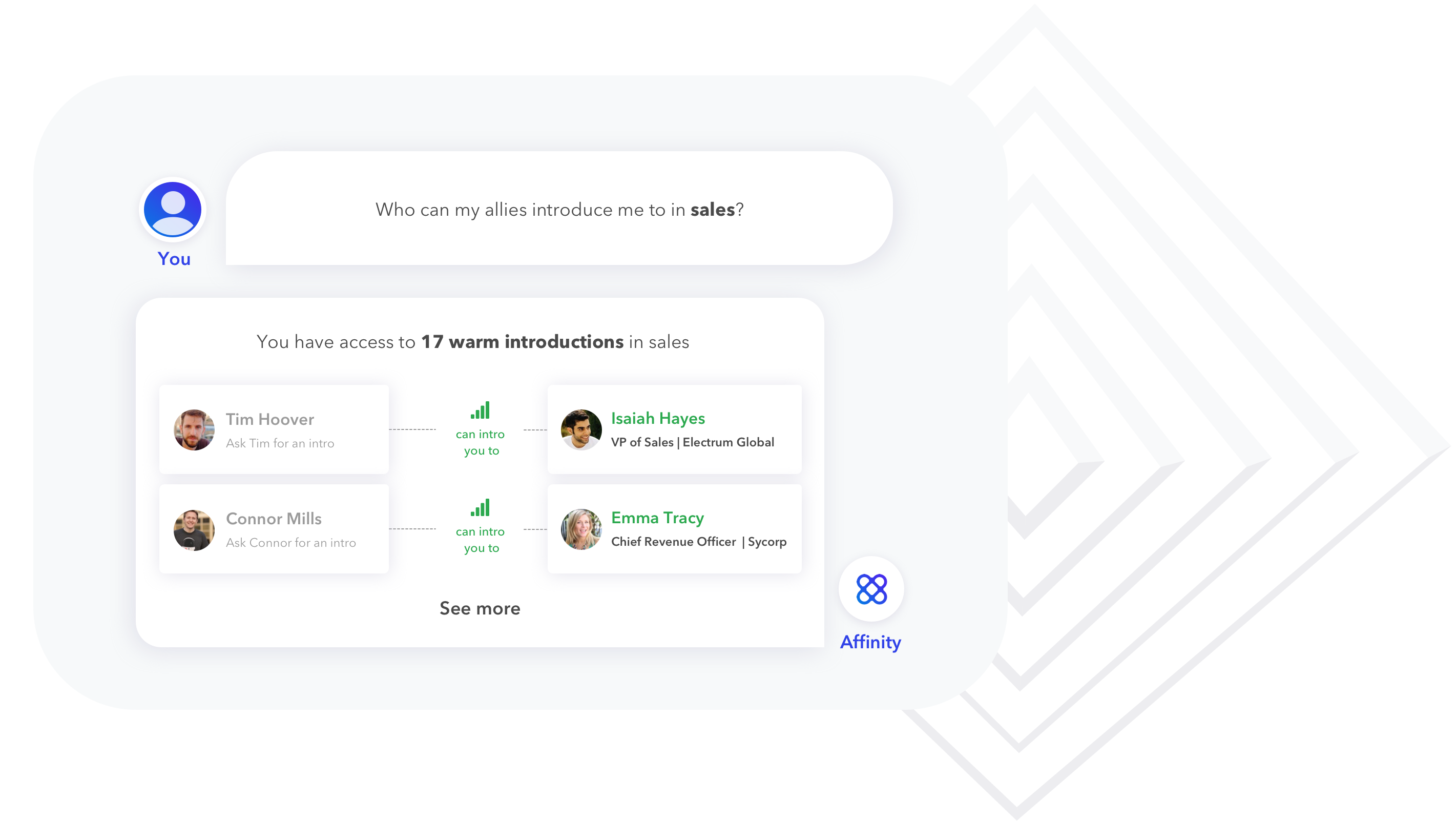 Staying smart
Building networks takes time, and most of that time should go toward the more human activity of personally connecting. Affinity's Data intelligence saves time by taking over some of the more basic cleanup and workflow tasks.
This tool points out if a contact has multiple emails or if you have several URLs for the same company. It then de-duplicates the data, making it much faster to pull up the correct information in those moments you really need it.
Task automation uses smart rules to set up things like follow-up tasks or reminders. Similarly, the feature auto-detects unanswered emails you may not want to forget, or reminds you when your email has gone unanswered and requires a follow-up.
When applying data intelligence to your own team, you receive an overview of who has the potential to make the most introductions, who has delivered the most 'warm intros' in the past, and who is sourcing the most deals.

Reporting for business
The pure velocity of doing business means there's a lot of info you can miss out on in the process. 
Real-time reports records and stores all the deepest details of your funnel. It can show you how many opportunities are currently at each stage and how long each prospect remains at each stage. You can break down and look at individual deals to see how many emails, calls or meetings have gone into each of them.
Regarding your own team, Affinity also details how long each team member spends on specific activities like emailing, phone calling and IRL meetings.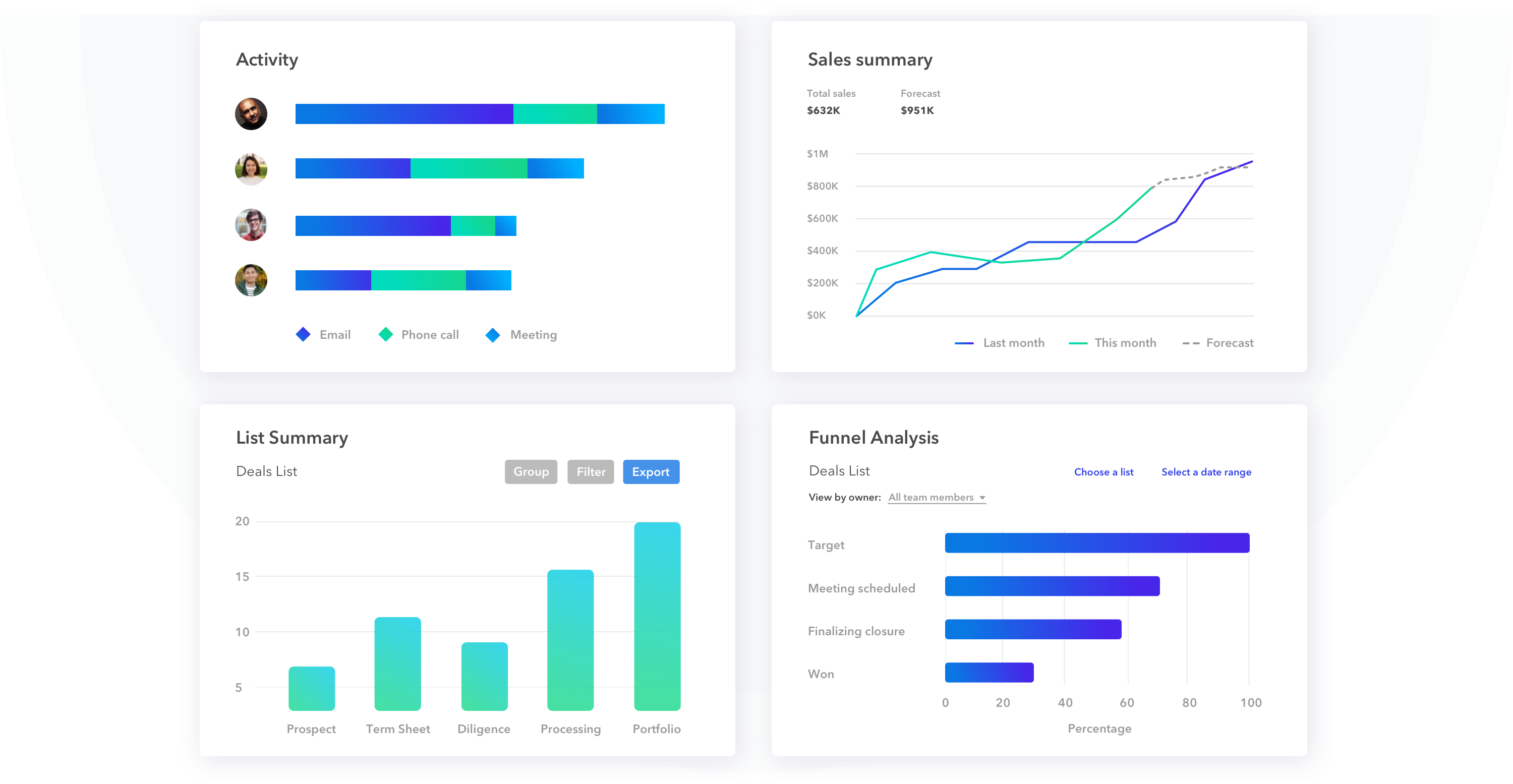 Of course, making contacts is great, but in the end, the bottom line for many is still calculated in terms of sales. For this approach, Affinity's sales tracker compares current sales stats to previous ones (say, this week to last week), and can offer sales forecasts based on current numbers.
No more missed connections
"Data is extremely valuable when it comes to building and nurturing professional relationships," says David T. IbnAle, a recent VC donor to Affinity and member of the company's board of directors.
Unused info, undiscovered data points, and hidden connections lead to lost deals. By combining full automation and algorithmic ingenuity, "Affinity has found a way to harness the incredible amount of relationship data buried in our day-to-day communications."
After all, relationships are the foundation of doing business. On the surface, it may seem all smiles and handshakes and power lunches. Beneath the surface, there's a lot of other work to be done for keeping connections fresh, relevant, and on-business-point.
That hidden world of data, algorithms, and updates is where you can count on Affinity to help you get the job done.