Standuply's Slack Poll Integration Turns the Scrum Trend on Its Head
The daily stand-up meeting, also known as scrum, is introduced in workplaces as a 15-minute productivity update to help facilitate communication and keep track of department and employee progress.
It's a hot trend among companies of all sizes. But not everyone likes the practice. And as more and more startups go remote, does a daily stand-up even make sense?
Standuply's Slack Poll integration, "the digital scrum master for Slack,"  provides an alternative to your monotonous stand-up-in-the-hallway-by-the-water-cooler routine.   
Slack, has already become one of the top collaboration tools for business workers. It replaces email as a primary method of communication by allowing for real-time group chats, direct messages, and file sharing in a central place.
With its capacity to integrate third-party applications, the solution has helped development teams across many industries make their routine communications more efficient. 
Standuply's integration with slack is genius in that there's no commitment; you were using slack before, and you're still using slack after. The company provides a bot that automates the stand-up process, helping remote teams organize and run meetings regardless of distance and time.  
The trend of remote work in startups is on the rise. And Standuply is here to cater to the shift.
The application interviews each team member individually before delivering the results through Slack via text, voice, or video. This process enables all employees to stay updated on team progress without having to attend multiple meetings.

Image Credit: Office Chai 
The idea behind a stand-up meeting is that– because you're standing, rather than the old-fashioned sit-down– everything is kept short and productive. However, often these meetings turn into unnecessary, time-consuming discussions that prove more tedious than productive.
The digital version offers a more fluid space for employees to participate. Flexible time settings provide employees the space to respond thoughtfully, whenever it fits best in their day.
Running these scrums automatically with Standuply can save development teams significant amounts of time and boost their productivity.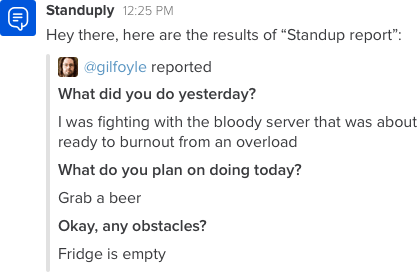 Image credit: Standuply
The application includes a Slack Poll feature that allows users to run simple polls in their stand-ups or get answers from limited options. It's good for everything from reporting productivity on a project to giving workers a platform to voice how much the vending machine sucks that week.
You can pick a specific time to run a poll for your team, select participants, and define questions and answers.
On schedule, Standuply surveys select people in Slack. Once team members provide their input, the app compiles them to produce detailed result charts and delivers them anonymously with your stand-up report.
By helping teams gather feedback on specific issues, this poll feature makes communication during meetings even more effective and is one of the simplest ways to measure team morale.
While there are multiple Slack survey integrations on the market, many users consider Standuply as the most user-friendly. Since it is designed to run daily stand-ups, it also drives teams' productivity more efficiently than apps working exclusively as poll generators. 
According to Standuply, "Small and Fortune 500 companies, using Standuply, demonstrate that running stand-up meetings asynchronously fits both startups and big businesses."
But can a bot replace real human communications? No. As Standuply wisely puts, "Bots help with getting our hands on the pulse of things by replacing routine communications."
This is a whole new kind of stand-up meeting. An app integration for the future of work communications.
Delivering high-quality products at a steady pace requires motivated, involved, and happy employees who work cohesively. Facilitating communications among team members and helping them keep track of their well-being is key to any company.
While a bot can never replace the complex ecosystem of human expression and emotion ever-present in a stand-up meeting, the Standuply integration offers a very human work environment in a supremely digital era.