Klaviyo: Turning Emails Into Experiences
Love 'em or hate 'em, emails are here to stay and growth marketing platform, Klaviyo is here for it. In addition to powerful marketing automation, the company also offers a revenue-driving email platform that aims to provide streamlined, user-friendly email automation for improved user interaction. 
Yet, with dozens of marketing and email solutions available, including some well-respected options like Mailchimp, is there really room for another competitor to enter the arena?  
Andrew Bialecki and Ed Hallen, the co-founders of Klaviyo, think so. And, luckily for them, legions of happy customers agree; Klaviyo's staggeringly good user reviews tell a pretty satisfying story.  
But what is it exactly about Klaviyo?
Listen, analyze, act
The Klaviyo product is all about helping companies increase their ROI. In fact, according to the company's Shopify app store page, ecommerce stores switching to Klaviyo see an average 67x increase in ROI.
How, you ask? 
Rather than migrating user data from a third-party database, which can lead to a crappy user experience for both companies and customers, Klaviyo cuts out the middleman and instead helps you identify, collect and store valuable data. The platform breaks down its product into three major categories: Listen, Analyze and Act: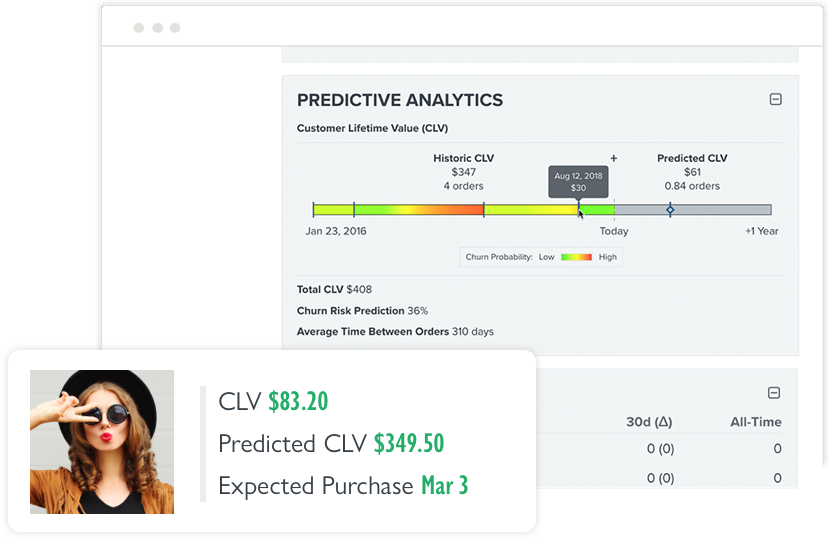 Listen
Klaviyo takes a different approach to data storage and management, which they call owned marketing. 
The strategy is a reflection of the company's belief that the best way to grow a business is to own the entire customer experience. So, rather than relying on channels like paid search, display advertising, and marketplaces, the idea behind owned marketing is to collect information through owned channels such as email, so that you can more genuinely engage with your audience. 
Through this model, Klaviyo encourages companies to listen, collect, and store valuable customer information. Data collection occurs primarily through customizable email templates, on-site forms, building detailed customer profiles, and a comprehensive list of integrations.
Integrations
Klaviyo supports integrations with several major CRM, ecommerce platforms, payment and helpdesk software, marketing tools, and social apps including Magento, Amazon Marketplace, Facebook, Zendesk, Salesforce, to name a few. Perhaps the most valuable integration of them all is Klaviyo's comprehensive integration with Shopify.
The strong Shopify bond, paired with Mailchimp's announcement in March that the company would be leaving the Shopify app store (only working together through third-party app integrations), has resulted in several ecommerce companies migrating over to Klaviyo.  
The competition is so hot, it has started to turn into a bit of a Biggie vs. 2Pac situation, with each competitor responding with 'diss tracks' or, rather, inflammatory blog posts.  
And while Mailchimp claims Klaviyo "limits their focus to Shopify," the platform undeniably has a lot of features (some similar to Mailchimp's offering, some unique), to bring to the table as well.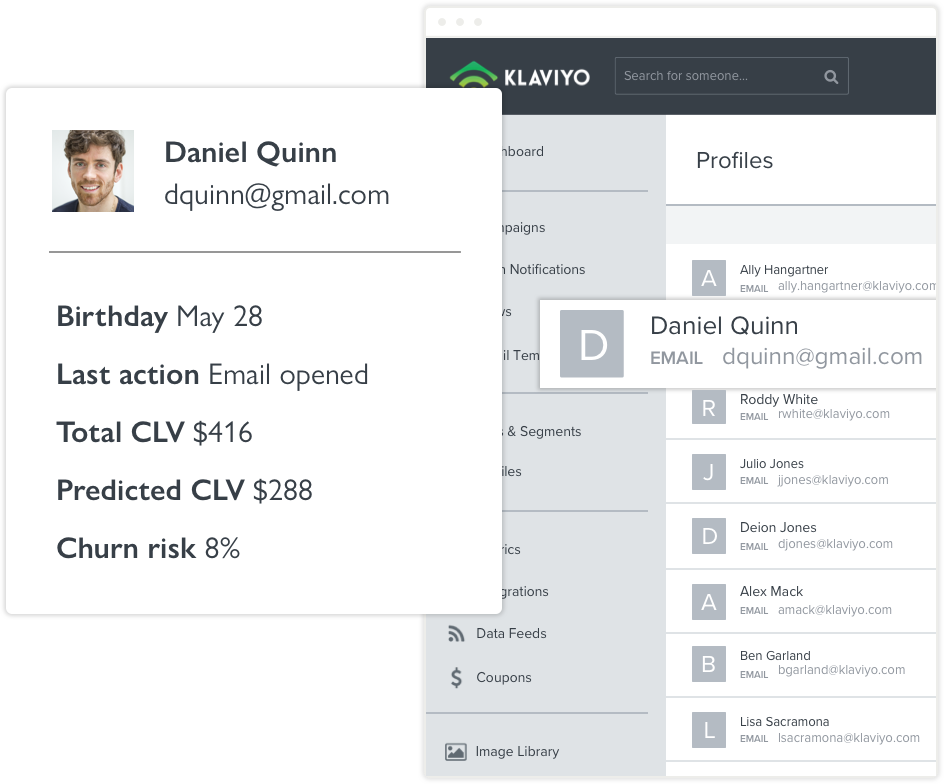 Here's a taste: 
Forms 
Klaviyo provides the tools to design and customize pop-up forms from the ground up. You might be thinking, "Forms? You mean the things I immediately close so I can finish reading my article?"  
It can be a hard sell to get people to fill out forms, especially if it feels like a request for an email address just to have your inbox spammed with endless newsletters.
But with Klaviyo, forms are insanely robust. Personalization features help to create forms that align perfectly with your brand and your aims. For example, if you're a shoe vendor, rather than simply requesting an email, you can ask for a customer's size, their favorite brand, and color, and send them directly to examples reflecting their preferences.
Additionally, forms work in conjunction with your customer data and segmentation information, meaning individualized forms that speak directly to the consumer. A long-standing return customer might appreciate a free shipping pop-up whereas converting someone who constantly puts things in their cart but never actually orders anything might become easier if you offer them a 20% off rebate.  
Customer Profiles
Considering Klaviyo prides itself on focused, interest-driven marketing, it makes sense that the software features a very robust customer persona system. These profiles are constructed through a combination of collected data and data pulled from integrations. 
At first, customer profiles will track useful metrics like purchase history, website activity, and spending habits. However, once your database starts filling up with more data, that's where the fun really begins. Klaviyo uses data not only to analyze but to predict future customer behaviors, including things like the expected next order date and the likelihood of churn, aka some real sci-fi-style algorithms at work.
This data works hand-in-hand with your marketing strategies to enable you to target specific profiles or segments of users.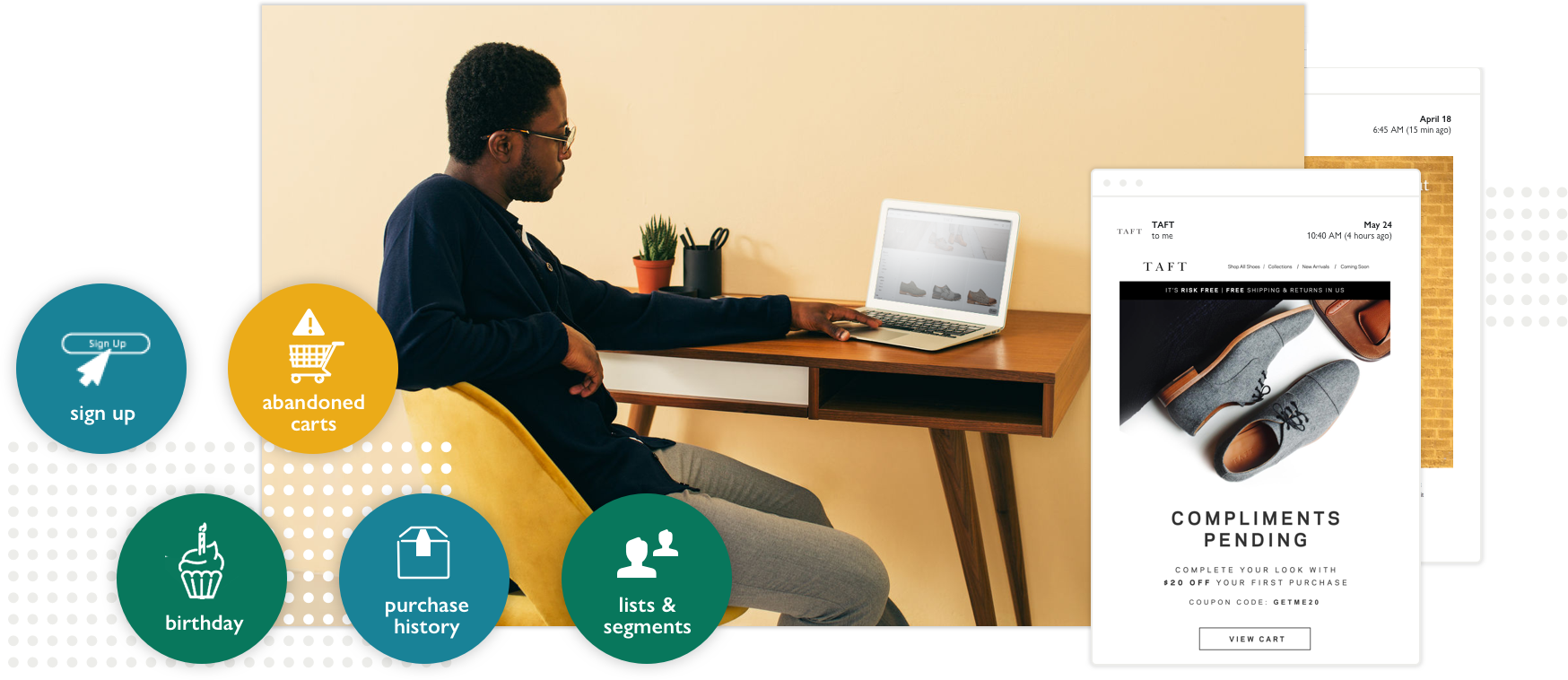 Analyze
Klaviyo boasts a comprehensive suite of analytics tools—not only to consider past customer behaviors but also to predict future actions. Users are sorted into various segments based on their personal characteristics or their habits while frequenting your website.
The platform's dashboard is simple and elegant, helping you organize all of that important user data. Their "data science," as they call it, is top of the market, while allowing you to maintain total control over any data that you collect along the way through forms, email campaigns, and social media efforts.

Act
The meat of Klaviyo's product is in the company's marketing automation flows. This is the email experience that you probably signed up for in the first place.  
Klaviyo offers deep email customization tools, so you can communicate exactly what you need while displaying your brand loud and proud. Additionally, there is in-app A/B testing so you can perfect the impact of your message.
Too lazy to wade through customization menus? Klaviyo offers a set-up wizard, which allows you to easily create a batch of on-brand campaigns.
Additionally, Klaviyo offers branching email flows so the right people get the right messages. Think of it as a marketing "choose your own adventure" book. Different communications will be triggered depending on customer data and habits, or decisions. 
Forget having to even switch tabs to analyze the success rates of different campaigns. All data, including open rates and sales generated, is laid out right in front of you in real-time while you are determining your marketing flow. 
Social Integrations
Another helpful feature Klaviyo offers is its dynamic social media advertising. Once Facebook and Instagram are integrated with your dashboard, you have the ability to export campaigns or advertisements directly into the social media accounts of whatever segment of customers you desire.
Klaviyo uses dynamic syncing to match your in-app segments to similar segments on social media platforms. This feature helps generate leads and bolster your marketing database while also reaching out to potential customers with targeted ads.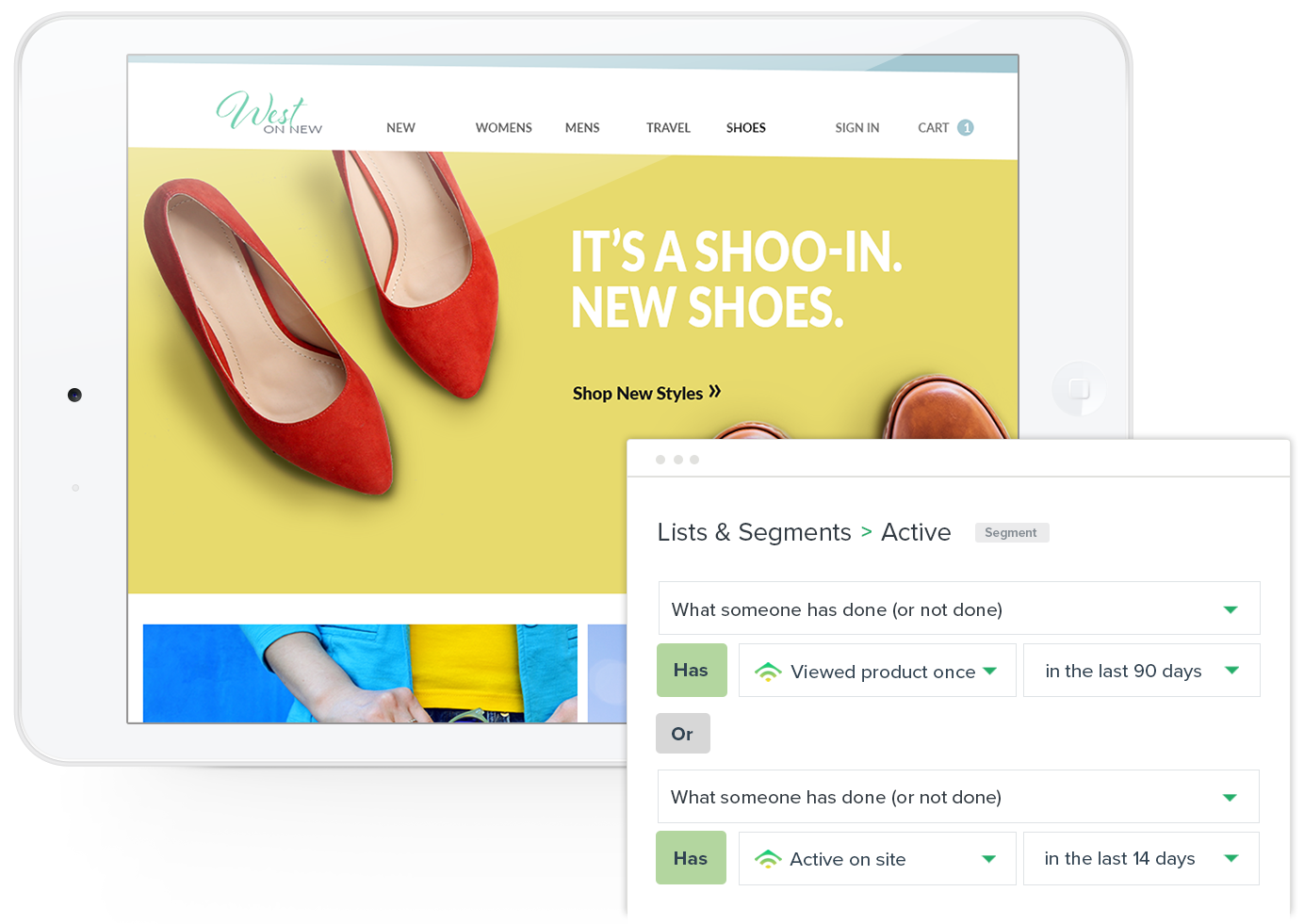 Family business-vibes 
Klaviyo was never about trying to cash out on a big payday. When Bialecki and Hallen founded the company in 2012, they wanted to build their business the honest, old-fashioned way. As stated by Bialecki in a blog post detailing Klaviyo's latest successful investment round:
"We came from families that started small businesses from scratch and ran them for decades. They may not have been huge, but they were real, lasting businesses. We wanted to try to build something like that."
So, rather than treating their fledgling company like a get-rich-quick scheme, the two partners focused on creating a powerful tool that could not only speak for itself but help build truly long-lasting customer relationships.  
Today, Klaviyo is growing at a staggering rate. Currently, the company has over 20,000 customers. In 2016, that number was only 1,000. Plus, Klaviyo email campaigns recently accounted for 1% of all Black Friday ecommerce sales. 
All this to say, their email solution has been a roaring success, to the tune of a recent $150 million-dollar investment from Summit Partners. This, paired with an almost symbiotic relationship with Shopify and other major marketing and ecommerce apps, positions Klaviyo as a valuable option for marketing automation and email.