HubSpot Launches New User-Friendly Persona Generator
Marketing software developer HubSpot just launched a new buyer persona generator to help businesses develop effective strategies to match their ideal customers' preferences and maximize sales.
A buyer persona is a detailed representation of a company's ideal customer. By creating their personas, businesses gain the ability to tailor their offers and marketing strategies to meet the demands of their target clientele.
Enterprises must conduct thorough research to understand who their customers are and create a personality that genuinely embodies their audience.
HubSpot's new Make My Persona tool generates personas after users answer a series of questions about their ideal customers. The interactive web application helps users learn how to conduct research, interviews, and surveys, and how to use the gathered data to create their persona.
The tool guides users through a seven-step creation flow, with each stage focusing on a different aspect of the persona, like age, education, or goals.
After going through these steps, users access a customizable persona document. They can edit the look, feel, and format of the report to make sure it responds to their business' specific needs.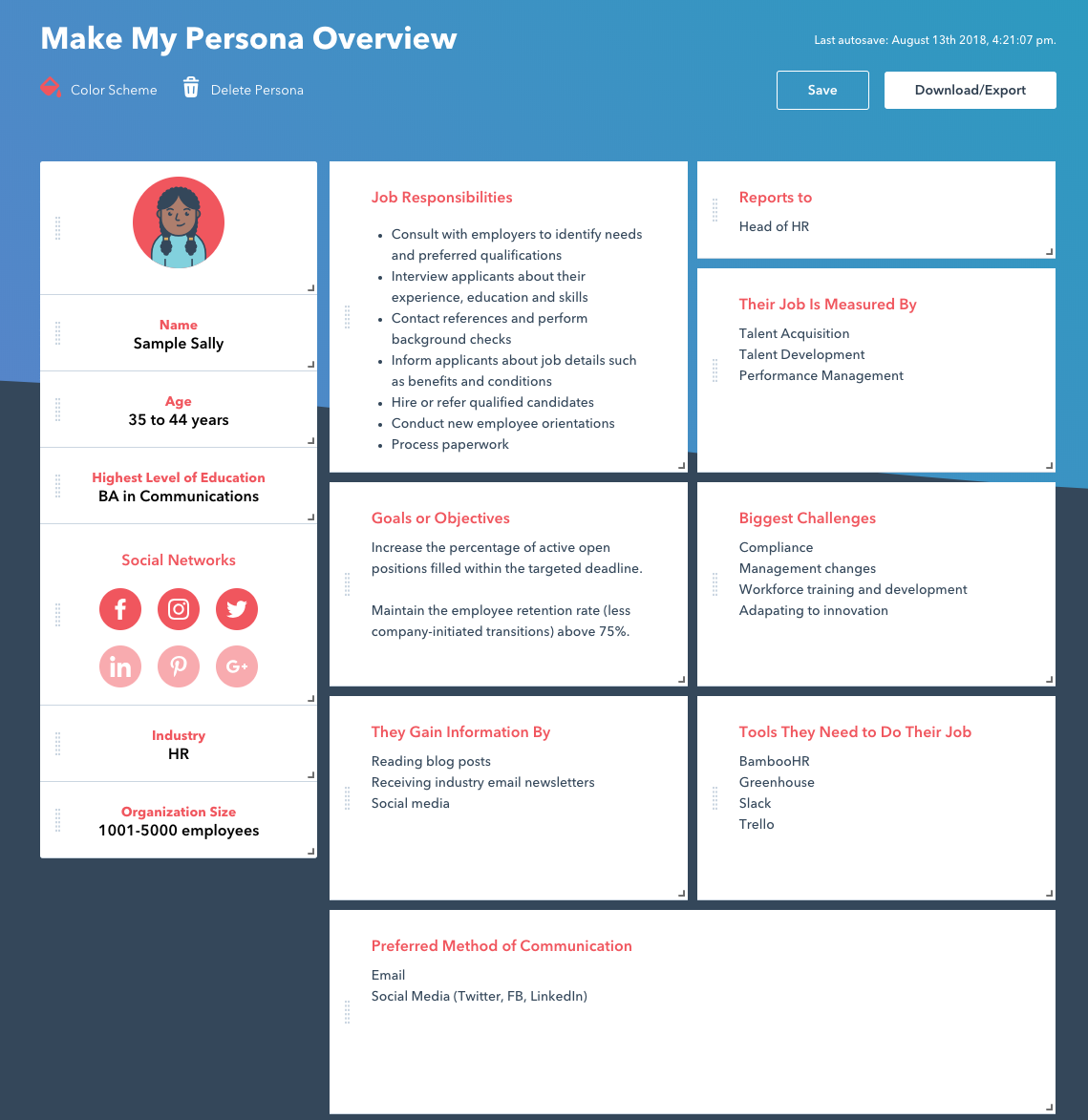 Image Credit: HubSpot Blog
Once satisfied with their persona document, users can download it as a PDF and share it with colleagues.
Producing a bright idea of an ideal customer significantly benefits a businesses.
In this era of digital transformation, customer behaviors are rapidly evolving, and companies must deliver a unique and personalized buying experience to stay ahead of the competition.
Therefore it has become critical for businesses to have a clear picture of exactly who they are trying to attract and serve. Crafting buyer personas is one of the best ways to understand the mindset of a specific clientele and to connect with customers.
While most enterprises value the importance of creating these personas, the process is often long and research-heavy. Employees in several organizations do not know how to carry out the proper market research to collect relevant data.
With its attractive, user-friendly interface, HubSpot's new tool delivers a pleasant user experience, working much faster than several other persona generators.
As it provides detailed explanations and complete guidance throughout all steps of creation, Make My Persona is accessible even to those not familiar with the concept.
Considering the growing demand for easy-to-use business applications, HubSpot's new approach will probably inspire other CRM providers to create similar tools to help businesses optimize their performance by identifying their customers' needs quickly.