Patagonia's Customer Base and the Rise of an Environmental Ethos
Founded in 1973 by Yvon Chouinard as a rock-climbing outfitter that sold pitons, corduroy pants, and rugby shirts, Patagonia has always focused on making high-performance products which leave the tiniest footprint possible.
While Chouinard never meant to build such a huge clothing empire, his simple, stylish products quickly became timeless outdoor icons.
Today, Patagonia designs clothing and gear not only for climbing, but also for trail running, skiing and snowboarding, surfing, and fly fishing.
The brand, which has 30 stores in the United States and nearly $800 million in annual revenue, has become synonymous with eco-friendly principles and outdoor-minded pursuits.
The company's name is derived from a mountainous region in South America where Chouinard has practiced rock-climbing several times. The area, shared by Argentina and Chile, comprises the southern section of the Andes mountains and the desert and grasslands to the east.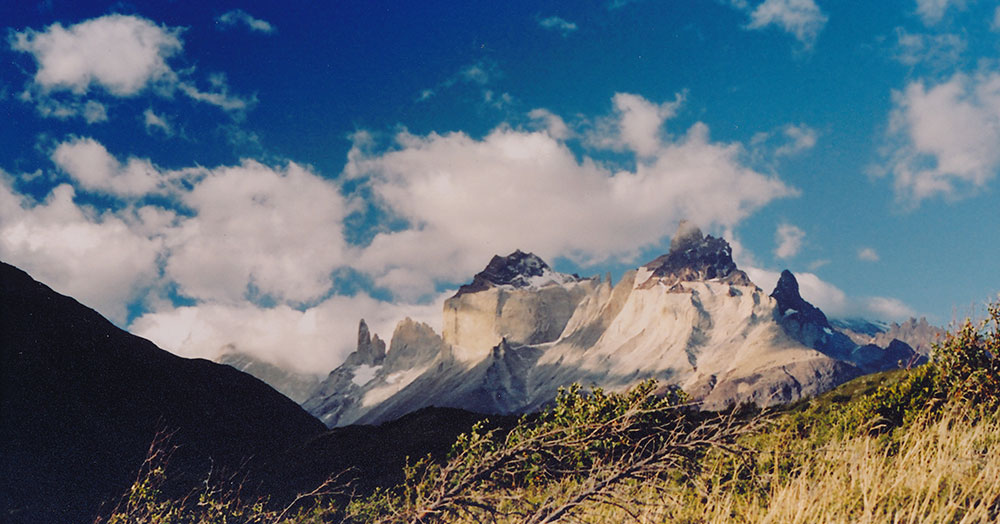 The company once wrote in an early catalog, that Patagonia brings to mind a far-off, fascinating land with "romantic visions of glaciers tumbling into fjords, jagged windswept peaks, gauchos, and Condors."
The name is as romantic as it is universal, pronounced the same way in every language.
The company's logo is designed after the peaks of Monte Fitz Roy in southern Patagonia, one of the world's toughest mountains to climb. The branding intends to represent the products' ability to withstand even the harshest of environments—and since Chouinard managed to ascend the infamous peaks in 1968, well, the proof is in the pudding.
With its vast catalog of extremely well-made gear, Patagonia has transformed from a cult-favorite among nature lovers into one of the most popular and desirable outdoor brands in the world.
By making highly versatile, durable, and authentic style a part of every design, the company has built a profoundly loyal consumer base composed of both avid outdoor adventurers and style-savvy consumers alike.
Building an environmentally-conscious empire
Patagonia's clothing is inseparable from its environmental advocacy.
With beliefs rooted in a love of nature, the company endeavors to build high-quality products while causing minimal harm to the planet.
The brand designs apparel and gear made from reusable and recyclable materials and finds ways to minimize impacts throughout the supply chain—from water use and quality, greenhouse gas emissions to energy use, chemical use, toxicity, and waste.
Patagonia continually invests in new technologies to make its supply chain and products more sustainable.
Besides using its popularity to raise awareness of climate change and environmental issues, Patagonia even encourages customers to take mutual responsibility for the life cycle of its products through repair, reuse, and recycling.
"Don't buy this jacket"
Based on a "buy less, buy quality" philosophy, the brand literally tells its customers not to buy its clothing and invest in used versions instead.
During the 2011 Thanksgiving shopping season, Patagonia ran an advertisement that read "Don't Buy This Jacket."
The ad detailed the environmental cost of one of the brand's best-selling sweaters and asked customers to reconsider before buying the product and opt for used Patagonia clothing instead.
That year, the company saw its revenue grow about 30%.
In 2015, Patagonia took another step toward helping its customers become more environmentally responsible and launched the Worn Wear Wagon, a mobile repair shop traveling the country to mend everything from busted zippers to tears and pulls, in addition to educating people on how to fix their own gear—all this for free.
Customers can also now resell their used Patagonia garments on the company's website and even trade in their used products at any Patagonia location to receive a credit to buy new or used merchandise.
The company's recycled product policy may have already inspired other retailers. Ikea recently announced a new program that allows customers to bring back gently used furniture in exchange for store credit. The program was launched with an intention to reduce the waste that goes into landfills.
Beyond influencing other companies, Patagonia's message resonates strongly with the environmentally conscious, upscale consumers which the company considers their target audience.  
These consumers are willing to spend more money on quality products that also decrease their impact on the environment. By tapping into this target market, the brand has managed to expand its sales.
Recent data confirms that Patagonia tends to attract customers who identify as both fashionable and conscientious.
A 2017 survey by YouGov suggests that 61% of the outdoor retailer's customers consider themselves as well-dressed, stylish individuals. When it comes to having ethical shopping habits, 69% of Patagonia customers say they like to look out for where their products come from, 67% believe to protect the environment, we should drive less and 54% make efforts to buy Fairtrade products.  
Patagonia has hit the mark in proving customers are attracted to a brand when they relate to its core purpose.
Running its business with a strong environmental ethos has allowed Patagonia to attract like-minded people who do not respond to functional marketing triggers of promotion and price reduction.
The company has instead fostered customer loyalty through emotional triggers.
Environmentally concerned consumers trust that Patagonia stands for a higher purpose than making money and are therefore emotionally inspired to support the brand, which embodies their values.
Through donations to environmental causes, efforts to expand the functional life of its products, investments in optimized sustainability, and the use of recycled and organic materials—the company backs up its eco-responsible talk with concrete actions.  
Sparking an eco-friendly trend
As the scientific community is urgently calling on world leaders to tackle global warming to avoid devastating consequences, people increasingly acknowledge the importance of adopting eco-responsible behaviors.
The Nobel Prize-winning Intergovernmental Panel on Climate Change (IPCC) points to a global temperature rise of 1.5°C as a threshold the planet cannot cross without suffering permanent damage.
The United Nations' latest report shows that temperatures have already risen 1°C as a result of human activity and that we could pass the 1.5°C threshold before 2040 if greenhouse gas emissions continue at the current rate.
The Fourth National Climate Assessment by the White House notes that communities across the United States are already feeling the effects of global warming; such as more powerful hurricanes, increased flooding, and stronger droughts and heatwaves.
This increase in climate-related events has inspired more and more people to assess the level of urgency, and seriously consider the threat of global warming.
As a result, consumer reports are being published showing data that an increasing amount of customers prefer to spend their money on brands that apply sustainable practices and preach an environmentally-conscious vision.
Recent data published by The Shelton Group, which helps companies market their sustainability practices, shows that Americans─especially millennials, who control the future of the market─ are not interested in shopping from any company that harms the planet.
The Group's latest findings reveal that 90% of millennials will purchase from a brand that applies effective environmental and social practices and that 95% of them will recommend that brand to a friend.
Considering that this demographic group spends around $600 billion per year, those numbers have an enormous significance for companies.
Millennials named Patagonia, Tesla, Whole Foods, and The Honest Company—all of which have noteworthy environmental and social practices—as some of their most-trusted brands.
Several respondents even mentioned Wal-Mart, which recently adopted eco-friendly initiatives.
In business to save the planet
While many companies are adopting environmental and socially-responsible practices, for over 45 years, Patagonia has been an industry leader in sustainable practices, environmental activism, and advocacy for public lands protection.
The company's philosophy has long been to, "build the best product, cause no unnecessary harm, use business to inspire and implement solutions to the environmental crisis."  
Over the past few years, the enterprise has launched an activist hub to connect its customers with environmental organizations, expanded its used clothing program, and optimized its investment in sustainable start-ups.
The retailer is even suing the Trump administration in federal court over its decision to withdraw the protected status of some 2 million acres of lands that make up for national monuments in Utah.
This project would represent the most significant reduction of protected land in America's history and would leave Native American tribes' territories vulnerable to oil extraction, mining, and logging.
This case could define future presidents' ability to strip land status this way. It is not the first time the apparel company has confronted Trump, having criticized him for pulling out of the Paris climate change agreement in 2017.
Despite all of these steps taken by the company, founder Yvon Chouinard and CEO Rose Marcario believe they can still do much more to protect the environment.
New mission statement
In December, Patagonia informed employees that the brand's mission statement has changed to a clearer, more urgent affirmation: "Patagonia is in business to save our home planet."
In an interview with Fast Company, Chouinard explained that while the shift in the company's mission does not bring on significant change for Patagonia products, it is fundamental for expressing the urgency of a genuine climate crisis.
"We're losing the planet because of climate change, that's the elephant in the room. Society is basically working on symptoms. Save the polar bear? If you want to save the polar bear, you got to save the planet," the 80-year-old founder said.   
"I decided to make a very simple statement, because in reality, if we want to save the planet, every single company in the world has to do the same thing," he explained. "And I thought, well, let's be the first."
Chouinard wants Patagonia to take concrete action against the actual causes of climate change instead of supporting numerous organizations that work on the symptoms.  
One of the best ways for the brand to have a sufficient impact is to focus on its resources.
For example, regenerative agriculture, an approach to farming systems that aims to regenerate topsoil and increase biodiversity by recycling as much farm waste as possible, has become a must.
Recent studies have shown that this type of agriculture, when done correctly, can capture more carbon than it emits and help reverse the act of global warming.
The company is presently working with 100 small farmers who grow cotton regeneratively in India. Chouinard is planning to collaborate with up to 450 farmers next year.
Already advocating for public lands, as the brand has been doing in Utah, Patagonia wants to go above and beyond. Chouinard has started making strategic investments of time and money to make a significant impact on land protection.
For example, last May, the company gave Tompkins Conservation $185,000 to start a project for creating a protected park in South America. Patagonia is also working with the governments of Argentina and Chile on the establishment of protected lands in the very Patagonian region.
A self-proclaimed "dirtbag" and a practicing Buddhist: Patagonia's leaders
Patagonia leaders' passion and commitment for their work, as well as the way they stand up for what they believe in, have contributed significantly in creating a cult around the brand and its products.
Yvon Chouinard, who describes himself as "a dirtbag at heart," never wished to become a businessman.
"I've been a businessman for almost sixty years. It's as difficult for me to say those words as it is for someone to admit being an alcoholic or a lawyer," he wrote in his autobiography, Let My People Go Surfing: The Education of a Reluctant Businessman.
He explains that he has never respected the profession, as he believes it's the business world that should take most of the blame for damaging the planet.
This is not a CEO bred from the crop of business leaders who fly in Dover sole on the daily for elite business lunches. Chouinard is much more of a farm-to-table than a "plane-to-plate"-kinda CEO.
This is a man who wanted to become a fur trapper as a kid, developed a passion for the outdoors from an early age, and grew an empire based off a genuine love and appreciation for the planet. 
Born in 1938 in Lisbon, Maine, home to a French Canadian community, Chouinard moved to California with his family when he was about eight. There, his love for the outdoors blossomed and he became an avid rock-climber.
At the age of 19, unable to find any equipment that satisfied his needs, he started forging his pitons, the metal spikes that climbers plant in rocks to anchor their ropes.
For years, he sold the gear out of the back of his car, driving around Wyoming, Yosemite, and the Alps with fellow climbers.
By the 1970s, his startup, called Chouinard Equipment, was the largest supplier of climbing tools in the United States with annual revenues of $400,000.   
During a trip to Scotland in 1970, Chouinard bought a rugby jersey that he then wore while climbing in the United States. The durable fabric appealed to other climbers so he imported some shirts and they sold out right away. Chouinard also started selling hats, gloves, and shorts.
Demand was so high that he decided to craft his apparel and launch his own clothing business. In 1973, he established Patagonia in the back of a meatpacking factory in California, where the brand's headquarters remain today.
Rose Marcario, who became CEO in 2008, says that from her first conversation with Chouinard she was impressed by his commitment to his causes and trueness to himself, and how those values reflected in his brand. She aspired to that kind of authenticity.
Marcario, a practicing Buddhist, has learned to look at things deeply and to acknowledge how her actions impact broader groups of people. The philosophy did not match with her former occupations.
Before joining private equity firm Capital Advisors as an executive vice president, she had worked as CFO of General Magic, a spin-off from Apple that shut down in 2002. In those positions, she had to focus on productivity and quarterly results to ensure meeting the demands of investors.
Aside from finding these achievements unfulfilling, Marcario explained in a Fortune interview that her tasks at these firms seemed to fuel an obsession over money that was unethical and damaging.
In 2006, she quit her job and spent the next two years traveling in Nepal and India, where she went through an immense personal transformation.
When she returned to the business world, an old friend who worked at Patagonia told her the company was seeking a CFO and suggested Marcario meet Chouinard.
Today, Chouinard considers Marcario the best leader his company has ever seen, including himself and the other seven CEOs who preceded him.
When Marcario joined Patagonia, she launched a thorough review of the company's supply chains, looking for ways to streamline production and minimize costs by identifying environmental and financial waste.
A wildly innovative approach
By considering business as a solution to the environmental crisis, Patagonia embraces a revolutionary approach rarely seen in the apparel industry.
Very few apparel companies have managed to engage a loyal customer base on issues of environmental degradation and urgency to save the planet.   
Patagonia is also one of the first brands to drive growth by using counterintuitive marketing strategies. Encouraging people to think about consumption and its impacts─and to buy less ─has resonated with an environmentally-concerned, ethical target audience which has remained loyal throughout the years.
The brand has also ousted competitors by creating its products under safe, fair, and humane working conditions and becoming a global leader in supply chain responsibility.
With its consistency in focus, brand vision, and high-quality products, Patagonia has bridged a gap between streetwear enthusiasts and eco-responsible outdoor lovers, becoming a timeless icon with a solid customer base.