How Stripe's Collison Brothers Created a Billion Dollar Startup
When did you last purchase something online? Probably quite recently, huh?
You're not alone. Every year, more and more consumers chose to purchase their daily needs online. Americans alone spend about $1.2 billion USD – a figure which has doubled in the last five years – online.
Nowhere is this more apparent than in the growth and success of online retail giant Amazon.
As consumers attempt to avoid crowds while searching for the best deals possible, they have turned their attention to the vast amount of online tools available to help them get what they want at the lowest possible price.
All in the convenience of their own homes.
Following that trend or preference, more and more retailers are keeping up by establishing an online presence.
However, the internet's financial structure has not caught up with this trend: it is old and slow. That is until Stripe came along.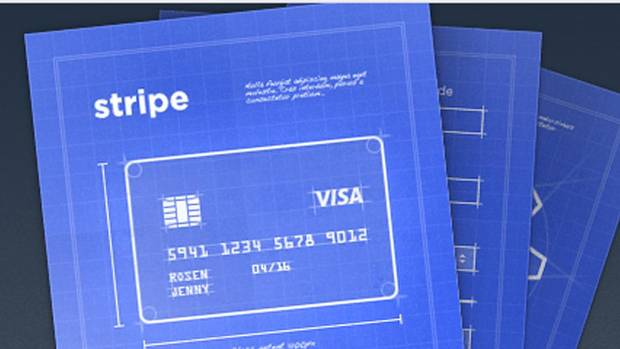 Image credit: The Globe and Mail
Founded by brothers Patrick and John Collison, Stripe is attempting to disrupt the online payments industry by making the process a lot faster, easier, and less costly for businesses to operate online, especially startups.
Let us take a detailed look at their mission to greatly increase the internet's GDP and how they are completely revolutionizing the online payments industry.
The Birth of Stripe
Stripe is the brainchild of the Collison brothers. Who exactly are they?
Patrick, Ceo of Stripe, and brother John Collison are from Limerick, Ireland with quite interesting backgrounds. Their parents are from science and entrepreneurship backgrounds: their father is an electrical engineer who ran a hotel and their mother is a microbiologist who ran a corporate training program from home.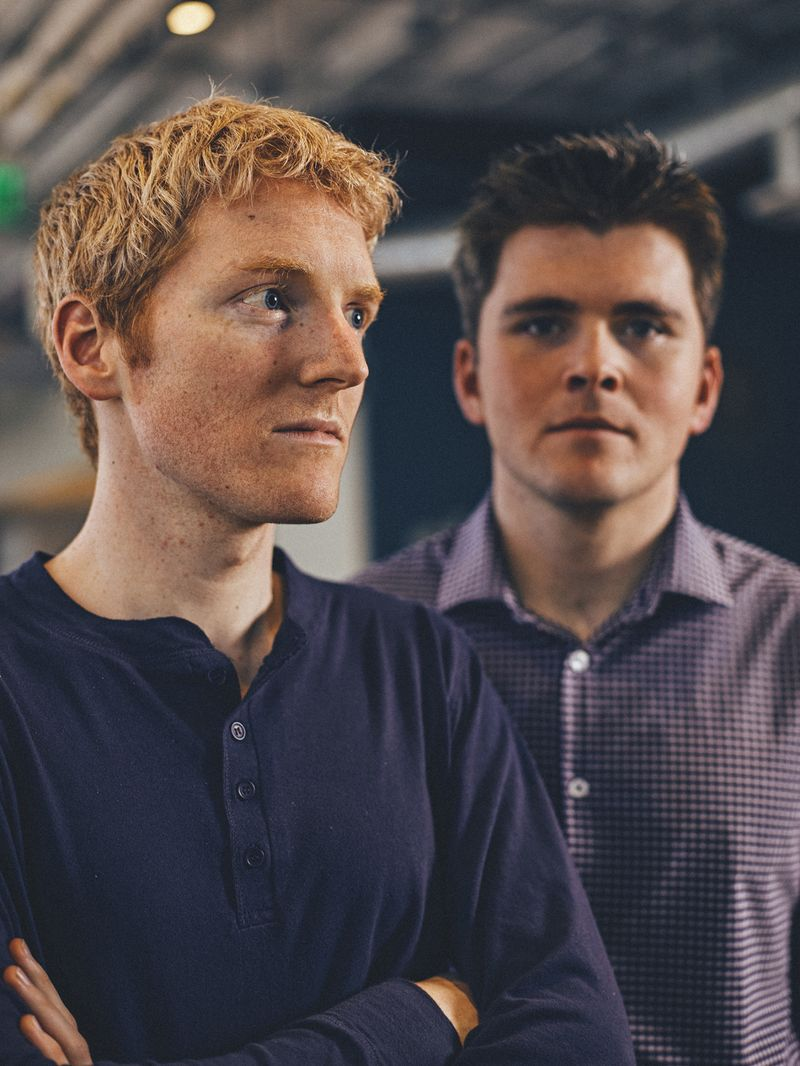 Caption: Patrick and John Collison
Image credit: Bloomberg
So it is no surprise that they followed in their parents' footsteps.
When he was eight years old, Patrick took his first computer course at the university of Limerick, and began learning to program at ten years old. From there, he showed his proficiency with technology by winning competitions and awards.
He participated in a 2004 competition for the Young Scientist of the Year by creating an AI project named Isaac (named after Isaac Newton). He came in second. He then went on to win the award the following year by creating CROMA, a LISP (a list processing type programming language).
Both brothers were enrolled in a school with fewer than twenty kids per grade, but Patrick decided to spend his final year studying from home; and went on to take and ace thirty standardized exams over a twenty-day period. (A typical person would require two years to complete that feat.)
Having proved his rare intellect, Patrick enrolled at MIT in 2006, using the scores from an SAT test he took at thirteen years of age. At eighteen, he launched his first company with John, who was sixteen at the time, back in Limerick and named it Shuppa (a play on the Irish word for shop).
Unable to get funding in Ireland, they moved it to Silicon Valley due to interest from Y Combinator (a company that provides seed investment to startups). Y Combinator merged Shuppa with Auctomatic (an auction and marketplace managements system company). The brothers sold Auctomatic for $5 million USD in 2008.
John Collison, a qualified pilot and pianist, followed his brother from Ireland to the United States and attended Harvard University. However, they both dropped out of college (after facing difficulty in setting up payment systems for their numerous app development projects) to start working on Stripe, in San Francisco, in late 2009.
Their goal for Stripe was simple: they wanted to increase the GDP of the internet by connecting the entire world with an easy way to monetize their ideas. So with seven lines of code, they started a $20 billion USD startup.
What you now know as Stripe and most likely use in your online transactions.
The Internet Needed and Was Ready for Stripe
The seven lines of code that the brothers created came as a relief to many: from businesses to developers to consumers like you and I.
More and more businesses are moving online, as online retail is where the world is headed in the next decade.
The total percentage of ecommerce retail sales is around 9 percent in the United States, 17 percent in the United Kingdom and is experiencing sustained growth in both countries. So it makes sense that an increasing number to companies want to move online or even move their entire businesses online.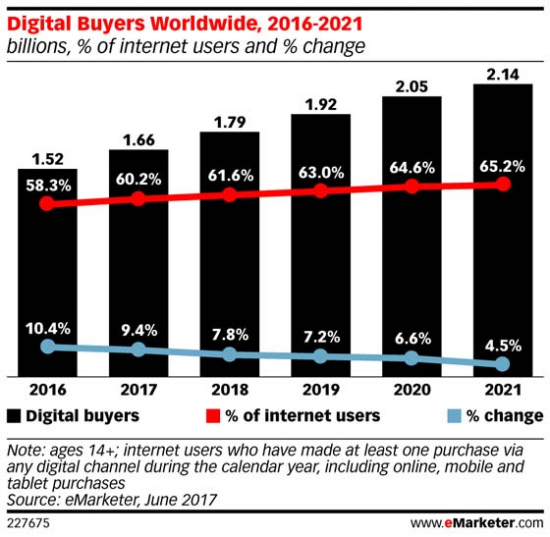 Image credit: Smart Insights
They however find that it is easier said than done, especially when they try to find a way to handle payments. They are often caught off guard with a slow and archaic online financial infrastructure.
The growth of ecommerce has outpaced the advancements made of online payment methods: most of the software is decades old with only minor improvements made by banks and credit card companies.
Startups are usually forced to go to a bank, get a payment processor and a gateway that connects the two. That process can take weeks to establish, and the fees for receiving payments can be costly (particularly for startups that need to watch how much they spend at the beginning stages).
You may be asking, "why don't they just rely on PayPal?"
Well, yes, PayPal was the first publicly known non-banking company that managed to provide real-time sending and receiving of money. They allowed customers to purchase internationally without the need of paying a bank wire transfer fee.
Businesses and consumers were able to automatically deal with multiple currency transactions without the need of a bank, while lowering the fees that businesses incur operating online.
However, PayPal is not optimal for many businesses and consumers. Both wanted a simpler and less costly way of transacting. The Collison brothers realized that and created Stripe.
Here is how Stripe differs from PayPal and other online payment processing systems.
What Makes Stripe Different?
They have low fees and remove banks and payment gateways from the equation.
Stripe addresses a fundamental problem: For merchants looking to increase their online presence, setting up their operations and accepting payments requires a few manual processes (like phone audits and paper applications).
The process takes a lot of time. And the companies that provide the payment solutions lacked the APIs, the modern code bases, documentation and client libraries. Stripe addressed all those problems.
They took a process that requires weeks of effort by merely inserting seven lines of code on their clients' websites to enable them to use their payment system.
Additionally, they have a very simple pricing scheme: a pay as you go model that is based on a percentage per transaction cut, with most of their product offerings included.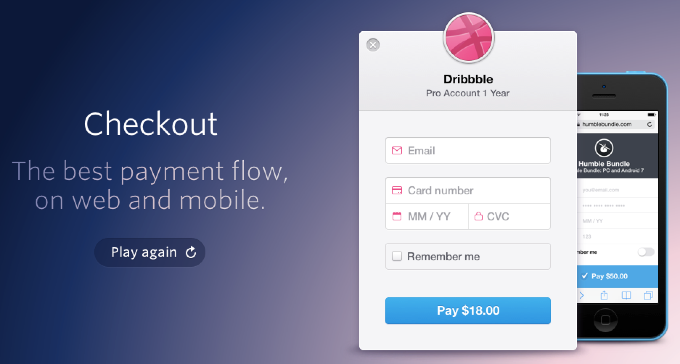 Caption: Stripe Checkout
Image credit: Growth Hackers
That may explain why many startups are quick to adopt their easy to use software. Lyft, Facebook, Shopify, DoorDash and thousands of other tech companies have chosen Stripe when it comes to dealing with online payments.
Michael Moritz of Sequoia Capital (a Stripe investor) believes that despite PayPal's success, it is still too difficult to accept online payments; and that this is where Stripe will need to step in to further simplify the process.
Indeed, simplicity and speed seem to be the cornerstones of Stripe's brand and their basic aim is to give anyone the tools necessary to compete online regardless of their size.  
The simplicity of it all has drawn plenty of startups who are able to introduce their products directly to consumers without the need of middlemen (banks and payment gateways) eating into their profit margins.
Since it launched in 2011, it has experienced tremendous growth and is operational in over 25 countries. With the increasing adoption of their service, it comes as no surprise that venture capitalists funded their $9.2 billion USD valuation.
Among their investors are PayPal co-founders Elon Musk, Max Levchin and Peter Thiel; as well as Sequoia Capital and Redpoint Capital.
What also makes Stripe different from other payment systems is their strong relationship with developers.
Stripe focuses on developers by building a payments system that can be set up instantly and scaled to any size, with the developer as the central driving force behind it. Developers who dealt with legacy systems were quite thrilled with Stripe's mission.
Here are a few ways Stripe has created value for developers:
They provide a clean and easy to use payments API with sturdy documentation. That has basically coerced other online payment providers to strengthen their API game.

Stripe has created libraries for the most popular and most used programming languages which helps developers by saving them precious time in writing code to integrate the API into their code bases.

Stripe enables developers to test using strong testing documentation. Developers can test any functionality before deploying it. And every deployment experience is designed to be a simple one click experience.

If a developer wants to leave Stripe, they can easily migrate sensitive card data in a secure and compliant manner. Developers respect the fact that Stripe gives them that flexibility and that they aren't trying to lock them in.

Following good security protocols is also a value that Stripe provides to developers. They ensure that card data never goes to the servers of developers.

Finally, Stripe has created an elegant user interface for front end checkout experiences (in the likelihood that companies don't want to use their own) and only ask for details that are required in a simple and efficient manner.
They have been able to create that value for developers and businesses because of their team and their networking strategy.
The Stripe team created a great technology product that can handle complex financial transactions on the backend for billions of dollars; and have been able to serve numerous clients.
They have also been able to provide thorough, detailed and responsive customer service. Their partnerships with notable businesses like Apple, Alipay and Twitter highlights the quality of the team.
As more and more developers used Stripe, it was able to create a better and stronger product. Additionally, the developer community is very tight-knit, so once they like and respect a product, they spread the word to other developers.
Stripe has been able to further strengthen that community by hosting developer events and hackathons.
All that being said, Stripe is not just a payment processing system. They are working on making the internet more secure and accessible to thousands of ecommerce businesses around the world.
Stripe Creates Atlas
Stripe has a vision to help companies around the world to take their business globally. They aim to do so by making global transactions easier and breaking continental barriers in online retail. So they created Atlas.
Atlas essentially enables domestic and international firms to incorporate their companies in Delaware, get tax numbers and U.S. bank accounts. They can also receive legal and tax advice on forming a company for only $500 USD.  
It has attracted a large group of international corporations seeking lower fees, access to American customers, venture capital funding and credibility.
The benefit of the service was made abundantly clear when Patrick Collison visited Ramallah, a Palestinian city in the West Bank. He noticed that a lot of entrepreneurs there are faced with travel restrictions, 2G cellular networks and lacked access to investors.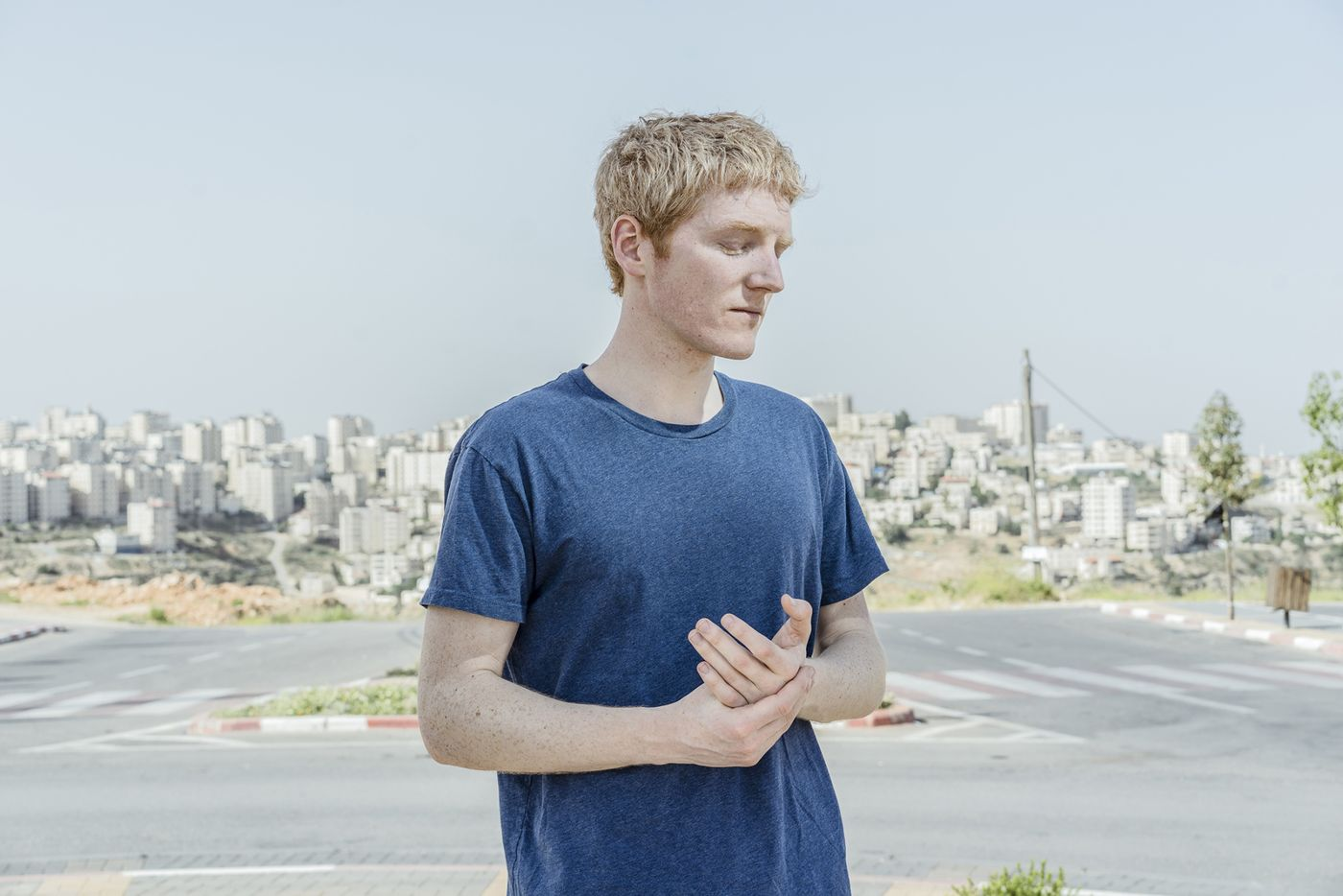 Caption: Patrick Collison in Ramallah, Palestine
Image credit: Bloomberg
Entrepreneurs from the region now use Atlas to attract foreign investment and deal with cross border payments, which they were never able to do before Atlas.
Companies like Shopify and Kickstarter have benefited from Stripe's new service, by following them into new markets and helping entrepreneurs in places like Ramallah to open online stores and raise money for their projects.
Atlas essentially opened up new markets for entrepreneurs in remote and restricted areas while giving large companies access to a new client base.
And now they are trying to make online financial transactions more secure.
Stripe Launches Radar
Stripe launched Radar, a fraud detection system, in 2016. It uses machine learning and algorithms to detect fraudulent activity from the billions of transactions Stripe processes. And the service is free of charge to all Stripe customers.
Due to Stripe's high volume of transactions, Radar is able to learn from a large amount of data and can pick up on transactions that are more likely to be fraudulent.
The Collison brothers would not reveal how prevalent fraud is within their system, but they are well aware how prevalent the issue is across the ecommerce sector and are in a prime position to remedy the problem for their customers.
An estimated 4 out of 5 of all credit cards around the world have passed through Stripe's system an average of six times. This along with user information from their financial partners provides plenty of behavioral data associated with each card.
The information is run through a machine learning algorithm which enables Radar to detect inconsistencies in purchasing patterns should they arise.
With a multitude of other fraud detection companies out there, Stripe believes its close monitoring of transactions on its own platform, and the fact that they also track IP addresses (which is not done by all their competitors) gives them an edge.  
Radar, like Stripe, is a simple API that does not require businesses to have a separate fraud or data science team to run. Its function is to remove the complexity of running a business and allow businesses to deploy their resources on other fronts.
Patrick Collison believes that the best system is a hybrid of machine and human, so the ability to flag payments and allow a business to manually review it is an important element.
That is the reason why they let businesses determine which types of activity they would like to block and determine the level of risk they wish to take.
Some have noted that this could be further enhanced if they were to offer some form of insurance against fraud, which it currently does not offer.
During its testing phase, Radar was able to block $40 million USD worth of fraudulent activity for Watsi, a crowdfunding non-profit medical treatments company.
Stripe is indeed shifting from being solely a payments provider to becoming a resource tool for online entrepreneurs regardless of their size. But does that warrant their $9.2 billion USD valuation?
Some analysts don't think so.
Is Stripe Worth $9.2 Billion USD?
Half of Americans who have purchased something online have done so using Stripe's system whether they know it or not. And with more than a hundred thousand businesses using their services, it has grown to be a major player in online payments.
Despite this, some analysts are not convinced that warrants its $9.2 billion valuation, which has made the Collison brothers some of the world's youngest self made billionaires 
According to Brendan Miller, an analyst at Forrester Research Inc., Stripe is a long way off from justifying its valuation considering they are valued higher than competitors who have thousands of employees, process a higher volume of transactions and have clients all around the world.
The low profit margin prevalent in the industry has made the valuation hard to stomach for some analysts.
Stripe charges 2.9 percent, plus 30 cents per successful transaction, from an estimated $50 billion USD worth of transactions (the company will not disclose the exact number). Of that, banks charge up to 2.5 percent for their services. That means that Stripe takes 0.4 percent.
Those margins are considered to be too low to justify their valuation, but Patrick Collison insists that Stripe has better margins than estimated.
Analysts may need to take his word for it, especially in light of Stripe's partnership with ecommerce giant, Amazon.
Stripe is believed to have struck a deal with Amazon to handle payments (due to the addition of Amazon's logo to its website). However, the details of the deal have yet to be made public.
That partnership could make their valuation more palpable to analysts: the deal could greatly increase the volume of their transactions now that one of the biggest online merchants has jumped on board.
Additionally, with China now moving to open its massive digital payments industry to foreign companies, the potential for growth has drastically increased for Stripe. This news comes as China seeks to increase investment and competition within its online payments industry.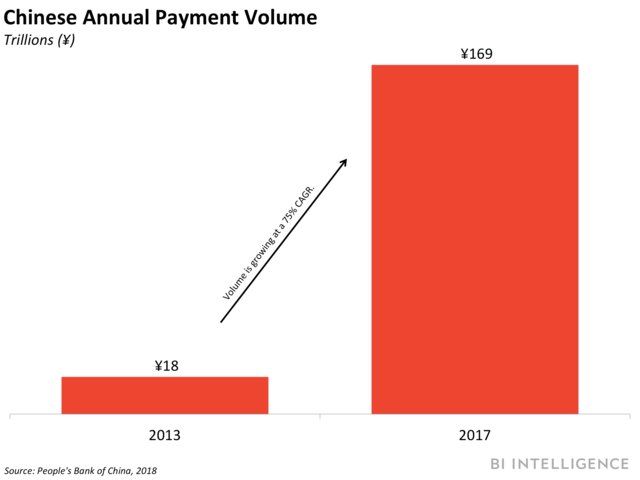 Image credit: Business Insider
PayPal is currently one of the few international companies with access to Chinese markets, through their partnership with China's e-commerce giant Alibaba and tech company Baidu.
Alibaba has its own payment system, Alipay, which it has expanded internationally. It has agreements with Stripe as it seeks to expand internationally to serve Chinese tourists and migrant workers.
WeChat Pay, owned by Chinese tech firm Tencent, has also signed a deal with Stripe to further expand its international reach.
Wrapping Up
Ecommerce is still in its early stages but is experiencing rapid growth as more and more businesses and consumers are looking to go online.
So the future looks quite bright for Stripe as they continuously strive to build products for companies, large and small, to run their online operations more smoothly and efficiently.
Whether or not their valuation is accurate, Stripe is growing and evolving at a rapid rate; taking many steps forward to make the internet an easier and much safer place for us all to conduct business.